House Republicans Rush Vote on Healthcare Bill "Unscored" by CBO
The House of Representatives is poised to vote today on healthcare legislation that would repeal much of the Affordable Care Act, replacing it with a plan that medical experts warn will drive up the cost of medicine while leaving millions without health insurance. House Majority Leader Kevin McCarthy said, after an evening huddle with party leaders, that Republicans have enough votes to pass the bill. Today's scheduled vote came after Republican Reps. Fred Upton of Michigan and Billy Long of Missouri emerged from talks at the White House saying they flipped from "no" to "yes" after winning an amendment that will provide $8 billion over five years to subsidize health insurance for people with pre-existing conditions.
Rep. Fred Upton: "I talked to the president yesterday afternoon. I told him I could not support the bill as it was then moving through the Rules Committee, without added protections for those with pre-existing illnesses, and, based on our discussions and the agreement on this amendment, can now be in a place where I can support the bill with such amendment."
It's unclear how far the $8 billion subsidy would go toward protecting patients with pre-existing conditions. Senate Minority Leader Chuck Schumer of New York compared the measure to giving cough syrup to a cancer patient. Major medical organizations and the AARP have warned the bill will cause serious harm to patients and drive up the cost of healthcare. The Congressional Budget Office has not had time to "score" the legislation—meaning the House will vote on a bill without knowing its projected impact. A CBOreview of similar legislation in March estimated it would add 24 million people to the ranks of the uninsured.
FBI Director James Comey "Mildly Nauseous" over Clinton Disclosure
On Capitol Hill, FBI Director James Comey told a Senate committee Wednesday that he agonized over his decision—just days before November's election—to reveal a new investigation into Hillary Clinton's use of a private email server to send classified messages when she was secretary of state. Clinton and her supporters have said Comey's move helped swing the presidential election to Donald Trump. But on Wednesday, Comey said he would do the same thing over again.
James Comey: "Look, this was terrible. It makes me mildly nauseous to think that we might have had some impact on the election. But honestly, it wouldn't change the decision. Everybody who disagrees with me has to come back to October 28th with me and stare at this and tell me what you would do. Would you speak, or would you conceal? And I could be wrong, but we honestly made a decision between those two choices, that even in hindsight—and this has been one of the world's most painful experiences—I would make the same decision."
Meanwhile, Director Comey acknowledged the FBI is continuing to probe allegations that Russia interfered in the 2016 election, but refused to comment on any links between Russia and President Trump or his associates. That prompted California Democratic Senator Dianne Feinstein to question why Comey revealed the investigation into Clinton's email server while failing to reveal the FBI's investigation into whether Trump officials colluded with Russia to sway the election. Comey is set to meet with members of the House Intelligence Committee today in closed-door briefings on the FBI's probe into Russia.
Trump Claims Mideast Peace "Not as Difficult as People Have Thought"
President Donald Trump welcomed Palestinian Authority President Mahmoud Abbas to the White House Wednesday, telling reporters that achieving peace in the Middle East is "maybe not as difficult as people have thought over the years."
President Donald Trump: "The Palestinians and Israelis must work together to reach an agreement that allows both peoples to live, worship and thrive and prosper in peace. And I will do whatever is necessary to facilitate the agreement, to mediate, to arbitrate, anything they'd like to do. But I would love to be a mediator or an arbitrator or a facilitator. And we will get this done."
President Trump's comments came despite his remarks in February that ended a long-standing U.S. commitment to the establishment of a Palestinian state, saying he had no preference for either a one-state or two-state solution to the Israeli-Palestinian conflict. Trump's ambassador to Israel, David Friedman, is a longtime supporter of illegal Jewish settlements in the occupied West Bank. And the Trump administration has proposed moving the U.S. Embassy from Tel Aviv to Jerusalem—a move fiercely opposed by Palestinians and much of the world community.
Trump Executive Order Will Ease Limits on Churches in Politics
President Trump is slated to issue a new executive order today making it easier for tax-exempt churches to participate in politics. Trump's order comes on the National Day of Prayer, an annual observance created by Congress in 1952. On the campaign trail, Trump repeatedly promised to do away with the Johnson Amendment, which prohibits religious leaders from endorsing or opposing political candidates. Meanwhile, scores of LGBTQ activists rallied outside the White House on Wednesday following rumors Trump's executive order would allow businesses to deny services to gay, lesbian and transgender people in the name of religious freedom. This is Ellen Buchman of the Leadership Conference on Civil and Human Rights.
Ellen Buchman: "We've been here before, my friends. While generations have been working to advance progress, we all know that others have been working to impede that progress and those rights. And they have often turned to religion as their weapon of choice or, as someone's sign back there says, as their excuse to promote discriminatory behavior."
The Washington Post reports Trump's executive order won't include the LGBTQprovision, though the administration hasn't yet revealed the text of Trump's order.
New York: Protesters Plan Noisy Protest to "Drown Out" Trump Speech
Meanwhile, President Trump will travel to New York City today to deliver a speech on a decommissioned aircraft carrier alongside Australian Prime Minister Malcolm Turnbull. It's Trump's first return to his hometown since his inauguration last January. Protesters plan to gather near the USS Intrepid in Manhattan, where they hope to "drown out" President Trump's speech by banging on pots and pans.
Iraq: Mosul Residents Trapped by Flooding, Fighting
In Mosul, Iraq, a handful of civilians used small wooden boats to cross the Tigris River on Wednesday, as heavy floods made bridges between the two halves of the war-torn city impassible. Civilians complained of being trapped between ISIS and U.S.-backed forces fighting for control of the city. This is Mosul resident Ali Faisal.
Ali Faisal: "Our main demand is the provision of the means to move between the east and the west sides of the city. Transportation between the two sides is very difficult. We call for the construction of a new bridge to facilitate movement between the two sides. People who have someone ill or who are in an emergency situation cannot cross now, after the closure of the al-Munira bridge."
About 400,000 people are trapped in western Mosul, while hundreds of thousands more have fled to squalid camps for the internally displaced.
Nigeria: Risk of Famine Grows Amid Fighting with Boko Haram
In Nigeria, aid agencies are warning that thousands face starvation, as the number of people at risk of famine has climbed to 1.5 million. This is Gujja, an internally displaced person who says her family was left hungry after fleeing the militant group Boko Haram.
Gujja: "Boko Haram chased us out, and they killed many of our people. When we left, we spent about three days in the bush with hunger and thirst, before we moved to a French-speaking country. They took us by car to a place where we lived without food and shelter. All the basic needs are scarce. We are suffering because of hunger and lack of water. We don't have anything. Also, food and mats are scarce. About 20 of our people died because of suffering."
The United Nations warns some 20 million people in South Sudan, Somalia, Yemen and Nigeria are at risk of famine—more than at any time since World War II.
Puerto Rico to Seek Bankruptcy Protection
Puerto Rico filed for a form of bankruptcy protection on Wednesday, seeking to restructure $123 billion in debt and pension obligations, in a move that's likely to slash money for healthcare, pensions and infrastructure on the island territory. Years of austerity programs aimed at paying back the debt has left Puerto Rico's official unemployment rate at nearly 12 percent, with nearly half of all Puerto Ricans living in poverty. The U.S. Supreme Court will now designate a bankruptcy judge to handle the case.
Texas Legislature Sends Anti-Immigrant Bill to Gov. Greg Abbott
In Texas, state lawmakers have sent a harsh anti-immigrant bill to Republican Governor Greg Abbott, who's promised to sign it into law. SB 4, a so-called "show your papers" bill, will outlaw sanctuary cities and allow police officers to check the immigration status of anyone they detain.
Family of Alton Sterling Calls for State Charges Against Officers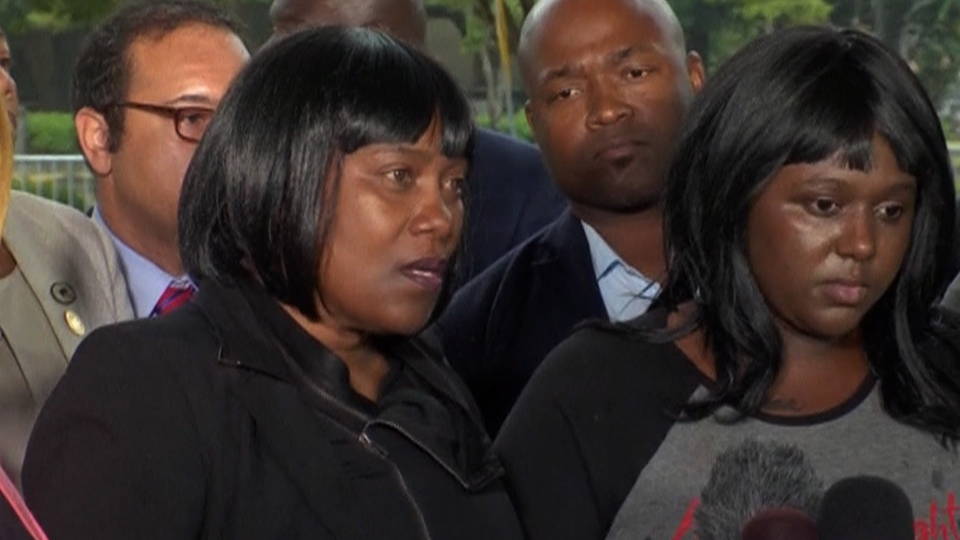 In Baton Rouge, Louisiana, the family of Alton Sterling, an African-American father of five who was gunned down by police in 2016, called Wednesday for the state's attorney general to bring criminal charges against his killers. The call came after the Trump Justice Department declined to bring federal charges against officers Blane Salamoni and Howie Lake. Sterling family lawyer Chris Stewart said the U.S. Attorney's Office provided new details about the killing—including how officer Salamoni shot Sterling six times.
Chris Stewart: "We learned some new things today. We learned that officer Salamoni walked up to Alton Sterling and put a gun to his head and said, 'I'll kill you, bitch.' You heard me correctly. We heard from them that officer Salamoni kept instigating this situation. You heard me correctly. The attorney general has a phenomenal case, because no police officer should conduct himself like that."
In a statement, Louisiana Attorney General Jeff Landry promised a thorough investigation into whether to charge officers Lake and Salamoni. Alton Sterling's aunt, Sandra Sterling, said she was devastated after learning new details about how her nephew was killed.
Sandra Sterling: "And what I heard today, the suffering still continues. So now that I know that it's not a civil matter anymore, now it's a human matter, because Alton was human. He's no longer here, but his voice still will be heard, through us. So stay behind us, because we love Alton, and we don't want this to end. Remember his name."
Sterling's killing on July 5 of last year sparked nationwide protests against police brutality.
Boston Red Sox Ban Fan for Life over Racist Taunts
In Boston, the Red Sox on Wednesday said the team will ban a fan from Fenway Park for life, after he was overheard repeatedly using racist epithets. The move came after Baltimore Orioles outfielder Adam Jones complained of racist taunts, including the N-word, coming from the stands during a game Monday evening. In a statement, Red Sox President Sam Kennedy said, "I'm here to send a message loud and clear that the treatment of others that you've been reading about here lately is unacceptable."
CodePink Activists Face Up to 1 Year in Prison over Jeff Sessions Protest
In Washington, D.C., three members of the activist group CodePink were convicted Wednesday over their role in a January 10 protest against a Senate confirmation hearing for Jeff Sessions as attorney general. One of the three, Desiree Ali-Fairooz, faces up to 12 months in prison on "disruptive conduct" charges, after she let out a burst of laughter when Sessions said he had a record of "treating all Americans equally under the law." During the protest, the demonstrators wore white hooded robes and chanted "No Trump! No KKK! No fascist U.S.A.!" Sessions has a history of making racist comments, including reportedly saying he thought the Ku Klux Klan was "OK until I found out they smoked pot."
CU-Boulder Students Stage Sit-in, Calling for Fossil Fuel Divestment
The University of Colorado Boulder threatened student environmental activists with arrest and forced them to end a nearly week-long sit-in on Wednesday. The sit-in was demanding the university divest from fossil fuels. On Tuesday, the university's chancellor met with some of the students to discuss divestment.
Protests at UC Santa Cruz, St. Olaf College Target Campus Racism
The protest came as students at the University of California at Santa Cruz held a sit-in at an administrative building in a protest charging the campus is hostile to African-American students. The African-Black Student Union is calling for a housing co-op for students of color and required diversity training for incoming students. And at St. Olaf's College in Minnesota, hundreds of students boycotted classes this week and packed an administration building to protest racist incidents on campus.
Jackson, MS: Chokwe Antar Lumumba Poised to Become Mayor
And in Jackson, Mississippi, social justice activist and attorney Chokwe Antar Lumumba is positioned to become the city's next mayor, after handily winning a primary election on Tuesday. The 34-year-old Lumumba supports economic democracy and has proposed a civic "incubator fund" to support cooperative, member-owned businesses in Jackson. He's expected to easily win a June 6 general election. Lumumba is the son of late Jackson Mayor Chokwe Lumumba, a longtime black nationalist organizer and attorney dubbed "America's most revolutionary mayor" before his death in 2014.
---
Courtesy of Democracy Now (www.democracynow.org).  The original content is licensed under a Creative Commons Attribution-Noncommercial-No Derivative Works 3.0 United States License.