Bold, outspoken and punkily positive, Beth Ditto is going solo with her first album since leaving Gossip. She talks to Craig McLean about Trump, tolerance and reasons to be cheerful
By Craig McLean
---
On the stage at a small London venue, Beth Ditto is dabbing away sweat and entertaining the rabid faithful. "Gossip is over, nobody's mad, well, some people are…" riffs the former frontwoman with the American trio who shot to global fame 10 years ago with the turbo-charged gay rights anthem Standing in the Way of Control. "It was a great run!" she hoots in her chewy Arkansas accent. But rest assured: "We're here, we're queer!"
Ditto is performing at Omeara to promote Fake Sugar. The tuneful solo album is her first release since the demise, two years ago, of Gossip (née The Gossip). Her new songs evoke Dolly Parton, Dusty in Memphis and any number of gay disco classics – all interspersed with hilarious banter which suggests that, if this music gig fails, a career in stand-up beckons.
Ditto seems to know half the people in the audience – unsurprising given her default gregariousness, and how huge her band were in the UK a decade ago. Then, Standing in the Way of Control was the inescapable politicised indie-anthem du jour, sung by a crossover punk rocker who refused to be pigeonholed, fat-shamed or ignored.
It made Ditto a cover star here, and a gleefully provocative one – she appeared naked on the front of the launch issue of fashion magazine Love. More, she was a one-woman cultural force. She became a Guardian agony aunt with a column entitled: "What Would Beth Ditto Do?", developed a plus-size clothing line with Evans, launched a make-up range with MAC and wrote a rags-to-riches memoir, Coal to Diamonds.
Introducing to the excitable crowd her signature song – the lyrics were originally targeted at Republican politicians who opposed same-sex marriage – Ditto declares: "I was 23 when I wrote this. It's now more relevant than ever. We got too comfortable, but I'm glad everyone's awake now."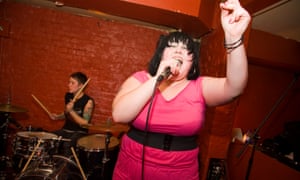 Two weeks later, sitting in an east London hotel suite, the 36-year-old raised in America's rural south in a family of seven expands on the currency of her 13-year-old song. "We did get too comfortable in the way we thought bad things couldn't happen," she says. "Even if you lived through the 80s, you didn't see the drugs war or the war on poverty, especially white people." That said, she herself does know real poverty: it was not unknown for squirrels, shot in the local woods, to feature in her childhood diet. "And now we have things that are so traumatic, like Brexit," she continues. "It didn't seem like there was any reason for that." Ditto sighs. "And then Trump fucking happened."
The musician mainly lives in the "liberal bubble" of Portland, Oregon, but for the past six years has maintained a room in a house in Hackney, a 20-minute bus ride from where we're sitting. She was here on presidential election night. "That evening I took a train back from Paris, and we bought a bottle of champagne at that Marks & Spencer's in the Eurostar terminal." The mood among her travelling party was expectant and celebratory, poised for a Clinton victory. But at the same time: "In my head, when I was buying it, I was thinking: 'This is such a bad idea…' I was cautiously optimistic, but I knew there are just as many crazy people. My neighbour voted for him and I was like: 'I don't know if I can be close to you!' I'm thinking: 'You're aware that you voted against your [gay] neighbours?'" she continues. "I just took that as the biggest diss. So she thinks her family is more important than mine? I couldn't believe that. But like my friend said: 'I knew she had the hair of a Trump supporter,' and I have to agree."
I last interviewed Ditto in 2012, when she was promoting what would turn out to be Gossip's last album, A Joyful Noise. Ditto and two friends from her hometown of Searcy, Arkansas formed the band in the indie redoubt of Olympia, Washington, in 1999. It took seven years and three albums for the trio to break out of the American alt-rock underground. But when they did, with Standing in the Way of Control, they did so internationally, with the UK embracing them particularly fervently. Ditto became a straight-talking icon, as happy to discuss her challenging upbringing with her God-fearing mother and various stepfathers as she was the political, cultural, gender and sexuality issues that fired and inspired her.
In 2012, a presidential election year, candidate Mitt Romney opposed gay marriage. Nonetheless, Ditto insisted to me that she didn't feel the US was a less tolerant place. "In our lifetime," she began, "we'll never really see perfect equality, because that's just the way humanity is, honestly. That doesn't mean it's hopeless. But it does require patience. And it sucks, but I think you seek asylum in our community, and your friends, and your art."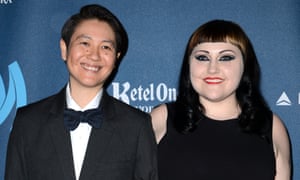 Five years on, I wonder how she feels now about the levels of tolerance in Trump's America. "When you're married to someone who isn't white…" she says now of her wife Kristin Ogata, an ethnic Asian from Hawaii… Naturally talkative, she stops to let her thoughts catch up. "'Make America Great Again' is basically saying 'Make America White, Straight, 1950s America Again.' And my wife said to me: 'I'm so mad that white liberals are so surprised. We have to deal with this all the time.'"
Nonetheless, she says that as a mixed-race gay couple, she and Ogata haven't experienced direct nastiness in the street.
"I see people react to her race more than they react to us as a couple. Racism is real and it's rampant. But she is gender-confusing to people. They're like: 'What is she? Is she a 21-year-old Asian man? Or a pushing 40, butch lesbian, Asian woman?' That blows people's minds!" she relates, tickled rather than affronted. "I've had people be like: 'Does she speak English?' I'm like: 'She's right here! You can ask her!'"
In 2012 Ditto told me she was "totally" ready to be a mum. Or, as she put it: "This is good motherhood going to waste." Now she's so alarmed at the state of her country she's not sure she wants to bring a child into the world. "When Trump was elected, the bottom fell out and fear set in. That's one of the questions my wife and I talk about. She's like 'You can't let people stop you from living your lives, because that's what they want.' Luckily I can't just get knocked up, thank God, so it's great!" she laughs.
Fake Sugar is a joyful album, full of love, lust and energy. In that regard, it's of a piece with Ditto's character. She's riotously disarming (she flirts comically with the waiter attending to us) and is chirpily self-deprecating. Today's off-the-shoulder LBD from cheap 'n' cheerful clothing store Old Navy "is a little bit Jennifer-Aniston-in-Friends", she notes with a wink. "And these boots are great because they have a built-in sock. The problem with boots when you're fat is that your calves are bigger, so these stretch," Ditto beams, delighted.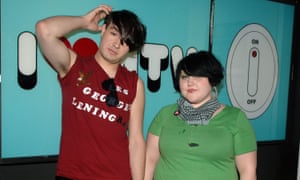 Yet for all the warm emotion in Fake Sugar, it's not wholly about Ogata, a friend from when Ditto was 18 with whom she reconnected seven years ago. Go Baby Go ("your pretty face ain't going to waste…") is about the late Alan Vega from Suicide, one of her musical heroes. Lover, meanwhile, the first song she wrote for the album, is not about a literal lover.
"It's about touring and feeling really insecure all the time, and going through a really hard time. Freddie and I broke up after nine years," she says of her previous girlfriend, "my dad died, Nathan moved back to Arkansas, which destroyed me – a lot of the record is about him. We Can Run is about him."
Nathan Howdeshell is her lifelong best friend, and co-founder of Gossip (the other co-founder, drummer Kathy Medonça, left in 2003 to train as a midwife). It was his decision to relocate back to Arkansas, to the farm on which he grew up, that ended the band in 2015. But the guitarist didn't just move home. He was born again. "Big time," Ditto notes quietly. "He just really got into God again. He and I grew up railing against that, so it was like watching your friend relapse. It felt like losing somebody to the past. That's what we ran from, and in a way he saved me. It was the longest relationship of my life, the longest job of my life. I spent longer with him, travelling the world, than anyone else. It felt like a creative death. It was like you left the cult, but you had to leave your friend behind."
Making a solo album was initially difficult. Ditto "did a lot of speed-dating" with other writer/producers. But when the songs finally started coming, it was "an awakening. I realised I was more important to Gossip than I thought I was. I didn't know how much I contributed to that band."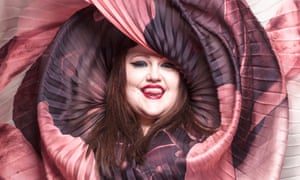 I suggest to her that most people would be surprised by that. Surely Ditto was the Gossip. "I always gave Nathan all of the credit. Because he was so creative and so different. We were a good team because I'm more grounded and good at talking to people, because I enjoy it. So I just took it on. 'Yeah, I'll do the interviews…' The irony is that I was in a feminist band all that time, but I was succumbing to this sexist idea that I didn't contribute to that band. It was very weird. But after making Fake Sugar I was like, 'Oh, I can do it!'"
Even if she doesn't protest too much, she can't deny that she was, for a hot minute, a celebrity, with A-list pals to match. Ditto admits with a delighted shriek that "it was fun", but also "confusing". Is that because of the attitudes of the worthier-than-thou American punks who were her musical peers? They might not have appreciated their swung-out sister palling around with Kate Moss. "Let me tell you something: Kate Moss is one of the punkest people I've ever met," she grins conspiratorially. "She is a riot. She is a badass. She reminds me of my sister a lot. But yeah, I used to think that way, too," Ditto acknowledges. "But you don't really know how you'll react until you're faced with those options. I know some people are like, 'No, fuck that.' Like Patti Smith – she's so fucking punk! I look at her and she's got her facial hair and her beanie, I'm like: 'That's how I wanna grow, how I wanna age.' She doesn't give a fuck, but she cares so much. I love that about punk."
OK, Ditto doesn't recognise that she was a celebrity. But does this bold, unabashed, joyful, punkily positive woman understand how she became a muse to a half-generation of kids, girls especially?
"No," she says after small pause. "Because I don't feel like a muse. I feel I have a feminist duty to girls – and a humanist duty to human beings – to the people who came before that who made it possible for me to be me: my mother, Patti Smith, Alan Vega, Sylvester, George Michael, John Waters. I owe it to everybody to keep the flame lit. I don't feel like that's a burden. It's a joy. It's a privilege. I feel happy to do it. And I feel lucky. If I didn't do something with all that, what would be the point?
Beth Ditto's new album, Fake Sugar, is released on 16 June on Virgin Records
---
Originally appeared at theguardian.com