British Prime Minister Calls for Early Elections Amid Brexit Process
British Prime Minister Theresa May announced this morning she'll call for early elections, shocking the country as she tries to secure a stronger mandate for the controversial plan for Britain to leave the European Union, known as Brexit.
Prime Minister Theresa May: "Our opponents believe, because the government's majority is so small, that our resolve will weaken and that they can force us to change course. They are wrong. They underestimate our determination to get the job done. And I am not prepared to let them endanger the security of millions of working people across the country, because what they are doing jeopardizes the work we must do to prepare for Brexit at home, and it weakens the government's negotiating position in Europe."
The early elections are set for June 8. Prime Minister May officially initiated the 2-year Brexit process last month.
France's Left Candidate Surges in Polls Ahead of Presidential Election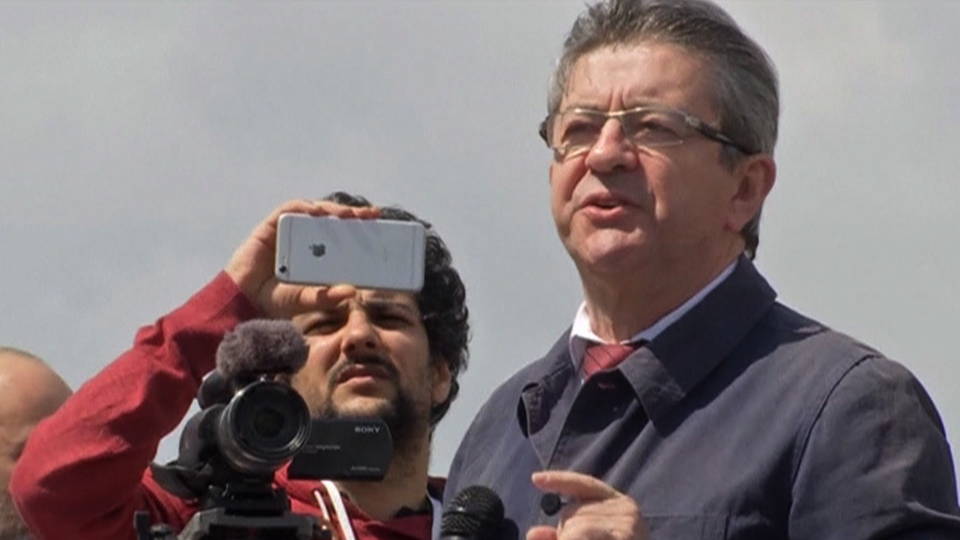 Trump Congratulates Erdogan as Monitors Slam Handling of Referendum
International monitors have issued a scathing critique of Turkey's referendum Sunday over whether to grant sweeping new powers to the president that critics warn could turn Turkey into a dictatorship. Turkish President Recep Tayyip Erdogan has claimed victory in the narrow vote, although the opposition says they've received thousands of complaints about voter fraud and other irregularities. On Monday, international monitors slammed the referendum, saying the playing field was unlevel and that the opposition faced repression. This is the head of one of the international monitoring teams.
Tana de Zulueta: "Our team observed the misuse of administrative resources and the obstruction of efforts by parties and civil society organizations supporting the 'no' campaign. The campaign rhetoric was tarnished by some senior officials equating 'no' supporters with terrorist sympathizers. In numerous cases, 'no' sympathizers faced police interventions and violent scuffles at their events."
The Turkish government has rejected the criticism, calling it "biased and prejudiced." Meanwhile, the United States is backing the referendum results.
On Monday, President Trump called Erdogan to congratulate him on winning the referendum. Trump has major business interests in Turkey. In 2015, Trump even admitted he had conflicts of interest in dealing with Turkey, while speaking on Steve Bannon's radio show "Breitbart News Daily."
Donald Trump: "Well, I also have—I have a little conflict of interest, because I have a major, major building in Istanbul, and it's a tremendously successful job. It's called Trump Towers, two towers instead of one. Not the usual one, it's two. And I've gotten to know Turkey very well, and they're amazing people. They're incredible people."
At a press briefing Monday, White House Press Secretary Sean Spicer refused to comment on the alleged fraud and irregularities in the referendum.
Press Secretary Sean Spicer: "We would rather not get ahead of that report and start to make decisions without knowing. There were observers there, as there routinely are, and I'd rather wait and see."
Vice President Pence in Japan Amid Rising U.S.-North Korea Tensions
Vice President Mike Pence is in Japan today for talks with the deputy prime minister and other top Japanese officials amid rising tensions between the U.S. and North Korea. On Monday, a senior North Korean official said North Korea would begin conducting missile tests weekly, despite demands from the U.S. and other countries for North Korea to put a halt to its nuclear program.
Airwars: Dozens of Iraqi Civilians Reportedly Killed in Airstrikes Last Week
The journalistic monitoring group Airwars says dozens of Iraqi civilians were reportedly killed last week in airstrikes carried out by the U.S.-led coalition or the U.S.-backed Iraqi Air Force. Much of the bombing occurred in Mosul's Yarmouk neighborhood. On April 10, airstrikes there reportedly killed more than 30 civilians, including children. The following day, as many as 13 civilians were reported killed in airstrikes that destroyed homes in the same neighborhood. Six more civilians were reportedly killed in airstrikes in Anbar province that same day.
Airwars: Up to 20 Syrian Civilians Reportedly Killed by U.S. Airstrikes Last Week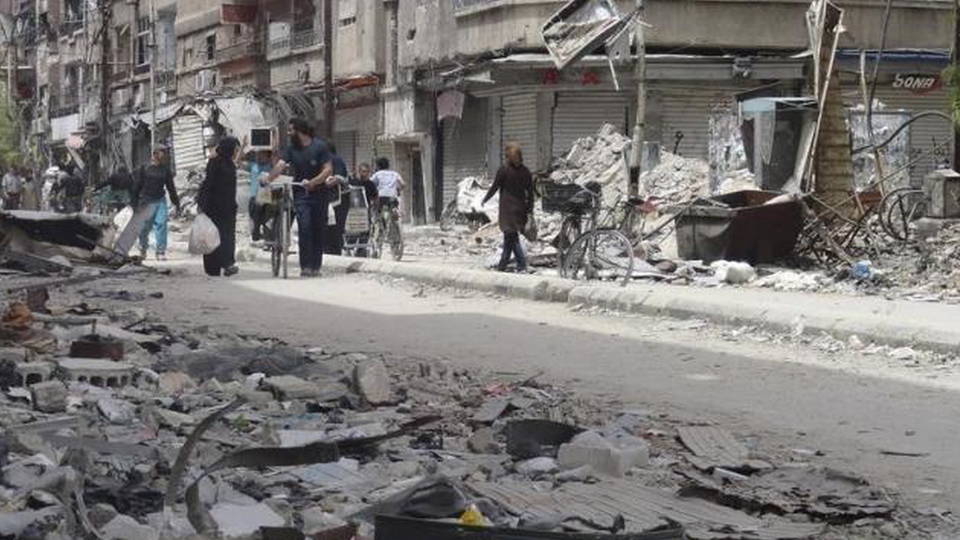 Meanwhile, in Syria, Airwars says as many as 20 civilians reportedly died in multiple U.S.-coalition airstrikes carried out in Raqqa governorate early last week. On April 10, up to 10 civilians, including at least two children, were killed in a series of alleged U.S.-coalition airstrikes on two separate villages. That same day, local media reported an alleged U.S.-led coalition airstrike killed members of two families, including at least one child, when a home was bombed.
As Taxes are Due Today, Calls Grow for Trump to Release His Returns
More than a dozen Republican lawmakers are now calling on President Trump to release his tax returns, echoing the demand that inspired more than 100,000 people to take to the streets on Saturday, Tax Day.
On Monday, White House Press Secretary Sean Spicer again said Trump did not plan to release his tax returns, saying Trump was under an audit. The IRS says being under an audit does not prevent anyone, including the president, from releasing one's tax returns, telling ABC, "Nothing prevents individuals from sharing their own tax information."
Trump is the first U.S. president in more than four decades to refuse to release his tax returns. Taxes are officially due today. We'll have more on Trump's taxes and this weekend's protests after headlines.
U.S. Supreme Court Halts 2 Arkansas Executions
Egyptian Court Acquits Aya Hijazi After 3 Years of Imprisonment
An Egyptian court has acquitted Aya Hijazi, her husband and six other charity workers of all charges, after they were imprisoned for more than three years without trial. Hijazi, who grew up in Virginia and is a dual citizen of Egypt, was arrested on May 2, 2014, along with her husband and others, while running a nonprofit seeking to help homeless children in Cairo. She and her husband were accused of paying the children to participate in anti-government protests.
More Than 1,000 Palestinian Prisoners on Hunger Strike in Israeli Jails
As many as 1,500 Palestinian prisoners are now on hunger strike in eight separate Israeli jails. Israeli prison officials have moved to retaliate against strike leader Marwan Barghouti, moving him to another prison and placing him in solitary confinement.
In a New York Times op-ed published Monday, Barghouti wrote, "Israel has established a dual legal regime, a form of judicial apartheid, that provides virtual impunity for Israelis who commit crimes against Palestinians, while criminalizing Palestinian presence and resistance. Israel's courts are a charade of justice, clearly instruments of colonial, military occupation."
On Monday, Palestinians rallied in support of the hunger strikers in the West Bank city of Bethlehem. The protesters were attacked by Israeli security forces. Among those to speak out in support of the hunger strikers was former Palestinian prisoner Khader Adnan.
Khader Adnan: "When prisoners go on hunger strike, they feel the freedom. It is a way to resist the occupation. We can win the battle against it [occupation] with our empty stomachs. And it is a message to the international community and the free people in the world that Palestinians seek freedom."
Kashmir: 100 Students Wounded After Police Open Fire on Protest with Rubber Bullets
In Kashmir, about 100 protesting students were wounded after being attacked by Indian security forces, who fired tear gas and rubber-coated steel bullets at demonstrators Monday. The students demanded independence from Indian rule, chanting "Go India, go back" and "We want freedom." Dozens of students were also wounded by Indian security forces during protests over the weekend.
Mexico: Journalist Maximino Rodríguez Murdered
In Mexico, journalist Maximino Rodríguez has been murdered, making him the fourth Mexican journalist in only six weeks to be assassinated. Rodríguez reported on the police, crime and corruption for a blog called Colectivo Pericú. He was killed on April 14 in the city of La Paz. Mexico is one of the world's deadliest countries for journalists.
Democrat Jon Ossoff Frontrunner in Today's Special Election in Georgia
Georgia is holding a special election today to fill the seat of former Congressmember Tom Price, who is now the secretary of health and human services. With 18 candidates in the field, one of the leading contenders is 30-year-old Democrat Jon Ossoff, whose campaign slogan is "Make Trump Furious." The race is considered a test to see how much voters may have turned on President Trump, who has record-low support. Last Tuesday in Kansas, Republican Ron Estes won a congressional seat in a special election in a surprisingly close vote for a heavily conservative district. Estes beat Democratic challenger James Thompson by a slim 53-46 margin, in a district that Donald Trump carried by 27 percentage points last November.
Facebook Under Fire over Video of Man Killing Cleveland Grandfather
Kathrine Switzer, First Woman to Officially Finish Boston Marathon, Runs Race Again
And tens of thousands of people participated in the 121st annual Boston Marathon Monday. Among the runners was 70-year-old Kathrine Switzer, who in 1967 became the first woman to ever complete the 26.2-mile race as an official entrant. At the time, the marathon was male-only, so she entered under the name K.V. Switzer. Officials tried to force her off the course after a few miles, but she persevered and finished in four hours and 20 minutes. This is Kathrine Switzer.
Kathrine Switzer: "I was the only female running wearing a bib. There actually was another woman in the race who jumped out of the bushes and ran. But what kept me going was I had to make the decision. I mean, of course I felt scared and humiliated and embarrassed. This official was attacking me in front of the press truck, for heaven's sakes. But my boyfriend bopped the official and sent him out of the race instead. And I ran on to finish. But I made the decision to finish because I felt, if I dropped out, then everybody would say, 'See, women are not welcome. They're always barging into places where they're—they can't do it anyway. And she's just a clown.' And I knew I had to finish to prove that women could, should and be allowed to get opportunities for women in running. So that was very, very important for me. If I had quit, it would set women's running and women back."
That was Kathrine Switzer, the first woman officially registered for the Boston Marathon to complete the race. This year, she finished the race in four hours and 44 minutes, wearing the same bib, number 261, that she'd worn in 1967. The winners of this year's Boston Marathon were Edna Kiplagat and Geoffrey Kirui, both of Kenya.
---
Courtesy of Democracy Now (www.democracynow.org).  The original content is licensed under a Creative Commons Attribution-Noncommercial-No Derivative Works 3.0 United States License.