Defense Sec. Mattis Hails U.S.-Saudi Relations as War Pushes Yemen to Brink of Famine
U.S. Defense Secretary James Mattis arrived in Saudi Arabia Tuesday for the first stop on his week-long trip to the Middle East and North Africa. Speaking on the plane to reporters, Mattis hailed the U.S.-Saudi Arabia relationship.
Defense Secretary James Mattis: "We're on our way. First stop, Saudi Arabia. As you know, this is a nation that has been a key security ally since 1944, when FDRand the king began this relationship. They remain a pillar of our security framework for the region and for American interests."
In Riyadh, Secretary Mattis called for a political solution to the ongoing war in Yemen, where the U.S.-backed, Saudi-led coalition has been fighting Houthi rebels. More than 10,000 people have been killed, the majority killed by the Saudi bombing campaign, and the war has pushed Yemen to the brink of famine.
While in Riyadh, Mattis also called North Korea's recent failed missile test "reckless." The Guardian is reporting the U.S. military is considering plans to shoot down future North Korean missile tests and that Mattis has briefed Congress on the possible escalation.
U.N.: 25,000 Sickened with Cholera in Somalia Amid Severe Drought
Meanwhile, in Somalia, the United Nations says 25,000 people have become sick with cholera, as a severe drought forces people to drink water infected with the deadly bacteria. The U.N. is warning Somalia is on the brink of widespread famine. In 2011, more than a quarter of a million people died during a severe famine in Somalia.
Syria: Residents Say 30 Civilians Killed in Alleged U.S. Airstrike
In Syria, residents say an airstrike killed at least 30 civilians, including women and children, in the Syrian province Deir ez-Zor on Monday. Reuters reports the airstrike was believed to be launched by the U.S.-led coalition. ISIS controls most of the province. U.S. Air Force Colonel John Dorrian said the coalition had carried out strikes around the town where multiple homes were reportedly destroyed, but he said he could not "confirm the veracity of allegations of civilian casualties." The journalistic monitoring group Airwars says nine civilians were reportedly killed by U.S.-led coalition airstrikes on Thursday and Friday in Raqqa.
Reports: Dozens of Iraqi Civilians Killed in U.S. & Iraqi AF Airstrikes
Meanwhile, the U.S.-led coalition and the U.S.-backed Iraqi Air Force continue to carry out airstrikes in Mosul, Iraq. The journalistic monitoring group Airwars says between 20 and 50 civilians were reportedly killed by airstrikes on neighborhoods across West Mosul Monday.
The Iraqi Observatory for Human Rights says, on Saturday, another 42 civilians were reportedly killed after airstrikes hit a 16-room home in Old Mosul, killing members of a large extended family, including children.
On Tuesday, the United Nations warned that the battle to oust ISIS militants from the Old City of Mosul could turn into the battle's worst humanitarian catastrophe. The U.N. and Iraqi officials are rushing to build more camps to house people displaced by the battle. This is Issam Abo Mohammed, who was displaced from Mosul by the fighting.
Issam Abo Mohammed: "I have been sleeping on a mat for 17 days, and my back is hurting me now. I am 54 years old, and I am ill. My son was hit and killed in Wadi al-Hajar while we were escaping, and I buried his body in the street. If the senior officials do not help me, my family will die."
Ivanka Won Exclusive Trademarks in China the Same Day She Dined with Chinese Leader
The Associated Press is reporting Ivanka Trump secured three new exclusive trademarks in China the very same day she and her father, President Trump, had dinner with Chinese President Xi Jinping at Trump's private Mar-a-Lago resort in Florida. The China trademarks give her company the exclusive rights to sell Ivanka-branded jewelry, bags and spa services in China.
The New York Times reports Japan also approved new trademarks for Ivanka for branded shoes, handbags and clothing in February, and she has trademark applications pending in at least 10 other countries.
Ivanka no longer manages her $50 million company, but she continues to own it.
Ivanka also serves in the Trump administration as an adviser to the president. So does her husband, Trump's son-in-law Jared Kushner. The AP says sales of Ivanka Trump's merchandise have surged since her father was elected president.
Reuters: Philippine Police Receive Cash Payments for Extrajudicial Killings
Reuters is reporting the Philippine police are receiving cash rewards for extrajudicially killing drug suspects, based on interviews with two unnamed senior Philippine police officials. The officials also told Reuters that a majority of the nearly 9,000 killings carried out since President Duterte took office have been orchestrated by the Philippine National Police. In late November, a BuzzFeed investigation revealed the U.S. has continued to fund and provide equipment for the Philippine National Police, despite the mounting death toll of Duterte's so-called war on drugs.
Report: Child Refugees in Greece Forced to Sell Sex to Fund Journey Across Europe
A new Harvard University report says unaccompanied child refugees in Greece are being forced to sell sex in efforts to try to pay human traffickers to take them further along their journey across Europe. The report comes as refugees continue to risk their lives to reach Europe's shores. The International Organization for Migration says 9,000 refugees were rescued in the Mediterranean this weekend alone.
Leonard Doyle: "Almost 9,000 migrants have been rescued over the weekend by individual NGOs and by the international flotilla. The figure is 8,360, the precise figure. They're mostly Africans, although they also include a large number of Bangladeshis, a relatively high number of Bangladeshis. I think what's significant is that this brings to—when we look at the deaths at sea so far, we have 900 migrants dying so far at sea this year, 90 percent on the Libya-to-Italy stretch."
Bill O'Reilly May Be Ousted from Fox Amid Mounting Accusations of Sexual Harassment
The Wall Street Journal is reporting that Fox News star Bill O'Reilly may be ousted from the network, amid multiple accusations of sexual harassment against O'Reilly. Over 50 advertisers are already boycotting "The O'Reilly Factor" over revelations O'Reilly and Fox paid $13 million to settle lawsuits by five women who accuse O'Reilly of sexual harassment and inappropriate sexual behavior. A sixth woman, Dr. Wendy Walsh, has also accused O'Reilly of harassing her and then retaliating against her professionally when she refused to have sex with him.
On Tuesday, a seventh woman, who remains anonymous, accused O'Reilly of harassing her for months with sexually and racially offensive comments and actions. The woman is an African-American clerical worker who worked near O'Reilly. Her lawyer, Lisa Bloom, said "[O'Reilly] wouldn't speak to her, other than to say things like, 'Mmm Hmm,' make grunting noises like an animal, she alleges, leering at her, looking at her cleavage and her legs, and he would call her 'hot chocolate,' which she found to be very offensive."
Twenty-First Century Fox is holding a board meeting on Thursday, fueling speculation O'Reilly will not be returning to air next week after his vacation. O'Reilly's team is denying he's in talks with the network about his exit. Click here to see our full interview with attorney Lisa Bloom.
Democrat Jon Ossoff Narrowly Misses Winning GA Special Election Outright
In Georgia, Democrat Jon Ossoff, whose campaign slogan was "Make Trump Furious," narrowly missed winning Tuesday's special election to fill the seat of former Congressmember Tom Price, who is now the secretary of health and human services. In the heavily Republican district, Ossoff won 48 percent of the vote, meaning he'll face off against Republican candidate Karen Handel in a runoff in June. A 30-year-old documentary filmmaker, Ossoff had raised four times more money for his campaign than any other candidate. This is Ossoff speaking Tuesday night.
Jon Ossoff: "We have shattered expectations. ... And there is no amount of dark money, super PAC negative advertising that can overcome real grassroots energy like this."
MA Throws Out 20,000 Drug Cases over Scandal of Chemist Falsifying Evidence
Massachusetts prosecutors are throwing out more than 20,000 criminal drug cases over a scandal involving a former state chemist who admitted faking tests. Annie Dookhan pleaded guilty in 2013 to falsifying evidence in tens of thousands of cases during her nine years working at a state crime lab in Boston. In many of the cases, she identified the evidence as illegal narcotics without even testing the materials. We'll have more on this case later in the broadcast.
Trump Administration Deports DREAMer Despite His DACA Protection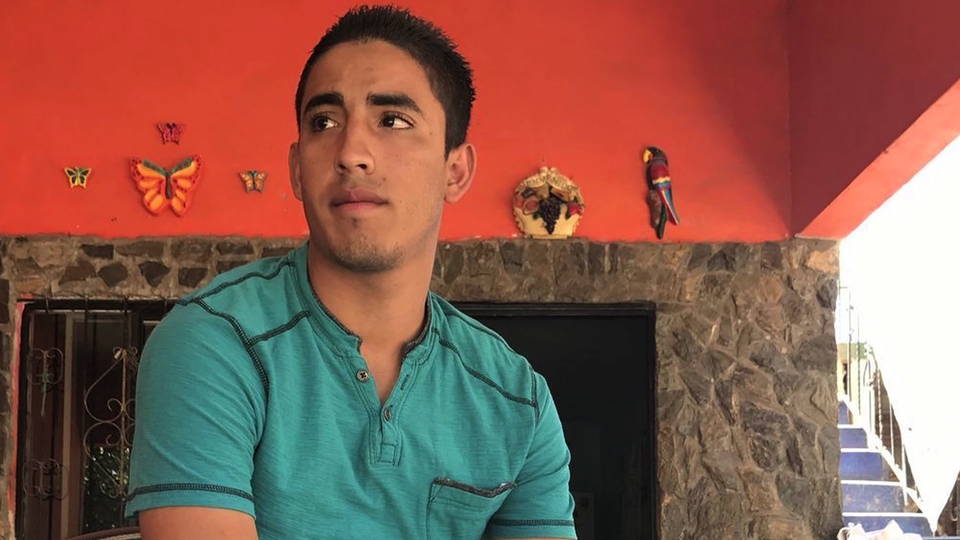 Twenty-three-year-old DREAMer Juan Manuel Montes is suing the Trump administration for deporting him to Mexico, even though he had been granted legal protection to live and work in the United States until 2018 under President Obama's Deferred Action for Childhood Arrivals program, known as DACA. He had been living in the United States since he was 9 years old. He was deported after he was approached by ICE agents in Calexico, California, and didn't have his wallet on him, which contained his ID and proof of DACA, since he'd left it in his friend's car. Within three hours, he was deported to Mexico. Trump has previously said he would not go after DREAMers with DACA. The Department of Homeland Security claims Montes's DACA expired in 2015, even though his lawyers have a copy of his work authorization card, which shows he had DACAprotection through 2018.
Hundreds Protest White Nationalist Richard Spencer at Auburn University
In Alabama, hundreds of people protested against a speech by white nationalist Richard Spencer at Auburn University Tuesday night in the latest round of protests against the racist and xenophobic leader of the so-called alt-right movement. Spencer spoke against the wishes of the university, after a federal judge ruled the university did not have the power to cancel his speech. Spencer said Tuesday's speech was sponsored by the white nationalist website AltRight.com.
Migrant Justice Activist Hugo Castro Found Alive in Mexico City
And longtime migrant justice activist Hugo Castro has been found alive in Mexico City. He had disappeared five days ago, after calling for help on a Facebook Live video, saying his life was in danger. Castro works with the group Border Angels. He briefly disappeared while he was en route to join a caravan of Central American refugees traveling through Mexico to apply for asylum in the U.S.
---
Courtesy of Democracy Now (www.democracynow.org).  The original content is licensed under a Creative Commons Attribution-Noncommercial-No Derivative Works 3.0 United States License.