Arkansas Kills Jack Jones & Marcel Williams in First Double Execution Since 2000
Trump Walks Back Demands for $1.4 Billion in Border Wall Funding
bq. Press Secretary Sean Spicer: "Look, they are currently negotiating. We feel very confident that they understand the president's priorities and that we'll come to an agreement by the end of Friday. ... Well, I think, Jim, the president has made very clear that initially we needed to get the funding going. And there's to be several mechanisms to make sure that that happens. That funding piece will happen in due time. Alexis?"
bq. Reporter: "But that is a promise that the president made during the campaign time and again."
bq. Press Secretary Sean Spicer: "I understand that. It is—no, no, but he also—"
bq. Reporter: "That Mexico would pay for the wall."
bq. Press Secretary Sean Spicer: "Right."
bq. Reporter: "And now we're having a discussion—"
bq. Press Secretary Sean Spicer: "No, no. We—"
bq. Reporter: "—that the government might shut down over the wall."
bq. Press Secretary Sean Spicer: "No, no."
Trump is expected to unveil his proposed tax overhaul on Wednesday, which will reportedly include a plan to slash the corporate tax rate from 35 percent to a mere 15 percent. If passed, the tax cut could significantly reduce government revenue for key public programs. Democrats have vowed not to work with President Trump on a tax plan until he releases his tax returns.
Fmr. Fox Guest Accuses Sean Hannity of "Weird and Creepy" Sexual Advances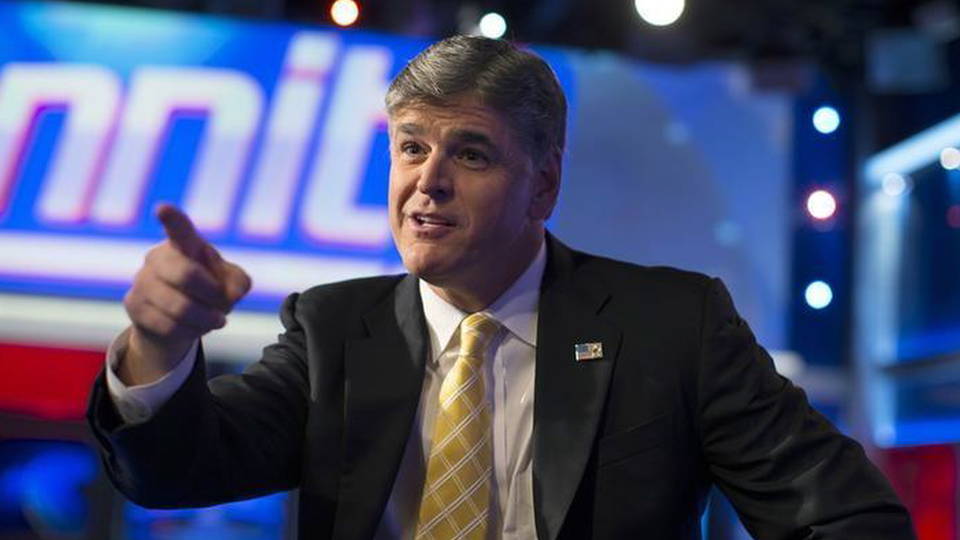 Another top Fox News anchor, Sean Hannity, is facing accusations of unwanted sexual advances. Former Fox News guest Debbie Schlussel has accused Hannity of inviting her back to his hotel room, and that, after she rejected his advance, "he called me and yelled at me. ... And I kind of knew I wouldn't be back on his show." While Schlussel says she doesn't think the incident qualifies as sexual harassment, she says she thought Hannity was "weird and creepy." The accusations come after Fox's top anchor, Bill O'Reilly, was ousted last week amid revelations he and Fox paid more than $13 million to settle five sexual harassment claims. Meanwhile, New York magazine reports seven black employees at Fox are planning to join a racial discrimination lawsuit accusing Fox's longtime comptroller of spewing racist insults for years. The employees also accuse the comptroller Judy Slater of forcing black women workers to arm wrestle their white co-workers. In a letter to the network, the workers' lawyers write, "Forcing a black woman employee to 'fight' for the amusement and pleasure of her white superiors is horrifying. This highly offensive and humiliating act is reminiscent of Jim Crow era battle royals."
State Dept. Used Taxpayer Money to Promote Trump's Private Mar-a-Lago
The State Department is facing criticism after using taxpayer money to promote President Trump's private, for-profit Florida resort Mar-a-Lago. On a State Department website, a promotional article offers an "inside look at the Winter White House"—that's Mar-a-Lago. The watchdog group American Oversight says it will file an ethics complaint with the State Department and the Office of Government Ethics. Oregon Democratic Senator Ron Wyden criticized the promotion, tweeting, "Yes, I am curious @StateDept. Why are taxpayer dollars promoting the President's private country club?"
In First Post-Presidency Speech, Obama Refuses to Utter Trump's Name
President Obama delivered his first post-presidency speech Monday night, speaking to a group of students in Chicago. Without ever once uttering Trump's name, Obama encouraged civic engagement and expressed concern about increasing political polarization.
Treasury Dept. Imposes Sanctions on 271 Syrian Officials over Chemical Gas Attack
The U.S. Treasury Department has imposed sanctions on 271 officials with Syria's Scientific Studies and Research Center, which the U.S. says is linked to the Syrian government's alleged chemical weapons program. The sanctions are in response to a chemical weapons attack, allegedly carried out by the Syrian government, which killed 86 civilians, including dozens of children, in early April. The Syrian government has denied carrying out the attack and has instead blamed the anti-government rebels.
Crowds March to Turkish Consulate in L.A. to Commemorate Armenian Genocide
In Los Angeles, tens of thousands of people marched to the Turkish Consulate Monday to commemorate the 102nd anniversary of the Armenian genocide.
bq. Antranik Ghimbesian: "We gather here every year because they are not accepting the genocide. The government of Turkey, they are a dictator, especially now. Erdogan, he's a dictator, OK? He is not accepting. They have to accept this is a genocide. It happened."
The Turkish government continues to deny the genocide, which saw an estimated 1.5 million Armenians exterminated through direct killing, starvation, torture and forced death marches.
Congo: Video Appears to Show Killing of Two U.N. Investigators
In the Congo, the United Nations says a video appears to show the killing of two U.N. investigators, who went missing more than a month ago. The government, which had been accused of complicity in their disappearance, screened the video Monday and said it shows the killings were carried out by an anti-government militia. The U.N. investigators went missing in the Kasai region, where at least 17 mass graves have been unearthed over the last month, amid ongoing fighting between rebels and government forces.
Mexico: Dutch Ship Provides Free Safe Abortions in International Waters
In Mexico, a Dutch ship operated by the organization Women on Waves spent the weekend in international waters off the coast of Guerrero providing free safe abortions. Outside of the capital, Mexico City, abortion is illegal except in limited cases, such as rape, forcing women to seek dangerous clandestine abortions. This is Women on Waves Director Rebecca Gomperts.
bq. Rebecca Gomperts: "We're here with the ship Adelaida in Zihuatenejo, Mexico, to raise awareness to the violations of women's rights here in Guerrero, where abortion is still very restricted. We can take out women to international waters, where the Mexican jurisdiction doesn't apply anymore, and provide medical abortions to women in international waters."
New Orleans Removes Four Confederate Monuments
Back in the United States, New Orleans has removed four Confederate monuments, including one whose original inscription celebrated "white supremacy in the South." The government workers who removed the statues wore masks and bulletproof vests for protection, and were guarded by police snipers during the job. White nationalists had staged a series of protests in the lead-up to the memorials' removals. A car belonging to one of the workers had also been set on fire.
PA Residents Launch Tree Sits to Blockade Construction of Gas Pipeline
And at Camp White Pine in Pennsylvania, residents and activists have launched ongoing 24-hour tree-sits to try to block the construction of Sunoco's Mariner East 2 pipeline, which would carry fracked gas from the Marcellus Shale in Ohio across Pennsylvania to an export facility on the East Coast. Multiple residents and activists are currently suspended in trees in Huntingdon County in efforts to prevent workers from clearcutting the forest to make way for the pipeline.
---
Courtesy of Democracy Now (www.democracynow.org).  The original content is licensed under a Creative Commons Attribution-Noncommercial-No Derivative Works 3.0 United States License.