Syria: Death Toll from Suspected Assad Gas Attack Rises to 72
In Syria, the death toll has risen from a suspected chemical weapons attack in the northern province of Idlib. At least 72 people have died, including 20 children. Hundreds more were wounded. It's been described as the largest chemical attack in Syria since 2013. The United States, France and Britain have accused the Syrian government of carrying out the attack and have proposed a United Nations Security Council resolution condemning it. Russia is claiming the gases were released after an airstrike hit a depot where rebels were making chemical weapons. On Tuesday, White House Press Secretary Sean Spicer said the chemical attack will not change the United States' new position that the U.S. priority is not to get Assad out of power.
Press Secretary Sean Spicer: "Today's chemical attack in Syria against innocent people, including women and children, is reprehensible and cannot be ignored by the civilized world. There is not a fundamental option of regime change as there has been in the past. I think we would look like, to some degree, rather silly not acknowledging the—the political realities that exist in Syria and that what we need to do is fundamentally do what we can to empower the people of Syria to—to find a different way."
Meanwhile, the U.S. continues to carry out airstrikes in Syria as part of its fight against ISIS. The journalistic monitoring group Airwars says there are reports the U.S.-led coalition carried out at least four separate airstrikes Tuesday around the Syrian city of Raqqa, which is controlled by ISIS. Citing local news sources, Airwars says these airstrikes may have killed as many as 11 civilians. We'll have more on Syria after headlines.
300,000 Civilians Have Fled Mosul, as U.S. Strikes Reportedly Kill More Civilians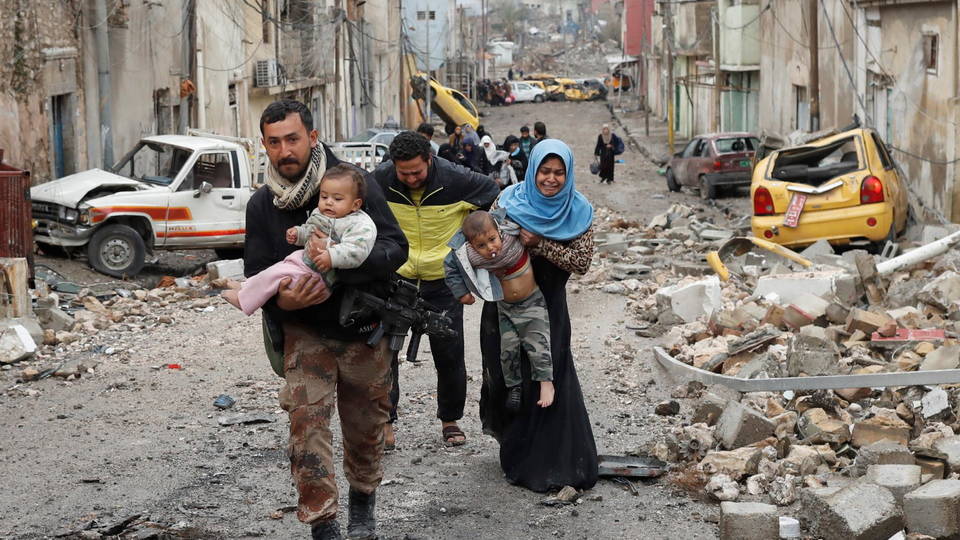 The United Nations says more than 300,000 Iraqi civilians have fled Mosul amid the ongoing U.S. and Iraqi militaries' offensive to retake the city from ISIS. The journalistic monitoring group Airwars reports U.S.-led coalition airstrikes have reportedly killed and injured more civilians in recent days. One U.S.-led coalition strike on the Yarmouk neighborhood of west Mosul reportedly killed three members of the same family on Sunday. Another strike, believed to be carried out by the U.S.-backed Iraqi military, reportedly hit a funeral procession in the Farouk neighborhood, also on Sunday. Airwars says U.S.-led coalition airstrikes reportedly killed hundreds of civilians in Mosul last month, including airstrikes on March 17 that killed up to 200 civilians.
North Korea Launches Ballistic Missile Test
North Korea launched a ballistic missile test today. It's the latest in a series of missile and rocket engine tests North Korea has launched in recent weeks. The test comes as the U.S. and South Korea are wrapping up weeks of military training drills on the Korean Peninsula. In response to the missile launch, Secretary of State Rex Tillerson said, "The United States has spoken enough about North Korea. We have no further comment." On Thursday, President Trump and Chinese President Xi Jinping are meeting at Trump's private Mar-a-Lago resort in Florida.
22 Advertisers Pull Ads from "O'Reilly Factor" Amid Sexual Harassment Scandal
Twenty-two advertisers have pulled their ads from the Fox News show "The O'Reilly Factor" in response to revelations that at least a half-dozen women have accused O'Reilly of sexual harassment. Among the companies to pull ad spots are Mercedes-Benz, Hyundai, BMW of North America, Mitsubishi Motors, Lexus, Bayer, Allstate and Coldwell Banker. The New York Times revealed Fox and O'Reilly have paid $13 million to five women who accused O'Reilly of sexual harassment, and more women continue to come forward.
Susan Rice: "I Leaked Nothing to Nobody"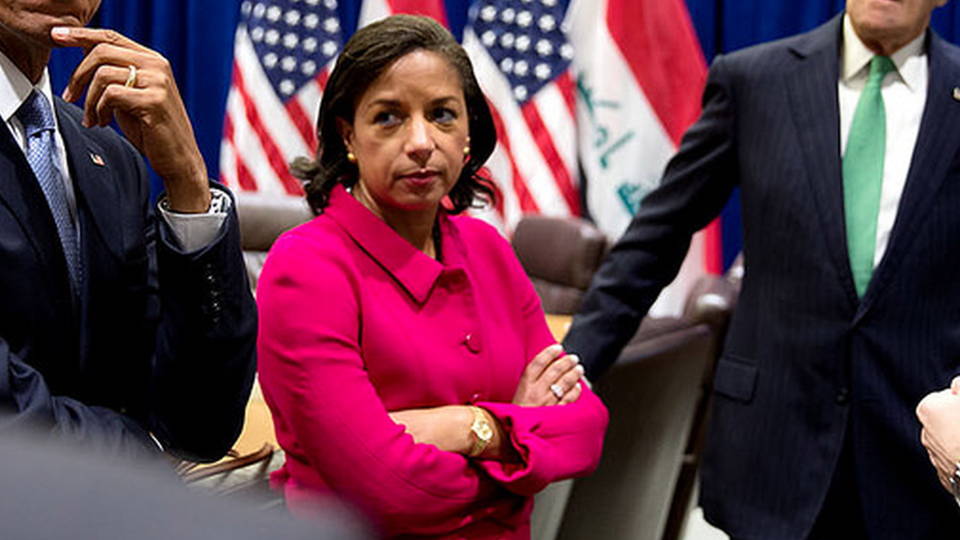 President Obama's National Security Adviser Susan Rice is rejecting allegations that she leaked the names of Trump associates whose communications were swept up by U.S. intelligence agencies' foreign surveillance. Earlier this week, it emerged that Rice was the official who "unmasked" the names of Michael Flynn and other Trump associates, whose names repeatedly came up in the U.S. surveillance records targeting the communications of Russian officials. While the names of Americans who are swept up by U.S. foreign surveillance are to be kept concealed from the public, top U.S. officials, such as Susan Rice, have the power to "unmask" their names internally so they can understand the context of the conversations. This is Susan Rice, speaking with MSNBC's Andrea Mitchell Tuesday.
Andrea Mitchell: "Did you seek the names of people involved in—to unmask the names of people involved in the Trump transition, the Trump campaign, people surrounding the president-elect—"
Susan Rice: "Let me begin—"
Andrea Mitchell: "—in order to spy on them, in order to expose them."
Susan Rice: "Absolutely—absolutely not for any political purposes, to spy, expose anything. But let me—"
Andrea Mitchell: "Did you leak the name of Mike Flynn?"
Susan Rice: "I leaked nothing to nobody, and never have and never would."
Trump Revoked Equal Pay Law, Only Days Before Equal Pay Day
President Trump is facing criticism for signing an executive order revoking 2014 rules aimed at protecting equal pay for women—only days before Equal Pay Day, which was Tuesday. According to 2016 data from the Pew Research Center, for every dollar a white man in the U.S. earns, white women earn 82 cents, black women earn 65 cents, and Hispanic women earn 58 cents.
Trump's daughter, Ivanka, is also facing blowback for tweeting, "#EqualPayDay is a reminder that women deserve equal pay for equal work. We must work to close the gender pay gap!"—without acknowledging her father rolled back equal pay protections.
Meanwhile, Iceland's parliament has introduced legislation that would require both public and private businesses to prove they are paying men and women workers equally. If it passes, it will be the first such law in the world.
NCAA Lifts Boycott on North Carolina, Despite Demands by Activists
The NCAA has lifted its boycott on holding championship events in North Carolina, following the repeal of the state's anti-LGBT law HB 2. Trans activists had demanded the NCAA keep the boycott in place, saying North Carolina's replacement law, HB 142, is also discriminatory against the LGBT community. This is North Carolina trans activist Joaquin Carcaño, speaking on Democracy Now!
Joaquin Carcaño: "You know, HB 142 is just a repackaged HB 2 under a different name. We still don't have any safety, we still don't have any protections, and we're still actively restricted from navigating our daily lives. We continue to ask for a boycott to the state, for the NCAA to not return to North Carolina, and for the state and the nation to continue to see that North Carolina is actively discriminating against our community."
Meanwhile, in Chicago, the 7th Circuit Court of Appeals ruled workplace discrimination on the basis of sexual orientation violates the Civil Rights Act of 1964.
Documents: NYPD Officers Infiltrated Black Lives Matter Protesters
An investigation by The Guardian has revealed that undercover officers with the New York Police Department worked to infiltrate a group of Black Lives Matter protesters. The investigation draws on emails obtained through a Freedom of Information Act request, which shows how undercover officers posed as protesters and gained access to small text message groups used by the protesters. This is Kim Ortiz with the group NYC Shut It Down, which has been holding a weekly protest every Monday night for the last two years highlighting a different person killed by the police every week.
Kim Ortiz: "There are undercovers in our marches. We had a FOIA request that just came out. And we know that they're using a lot of tactics to try to infiltrate our spaces, when all we're trying to do is call for accountability."
Activist Accuses NYPD of Arresting Him in Retaliation for Cop Watch
The New York Police Department is facing accusations it arrested a local activist in retaliation for his work of filming police brutality as part of a Cop Watch program. The activist, Jose LaSalle, says he was arrested twice within 24 hours after filming police stop-and-frisks. At a press conference on Monday, he released audio from inside the precinct where you can hear the officers taunting him and cheering.
Police officer 1: "Felony count. Felony count!"
Police officers: [Cheering]
Police officer 1: "That is a felony."
Police officers: [Cheering]
Police officer 2: "We did it, guys!"
Police officers: [Cheering]
Pepsi Ad Criticized & Ridiculed for Coopting Anti-Police Brutality Movement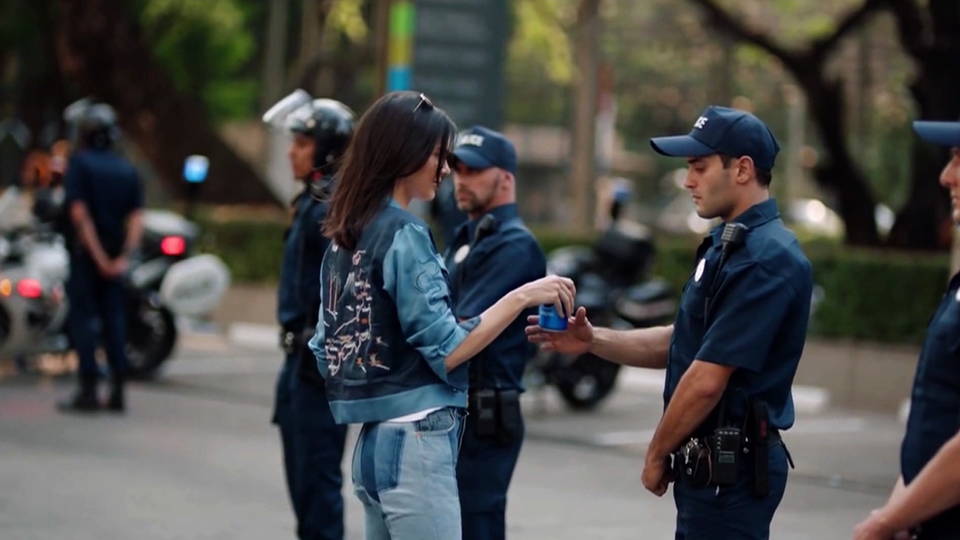 Activists with Black Lives Matter and other anti-police brutality groups are criticizing and ridiculing a Pepsi ad that coopts and misrepresents the resistance movement in order to sell soda. In the ad, white 21-year-old reality TV star Kendall Jenner is presented as a hero, after she offers a can of Pepsi to a police officer in the middle of a peace march. The police officer, who is not clad in heavy riot gear as most officers are during protests, accepts the can of soda, appearing to suggest that Pepsi could smooth tensions between police forces and demonstrators, who have spent years protesting police killings of unarmed people, disproportionately people of color.
Phoenix to Close Scorching Outdoor Jail Known as "Tent City"
In Phoenix, Arizona, Maricopa County Sheriff Paul Penzone has announced he'll be closing the infamous Tent City—a scorching outdoor city jail, which longtime former Maricopa County Sheriff Joe Arpaio once referred to as his own "concentration camp." Arpaio was voted out of office in November, after a massive grassroots effort by immigrant rights activists. In response to the announcement of the closing of Tent City, Carlos García, director of the group Puente Arizona, said, "We applaud Sheriff Penzone making the decision to close Arpaio's tent city. The next step in removing Arpaio's stain from the Maricopa County Sheriff's Office is to remove federal deportation agents from its main jail."
Maryland Bans Fracking, After Grassroots Organizing Effort
And in Maryland, Governor Larry Hogan has signed a law permanently banning fracking in the state. The ban comes after years of grassroots organizing against fracking in Maryland.
---
Courtesy of Democracy Now (www.democracynow.org).  The original content is licensed under a Creative Commons Attribution-Noncommercial-No Derivative Works 3.0 United States License.