President Trump Says Gas Attack Changed His Views on Syria
President Donald Trump said Wednesday a chemical weapons attack in Syria this week that left at least 86 people dead had altered his position on Syria and its leader Bashar al-Assad. Speaking at the White House alongside King Abdullah II of Jordan, Trump called the attack an "affront to humanity" but offered no details about his planned response.
President Donald Trump: "It crossed a lot of lines for me. When you kill innocent children, innocent babies, babies, little babies, with a chemical gas that is so lethal—people were shocked to hear what gas it was—that crosses many, many lines, beyond a red line. Many, many lines."
When Trump was later asked whether he would consider military intervention in the conflict, he said he would not disclose his plans, leaving open the possibility of a surprise attack.
In Reversal, Trump Administration Threatens Unilateral Syria Attack
Trump's remarks came just days after his administration said it would no longer seek the ouster of Bashar al-Assad. The U.S., France and Britain accuse the Assad government of carrying out a chemical attack. A spokesperson for Russian President Vladimir Putin called the gassing of civilians a "dangerous and monstrous crime" but did not name anyone as the perpetrator. At the United Nations, U.S. Ambassador Nikki Haley told the Security Council Wednesday the U.S. was prepared to take unilateral action against Syria.
Ambassador Nikki Haley: "When the United Nations consistently fails in its duty to act collectively, there are times in the life of states that we are compelled to take our own action."
Ambassador Haley held photographs of Syrian children killed in Tuesday's gas attack, asking, "How many more children have to die before Russia cares?" The journalistic monitoring group Airwars reports over 700 children have been killed in U.S. coalition airstrikes in Iraq and Syria since August 2014.
Chief Strategist Stephen Bannon Removed from National Security Council
President Trump has removed his chief strategist, Stephen Bannon, from the principals committee of the National Security Council. The move reportedly came at the request of Trump's national security adviser, H.R. McMaster, who objected to Trump's top political adviser shaping national security policy. Bannon is the former editor of the website Breitbart.com, which frequently publishes racist, sexist and white supremacist views. Politico reports Bannon has grown so frustrated with infighting in the Trump administration that a top donor, Rebekah Mercer, had to convince him to stay in his position. Trump's change will also restore the chair of the Joint Chiefs of Staff and the director of national intelligence to the National Security Council, after the pair were initially told they would attend meetings only when invited. Trump has also added CIADirector Mike Pompeo, U.N. Ambassador Nikki Haley and Energy Secretary Rick Perry to the council.
GOP Readies "Nuclear Option" for Supreme Court Nominee Neil Gorsuch
On Capitol Hill, Senate Democrats are preparing to mount a filibuster today against Supreme Court nominee Neil Gorsuch, as Republican Majority Leader Mitch McConnell prepares to change Senate rules to confirm Supreme Court nominees by a simple majority—the so-called nuclear option. The move would pave the way for Gorsuch's confirmation in an up-or-down vote Friday and could radically change how future Supreme Court appointees are selected. Ahead of today's showdown, Oregon Democratic Senator Jeff Merkley held a filibuster-like session overnight Tuesday, speaking for over 15 hours in protest of Gorsuch's nomination. Merkley repeatedly cited the refusal of Republicans to even consider President Obama's nominee to the Supreme Court in March of last year—Merrick Garland.
Sen. Jeff Merkley: "And to confirm anyone but Merrick Garland to this seat confirms the Senate as the thief who took the seat for the first time in U.S. history and transported to another president in an effort to pack the court."
Politico: Gorsuch Lifted Entire Passages for Book Without Citations
Meanwhile, Politico is reporting Supreme Court nominee Neil Gorsuch borrowed heavily from several authors for his 2006 book and an academic article—without citing their work. In one chapter in "The Future of Assisted Suicide and Euthanasia," Gorsuch lifted entire passages from an Indiana Law Journal article, with minor additions and changes to verb tenses. Syracuse University writing professor Rebecca Moore Howard told Politico, "Each of the individual incidents constitutes a violation of academic ethics. I've never seen a college plagiarism code that this would not be in violation of."
Trump to Meet Chinese President Xi Jinping at Trump Mar-a-Lago Resort
President Donald Trump travels today to the Trump Mar-a-Lago Club in Palm Beach, Florida, to meet with Chinese President Xi Jinping—the first meeting between the two leaders. Since taking office, Trump has already spent 17 days at Mar-a-Lago, at an estimated cost to taxpayers of $3.3 million per trip. Ahead of the talks with Xi, Trump predicted a difficult meeting, promising to confront the Chinese leader over trade deficits and currency manipulation. The pair are also expected to discuss North Korea's nuclear weapons program. Trump has warned he's willing to take unilateral action against North Korea. We'll have more on the meeting between Donald Trump and Xi Jinping after headlines.
President Trump Backs Bill O'Reilly Amid Sexual Harassment Charges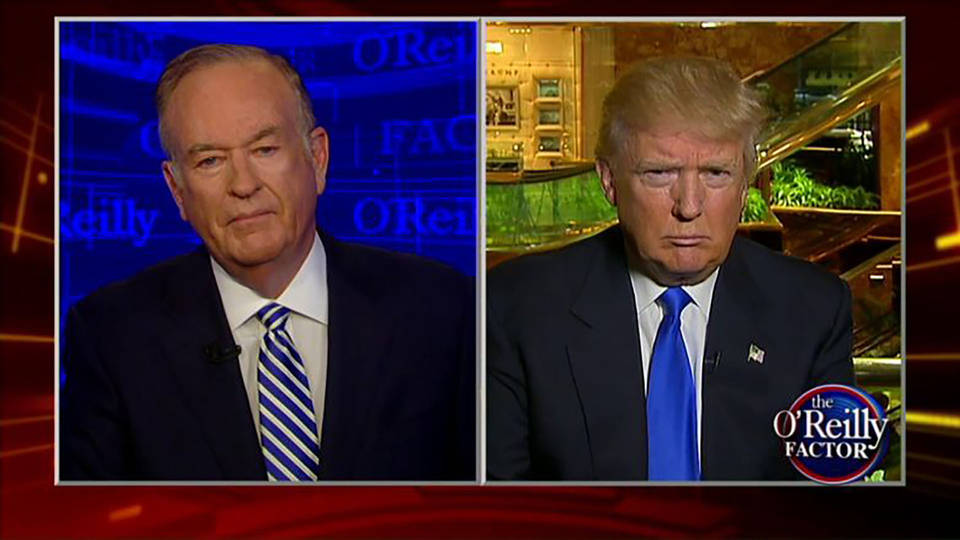 President Donald Trump is lending his support to Bill O'Reilly, as the number of advertisers boycotting the Fox News host's program has increased to at least 52, following revelations that Fox News paid out $13 million to settle lawsuits by five women who accuse O'Reilly of sexual harassment and inappropriate sexual behavior. Other women have made similar accusations. In an Oval Office interview with The New York Times Wednesday, Trump said, "I don't think Bill did anything wrong. ... I think he's a person I know well. He is a good person." Trump's support for O'Reilly came just days after he issued a presidential statement proclaiming April to be National Sexual Assault Awareness Month. In response, NARAL communications director Kaylie Hanson Long? tweeted, "A man who bragged about committing sexual assault and grabbing women by the pussy is defending Bill O'Reilly. Enough said."
African-American Employees Sue Fox News, Charging Racism
Meanwhile, a third Fox News employee has joined a lawsuit charging the network with racial discrimination. The suit claims top executives—including former CEO Roger Ailes—refused to intervene as African-American women employees were forced to endure "years-long relentless racial animus" at the hands of a white manager, Judith Slater. Fox News fired Slater in March, just before the lawsuit was filed.
Mosul Assault Continues as Nearly 300 Bodies Pulled from Site of Airstrike
In Iraq, U.S.-backed Iraqi forces battled ISIS on the edges of Mosul's Old City today, as a top Iraqi general claimed his troops were slowing their offensive to prevent more civilian deaths. The fighting came as Iraqi officials said Wednesday they've pulled nearly 300 bodies from the site where a March 17 airstrike buried civilians seeking shelter from the violence. The U.S. commander in the fight against ISIS acknowledged there's "at least a fair chance" the U.S.-led coalition was responsible for the deaths.
Pakistan: Suicide Bomber Kills Six in Attack on Census Workers
In Pakistan, a suicide bomb blast killed six people and wounded at least 18 others in the city of Lahore Wednesday. The Pakistani Taliban claimed responsibility for the violence, which targeted census workers. Pakistan has deployed some 200,000 troops to provide security for this year's census—the country's first since 1998.
Puerto Rican Students Extend Strike Indefinitely to Protest Austerity
Verónica Figueroa Huertas: "We need to balance what we win versus what we lose, if we are in the fight or not. In the past we've seen how other fellows have sacrificed themselves to save the university and the access to it. If we need to lose the semester, something that has never happened before due to shutdowns and strikes but is one of the counter-arguments—if this is the first time we lose a semester, we lose it and retake it. I think that to be able to come up with solutions that change and transform the values of our society, and that transform the system, we need to invest in tools such as education. And we are the ones who need to put pressure and organize politically to make that happen."
The striking students are demanding reforms including an end to budget cuts, no tuition increases, and an independent audit of Puerto Rico's debt.
New York Mayor Bill de Blasio: Rikers Jail to Close Within 10 Years
In New York City, Mayor Bill de Blasio has said the jail on the notorious Rikers Island will be closed within 10 years. The announcement comes after many years of organizing to close the jail, which has been the site of brutality by corrections officers. A commission has recommended replacing the Rikers Island jail with five new smaller jails, a plan that would cost $10 billion. Among the cases of injustice that have called attention to Rikers is the story of Kalief Browder, who committed suicide in 2015 at the age of 22, after he was sent to Rikers for nearly three years on suspicion of stealing a backpack. He always maintained his innocence and demanded a trial. Instead, he spent nearly 800 days in solitary confinement. This is rapper Jay Z, who produced the docuseries "Time: The Kalief Browder Story," calling for Rikers Island to be closed, in an exclusive interview with Democracy Now!
Amy Goodman: "Do you think Rikers should be closed?"
Jay Z: "Oh, man. Well, if anything like that is happening, if one kid—if that happens to one kid, any place that that can happen to any kid should be closed."
Pepsi to Drop Commercial Coopting Black Lives Matter Amid Furor
And Pepsi has pulled an advertisement featuring reality TV star Kendall Jenner, following widespread ridicule and anger for attempting to coopt the Black Lives Matter movement to sell soda. The commercial presented Jenner as a hero, after she offered a can of Pepsi to a police officer in the middle of a peace march. The ad prompted Bernice King to tweet a photo of her father, the late Dr. Martin Luther King, being shoved by a white police officer, with the caption, "If only Daddy would have known about the power of #Pepsi." In a statement, Pepsi apologized for the advertisement, saying it "missed the mark."
---
Courtesy of Democracy Now (www.democracynow.org).  The original content is licensed under a Creative Commons Attribution-Noncommercial-No Derivative Works 3.0 United States License.