Secret Service Spoke to Trump Campaign About Comments
An official from the U.S. Secret Service has confirmed the agency has spoken to the Trump campaign about his comments at a rally in Wilmington, North Carolina, Tuesday, which many saw as a call to assassinate his rival Hillary Clinton.
Donald Trump: "Hillary wants to abolish—essentially, abolish—the Second Amendment. By the way, and if she gets to pick—if she gets to pick her judges, nothing you can do, folks. Although the Second Amendment people, maybe there is. I don't know."
The official told CNN the Secret Service has had multiple conversations with the campaign over the comments. Donald Trump, however, is denying these conversations with the Secret Service have taken place, tweeting, "No such meeting or conversation ever happened."
Hillary Clinton: Trump Comments Are "Inciting of Violence"
This comes as Hillary Clinton has spoken out about Trump's comments during a rally in Des Moines, Iowa, Wednesday.
Hillary Clinton: "Yesterday we witnessed the latest in a long line of casual comments from Donald Trump that cross the line—his casual cruelty to a Gold Star family, his casual suggestion that more countries should have nuclear weapons, and now his causal inciting of violence. Every single one of these incidents shows us that Donald Trump simply does not have the temperament to be president and commander-in-chief of the United States."
Jill Stein Issues Call to "Disarm Trump"
Green Party presidential nominee Dr. Jill Stein has also addressed Trump's comments, tweeting: "Gun violence is no laughing matter, we need a President who understands it's not funny to call on people to shoot opponents. Disarm Trump." Trump, however, has denied the comments were a call to assassinate Hillary Clinton. On Tuesday, his campaign issued a statement saying he was referring to the Second Amendment supporters' "amazing spirit and ... great political power."
Clinton Embraces Endorsement of John Negroponte
Meanwhile, Hillary Clinton has embraced her recent endorsement by John Negroponte, the former director of national intelligence. The President George W. Bush official also served as U.S. ambassador to Honduras, which was the staging ground for the U.S.-backed Contras in Nicaragua. Hillary Clinton has faced questions on the campaign trail about her own role in Honduras as secretary of state, including legitimizing the 2009 coup in Honduras.
Clinton Campaign & Foundation Facing Questions over State Dept. Emails
The Clinton campaign is continuing to face questions following the release of 44 State Department emails showing close ties between the Clinton Foundation and the State Department during Clinton's time as secretary of state. The emails include communications between top members of the Clinton Foundation and Clinton's top State Department advisers, including Huma Abedin and lawyer Cheryl Mills. One of the communications was about billionaire Nigerian-based developer Gilbert Chagoury, who had contributed between $1 million and $5 million to the Clinton Foundation. The emails show a top Clinton Foundation executive writing to Abedin and Mills asking for help putting Chagoury in touch with the U.S. ambassador to Lebanon. Abedin responded, "I'll talk to jeff," referring to then-U.S. Ambassador Jeffrey Feltman. On Wednesday, Chagoury's spokesperson said Chagoury "was simply passing along his observations and insights about the dire political situation in Lebanon at the time."
Florida: Police Kill 73-Year-Old Retired Librarian During Training Exercise
In Florida, police fatally shot a 73-year-old white woman during a police training exercise at the Punta Gorda Public Safety Complex on Wednesday. The officer who fired the gun thought it was loaded with blanks. Mary Knowlton was a retired librarian and a mother of two. She had volunteered to participate in a "shoot/don't shoot" exercise as part of the citizen police academy. During the exercise, police officer Lee Coel shot the librarian in front of nearly three dozen other volunteers. Punta Gorda Police Chief Tom Lewis says live ammunition was not supposed to be in any of the guns used during the exercise. This is Mary Knowlton's son, Steve Knowlton.
Steve Knowlton: "It was surreal. At first, we thought she just fell down. And then they turned her over, and that's when they saw the bullet holes. Total pandemonium. They were just trying to do CPRand keep her alive."
Officer Lee Coel has been placed on paid administrative leave.
Los Angeles: Police Kill 14-Year-Old Middle Schooler
Meanwhile, in Los Angeles, community members held a vigil to mourn the death of 14-year-old Mexican-American Jesse Romero, who was killed by police Wednesday. Police say they were responding to a call about teenagers writing graffiti in the L.A. neighborhood of Boyle Heights. Police say they shot and killed Romero after he ran away from police and fired a gun. But witnesses contradict the police's claim. One woman told the Los Angeles Times she saw Romero toss a handgun toward a fence while he was running away from the police. She says the gun went off when it hit the ground. She says she then heard two gunshots, saw Romero fall to the ground, and then watched the police handcuff him. Police say the officers were wearing body cameras, but the video has not yet been released. This is Romero's friend, Yohana Miranda.
Yohana Miranda: "Why would you shoot him, if he didn't even point at you guys? He didn't do nothing. Like, aren't you guys trained to do your job? Why? Shouldn't you guys tackle him down if he's not shooting you guys? He didn't point a gun at them. Why would he shoot? This kid was only 14 years old."
Romero was a student at Hollenbeck Middle School. He would have turned 15 on August 24.
NC: White Neighborhood Watch Vigilante Kills Black Man Returning from Party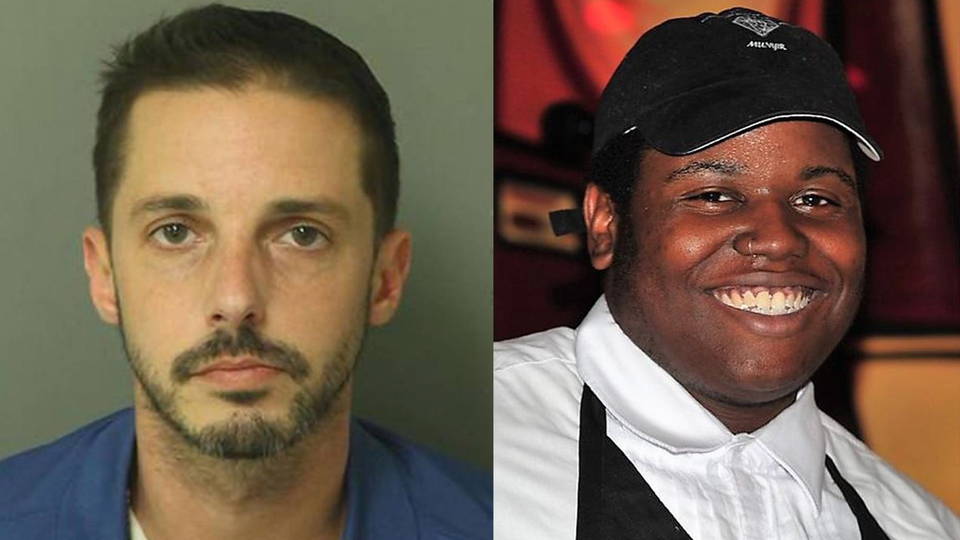 In Raleigh, North Carolina, a white man who claimed he was on a neighborhood watch shot and killed a 20-year-old African-American man after telling the 911 dispatcher, "We got a bunch of hoodlums out here racing. I'm going outside to secure my neighborhood." Police say Chad Copley shot and killed 20-year-old Kouren-Rodney Bernard Thomas from inside his garage as Thomas was walking home from a party on Sunday. Copley has been charged with first-degree murder. The case recalls the killing of African-American teenager Trayvon Martin by neighborhood watch vigilante George Zimmerman.
Missouri: Lawsuit Accuses Cities of Running Debtors' Prisons
In Missouri, lawyers have sued 13 St. Louis-area cities, arguing the cities are violating poor citizens' rights by locking them in jail over minor traffic violations. The lawsuit was filed on the second anniversary of the police killing of Michael Brown, an unarmed 18-year-old African American who was killed by white police officer Darren Wilson in the St. Louis suburb of Ferguson. The lawsuit argues the cities are operating a "modern day police state and debtors' prison scheme that has no place in American society today." It was filed on behalf of 13 people, one of whom was locked up in squalid conditions in jail for days over a parking ticket.
Turkey: 8 Killed in 2 Separate Bomb Attacks in Southeast
In international news, at least eight people were killed in two separate bomb attacks in southern Turkey. Officials have blamed the Kurdistan Workers' Party, known as thePKK, for the attacks. This comes as Turkish authorities have arrested at least 17 people in raids in Istanbul. Officials say the raids are targeting suspected terrorists, but media reports say the headquarters of the leftist, pro-Kurdish Peoples' Democratic Party, known as the HDP, was also raided by police during the operation. Meanwhile, Turkish President Recep Tayyip Erdogan has reiterated his calls for the United States to extradite Turkish cleric Fethullah Gülen, who is living in the Pennsylvania Poconos. Erdogan has accused Gülen of masterminding the failed coup, which Gülen denies.
Declassified Documents Show Kissinger Role in Argentine Dirty War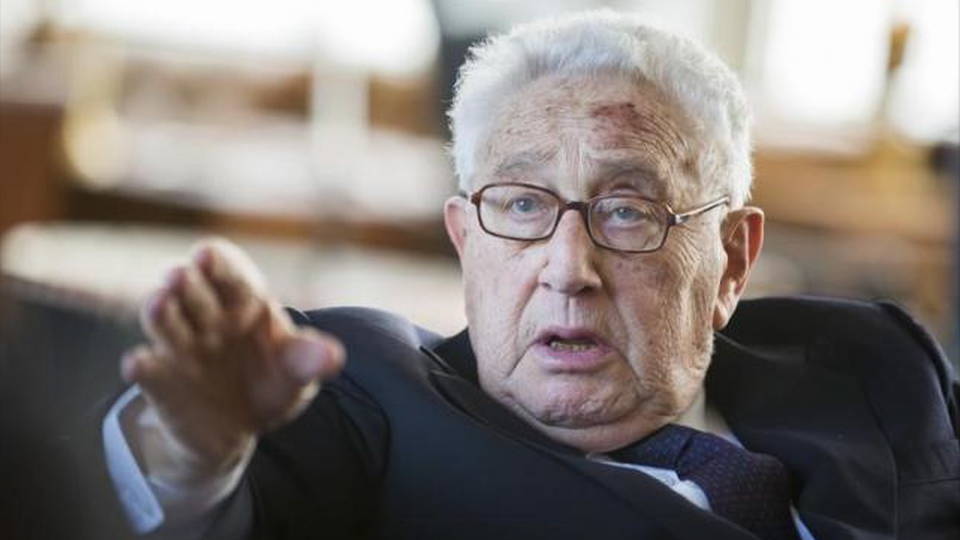 Newly declassified State Department documents are shedding new light on the relationship between former Secretary of State Henry Kissinger and Argentina's military dictatorship, which ruled the country from 1976 to 1983. The documents show how Kissinger thwarted the State Department's efforts to stop the mass killings by instead praising Argentina's military leaders in 1978, saying, "the government of Argentina had done an outstanding job in wiping out terrorist forces." Kissinger made the comments while visiting Argentina for the 1978 World Cup as a personal guest of junta leader General Jorge Videla, who presided over the disappearance of as many as 30,000 people. In one of the newly released cables, National Security Council official Robert Pastor wrote, "[Kissinger's] praise for the Argentine government in its campaign against terrorism was the music the Argentine government was longing to hear."
Filmmakers Demand Probe of Targeting of People Who Film Police
Laura Poitras and more than 40 other documentarians are calling on the Justice Department to investigate the targeting and harassment of citizen journalists who film police violence. The group includes eight Oscar winners. Laura Poitras won for her documentary about Edward Snowden, "CitizenFour." The letter, titled "Right to Record," highlights that the bystanders who filmed the police killings of Alton Sterling, Philando Castile and Eric Garner were all subsequently arrested.
Wisconsin Court Suspends Ruling Striking Down Voter ID Law
In Wisconsin, an appeals court has suspended a July ruling that struck down parts of Wisconsin's voter ID law. Under the earlier July 19 ruling, Wisconsin voters would be able to vote in November even if they don't have the IDs required by the restrictive law. But this new appeals court ruling suspends that ruling, once again making it harder for people to vote in November's general election.
Texas: Transgender Woman Erykah Tijerina Killed
In Texas, a transgender woman was killed Monday inside an apartment building in El Paso. Erykah Tijerina was 36 years old. Police say they are investigating her death as a homicide. Her family says they believe her killing may have been a hate crime. At least 16 transgender people been murdered this year, following a record of more than 20 killings in 2015.
India: Activist Irom Sharmila Ends 16-Year Hunger Strike
In India, human rights activist Irom Sharmila has ended the world's longest hunger strike. Sharmila began her strike 16 years ago, after 10 people were reportedly killed by a government paramilitary group in her home state of Manipur. She broke her strike Tuesday with a lick of honey. She says she will now run to be chief minister of Manipur. This is Sharmila speaking to the BBC after breaking her fast.
Irom Sharmila: "Since the beginning of my fast, there is no change in the mindset of the people. I think I need to change my strategy. And without power in my hands, who will hear my voice?"
Irom Sharmila is known as the "Iron Lady."
Manhattan: Man Scales Side of Trump Tower
And here in New York City, a 20-year-old Virginia man scaled the side of the Trump Tower using industrial-grade suction cups and a rope and harness on Wednesday. The man, who is a Trump supporter, said his goal was to reach the top of the tower and ask for a personal meeting with Donald Trump. After an hours-long standoff, the police pulled him through a window on the 21st floor and took him to Bellevue Hospital.
---
Courtesy of Democracy Now (www.democracynow.org).  The original content is licensed under a Creative Commons Attribution-Noncommercial-No Derivative Works 3.0 United States License.