Bomb Blasts Hits Thailand as Nation Moves to Military Rule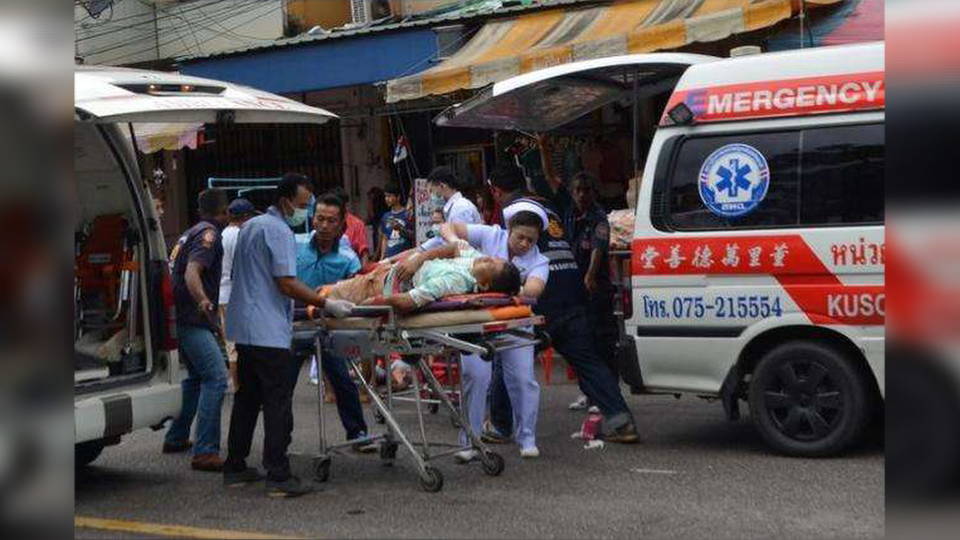 A series of bomb blasts in Thailand have hit three of the country's most popular tourist resorts, killing four people and wounding dozens. There have been at least 11 explosions in total since Thursday. No group has claimed responsibility for the blasts. The blasts come days after the country voted to accept a military-backed charter in a referendum. Human Rights Watch has warned that Thailand is moving toward becoming a military dictatorship. Brad Adams, the group's Asia director, said, "Instead of the long-promised return to democratic civilian rule, the new constitution facilitates unaccountable military power and a deepening dictatorship."
Press Outlets Seek Unsealing of Trump Divorce Records
The New York Times and the Gannett newspaper chain have petitioned the New York Supreme Court to unseal records from Donald Trump's 1990 divorce proceedings with Ivana Trump. Unsealed records could determine if Ivana directly accused Trump of raping or sexually assaulting her during their 14-year marriage. According to the book "Lost Tycoon," Ivana used the word "rape" during one deposition in the divorce case. She later softened her language, saying she felt "violated" during an encounter where Donald Trump reportedly held back her arms and pulled out fistfuls of her hair.
Top Trump Aide in NC Accused of Pulling Gun on Staffers
Donald Trump's former North Carolina campaign director has resigned after being accused of pulling a gun on at least five people, including campaign staffers. The director, Earl Phillip, is named in a new lawsuit filed by a staffer who claims Phillip pointed a loaded .45 caliber pistol at him and then placed the barrel of the gun on his knee while they were driving in South Carolina earlier this year. Phillip remained in his position even after the staffer notified senior Trump officials.
Clinton: Don't Believe Trump is on Side of "Little Guy"
Hillary Clinton traveled to Warren, Michigan, to outline her economic vision just days after Donald Trump spoke in Detroit. Clinton accused Trump of paying "lip service" to being on the side of average Americans.
Hillary Clinton: "There is a myth out there that he will stick it to the rich and powerful because, somehow, he's really on the side of the little guy. Don't believe it."
Court Strikes Down North Carolina's "Racially Gerrymandered" Districts
 A panel of federal judges has ordered North Carolina to redraw its legislative districts, saying the current ones are unconstitutional and racially gerrymandered. In a statement, the Rev. William Barber of the North Carolina
NAACP
said, "This is a tremendous ruling that the Republican-led legislature used racial discrimination to undermine the power of the black vote and other minority voters, which is contrary to our Constitution and our democracy." Despite the ruling, the judges have allowed the current voting maps to be used in the November election. Late last month, a federal appeals court also struck down voting restrictions in North Carolina, saying they "disproportionately affected African Americans."
FEC Member Proposes Ban on Foreign Campaign Donations
 Federal Election Commission member Ann Ravel has proposed a new ban on political contributions by domestic subsidiaries of foreign corporations. Ravel said the issue is no longer a "hypothetical concern," citing a recent report by The Intercept exposing how a Chinese-owned firm donated money to Jeb Bush's campaign. Such donations can now be made thanks to the Supreme Court's Citizens United ruling. The Intercept's Lee Fang talked about his reporting on Democracy Now! last week.
Lee Fang: "We simply looked at some of the largest corporate donations to presidential super PACs and tried to find out their ownership structure. By chance, we found that one of the largest corporate donors to the Jeb Bush super PAC, Right to Rise, was owned—or, is owned by two Chinese nationals. They're permanent residents of Singapore. And they gave $1.3 million to the Jeb Bush super PAC."
DEA Keeps Marijuana as Schedule I Drug Along with Heroin
The Drug Enforcement Administration has rejected requests to stop classifying marijuana as a dangerous drug with no medical use. This means marijuana will remain a "Schedule I" drug—the same as heroin. While 25 states have approved the medical use of marijuana, the Department of Health and Human Services maintains there is "no accepted medical use in the United States." Meanwhile, in a separate decision, the government has announced it will start allowing more universities to start growing marijuana for research purposes. Currently it is only allowed at the University of Mississippi.
Exclusive: Video Shows LAPD Handcuffing Teen After Fatal Shooting
In news from Los Angeles, Democracy Now! has obtained video from the aftermath of the police killing of 14-year-old Mexican American Jesse Romero, who died earlier this week. Police say they were responding to a call about teenagers writing graffiti in the L.A. neighborhood of Boyle Heights. Police say they shot and killed Romero after he ran away from police and fired a gun. But witnesses contradict the police's claim. The video, which begins just after the shooting, shows officers standing over the boy's body on the sidewalk and then handcuffing him. Jesse Romero was a student at Hollenbeck Middle School. He would have turned 15 on August 24.
Florida Officer Who Shot Librarian in Training Session Once Let His Police Dog Maul Biker
In news from Florida, more information has come to light about the police officer who fatally shot a 73-year-old retired librarian during a police training exercise earlier this week. The woman, Mary Knowlton, had volunteered to participate in a "shoot/don't shoot" exercise as part of the citizen police academy. She died after the officer, Lee Coel, accidentally shot her with live ammunition. Last year, Coel was accused of using excessive force when he let his police dog severely maul a man who was pulled over for biking without a headlight or taillight. The incident was caught on video. Officer Lee Coel has now been placed on administrative leave.
14 Arrested as Standing Rock Sioux Tribe Protest N. Dakota Pipeline
In North Dakota, 14 people were arrested Thursday protesting the $3.8 billion Dakota Access pipeline that will stretch from North Dakota to Illinois. The protest was led by members of the Standing Rock Sioux Tribe, which has been staging nonviolent protests against the pipeline for months. The Standing Rock Sioux Tribe maintains that the pipeline is being built in violation of the National Historic Preservation Act.
Ecuador to Allow Swedish Prosecutors to Interview Julian Assange at Embassy
Ecuador has announced it will allow Swedish prosecutors to interview WikiLeaks founder Julian Assange in its London embassy, where Assange has been living for more than four years. Swedish authorities want to question Assange about allegations of sexual misconduct, although charges have never been filed. Assange has been confined to the Ecuadorean Embassy, fearing that if he were to attempt to leave, he would be arrested by British police and ultimately extradited to the United States, where it is believed there is a sealed indictment against him over WikiLeaks' release of documents.
Mothers of the Plaza de Mayo Hold 2,000th March in Argentina
In Argentina, the Mothers of the Plaza de Mayo held their their 2,000th march in Buenos Aires on Thursday demanding justice for their children who went missing during the country's military dictatorship. The Mothers have been staging regular protests in the Plaza de Mayo since 1977.
Hebe de Bonafini: "Dear children, all the 30,000 missing, 15,000 who were shot in the streets, the 8,900 political prisoners and more than 2 million in exile who have all become our children, this is no small thing. It's the heavy burden of so many children, but it is so beautiful, so amazing, so unique. I think that there are no women like us in the world with the strength in our bellies, in our hearts, in our bodies, with so much responsibility for our children whom we love, whom we love and whom we continue to defend."
Thursday's march in Argentina came just days after the United States declassified documents showing that former Secretary of State Henry Kissinger thwarted the State Department's efforts to stop the mass killings by instead praising Argentina's military leaders in 1978.
India's King of Bollywood, Shah Rukh Khan, Stopped for Third Time Entering U.S.
One of India's most famous movie stars has been stopped for at least the third time while entering the United States, sparking new outcry over racial profiling. Last night, Shah Rukh Khan, who is known as the King of Bollywood, tweeted to his 20 million followers a message reading, "I fully understand and respect security with the way the world is, but to be detained at US immigration every damn time really really sucks."
Protesters Wearing Trump Masks Run Next to Sen. Ayotte During 5K Race
New Hampshire Republican Sen. Kelly Ayotte was confronted by an unusual type of protest on Thursday. As she ran in a 5K road race in Manchester, a group of climate activists began running with her wearing Donald Trump masks. They urged her to drop her support for Trump.
---