Trump Vows "Extreme" Ideological Test for New Immigrants
Republican presidential nominee Donald Trump invoked the Cold War as he pledged to wage war against what he described as the "ideology of radical Islam," while speaking in Youngstown, Ohio, Monday. During his speech, Trump also vowed to impose a system of "extreme vetting," a new ideological test for all immigrants. During the speech, Trump also said he'd create a commission on radical Islam, keep Guantánamo Bay open and stop trying people accused of terrorism in civilian courts. He also reversed an earlier threat that the United States might not meet its NATOobligations, and said Monday he would work with NATO allies to defeat Islamic State militants if he wins the White House.
Giuliani Claims No Terrorist Attacks Occurred in Years Before Obama
Former New York City Mayor Rudolph Giuliani introduced Trump onstage in Youngstown on Monday, where Giuliani sparked outrage when he appeared to momentarily forget about the events of 9/11.
Rudolph Giuliani: "By the way, under those eight years before Obama came along, we didn't have any successful radical Islamic terrorist attack in the United States. They all started when Clinton and Obama got into office."
That was Rudolph Giuliani, who was mayor of New York City during the 9/11 attacks. In response,the cover of the New York Daily News today printed Giuliani's words superimposed upon an image of the falling twin towers.
VP Joe Biden: "Trump Is Already Making Our Country Less Safe"
Meanwhile, former Secretary of State Hillary Clinton and Vice President Joe Biden held a rally in Scranton, Pennsylvania, on Monday. Scranton is Biden's hometown. It was Biden's first campaign appearance on behalf of Hillary Clinton. During his speech, Biden said Trump was making the United States less safe.
Vice President Joe Biden: "Ladies and gentlemen, does he have any idea the adverse consequences these outlandish comments have on our allies, our friends and the physical safety of our troops? Trump is already making our country less safe."
We'll have more on Donald Trump's speech after headlines with Matt Taibbi, Phyllis Bennis, and Linda Sarsour.
After Uprising, Milwaukee Imposes Curfew for Teenagers
Milwaukee has imposed a 10 p.m. citywide curfew for teenagers, following this weekend's uprising sparked by the fatal police shooting of a 23-year-old African-American man named Sylville Smith. On Sunday, Wisconsin Governor Scott Walker also activated the National Guard after local residents set fire to police cars and several businesses, including a gas station, Saturday night. Police say Smith was shot by an officer following a traffic stop. Police Chief Edward Flynn says Smith had turned toward the officer with a gun in his hand. An autopsy conducted Monday shows Smith was fatally shot in his chest and arm. Milwaukee is considered to be one of the most segregated cities in the country.
Louisiana: Death Toll Rises to 7 Amid Historic Flooding
The death toll is rising from the unprecedented flooding in southern Louisiana. At least seven people have died, and more than 10,000 people have been forced to relocate to shelters, as evacuations and emergency rescues continue. President Obama has declared Louisiana a federal disaster zone. The historic flooding has also caused chaos, especially in the hard-hit areas in and around Baton Rouge. On Monday, one firefighter mistakenly shot another firefighter during a rescue mission near Baton Rouge. The man survived the shooting. The National Weather Service says flooding is expected to continue. More rain is in the forecast for the region this week.
Pentagon Releases 15 Prisoners from Guantánamo Bay
The Pentagon has announced it's released 15 prisoners from Guantánamo Bay, marking the largest single transfer since President Obama took office. The 15 men were sent to the United Arab Emirates. Each had been imprisoned by the United States for about 14 years without trial. There are now 61 prisoners remaining at Guantánamo. Of them, 20 have been cleared for release—some have been cleared for more than a decade. President Obama promised to close the prison at the beginning of his first term in office nearly eight years ago.
Yemen: U.S.-Backed Airstrike Destroys Hospital, Killing 15
In Yemen, as many as 15 people were killed Monday after a U.S.-backed, Saudi-led airstrike destroyed a hospital supported by Doctors Without Borders. At least another 19 people were wounded, including three foreign doctors, when the airstrike hit Abs Hospital in Yemen's northern Hajjah province. Among the victims were three Yemeni Doctors Without Borders staff members. Monday's attack on the hospital marks at least the fourth time U.S.-backed, Saudi-led airstrikes have hit a Doctors Without Borders-supported hospital in Yemen during the 17-month conflict. This is a local resident reacting to the airstrike.
Resident: "What did they find at the hospital other than the sick and the wounded and the injured? There is nothing here except patients and medical staff, Doctors Without Borders and Yemeni doctors."
Indian Security Forces Kill 5 Protesters in Kashmir
In Kashmir, at least five protesters have been killed after Indian security forces opened fire with automatic rifles on demonstrators on Monday, which was Independence Day in India. Among the victims was a 16-year-old boy. Demonstrators were throwing rocks and defying a curfew. Protests have been growing in Kashmir since early July, when Indian security forces killed a Kashmiri independence leader. At least 64 people have been killed and thousands injured during the month-long protests.
Turkey: 7 Killed in Car Bomb Attack on Police Station
Turkish state media says at least three civilians and four police officers have been killed in a car bomb attack on a police station in Turkey's southeast. Authorities say at least 20 more were wounded. No group has claimed responsibility. Local authorities have blamed the attack on the Kurdistan Workers' Party, known as thePKK.
Nigeria: Families Demand Rescue of Chibok Schoolgirls
In Nigeria, members of the group Bring Back Our Girls protested in the capital Monday demanding the government do more to rescue the more than 200 Chibok schoolgirls kidnapped by Boko Haram in April 2014. The protest came one day after Boko Haram released a video that appears to show about 50 of the kidnapped girls. In the video, militants demanded the release of imprisoned fighters in exchange for the girls' release. The video also appears to show the bodies of several girls whom militants say were killed by Nigerian airstrikes.
Health Officials: Number of 9/11-Linked Cancer Diagnoses Triples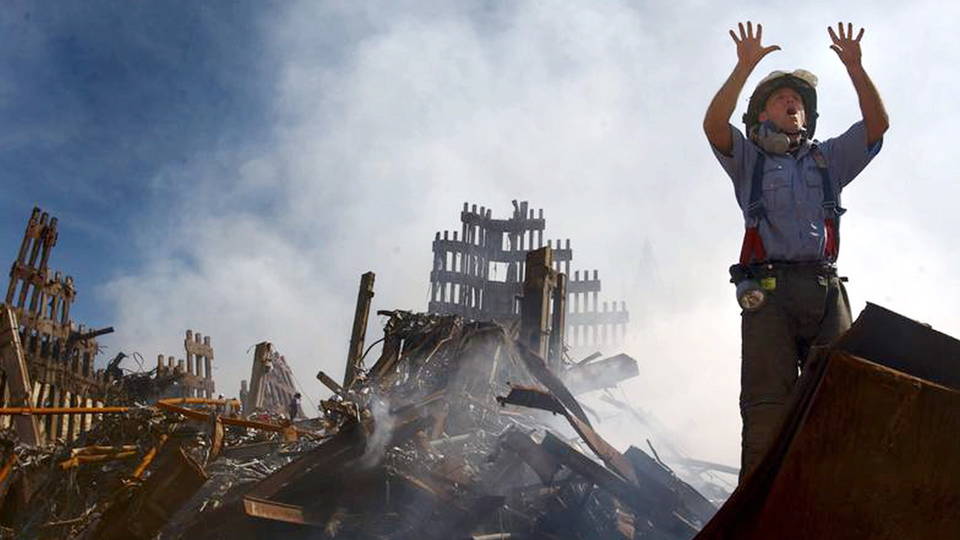 In New York City, health officials say the number of people who have been diagnosed with 9/11-linked cancers has tripled. Nearly 5,500 first responders and local residents have now been diagnosed with cancers linked to the toxic smoke and dust of 9/11. That's up from fewer than 2,000 cancer victims in 2014. Health officials have called the increase "alarming."
New York City: Hundreds Mourn Killing of Imam and His Assistant
Also in New York, hundreds gathered Monday for the funeral of Imam Maulama Akonjee and his assistant Thara Uddin, who were shot in the back of their heads while walking home from prayer in broad daylight on Saturday. On Monday, suspected shooter Oscar Morel was charged with two counts of second-degree murder. Authorities say it is not yet clear whether the imam and his assistant were targeted as a result of their faith. Many in the Queens community of Ozone Park say they think the Islamophobic rhetoric promoted by Donald Trump may have contributed to their deaths. New York City Mayor Bill de Blasio appeared to reference Donald Trump's rhetoric at Monday's funeral.
Mayor Bill de Blasio: "And we know there are voices all over this country who are spewing hate, trying to create division, trying to turn one American against another. I look around at all my brothers and sisters here, I see proud Americans, I see proud New Yorkers. And I will never let us be torn apart, and we will not let each other be torn apart."
NC Officials Ask SCOTUS to Reinstate Discriminatory Voter ID Laws
In North Carolina, officials are petitioning the U.S. Supreme Court to reinstate parts of North Carolina's strict voter ID laws, which were blocked last month after a court ruled the measures discriminated against African Americans and targeted them "with almost surgical precision." Last month's ruling means up to 5 percent of the state's registered voters targeted by the law can now vote in the general election. But state officials are asking the Supreme Court to reverse this decision, which would once again make it harder for people to vote in November.
Gays Against Guns Protest BlackRock for Investing in Firearms
And here in Manhattan, activists with the group Gays Against Guns rallied outside the New York City headquarters of the investment management company BlackRock to protest its investment in gun manufacturers. As of 2015, BlackRock was one of the top three shareholders of the gun manufacturers Smith & Wesson and Sturm, Ruger & Co. BlackRock has also invested heavily in major ammunition companies. During the protest, 12 activists staged a die-in to represent the people killed in the 2012 Aurora, Colorado, movie theater massacre. The shooter, James Holmes, had used a Smith & Wesson-manufactured semiautomatic rifle. This is organizer Tim Murphy.
Tim Murphy: "We're protesting BlackRock today because they're the largest asset management company in the country, and every time there's a mass shooting, since 2012, they buy more and more stocks in guns, because they know that the death business is good business for them. They are literally profiting off the backs of dead people."
---
Courtesy of Democracy Now (www.democracynow.org).  The original content is licensed under a Creative Commons Attribution-Noncommercial-No Derivative Works 3.0 United States License.