Over 100,000 in Louisiana Need Federal Assistance for Flood Cleanup
In Louisiana, more than 100,000 people have applied for federal assistance, as cleanup begins from last week's historic flooding. At least 13 people died in what the Red Cross has called the worst natural disaster in the U.S. since Hurricane Sandy. President Barack Obama is scheduled to tour flood-damaged areas on Tuesday. Louisiana Governor John Bel Edwards says more help is needed for the recovery effort.
Gov. John Bel Edwards: "Typically, by this point in a storm, I think Red Cross would be receiving a lot more donations. I think there would be more volunteers signing up. Although we have some of that in place now, it would be very helpful if people would donate to the Red Cross, to the Baton Rouge Area Foundation, and also to come in and volunteer to help people get back in their homes as quickly as possible."
Veteran Republican Operative Paul Manafort Quits Trump Campaign
In news from the campaign trail, longtime Republican political operative Paul Manafort has quit his position as chair of Donald Trump's campaign. Manafort's resignation came on Friday. Trump had appointed Stephen Bannon, the executive chair of the right-wing media outlet Breitbart News, to be his campaign's chief executive earlier in the week. Manafort is facing questions about his years of political consulting work in Ukraine, where he advised former President Viktor Yanukovych. The New York Times has reported that handwritten ledgers unearthed in Ukraine show $12.7 million of cash payments that were slated to go to Manafort—although it is not known whether he ever received the money.
New York Times: Donald Trump Owes at Least $650 Million in Debt
Meanwhile, The New York Times is also reporting Donald Trump's companies have at least $650 million in debt. This is twice the amount that appears on publicly filed documents Trump has released during his campaign. Donald Trump once told CNN, "I am the king of debt. I love debt."
Hillary Clinton Hasn't Held a News Conference in More Than 8 Months
Democratic nominee Hillary Clinton is taking criticism for not having held a news conference in more than eight months. This is Clinton campaign manager Robby Mook yesterday on CBS.
Robby Mook: "The real question here is whether Secretary Clinton has been taking questions from reporters, which she absolutely has. We went and counted, and she has been in more than 300 interviews with reporters this year alone. I know she's been on your show. And we're going to continue to do that. And there are a lot of different formats in which she can engage with reporters, whether it's those one-on-one interviews, whether it's talking with her traveling press and reporters, or a press conference. And we're going to look at all of those as we move forward."
Kerry to Visit Saudi Arabia as Criticism of Yemen War Intensifies
Secretary of State John Kerry is heading to Saudi Arabia as the Obama administration faces increasing pressure for its support of the Saudi-led war in Yemen. Over the past two weeks, the U.S.-backed Saudi coalition has bombed a Doctors Without Borders hospital, killing 19 people, and bombed two schools in northern Yemen, killing at least 14 children. Doctors Without Borders has since announced it will withdraw staff from six hospitals in the north of the country. U.S. support to the Saudis includes refueling their jets in midair and assisting with target selection. The U.S. has also sold Saudi Arabia billions of dollars' worth of weapons in recent years. In the last week, criticism of the U.S. role in Yemen has grown as it has been revealed that targets the U.S. had asked the Saudis not to strike had been hit anyway. The U.N. blames the Saudi-led coalition for the majority of the conflict's thousands of civilian casualties. This is Sen. Chris Murphy speaking about the U.S. role in Yemen last week.
Sen. Chris Murphy: "There is an American imprint on every civilian life lost in Yemen. Why? Well, it's because though the Saudis are actually dropping the bombs from their planes, they couldn't do it without the United States. It's our munitions, sold to the Saudis. It's our planes that are refueling the Saudi jets. And it's our intelligence that are helping the Saudis provide their targeting."
Thousands Protest U.S.-Backed Bombing Campaign in Yemen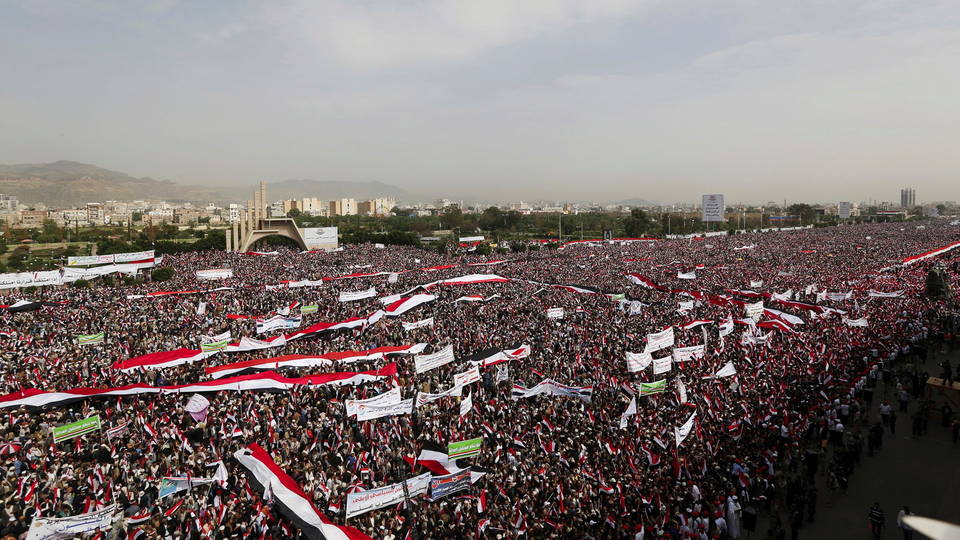 This comes as up to 100,000 people gathered in the Yemeni capital of Sana'a Saturday in support of Houthi rebels and to protest the ongoing Saudi strikes. The demonstration was one of the biggest in Yemen since mass protests in 2011 forced former president and U.S. ally Ali Abdullah Saleh to step down. The Saudi-led coalition resumed airstrikes in the Yemeni capital of Sana'a last week after U.N.-sponsored peace talks ended without a resolution. We'll have more on Yemen after headlines with journalist Andrew Cockburn and Kristine Beckerle of Human Rights Watch.
Turkey: Bombing Kills 50 at Wedding Party
In southern Turkey, hundreds of mourners gathered yesterday for funerals after a bomber killed at least 50 people at a wedding party for a member of a Kurdish political party. Turkish President Recep Tayyip Erdogan blamed ISIS for the attack. But some of the mourners threw bottles at police and chanted "Murderer Erdogan"—a reflection of the belief that the Turkish president's support for rebels fighting the Syrian government has helped create the conditions that have allowed ISIS to thrive.
Turkish LGBTQ Community Remembers Murdered Activist Hande Kader
Also in Turkey, members of the LGBTQ community demonstrated peacefully on Sunday to mark the murder of transgender rights activist and sex worker Hande Kader. Kader's body was found on August 12 in Istanbul. Discrimination and violence against the LGBTQ community is common in Turkey. More than 40 transgender people have been killed in Turkey since 2008. Vice President Joe Biden will be visiting Turkey later this week.
U.S. Warns Syrian Government After Strikes Against U.S.-Backed Militia
Meanwhile, in Syria, tensions are rising between the U.S. and Syrian governments after Syrian jets bombed a U.S.-backed militia while U.S. forces were nearby. The Pentagon said Friday it has increased its air patrols near the northeastern Syrian city of Hasaka and had "encouraged" Syrian jets to leave. The U.S.'s main allies in Syria are Kurdish forces that until now have largely avoided conflict with the Syrian government. That changed earlier this month when fighting broke out between the Kurds and the Syrian government for control of Hasaka.
Court Upholds Immunity for U.N. in Haiti Cholera Reparations Case
A federal appeals court in New York has upheld the U.N.'s claim of immunity in a lawsuit brought by Haitians seeking compensation for a cholera epidemic that killed more than 9,000 people. U.N. peacekeepers are accused of negligently bringing cholera to Haiti during their deployment following the 2010 Haitian earthquake. The U.N. claims it has immunity under a 1946 treaty, but the office of U.N. Secretary-General Ban Ki-moon acknowledged for the first time last week that the U.N. may have played a role in the epidemic. This is human rights activist Camille Chalmers talking about the reparations claim and the U.N.'s recent admission.
Camille Chalmers: "To us, yes, this is a step forward, but an insufficient one that's coming very late, because, above all, over these six years, more people have died, and we know the United Nations, with a not very expensive investment, could contribute to the eradication of this illness in our land."
Philippines: President Duterte Threatens to Leave U.N. over Criticism
Philippines President Rodrigo Duterte has threatened to leave the U.N. after U.N. human rights experts urged him to stop extrajudicial killings by police. Police have killed about 900 suspected drug traffickers since Duterte was elected in May. During his campaign, he promised to fight crime, but human rights groups say many of those killed have been summarily shot or had nothing to do with the drug trade. More than 100,000 people have turned themselves in to police for drug offenses to avoid the prospect of a violent arrest. Duterte made his comments in a speech on Sunday and suggested he might invite China and others countries to form an alternative coalition to the U.N.
President Rodrigo Duterte: "What have you done for the world, Mr. United Nations? ... You know, if he comes here, you tell him straight: Mayor Duterte would only ask five questions to prove that you are stupid."
Police Continue to Withhold Information in Case of Korryn Gaines
In Maryland, Baltimore County police say they will continue to withhold the names of the officers involved in the August 1 shooting of Korryn Gaines, a 23-year-old African-American mother shot by police in her apartment after an hours-long standoff. The officer who shot Gaines has been assigned to administrative duties. There is body camera footage of the standoff prior to the shooting, but police claim there is no footage of the shooting itself. Gaines live-streamed the beginning of the standoff on Facebook, before Facebook responded to a police request to shut down Gaines's account. The NAACP Legal Defense and Educational Fund and activists have both questioned official police accounts of the shooting. Gaines's five-year-old son, Kodi, was also injured by police gunfire. This is Gaines's cousin, Creo Brady, speaking last week at her funeral.
Creo Brady: "Our family wants justice for Korryn Gaines. We have some unanswered questions that need to be answered. Number one, if the officer, what appears in the video to have a body camera on, where's the footage? We do know that Kodi has a testimony to the accounts of things that happened which are contradictory to the stories that are being told."
Officer Who Killed Philando Castile Returns to Work in Minnesota
Meanwhile, in Minnesota, the police officer who shot Philando Castile returned to work last week. Last month, Jeronimo Yanez fatally shot Castile, who is African-American, during a traffic stop. Castile's death was live-streamed on Facebook by his girlfriend, Diamond "Lavish" Reynolds, in an extraordinary video, in which she narrated the aftermath of the shooting while she was still in the car, with a police officer pointing a gun at her and her four-year-old daughter, as her boyfriend lay dying next to her. Castile's death sparked nationwide protests against police violence. Yanez has been temporarily given an administrative position.
Texas: Court Halts Execution of Man Who Never Killed Anyone
A Texas court has halted the execution of Jeff Wood, a man who never killed anyone, six days before he was set to die by lethal injection. The court's order on Friday asked for further examination of a claim that a jury was improperly persuaded to give Wood his sentence after testimony from a highly criticized psychiatrist nicknamed "Dr. Death." Texas's felony murder statute, called the "law of parties," holds that anyone involved in a crime resulting in death can be held responsible. Wood was sitting outside in a truck when his friend, Daniel Reneau, killed convenience store clerk Kriss Keeran in 1996. Reneau was executed in 2002.
U.S. Boxer Makes History on Last Day of Rio Games
The 2016 Summer Olympics held their closing ceremony in Rio on Sunday, but not before one more U.S. athlete made history. Twenty-one-year-old Claressa Shields of Flint, Michigan, won her second consecutive gold medal in boxing—the first U.S. woman to do so. The U.S. men's basketball team also continued their Olympic dominance on Sunday, taking gold for the sixth time in seven Games. On Saturday, the U.S. women's basketball team won their sixth straight gold medal. The women's team has not lost an Olympic basketball game since 1992.
Ethiopian Olympic Marathoner Wins Silver, Protests at Finish Line
Meanwhile, Ethiopian Olympic runner Feyisa Lilesa risked his safety by raising his arms in an "X" as he won a silver medal in the marathon. The "X" is a symbol used by protesters against human rights abuses by the Ethiopian government. Lilesa told reporters after the race the government might kill him for the gesture.
Puerto Rico: Activists Disrupt Conference to Protest Tax Exceptions
In Puerto Rico, activists disrupted a business conference in San Juan on Friday to protest laws that give new residents and some business owners complete exceptions on a slew of taxes. The activists were also protesting against the PROMESA law, which creates a new financial control board to oversee the island's financial affairs. During the protest, activists carried banners reading "The People Before the Debt." The protest shut down the conference's event registration for parts of the day.
Legendary Journalist & Civil Rights Activist George Curry Dies at 69
And NPR is reporting George Curry, the legendary columnist, commentator and champion of African-American journalists, has died at age 69. Curry was born and grew up in Alabama and began his career as a reporter for Sports Illustrated and the St. Louis Dispatch. In the 1990s, Curry was the editor of Emerge, a political and cultural publication with the tagline "Black America's Newsmagazine." Curry was the first African American to serve as president of the American Society of Magazine Editors. Bernard Lafayette, the current chairman of the Southern Christian Leadership Conference, told Trice Edney News Wire, "This is a tragic loss to the movement because George Curry was a journalist who paid special attention to civil rights because he lived it and loved it."
---
Courtesy of Democracy Now (www.democracynow.org).  The original content is licensed under a Creative Commons Attribution-Noncommercial-No Derivative Works 3.0 United States License.