Yemen: ISIS Attack Kills 50 Members of Pro-Government Militia
In Yemen, a suicide car bomb explosion killed at least 50 members of a pro-government militia earlier today. A witness said the attacker drove his vehicle into a crowd of new recruits in the port city of Aden. ISIS has claimed responsibility for the bombing.
Yemen: Saudi Airstrikes Kill 11 Civilians, 1 Day After Kerry Visits Kingdom
The attack follows U.S.-backed, Saudi-led airstrikes on Friday that killed 11 civilians in northern Yemen. The strikes came just one day after U.S. Secretary of State John Kerry met with the Saudi foreign minister, where he urged a "political solution" to the war in Yemen. Despite the request, the U.S. continues to supply Saudi Arabia with arms. Earlier this month, the State Department approved a more than $1 billion deal to supply battle tanks and other weapons to the kingdom. Meanwhile, ISIS has also claimed responsibility for a suicide bomb attack on a wedding in southern Iraq on Sunday which killed at least 15 people.
Syria: Turkish Airstrikes Kill Dozens of Civilians
Turkish airstrikes and shelling reportedly left dozens of civilians dead in northern Syria, as the Turkish military and its allies pushed deeper into the war-torn country. The U.K.-based Syrian Observatory for Human Rights said 35 civilians died in separate attacks by Turkish forces over the weekend. Turkey's military claimed in a statement that it had killed 25 Syrian Kurdish militia members. Turkey's invasion of Syria has further complicated the five-year war in Syria. Both Turkey and the Kurdish militias are U.S. allies.
Pentagon Confirms ISIS Leader Was Held by U.S. at Abu Ghraib in 2004
The U.S. military has confirmed that the leader of ISIS was held as a U.S. prisoner at Iraq's notorious Abu Ghraib prison in 2004. An investigation by The Intercept found that Abu Bakr al-Baghdadi, now the leader of the so-called Islamic State, was held at the prison for eight of his 10 months in U.S. custody that year. His detention coincided with revelations of widespread torture at Abu Ghraib. At the time of his release, al-Baghdadi was designated a low-level prisoner. Many analysts believe he was radicalized while in U.S. custody.
Colombia: Ceasefire Between Gov't and FARC Goes into Effect
In Colombia, a ceasefire between rebels and the Colombian government has gone into effect, formally ending hostilities in a 52-year-old civil war that claimed an estimated 220,000 lives. Early this morning, FARC leader Timoleón Jiménez ordered his followers to lay down their arms.
Timoleón Jiménez: "In my position as commander of the FARC-EP, I order all of our leaders, all of our units, every and each one of our combatants, to cease fire and hostilities in a definitive manner against the Colombian state from midnight tonight."
Brazil: Dilma Rousseff to Take Stand in Impeachment Trial Today
In Brazil, suspended President Dilma Rousseff will take the stand today to defend herself in an impeachment trial that's expected to lead to her ouster. Lawmakers voted to suspend Rousseff in May, in what many consider a coup by her right-wing opponents. Leaked transcripts show at least one official plotted to oust Rousseff in order to end a corruption investigation targeting him. The group Transparency Brazil says 60 percent of Brazilian lawmakers are currently under criminal investigation or have already been convicted of crimes ranging from corruption to election fraud. After headlines, we'll go to Rio de Janeiro and speak with Pulitzer Prize-winning journalist Glenn Greenwald.
German Minister: Free Trade Talks Between U.S. & EU Have Failed
Germany's vice chancellor says that talks aimed at forging a massive trade agreement between the U.S. and the European Union have failed. Sigmar Gabriel, who also serves as Germany's economy minister, said Sunday that the stalemate could spell the end of the proposed Transatlantic Trade and Investment Partnership, orTTIP, which would be the largest free trade agreement in the world. It's faced massive resistance on both sides of the Atlantic, including a 35,000-person protest in Germany ahead of Obama's visit in April.
Chicago: Brothers Arrested in Murder of Nykea Aldridge
Chicago police have arrested a pair of brothers and charged them with murdering the cousin of basketball star Dwyane Wade. Thirty-two-year-old Nykea Aldridge was shot dead on Friday afternoon as she pushed a baby stroller near an elementary school in the Parkway Gardens neighborhood. Her baby was not injured. Brothers Darwin and Derren Sorrells face first-degree murder charges in the killing. Both had felony convictions and were on parole. Aldridge leaves behind four children. Her cousin, Chicago Bulls star Dwyane Wade, spoke out on Twitter, writing: "The city of Chicago is hurting. We need more help & more hands on deck. Not for me and my family but for the future of our world. The YOUTH!" Chicago is on track to see its highest homicide rate since 1997. This is Chicago Police Superintendent Eddie Johnson.
Superintendent Eddie Johnson: "This tragedy isn't just noteworthy because Ms. Aldridge has a famous family member. It's noteworthy because these two offenders are the prime example of the challenge we face here in Chicago with repeat gun offenders that don't care who they shoot, don't care whose life they take, and clearly, clearly don't fear the consequences of their actions."
Trump Under Fire for Politicizing Nykea Aldridge's Death
On the campaign trail, Donald Trump is facing widespread criticism for attempting to use the killing of Nykea Aldridge to appeal to African Americans, writing on Twitter: "Dwayne Wade's cousin was just shot and killed walking her baby in Chicago. Just what I have been saying. African-Americans will VOTE TRUMP!" He was met with immediate backlash for politicizing Aldridge's death and misspelling Dwyane Wade's name in the tweet. A message posted on Trump's Twitter account later offered condolences to Wade and his family.
Black Woman Denied Housing by Trump Family Speaks Out
Meanwhile, former victims of racial housing discrimination at units operated by the Trump family are speaking out. In 1973, the Nixon Justice Department sued Donald and his father Fred Trump for discriminating against African Americans in New York. One African-American woman who was denied an apartment at Fred Trump's Wilshire Apartments in Queens spoke to The New York Times. This is Mae Wiggins.
Mae Wiggins: "It was 52 years ago. My friend and I applied for an apartment in the Wilshire in Queens, New York, and we were both told that there were no vacancies. I realized that there were vacancies, because they still had the ads running, and I was pretty sure it was because of the color of our skin. I have always felt that the Trump Organization was biased. And I will go to my grave with that thought."
According to The New York Times, the very first time Donald Trump was mentioned in the paper was in 1973 in a front-page article headlined "Major Landlord Accused of Anti-Black Bias in City." The 1973 article quoted Donald Trump responding to the charges. He said, "They are absolutely ridiculous. We never have discriminated and we never would." The Trump family settled with the Justice Department in 1975 with a consent decree that they were later accused of breaking.
Trump Campaign CEO Faces Allegations of Sexual Abuse & Anti-Semitism
Donald Trump's new campaign chief Steve Bannon is facing questions about domestic abuse, alleged anti-Semitic comments and apparent voter fraud. Steve Bannon was charged in 1996 with misdemeanor domestic violence, battery and dissuading a witness. A Santa Monica, California, police report said Bannon grabbed then-wife Mary Louise Piccard "by the throat and arm" and threatened to leave with the couple's twin daughters. Bannon pleaded not guilty to the charges, which were dropped later that year when Piccard did not appear in court. Piccard claimed in divorce proceedings that Bannon pressured her not to testify. Piccard also said in a sworn 2007 court filing that Bannon made anti-Semitic comments when the two argued over whether to send their daughters to a private school. According to one document, Piccard said, "He said that he doesn't like the way they raise their kids to be 'whiny brats' and that he didn't want the girls going to school with Jews." Meanwhile, Bannon changed his voter registration over the weekend, after The Guardian reported he was registered at an empty home where he does not live. The house in Miami-Dade County, Florida, is vacant and due to be demolished to make way for a new development. Following the report, Bannon re-registered to vote in Florida's Sarasota County at the single-family home of a former colleague at the right-wing website, Breitbart News. Bannon was the head of Breitbart until two weeks ago, when he took over at the helm of Donald Trump's election campaign.
Judge Aaron Persky Will No Longer Hear Criminal Cases
California Judge Aaron Persky will no longer hear criminal cases, following outrage over lenient sentences he handed down to sexual offenders. Persky became the subject of a recall campaign after he sentenced Stanford University swimmer Brock Turner to a six-month prison term for sexually assaulting an unconscious woman behind a dumpster. In 2015, Persky gave a four-day sentence to a man found guilty of possessing child abuse images. He will be reassigned to a civil court in San Jose, at his own request.
Hawaii: Obama Creates World's Largest Marine Reserve
President Barack Obama has expanded a national monument near the Hawaiian islands, creating the world's largest marine reserve. The designation quadruples the size of the protected habitat, making it more than twice the size of Texas. The area is home to some 7,000 species.
Maine Gov. Under Fire for Calling People of Color "The Enemy"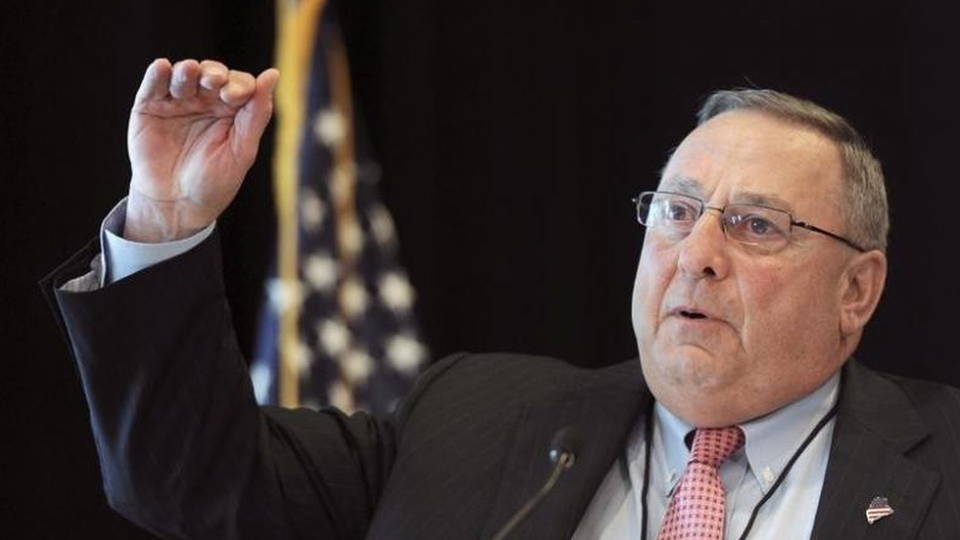 Lawmakers in the state of Maine are considering holding a special session to censure Republican Governor Paul LePage, who recently described African Americans and Latinos as "the enemy" and suggested they need to be shot.
Gov. Paul LePage: "A bad guy's a bad guy. I don't care what color it is. When you go to war, if you know the enemy—the enemy dresses in red, and you dress in blue—you shoot at red. Don't you? Ken, you've been in uniform. You shoot at the enemy. You try to identify the enemy. And the enemy right now, the overwhelming majority of people coming in, are people of color, are people of Hispanic origin."
Maine Governor Paul LePage is also facing criticism for leaving an obscenity-filled voicemail for a Democratic lawmaker.
Gov. Paul LePage: "Mr. Gattine, this is Governor Paul Richard LePage. I would like to talk to you about your comments about my being a racist, you [expletive]. And I want to talk to you. You want—I want you to prove that I'm a racist. I've spent my life helping black people, and you little son of a [expletive], socialist [expletive], you—I need you to just friggin'—I want you to record this and make it public, because I am after you. Thank you."
LePage was the second governor to endorse Donald Trump.
Oklahoma: Police Pepper-Spray 84-Year-Old Woman in Her Home
Police in Oklahoma have released body camera video showing an officer pepper-spraying an 84-year-old African-American woman in her own home. The video shows Muskogee officers kicking in the door of Geneva Smith's residence on August 7 as they pursued her son for allegedly running a stop sign and fleeing from police. The son, Arthur Paul Blackmon, is seen holding his hands up as an officer shoots him in the torso with a Taser while he's standing inside the house. The video also shows police ordering his elderly mother to turn around, who appears confused about why police are in her home at 2:45 a.m. After 40 seconds, police pepper-sprayed her in the face. Smith told Tulsa TV channel FOX23 she is planning a lawsuit.
Geneva Smith: "I just came out and asked them what was going on, and they just pepper-sprayed me. They handcuffed me and dragged me out to the car and put me in there. They carried me to jail."
Geneva Smith says she was first taken to jail, but was later hospitalized after she became ill from the pepper spray.
49ers Quarterback Refuses to Stand for National Anthem in Protest
A star quarterback for the San Francisco 49ers refused to rise for the national anthem before a preseason NFL game on Friday in a protest against police brutality and in solidarity with the Black Lives Matter movement. Colin Kaepernick remained seated while his teammates stood for the playing of "The Star-Spangled Banner" ahead of a match against the Green Bay Packers. Explaining his protest to NFL.com, Kaepernick said, "I am not going to stand up to show pride in a flag for a country that oppresses Black people and people of color. To me, this is bigger than football and it would be selfish on my part to look the other way. There are bodies in the street and people getting paid leave and getting away with murder." In a news conference, Kaepernick also vowed to continue to sit during the national anthem.
Colin Kaepernick: "I'll continue to sit. I'm going to continue to stand with the people that are being oppressed. To me, this is something that has to change. And when there's significant change and I feel like that flag represents what it's supposed to represent, and this country is representing people the way that it's supposed to, I'll stand."
Beyoncé Brings "Mothers of the Movement" to MTV Video Music Awards
The legendary singer Beyoncé wowed audiences of the MTV Video Music Awards on Sunday, performing a 15-minute medley of songs from her album "Lemonade." Beyoncé invited to the gala several mothers of African-American men killed by police or vigilantes, including Wanda Johnson, mother of Oscar Grant; Lesley McSpadden, mother of Michael Brown; Gwen Carr, mother of Eric Garner; and Sybrina Fulton, mother of Trayvon Martin. McSpadden and Fulton appeared in the video for Beyoncé's song "Freedom" holding pictures of their deceased sons.
Legendary Mexican Singer Juan Gabriel Dies at 66
And the legendary Mexican singer Juan Gabriel has died at the age of 66. Known as the "Latino Elvis," he sold more than 100 million records, making him one of the most popular stars in Latin America.
---
Courtesy of Democracy Now (www.democracynow.org).  The original content is licensed under a Creative Commons Attribution-Noncommercial-No Derivative Works 3.0 United States License.