New York Police Commissioner Bill Bratton to Resign
New York Police Commissioner William Bratton has announced he is resigning next month. Over the past four decades, Bratton has reshaped modern policing. He served as the New York police commissioner twice, and as commissioner of the Boston Police Department and chief of the Los Angeles Police Department. Bratton was a lead advocate of the so-called broken windows policy that calls for officers to crack down on minor infractions in an attempt to decrease violent crime. While New York City mayor Bill de Blasio called Bratton's accomplishments "extraordinary," critics say Bratton's policies have unfairly targeted communities of color. In a statement Black Lives Matter co-founder Opal Tometi told Democracy Now!, "William Bratton is the key architect of programs that have terrorized our communities for decades."
Bratton and his policies have faced years of protests and opposition from activists. We'll have more on his resignation after headlines.
Obama Calls on Republican Leaders to Withdraw Endorsements of Trump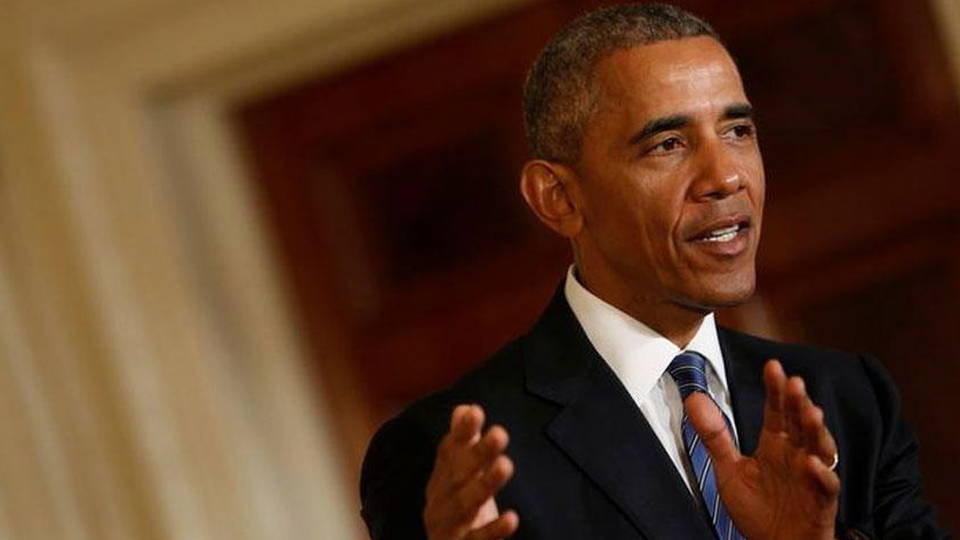 With less than 100 days left before the November election, President Obama offered his strongest criticism of Republican presidential nominee Donald Trump so far, urging Republican leaders to withdraw their endorsements of his candidacy. In his remarks Tuesday, Obama referred to Trump's recent attacks on Khizr and Ghazala Khan, the parents of a U.S. soldier who died in Iraq.
President Barack Obama: "This isn't a situation where you have an episodic gaffe. This is daily and weekly, where they are distancing themselves from statements he's making. There has to be a point at which you say, 'This is not somebody I can support for president the United States, even if he purports to be a member of my party.' And, you know, the fact that that has not yet happened makes some of these denunciations ring hollow."
Donald Trump attacked the Khans after Khizr Khan spoke at the Democratic National Convention in Philadelphia Thursday. Trump suggested in an interview that Ghazala Khan hadn't spoken because, as a Muslim woman, she wasn't allowed to. Ghazala refuted Trump's comments, saying she hadn't spoken because of her grief. This is Ghazala speaking more about her son on MSNBC.
Ghazala Khan: "I was really worried, and I talked to him about all this, that this is a war, and I don't want you to go out or do something stupid, and don't be a hero. Please come back. And go safely. My prayers are with you. And be strong."
To see more from Ghazala Khan in a rare video of Ghazala and Khizr Khan visiting Arlington National Cemetery to visit the grave of their son, a U.S. Army captain, from the HBO documentary "Section 60," go to democracynow.org.
Trump Refuses to Endorse Paul Ryan & John McCain, Widening GOP Split
Meanwhile, friction is increasing between Trump and top Republican leaders. On Monday, in an interview with The Washington Post, Trump refused to endorse the re-election campaigns of Arizona Senator John McCain and Wisconsin Congressmember Paul Ryan. Trump praised Ryan's opponent in the race, saying he was "running a very good campaign." Ryan's opponent, Paul Nehlen, has defended Trump's remarks about the Khans, while both Ryan and McCain publicly distanced themselves from Trump over his comments.
Republican Billionaire Meg Whitman Says She'll Back Hillary Clinton
Meanwhile, billionaire businesswoman and Hewlett-Packard CEO Meg Whitman has said she will support and campaign for Hillary Clinton. Whitman, who is an influential Republican fundraiser, called Donald Trump a "dishonest demagogue" and said she would raise money for Clinton, even if she doesn't agree with her on some issues.
Trump Says Election May Be "Rigged;" His Confidant Warns of "Bloodbath" If Clinton Wins
Donald Trump has continued to suggest he believes the November election may be "rigged." Pointing to recent court decisions against restrictive voter ID laws in North Carolina and Wisconsin, Trump said Tuesday that the decisions increased the possibility of voter fraud. Trump said, "The voter ID situation has turned out to be a very unfair development. We may have people vote 10 times." Studies of voter fraud in the U.S. have concluded the type of fraud Trump warned about is extremely rare. This comes after Republican political operative and Trump supporter Roger Stone warned of a "bloodbath" if Trump doesn't win in November. Speaking with Breitbart's Milo Yiannopoulos, Stone said, "We will have a constitutional crisis, widespread civil disobedience, and the government will no longer be the government. It will be a bloodbath."
Baltimore: Police Kill Black Mother Korryn Gaines After Standoff
Baltimore County police killed a 23-year-old African-American woman on Monday after an armed standoff. Korryn Gaines was live-streaming the standoff via Facebook on Monday before her account was shut down. Police say they attempted to negotiate with Gaines before shooting her, and that she had pointed a shotgun at police. Her five-year-old son was in the apartment with her and was injured by gunfire. Police were at Gaines's apartment to execute an arrest warrant related to a traffic violation earlier this year. Police also had a warrant for Gaines's boyfriend, who was arrested before the standoff began and later released. Police have not said who fired the shot that injured Gaines' son.
Delaware Supreme Court: Capital Punishment Law Unconstitutional
The Delaware state Supreme Court ruled Tuesday that the state's capital punishment law violates the Constitution by allowing judges, but not always juries, to recommend the death penalty. Death penalty supporters can ask the state's legislators to amend the law's language, but such a request would likely fail. The state's Senate passed a bill to abolish the death penalty last year, before it was narrowly defeated in the state's House of Representatives.
Libya: Car Bomb Kills 22 in Benghazi, U.S. Air Campaign Continues
In Libya, a car bomb in Benghazi killed at least 20 people today as Libyan factions backed by the U.S. continue their fight against ISIS. This comes as the U.S. has launched at least five airstrikes in Libya since the Pentagon announced the beginning of an open-ended air campaign there on Monday.
Venezuela: Presidential Recall Referendum Likely to Move Forward
Turning now to Venezuela, the opposition to President Nicolás Maduro has gained enough signatures this week to begin the process of a presidential recall referendum. But speaking yesterday on his weekly television program, Maduro appeared to preempt the idea that any recall would occur this year.
President Nicolás Maduro: "I will say it: If the opposition legally obtains the signatures, we will go to elections next year, and I am sure that the Venezuelan people will hand us a victory for the country, a victory of peace. I am sure that next year, in February, March or April, we will win that referendum. I am sure because I believe in the love of the people, I believe in history, and I am not here because I came down in a parachute. I am here because I must complete a mission, a mission that was given to me, one I will fulfill for many years, for a long time."
If a referendum takes place before the end of the year, a new presidential election would be held. If the referendum occurs after the end of the year, Maduro could be forced to step down, but his vice president would finish his term, which ends in 2018. Maduro's government is under increasing pressure from the opposition as Venezuela faces economic turmoil that has led to hyperinflation and shortages of basic goods.
U.N. Reviewing Whether Saudi Arabia Is Killing Children in Yemen War
U.N. Secretary-General Ban Ki-moon has said he will continue to review whether to keep Saudi Arabia's military on a U.N. list of militaries that kill children. The U.N. placed Saudi Arabia on the list last month over its conduct in Yemen. The Saudis complained, and Ban told them to provide evidence that they were taking steps to prevent child casualties. Ban defended the decision on Tuesday.
Secretary-General Ban Ki-moon: "The content of the report stands. Let me be clear: The report and its annexes may cause discomfort, but that is not the goal in itself. Our aim is to protect the children in danger by ensuring concrete change."
The U.N. says the U.S.-backed, Saudi-led bombing campaign in Yemen killed at least 500 children last year.
Did the CIA Kill Fmr. U.N. Secretary-General Dag Hammarskjöld?
Meanwhile, U.N. Secretary-General Ban Ki-moon is expected to propose reopening an inquiry into allegations that former U.N. Secretary-General Dag Hammarskjöld was assassinated by a South African paramilitary organization supported by the CIA and British intelligence. Hammarskjöld was the U.N.'s second secretary-general and died in a plane crash in 1961. The South African government has announced the recent discovery of decades-old intelligence documents detailing the alleged plot. The CIAhas denied involvement.
U.S. War Resisters in Canada Ask PM Justin Trudeau to Let Them Stay
And U.S. war resisters who went to Canada to avoid serving in Iraq and Afghanistan are asking Canadian Prime Minister Justin Trudeau to allow them to remain in the country. Hundreds of U.S. war resisters moved to Canada in the early 2000s but faced deportation after the election of the conservative Harper government in 2006. Resisters still in Canada say they are hoping prime minister Justin Trudeau's liberal government, elected last year, will make a final decision about their legal status in the country. Polls suggest a majority of Canadians support allowing the resisters to stay.
Courtesy of Democracy Now (www.democracynow.org).  The original content is licensed under a Creative Commons Attribution-Noncommercial-No Derivative Works 3.0 United States License.