Electoral College Meeting Today to Select Next U.S. President
The 538 electors of the Electoral College are set to meet today to officially choose the next president of the United States. In past elections, the meetings have generally been considered a formality. But this year, an increasing number of people have called on the electors to refuse to vote for President-elect Donald Trump. There are nearly 5 million signatures on one petition alone. One Republican elector has come out saying he will not vote for Trump, and there are reports of other so-called faithless electors. Michael Moore has offered to pay the fines of any electors who break ranks and vote against Donald Trump. Donald Trump needs to secure 270 elector votes to take office. He lost the popular vote by 2.9 million. We'll have more on the meeting of the Electoral College later in the broadcast.
Obama Accuses Vladimir Putin of Meddling in U.S. Election
Today's Electoral College meeting comes as President Obama has publicly accused Russian President Vladimir Putin of meddling in the U.S. election.
President Barack Obama: "Not much happens in Russia without Vladimir Putin. I mean, this is a pretty hierarchical operation. Last I checked, there's not a lot of debate and democratic deliberation, particularly when it comes to policies directed at the United States. We have said, and I will confirm, that this happened at the highest levels of the Russian government, and I will let you make that determination as to whether there are high-level Russian officials who go off rogue and decide to tamper with the U.S. election process without Vladimir Putin knowing about."
That was President Obama speaking Friday. U.S. intelligence agencies have also accused Russia of hacking the U.S. election to help Donald Trump win.
Exxon CEO Tillerson, Trump Pick for Sec. of State, Also Heads U.S.-Russia Oil Company
A new report by The Guardian reveals ExxonMobil CEO Rex Tillerson, who has been nominated by Donald Trump to be the next secretary of state, is also the head of a joint U.S.-Russian oil company headquartered in the tax haven of the Bahamas. The report is based on documents that were part of the Panama Papers leak. Tillerson is already facing intense scrutiny by both Republican and Democratic lawmakers over his close ties to Russia, which include Exxon's $500 billion oil deal with the Russian government's oil company, Rosneft. Considered the largest oil deal in history, the partnership can only go through if the U.S. lifts sanctions against Russia, which the Obama administration imposed over Russia's intervention in Ukraine.
Scientists Copying Climate Change Data; Wayback Machine Moving to Canada
Scientists are frantically copying government data on climate change, concerned that Trump's administration may destroy or bury decades of research. Trump has appointed a series of people to top Cabinet or Cabinet-level positions who are either climate change deniers or close allies of the oil and gas industry. On Saturday, dozens of people gathered at the University of Toronto for a "guerrilla archiving event" aimed at copying and storing the climate data outside the United States. The internet archive site The Wayback Machine has also announced it's moving its operations to Canada in the wake of Trump's election.
NC: 39 Arrested as Republicans Approve Restrictions on Incoming Democratic Gov.
In North Carolina, as many as 39 protesters were arrested protesting at the State Legislative Building Friday as the Legislature approved two controversial bills that aim to strip power from the state's incoming governor, Democrat Roy Cooper. Activists and Democrats have accused the Republican lawmakers of waging a legislative coup. This is Reverend William Barber at the State Legislative Building Friday.
Rev. William Barber: "All political power—this is the Constitution—derives from the people, period. It doesn't derive—it doesn't derive from anybody else, but it derives from the people."
One of the two bills approved Friday, which was quickly signed by outgoing Republican Governor Pat McCrory, strips future governors of their power to appoint a majority to the state Board of Elections. It also changes the state court system, making it more difficult for the losers of some Superior Court cases to appeal directly to the Democratic-controlled Supreme Court. A second bill, which had not been signed by the governor as of Friday afternoon, strips the incoming governor of his ability to name members of the boards of state universities, and it reduces the number of state employees the governor can appoint from 1,500 to 425. We'll have more on North Carolina with Ari Berman later in the broadcast.
U.N. Security Council to Vote on Deploying U.N. Monitors to Aleppo
The United Nations Security Council is set to vote today on whether to immediately deploy U.N. monitors to Aleppo amid a chaotic evacuation of the eastern part of the city, which was seized by Russian-backed Syrian government forces last week. The fall of eastern Aleppo, which had been controlled by anti-government rebels, represents a major turning point in the five-year civil war. Humanitarian aid organizations have warned of a slaughter of civilians, and France has argued for the deployment of U.N. monitors in order to avoid "a new Srebrenica." Late Sunday night, the evacuations from Aleppo resumed, after being halted when a series of buses used to transport civilians out of two government-held towns in Idlib, which have been besieged by rebels, were set on fire.
Yemen: Suicide Bomb Attack on Security Forces Kills 48 in Aden
In Yemen, a suicide bomb attack in the southern port city of Aden killed 48 people and wounded 84 more Sunday. The attack near a military base targeted a gathering of Yemeni security officers, and the majority of those killed were Yemeni soldiers who were waiting to receive their salaries. ISIS militants have claimed responsibility for the attack.
Jordan: 10 Killed in Attack on Police in Southern City of Karak
In Jordan, at least 10 people were killed in the southern city of Karak Sunday, after armed men opened fire against Jordanian police officers and took people hostage at a medieval castle Sunday. Jordanian officials say seven police officers, two civilians and one Canadian tourist were killed. No group has claimed responsibility for the attack.
Turkey: Pro-Kurdish HDP Party Says 20 of Its Offices Attacked
In Turkey, the pro-Kurdish Peoples' Democratic Party, known as the HDP, says 20 of its offices, including its headquarters, were attacked over the weekend in the latest crackdown against the country's third-largest political party. The HDP says its district and city offices were burned and vandalized and that in at least one city, the fire department refused to put out the flames. The attacks came the same day 13 Turkish soldiers were killed in a car bombing attack targeting off-duty soldiers. Turkish authorities blamed the car bombing on Kurdish militants.
ASEAN Leaders Meet in Burma to Discuss Violence Against Rohingya
Leaders of the Association of Southeast Asian Nations, ASEAN, are meeting in Yangon, Burma, today to discuss the ongoing Burmese military campaign against Rohingya civilians. Amnesty International is accusing the Burmese military of murdering, raping and torturing Rohingya civilians in an ongoing campaign the human rights group says may amount to crimes against humanity. At least 20,000 Rohingyas have been forced to flee into Bangladesh to escape the violence.
Saudi Arabia on Track to Execute 150 People This Year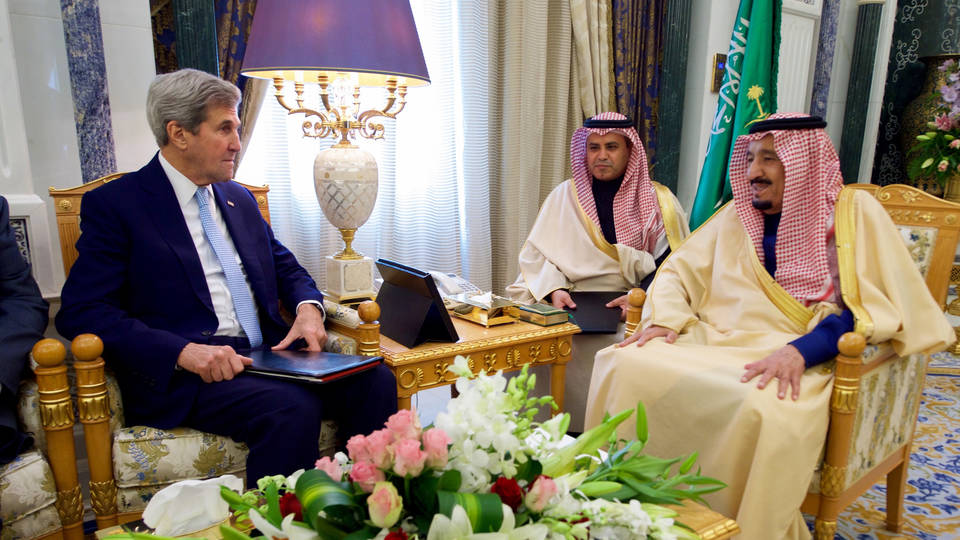 U.S. Secretary of State John Kerry visited Saudi Arabia over the weekend, where he met with King Salman and top Saudi officials. At a news conference, Kerry and the Saudi foreign minister sought to downplay recent reports, based on comments from unnamed U.S. officials, that the U.S. was halting some weapons sales to Saudi Arabia over concern about the Saudi-led bombing campaign in Yemen. The visit came as a new report by the human rights group Reprieve revealed Saudi Arabia is on track to execute at least 150 people this year and that the kingdom is increasingly using secret courts to sentence drug offenders and political prisoners to death.
First Group of Water Protectors Head to Trial in North Dakota Today
In North Dakota, prosecutor Ladd Erickson is petitioning a judge in Morton County to exclude information about the $3.8 billion Dakota Access pipeline, as well as issues of Native American sovereignty, from the courtroom when the first group of water protectors goes on trial today on charges of disorderly conduct. The 10 water protectors are the first to go to trial amid the months-long resistance to the pipeline, led by the Standing Rock Sioux Tribe and members of 200 other indigenous nations from across the Americas. About 500 people have been arrested in total.
Montana: White Supremacist Richard Spencer May Run for U.S. Congress
In Montana, a white supremacist website has issued a call for online attacks against the Jewish community in the town of Whitefish, where white supremacist Richard Spencer's mother lives. The call listed the phone numbers and email addresses of Jewish residents. Richard Spencer says he's considering running for Montana Congressmember Ryan Zinke's U.S. House seat, if Zinke is confirmed to head the Interior Department. Trump picked Zinke for the Cabinet position last week. Meanwhile, Trump has picked Stephen Miller, who has close ties to Richard Spencer, to be a senior adviser in the White House.
NYC: 3 Activists Attacked by Men Chanting Pro-Trump, Pro-Police Slogans
In New York City, three activists were physically attacked by a group of men chanting pro-Trump and pro-police slogans, as the three activists were leaving a political art space Saturday night. Witnesses say the attackers yelled anti-gay slurs and called the activists "communists." It appears to have been targeted, as the men were waiting in a nearby bar for the group to leave the party. Photos taken after the attack show the activists sustained bruises to their bodies and faces.
CPJ: 74 Reporters Killed in 2016
The Committee to Protect Journalists says a total of 74 reporters were killed in 2016. The report finds 53 journalists were deliberately targeted and murdered for their work, while another 21 were killed while reporting, largely in conflict zones. The deadliest countries for journalists were, in order, Syria, Afghanistan, Mexico, Iraq and Yemen. Mexico was the deadliest country not officially at war, with nine journalists killed, including crime reporter Anabel Flores Salazar, who was kidnapped in Veracruz in February and found dead along the side of the road in a neighboring state the following day.
Larry Colburn, Who Intervened to Stop My Lai Massacre, Dies at 67
And U.S. military veteran Larry Colburn, best known for intervening to stop the 1968 My Lai massacre, has died at the age of 67. Colburn was part of a three-person helicopter crew that confronted fellow U.S. soldiers who were slaughtering hundreds of innocent Vietnamese villages. Colburn was 18 years old when he agreed to stand alongside his crew members, Hugh Thompson and Glenn Andreotta. The three threatened to fire on U.S. troops if they continued the massacre. This is Larry Colburn, speaking on Democracy Now! in 2006.
Larry Colburn: "At that point, Glenn Andreotta spotted an earthen-type bunker with some faces peering out of it. And there was an approaching squad of Americans. And we—Mr. Thompson decided, and we all decided, that if we didn't do something within the next 30 seconds, these people would die. So he landed the aircraft in between the advancing American troops and the people in the bunker, went over and spoke to a lieutenant and told him—or asked him how we could get these people out of the bunker. They were obviously civilians. And the lieutenant replied he'd get them out with hand grenades. Mr. Thompson, who was outranked by this lieutenant, actually gave the lieutenant an order, told him to keep his people in place. He had a better idea, and I think he told him, 'If you fire on these people when I'm getting them out of the bunker, my people will fire on you.'"
That was Larry Colburn speaking on Democracy Now! in 2006. He died on Tuesday of liver cancer at his home in Georgia.
---
Courtesy of Democracy Now (www.democracynow.org).  The original content is licensed under a Creative Commons Attribution-Noncommercial-No Derivative Works 3.0 United States License.