President Obama Bans Offshore Drilling in Arctic & Atlantic Seaboard
President Obama announced Tuesday a permanent ban on offshore oil and gas drilling across wide swaths of the Arctic and the Atlantic Seaboard. Obama used an obscure 63-year-old law, in a move that incoming President Donald Trump may not be able to reverse. The announcement bans all future oil and gas leases for the Arctic's Chukchi Sea, as well as the vast majority of the Beaufort Sea. Canadian Prime Minister Justin Trudeau also announced a ban on new offshore drilling in Canadian Arctic waters on Tuesday.
World Meteorological Organization: 2016 to Be Hottest Year on Record
Obama's and Trudeau's announcements come as the World Meteorological Organization says 2016 is on track to be the hottest year on record—in part due to "particularly high" temperatures in the Arctic.
Clare Nullis: "2016, it does remain on track to be the hottest year on record. 2015 was the hottest year on record. Before that, 2014 was the hottest year on record. And we think that 2016 will break even those records. Temperatures in the Arctic have been particularly high. Arctic sea ice was very, very low in the early part of the year, and it was the lowest on record in October and November. And indeed there were some days then when normally you see it refreezing, and in fact it wasn't freezing at all. So it's really quite extraordinary what we have been seeing in the Arctic."
Trump Team Asks State Dept. for Details of Funding to Environmental Groups
President-elect Donald Trump's transition team has asked the State Department's Bureau of Oceans, Environment and Science for information on its funding of international environmental groups. The move has sparked concern the new administration will slash funding for climate change programs. Last week, widespread outrage forced Trump's transition team to back away from a 74-part questionnaire it had circulated within the Department of Energy requesting the names of employees working on specific climate-related projects—a move many called the creation of an "enemies list."
Trump Picks Billionaire Army Veteran Vincent Viola to Be Army Secretary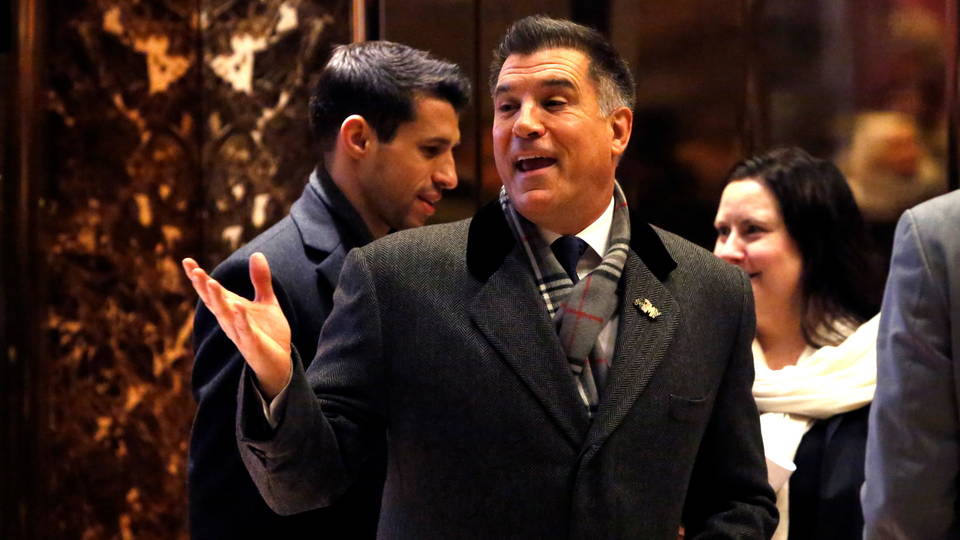 Donald Trump has nominated billionaire and Army veteran Vincent Viola to be the secretary of the Army. Viola is a retired Army major and graduate of West Point who is worth nearly $2 billion. He's the founder of a high-frequency trading company called Virtu. High-frequency trading is a process in which financial firms use algorithms to execute rapid-fire trades, at a speed of a half-millionth of a second, in order to generate tiny profits on each transaction that add up to massive sums of money. Critics have warned the scheme threatens the stability of global financial markets. Viola is also the owner of the National Hockey League's the Florida Panthers.
Trump Pick for National Security Adviser Met with Austria's Far-Right Nazi-Founded Party
Donald Trump's pick for national security adviser, retired Lt. Gen. Mike Flynn, is drawing criticism for having met with the head of Austria's anti-immigrant Freedom Party, which was founded by Nazis following World War II. The Nazi-linked Freedom Party nearly won Austria's presidential race earlier this month. Flynn himself has previously come under fire for having retweeted an anti-Semitic message during the campaign and for having called Islam a "cancer" and saying "fear of Muslims is rational."
Politico: Trump Employing Private Security Firm, Bucking Tradition
A new investigation by Politico reveals Donald Trump is continuing to employ a private security and private intelligence team—and that he's expected to keep the private team in place after he becomes president. The move would buck decades of tradition in which presidents and presidents-elect rely on the Secret Service and local law enforcement, not private teams, for their personal security. An earlier Politico investigation revealed Trump's private security team has profiled protesters and sometimes used rough tactics. In one case, five protesters accused Trump's security team of assaulting them during a protest in September.
Germany: Police Searching for New Suspect in Christmas Market Attack
In Germany, police are carrying out a manhunt after 12 people were killed and 48 more wounded in Berlin after a truck drove into a Christmas market around 8 p.m. local time Monday. Police say they are now searching for a Tunisian man whose ID papers were found inside the truck used in the attack. On Tuesday, police released a Pakistani asylum seeker whom they had initially arrested as a suspect, after they could find no evidence linking him to the attack. Berlin residents packed into a church Tuesday afternoon near the Christmas market to mourn the victims. ISIS has claimed responsibility for the attack.
Turkish Police Arrest Family of Man Who Assassinated Russian Ambassador
In Turkey, police have arrested at least 13 people following the assassination of Russia's ambassador to Turkey, Andrey Karlov, by an off-duty Turkish police officer in Ankara Monday. Among those arrested were the shooter's mother, father, sister and other family members. The owner of an apartment where the shooter once lived was also arrested. On Tuesday, Turkish authorities increasingly pinned the blame for the assassination on people loyal to exiled Turkish cleric Fethullah Gülen, who lives in the United States in the Poconos. Gülen called the accusations "laughable." This is U.S. State Department spokesperson John Kirby speaking Tuesday about Secretary of State John Kerry's meeting with Turkey's foreign minister.
John Kirby: "The secretary, in his conversation with the foreign minister, did raise his concerns about some of the rhetoric coming out of Turkey with respect to American involvement-slash-support, tacit or otherwise, for this unspeakable assassination yesterday, because of the presence of Mr. Gülen here in the United States. And it is a—it's a ludicrous claim, absolutely false. There's no basis of truth in it whatsoever. And the secretary made that very clear in his discussions today with the foreign minister."
Russia, Iran & Turkey Meet in Moscow over Syria, Excluding U.S. & U.N.
Russia, Iran and Turkey met in Moscow Tuesday to discuss the ongoing war in Syria. Neither the United Nations nor the United States were invited to the meeting. This comes as the evacuation of eastern Aleppo continues today. The U.K.-based Syrian Observatory for Human Rights, which opposes the Syrian government, reports this morning that 60 evacuation buses, carrying up to 3,000 people, have been delayed for nearly 24 hours.
Flint: 2 Emergency Managers & 2 City Officials Charged in Water Crisis
Back in the United States, in Flint, Michigan, new criminal charges have been filed in the ongoing Flint water contamination crisis that exposed nearly 100,000 residents to high levels of lead. Four former Flint officials have been charged with criminal conspiracy to violate safety rules: former state-appointed emergency managers Darnell Earley and Gerald Ambrose, and former city employees Howard Croft, a public works superintendent, and Daugherty Johnson, a utilities manager. This is Michigan Attorney General Bill Schuette announcing the charges.
Attorney General Bill Schuette: "The tragedy that we know as the Flint water crisis did not occur by accident. No, Flint was a casualty of arrogance, disdain and a failure of management, an absence of accountability, shirking responsibility. We will proceed. We will proceed to deliver justice and hold those accountable who broke the law, period. These are governor-appointed emergency managers that we're charging today with 20-year felonies, and it's serious. And, as Andy Arena said, it's—we're going up, and we're going broader."
The Flint water crisis began when the city's unelected emergency manager, Darnell Earley, who was appointed by Governor Rick Snyder, switched the source of the city's drinking water from the Detroit system to the corrosive Flint River. The water corroded Flint's aging pipes, causing poisonous levels of lead to leach into the drinking water. Residents continue to call for Michigan Governor Rick Snyder to be charged. We'll have more on Flint after headlines.
Seattle Judge Rules Children's Climate Change Lawsuit Can Proceed
In Seattle, a judge has ruled that eight children who have sued the state of Washington for failing to protect them from climate change can have their day in court. The children, aged 12 to 16, are arguing Washington state has violated its own constitution by failing to protect shared resources as required under the public trust doctrine. Monday's ruling comes after a federal judge in Eugene, Oregon, ruled recently that a similar case in which young people are suing the federal government over its failure to protect them from climate change can also proceed.
Iraq: 1 Million People Trapped Inside Mosul Amid U.S.-Backed Battle to Retake City
In Iraq, as many as 1 million people are trapped inside Mosul with increasingly limited access to food and drinking water, as the U.S.-backed Iraqi military's campaign to retake the city from ISIS has slowed nearly to a halt. The campaign was launched in mid-October. U.S. officials are now saying the battle could last another two to four months. The United Nations says 700 civilians were wounded by the ongoing fighting in the second week of December alone. Tens of thousands of civilians have already been displaced.
Japanese Court Rules Against Okinawa Residents Fighting Military Base
Japan's highest court has ruled against residents of Okinawa fighting the construction of a new U.S. military base on the island. On Tuesday, the Japanese Supreme Court ruled the governor of Okinawa had violated the law when he rescinded construction permits for the new base. The ruling clears the way for construction to resume. For decades, residents have called for the expulsion of U.S. troops from Okinawa, which houses about two-thirds of the 50,000 U.S. troops currently stationed in Japan.
Congo: Security Forces Kill 26 Protesters Demanding President Step Down
In the Democratic Republic of the Congo, security forces shot and killed at least 26 protesters Tuesday as crowds took to the streets to demand President Joseph Kabila step down after his second term expired Monday at midnight. Kabila succeeded his father as president in 2001. Scheduled elections in November were postponed, leaving no successor to Kabila.
Indonesian Police Arrest 500+ in West Papua Calling for Self-Determination
Indonesian police arrested more than 500 protesters in West Papua calling for self-determination Monday, which was the 55th anniversary of the first Indonesian military invasion of West Papua in 1961. This year, at least 5,000 protesters calling for West Papuan self-determination have been arrested by Indonesian police.
Jordan: 4 Police Killed in Karak, Following Sunday's Attack That Killed 10
In Jordan, four police officers have been killed in a gun battle in the outskirts of the southern city of Karak. The shooter was also killed. Ten people were killed in the same city Sunday, after armed men opened fire against Jordanian police officers and took people hostage at a medieval castle Sunday. ISIS militants have claimed responsibility for Sunday's attack.
Tupac Shakur, Joan Baez & Pearl Jam to Join Rock and Roll Hall of Fame
And the late, Harlem-born rapper Tupac Shakur will join the Rock and Roll Hall of Fame. His music focused on racism, police brutality, poverty and oppression. He's considered to be one of the most influential figures in hip-hop. His mother was leading political activist Afeni Shakur, part of the Harlem branch of the Black Panther Party. Tupac Shakur was killed at only 25 years old in an unsolved 1996 shooting in Las Vegas. This is Tupac Shakur performing "Trapped."
Tupac Shakur: "They got me trapped / Can barely walk the city streets / Without a cop harrassing me, searching me / Then asking my identity / Hands up, throw me up against the wall / Didn't do a thing at all / I'm telling you one day these suckers gotta fall."
Other new inductees into the Rock and Roll Hall of Fame include Joan Baez and Pearl Jam.
---
Courtesy of Democracy Now (www.democracynow.org).  The original content is licensed under a Creative Commons Attribution-Noncommercial-No Derivative Works 3.0 United States License.