Donald Trump Tweet Raises Prospect of New Global Arms Race
President-elect Donald Trump raised the prospect of a new global arms race on Thursday, after he suggested on Twitter he would increase the size of the U.S. nuclear arsenal. Trump's tweet read, "The United States must greatly strengthen and expand its nuclear capability until such time as the world comes to its senses regarding nukes." At the State Department, the outgoing Obama administration spokesperson John Kirby was asked about the tweet.
John Kirby: "I can't speak for the president-elect's nuclear views or his policy going forward. That's for him and his team to speak to. What I can speak to is the approach that this administration has taken to try to get us on on a path to a world without nuclear weapons."
Despite President Obama's call for an end to nuclear weapons, his administration has been quietly upgrading its nuclear arsenal to create smaller, more precise nuclear bombs as part of a massive effort that will cost up to $1 trillion over three decades. Speaking to MSNBC's Rachel Maddow on Thursday, Trump's former campaign manager, Kellyanne Conway, defended the president-elect's tweet, pointing to President Obama's nuclear plans.
Kellyanne Conway: "I don't think the tweet was groundbreaking in this regard. It seems that President Obama himself has invested––has called for an upgrade in our capabilities. I've read in one or two articles, up to $1 trillion is the price tag. So, we all—you know, President Obama, President-elect Trump—everyone shares the same, I think, core value, and their first duty is to try to keep us all safe. And we know it's a dangerous world, and that includes nuclear weapons."
That was Trump's former campaign manager, Kellyanne Conway, who Trump named yesterday as counselor to the president. This morning, MSNBC host Mika Brzezinski said she spoke briefly to the president-elect on the phone and asked him about his nuclear weapons comments. Brzezinski recounted Trump's response during a conversation with co-host Joe Scarborough.
Joe Scarborough: "Mika asked the president-elect, while we had the opportunity, what his position was on—trying to clarify the tweet yesterday regarding the nuclear arsenal. And the president-elect told you what?"
Mika Brzezinski: "Let it be an arms race. We will outmatch them at every pass."
Joe Scarborough: "And outlast them all."
Mika Brzezinski: "And outlast them all."
According to the International Campaign to Abolish Nuclear Weapons, about 93 percent of all nuclear warheads are owned by Russia and the United States, which together have about 14,000 warheads stockpiled.
Obama Dismantles Idled Muslim Registry Ahead of Trump Inauguration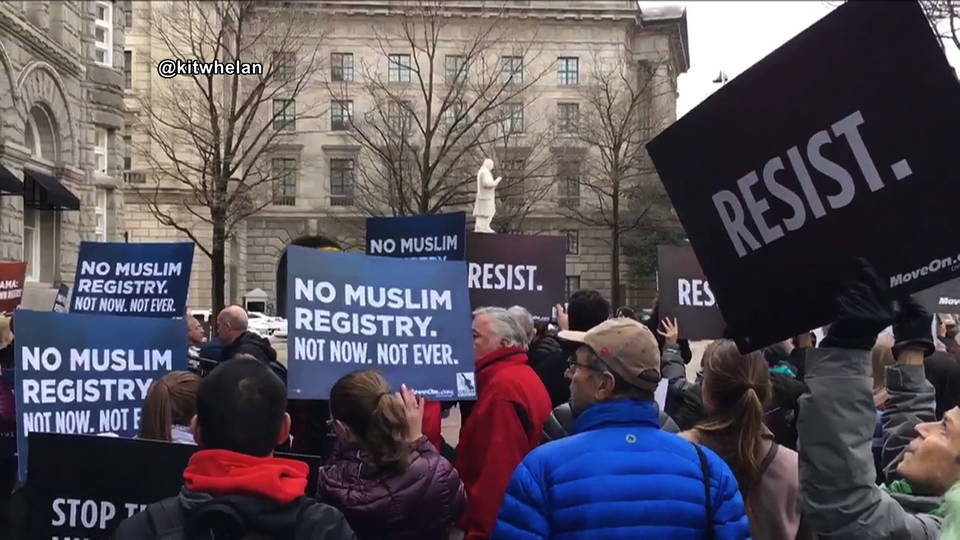 The Obama administration has moved to formally end the national registry program for immigrants from majority-Muslim countries, known as the National Security Entry-Exit Registration System, or NSEERS. The Department of Homeland Security on Thursday submitted a rule change in an effort to dismantle the legal framework for the registry, apparently in order to prevent Donald Trump from reviving it. The move comes only one day after Trump appeared to reiterate his pledge to reinstate the registry. The registry was created after the September 11 attacks. The Department of Homeland Security idled the program in 2011 under massive pressure from civil rights groups.
Trump Transition Looks into State Department Gender Equality Projects
Donald Trump's transition team has ordered the State Department to detail which of the agency's jobs and programs focus on gender equality and ending violence against women, in a move that has raised alarm among women's rights advocates in the Foreign Service. The order came in a one-page memo with the subject heading "Gender-Related Staffing, Programming and Funding." The memo comes a week after the Trump transition team asked the Department of Energy to name employees working on climate change.
Suspect in Berlin Truck Attack Shot Dead in Milan, Italy
In breaking news, police in Milan, Italy, say they have shot and killed Anis Amri, the main suspect in an attack on a market in Berlin earlier this week. Police say Amri opened fire on officers after he was asked to show his ID during a routine traffic stop. They say one officer was wounded in the shoulder before another officer shot and killed Amri. The 24-year-old Tunisian was accused of hijacking a truck, killing its driver and then ramming it into a crowded Christmas market on Monday in an attack that left 11 more people dead and dozens wounded.
Israel and Trump Pressure Egypt to Drop U.N. Resolution on Settlements
At the United Nations Security Council on Thursday, Egypt abandoned a resolution that would have ordered Israel to halt the construction of illegal Jewish-only settlements on occupied Palestinian lands. Egypt's move came just hours before a planned vote and amid heavy lobbying against the measure by Israeli officials. The measure was also opposed by Donald Trump, who took to Twitter to call for a veto of the resolution. Trump also spoke by telephone with Egyptian President Abdel Fattah el-Sisi on Thursday. Israeli officials reportedly contacted Trump's transition team after they learned the Obama administration might abstain on a vote condemning settlements––a move that would have cleared the way for the measure to pass.
Vaccine Found 100 Percent Effective at Preventing Ebola Infection
In medical news, a new study finds an experimental vaccine was 100 percent effective in protecting West Africans against the Ebola virus during an outbreak in 2014-15, raising the prospect that the future spread of the deadly disease could be halted. The finding was reported Thursday in the British medical journal The Lancet. An assistant director-general of the World Health Organization said the study compared about 6,000 residents of Guinea who received the vaccine with a similar-sized group who hadn't.
Dr. Marie-Paule Kieny: "What we have shown is that in the vaccinated people, we have had zero cases of Ebola, while, at the same time, we have had 23 cases in the people who were not vaccinated with Ebola. So you compare zero to 23, and you can calculate that you have a vaccine which has shown a 100 percent efficacy."
Researchers caution that the vaccine has unpleasant side effects and that it appears to work on only one of the two most common strains of the Ebola virus. An Ebola outbreak in West Africa in 2014 claimed more than 11,000 lives. Critics say those lives could have been spared if researchers had poured more resources into finding a vaccine years ago.
Deutsche Bank Announces $7.2 Billion Settlement on Toxic Mortgages
In financial news, Deutsche Bank is set to pay $7.2 billion in fines over its role in the U.S. housing market collapse, in a tentative settlement with the U.S. Department of Justice. Between 2005 and 2007, Deutsche Bank packaged toxic mortgages into securities it sold to investors. The tentative deal is barely half of the $14 billion fine the Justice Department was seeking. The Wall Street Journal reports the Obama administration scrambled to secure the deal before Donald Trump's inauguration next month. Trump has about $300 million in outstanding debts to Deutsche Bank, and it's not clear whether his administration would have pursued a settlement.
Justice Department Lawsuit Targets Barclays over Mortgages
Meanwhile, the Justice Department filed suit against British bank Barclays and two of its former executives Thursday, charging they misled the public over the sale of tens of billions of dollars in mortgage-backed securities.
Hijacked Libyan Airliner Bound for Tripoli Lands in Malta
In the Mediterranean, a hijacked Libyan airliner with more than 110 people on board landed today in the island nation of Malta. State television reported the plane remains on the tarmac at Malta's international airport and that two hijackers were threatening to blow up the plane with hand grenades. The flight took off from the Libyan city of Sabha, bound for Tripoli. It's not known if the hijackers have specific demands.
Iraq: Mosul Residents Flee Miserable Camps Despite Heavy Fighting
In Iraq, three suicide car bombs driven by members of ISIS killed at least 15 civilians and eight Iraqi police officers on Thursday, as the battle to retake the city of Mosul raged into its third month. The attacks came in a suburb east of Mosul that Iraq's military claimed to have captured weeks ago. The fighting came as many residents of Mosul remained in their homes despite the fierce battles nearby. Many said conditions in camps for displaced people were so poor they would rather risk death. This is Abdullah Murad, who left a camp east of Mosul on Wednesday.
Abdullah Murad: "Even the simplest necessities are unavailable. We are surrounded by mud. Look at us. This is how it is with the mud. Yesterday, a tent caught fire. It was indescribable. Then the tent was engulfed in flames in 20 seconds, and people died. It is cold, very cold during the night. We are going to try and stay with relatives or in some home. It will be better than the camp."
Canadian Government Declares High-Speed Internet a Fundamental Right
The Canadian government has formally declared high-speed internet access a fundamental right, calling it "necessary to the quality of life" of all Canadians. The declaration came as Canada's telecommunications agency said this week it aims to provide broadband internet to 100 percent of Canadians, including those in rural areas and in First Nations communities. Meanwhile, in the U.S., proponents of the open internet say the incoming Trump administration is poised to do away with net neutrality––the principle that internet providers should not be allowed to charge media companies for preferential treatment, such as faster speeds for their products and content. Donald Trump's picks for the Federal Communications Commission transition team––former Sprint lobbyist Mark Jamison and former Verizon consultant Jeff Eisenach––both oppose net neutrality.
Texas Officer Assaults, Arrests Family Who Called 911 for Help
In Texas, a Fort Worth police officer has been placed on restrictive duty after an online video showed him violently arresting a woman and her teenage daughter, after the woman called 911 to report an assault on her 7-year-old son. Video of the incident went viral after it was posted to Facebook on Wednesday night. The video shows 46-year-old Jacqueline Craig, who is African-American, telling a white police officer that a white man choked her son after the boy supposedly threw a piece of paper on the ground. The officer, who has not been named, responds, "Why don't you teach your son not to litter?"
Officer: "Why don't you teach your son not to litter?"
Jacqueline Craig: "Uh, I didn't. He can't prove to me that my son littered. But it doesn't matter if he did or didn't. It doesn't give him the right to put his hands on him."
The video next shows Jacqueline Craig arguing with the officer over the alleged assault on her son, before the officer tackles and handcuffs Craig, while pointing a weapon at her and at her teenage daughter. The officer then tackles and arrests the girl, as well. In a statement, the Fort Worth Police Department said it has launched an internal affairs investigation into the arrests.
Chile: Families of Victims Protest Mass for Jailed Regime Members
And in Chile, family members of those killed or disappeared under the U.S.-backed dictatorship of Augusto Pinochet held a protest outside Santiago's main cathedral on Thursday ahead of a planned Catholic mass today for jailed members of the former regime. The protesters wore photographs of their loved ones and held signs reading "never forget." This is Carla Pellegrin, whose brother Raúl was disappeared under the dictatorship.
Carla Pellegrin: "The human rights violators of this country are going to ask for forgiveness in a mass, to obtain prison benefits. We absolutely reject a pardon, because we are neither for forgiveness nor forgetting. And basically that's because the missing are still missing, because our loved ones who were tortured, who were killed, are no longer here, which happens in many cases. And there's still much impunity, such as in the case of my brother, certainly, and because there's a pact of silence."
On September 11, 1973, democratically elected President Salvador Allende was toppled in a U.S.-backed coup, ushering in 17 years of brutal dictatorship under Augusto Pinochet.
---
Courtesy of Democracy Now (www.democracynow.org).  The original content is licensed under a Creative Commons Attribution-Noncommercial-No Derivative Works 3.0 United States License.