Israel to Defy U.N. Resolution Condemning Illegal Settlements
Israeli officials vowed on Monday to build thousands of new settlement homes on occupied Palestinian land, in defiance of a United Nations resolution passed Friday condemning such construction as a "flagrant violation under international law." The plans violate Security Council Resolution 2334, which was approved Friday on a 14-0 vote after the United States abstained, denying a veto sought by Israel and President-elect Donald Trump.
Saeb Erekat: "We hope that this clear message to the Israeli people is that they must accept the international community's call to stop settlement activities, to stop the occupation. Occupation and settlements provide no peace and no security. And the only way to peace and security for Israelis and Palestinians is through a negotiated settlement to achieve the two-state solution on the 1967 lines—a state of Palestine, with East Jerusalem as its capital, to live side by side the state of Israel in peace and security on the 1967 lines."
The resolution does not provide for any sanctions against Israel for failing to halt settlement construction. It was introduced on Friday by Malaysia, Senegal, Venezuela and New Zealand, one day after Egypt withdrew the measure under intense pressure from Israeli officials and from Donald Trump. Its passage infuriated Israeli Prime Minister Benjamin Netanyahu, who summoned and reprimanded envoys from most of the Security Council member nations who approved the resolution. Netanyahu also lashed out at President Obama.
Prime Minister Benjamin Netanyahu: "As I told John Kerry on Thursday, friends don't take friends to the Security Council. I'm encouraged by the statements of our friends in the United States, Republicans and Democrats alike. They understand how reckless and destructive this U.N. resolution was. They understand that the Western Wall isn't occupied territory. I look forward to working with those friends and with the new administration when it takes office next month."
The Obama administration previously sided with Israel at the U.N., vetoing a similar Security Council resolution in 2011 that would have condemned Israeli settlement building. The U.S.'s abstention in Friday's vote drew criticism from many Democratic and Republican lawmakers. Incoming Democratic Senate Minority Leader Chuck Schumer of New York called the move "extremely frustrating, disappointing and confounding." Republican Senator Lindsey Graham of South Carolina threatened to cut off U.S. funding to the United Nations. We'll have more on Israeli settlements and the vote at the United Nations after headlines.
Pre-Christmas Protest in Bethlehem Challenges Separation Barrier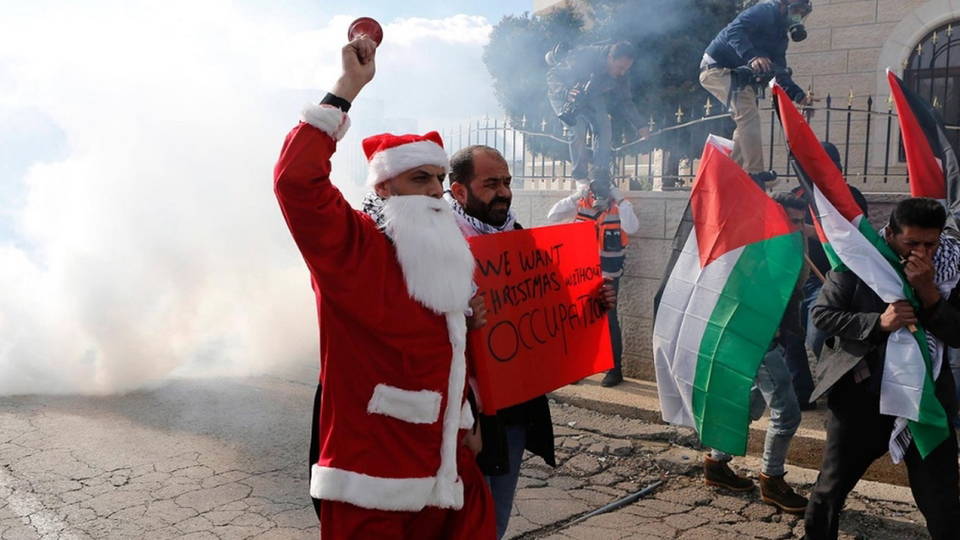 Meanwhile, in the West Bank, Israeli forces fired tear gas and rubber-coated steel bullets to disperse a protest of Palestinians on Friday, ahead of Christmas celebrations in Bethlehem, where Christians believe Jesus was born. The crackdown came as Palestinians—many dressed as Santa Claus—approached Israel's massive separation barrier. Protesters were demanding unrestricted access to Jerusalem; they currently must apply for permits to travel to the city, which borders Bethlehem to the north.
Obama Signs Defense Bill, Establishing Anti-Propaganda Center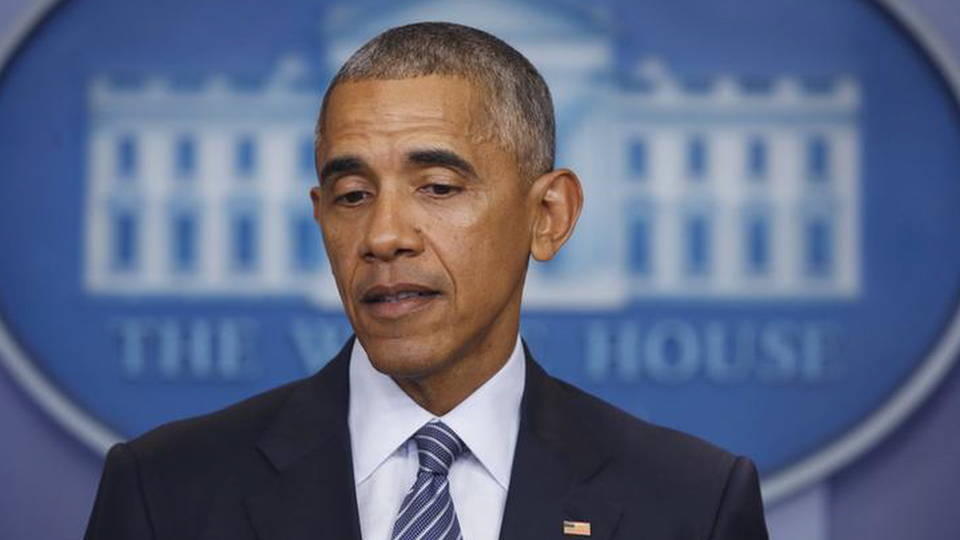 President Obama on Friday signed the National Defense Authorization Act, or NDAA, providing nearly $619 billion for war and military spending. The measure passed both houses of Congress with a veto-proof majority and will bring troops a modest pay raise while increasing the number of active-duty soldiers to more than 1.3 million. The NDAAalso restricts transfers from the Guantánamo Bay detention center, guaranteeing that Obama will leave office without fulfilling his pledge to close the prison. Meanwhile, press freedom advocates are raising alarm over a little-known bill rolled into the NDAA, which will create a national anti-propaganda center. Under the Countering Disinformation and Propaganda Act, the State Department will actively work to "recognize, understand, expose, and counter foreign state and non-state propaganda and disinformation efforts aimed at undermining United States national security interests."
New York Attorney General Halts Trump Plans to Dissolve Foundation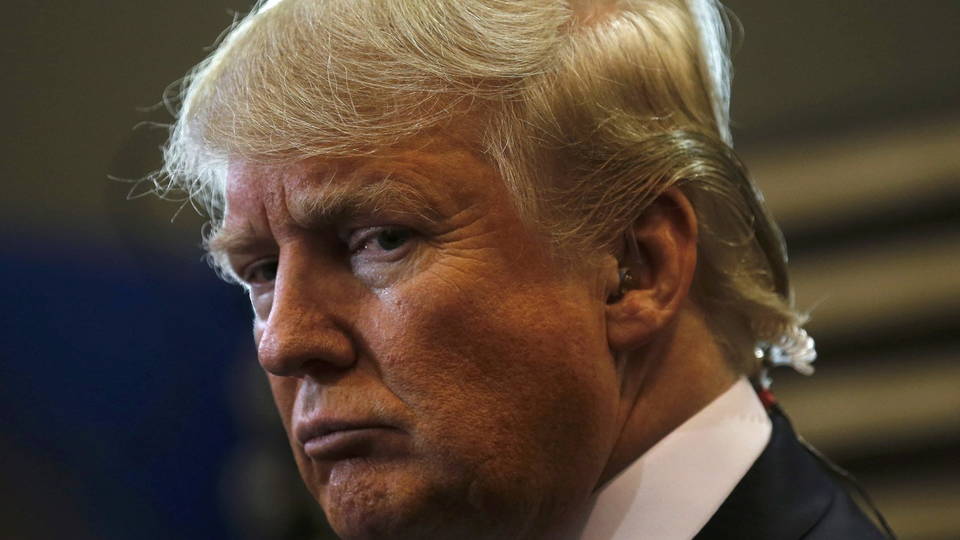 Donald Trump said on Saturday he would dissolve his charitable foundation before Inauguration Day as part of an effort to prevent conflicts of interest. But the move could be blocked by New York's attorney general, who says Trump can't dissolve the charity while it's under investigation for violating state law. In a pair of tweets on Monday, Trump claimed 100 percent of the funds raised by his foundation went to charity. But a Washington Post investigation revealed Trump used more than a quarter-million of the foundation's dollars to pay off legal fees associated with his businesses—which is illegal under U.S. law. The Post also reported Trump used foundation money to buy advertisements for his hotels and spent tens of thousands of dollars to purchase at least two portraits—of himself.
Rockettes Dancers Win "Opt-Out" Clause for Inauguration Performance
Meanwhile, Donald Trump's plans to attract celebrity performers to his inauguration suffered another blow over the weekend, after the company that manages the dance group The Rockettes said its members will be allowed to opt out of a command performance in Washington, D.C., on January 20. The decision by the Madison Square Garden Company came after the union that represents members of The Rockettes initially said full-time members of the troupe were contractually obligated to perform at Trump's inauguration. That prompted a firestorm of protest from the public, as well as from some members of The Rockettes. One dancer, Phoebe Pearl, wrote on Instagram in a post that was later deleted, "The women I work with are intelligent and are full of love and the decision of performing for a man that stands for everything we're against is appalling. I am speaking for just myself but please know that after we found out this news, we have been performing with tears in our eyes and heavy hearts. We will not be forced! #notmypresident." Donald Trump has struggled to find star performers to attend his inauguration. According to journalist Itay Hod of TheWrap, Trump's team offered U.S. ambassadorships to at least two talent bookers if they could deliver marquee talent to the inaugural. We'll have more on this story later in the broadcast.
Police Union Pressures Amazon.com to Halt "Black Lives Matter" Sales
The nation's largest police union is pressuring Amazon.com to stop selling T-shirts and hoodies emblazoned with the phrases "Bulletproof: Black Lives Matter" and "Hands Up, Don't Shoot." A letter from the police union to Amazon CEO Jeff Bezos accuses the online retailer of selling offensive merchandise from "third party sellers [who] are making money by exploiting racial divisions in our country." The campaign by the Fraternal Order of Police follows a successful effort to get Walmart.com to stop selling clothes with the phrase "Bulletproof: Black Lives Matter" in its online store.
Report: North Carolina No Longer a "Fully Functioning Democracy"
In North Carolina, a new report finds the state's democratic institutions are so flawed, the state should no longer be considered a functioning democracy. The report by the Electoral Integrity Project points to extreme gerrymandering, voter suppression of communities of color and the stripping of power of incoming Democratic Governor Roy Cooper's power by Republicans. Writing in the Raleigh News & Observer, lead researcher Andrew Reynolds gives North Carolina an electoral integrity score of 58 out of 100 points—similar to the scores of Cuba, Sierra Leone and Indonesia. Speaking on Democracy Now!, the head of North Carolina's chapter of the NAACP, Rev. William Barber, says Republicans are fighting to prevent black and brown voters from claiming power.
Rev. William Barber: "I believe all of the pushback we're seeing—the voter suppression, the redistricting—is because the extremists see the possibility of a third Reconstruction. They know that if we register 30 percent of the African-American voter, unregistered voters, in the South, and if we add to that whites and progressive whites and Latinos, you will have changed the South."
Syracuse, NY: Christmas-Themed Protest at Drone Operations Base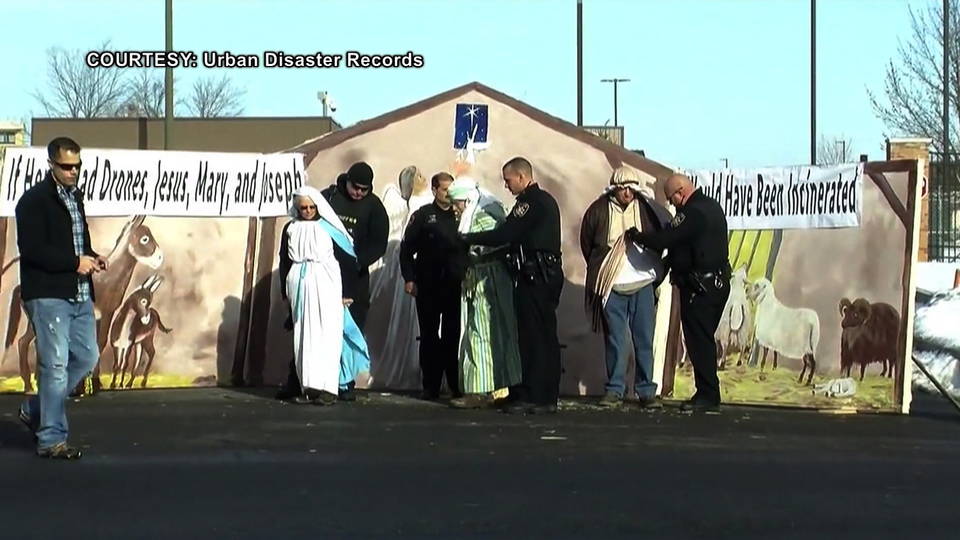 In Syracuse, New York, four people were arrested outside the Hancock Air National Guard Base on Friday at a nonviolent protest against the U.S. drone assassination program. Demonstrators marked the Christmas holiday by dressing as biblical figures and erecting a 20-foot-long nativity scene at the gates of the air base, which is home to the 174th Attack Wing of the National Guard's Reaper drone program.
Pop Legend and Gay Icon George Michael Dead at 53
And the pop legend and gay icon George Michael has died at the age of 53. Michael was found dead of heart failure at his home on Christmas Day. The British singer-songwriter became famous as part of the '80s pop duo Wham! When Michael came out as a gay man in 1998, his lyrics celebrating all forms of sexuality had already helped change public attitudes toward homosexuality. George Michael lent his celebrity to the fight against HIV, helping to raise millions of dollars for AIDS research. He was also a vocal critic of the Iraq War. His 2002 song and satirical video "Shoot the Dog" took aim at George W. Bush and his British ally in support of the Iraq invasion, Tony Blair.
---
Courtesy of Democracy Now (www.democracynow.org).  The original content is licensed under a Creative Commons Attribution-Noncommercial-No Derivative Works 3.0 United States License.