Syrian Gov't Forces Seize Up to 75% of Eastern Aleppo from Rebels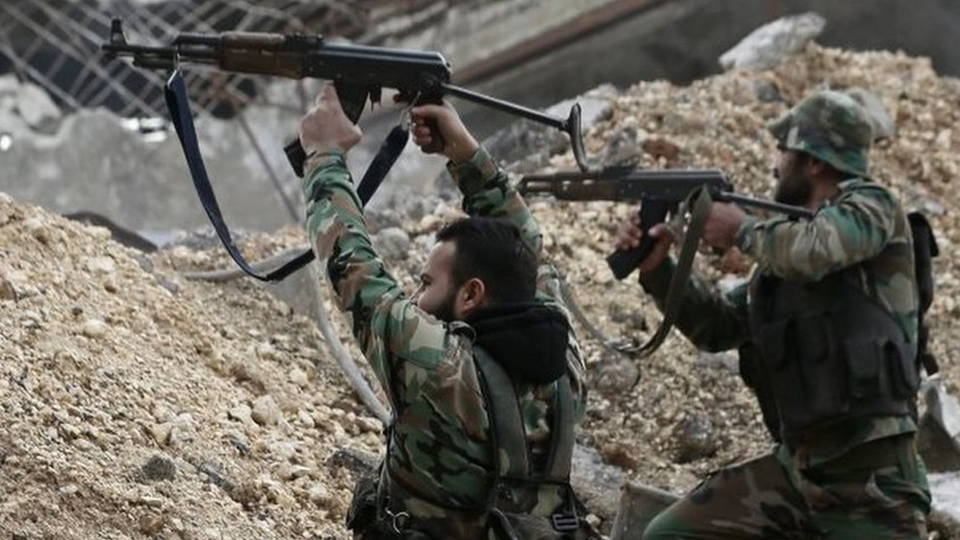 In Syria, government forces have seized as much as 75 percent of eastern Aleppo. On Tuesday, anti-government rebels withdrew from Aleppo's Old City, and the Aleppo Leadership Council called for a five-day truce to allow for the evacuation of civilians from rebel-held areas. The Syrian government, however, says it's opposed to any more temporary truces in Aleppo, and on Monday, Russia and China vetoed a U.N. Security Council resolution for a week-long ceasefire in the city. The battle for control of eastern Aleppo is seen as a decisive turning point in the five-year civil war, which began with a democratic popular uprising in 2011. If the Syrian government retakes all of Aleppo, the anti-government rebels will be left with little territory—only the northern province of Idlib and some areas in the provinces of Aleppo and Homs and around Damascus. The ongoing ground offensive comes after eastern Aleppo has been besieged for weeks by Syrian government forces and under aerial attack by the Syrian air force and Russia.
U.S.-Backed Iraqi Military Advances on Mosul Center in Fight Against ISIS
The U.S.-backed Iraqi army is continuing its weeks-long campaign to retake the city of Mosul from ISIS militants. On Tuesday, the Iraqi army, backed by dozens of U.S. airstrikes, advanced on the center of Mosul.
Obama Gives Final National Security Address
President Obama gave his final planned address on national security Tuesday, in which he sought to defend his legacy in the war on terrorism. During his presidency, President Obama has bombed seven countries and has vastly expanded the drone program. Many human rights activists have criticized Obama's policies, particularly his drone war, as being an expansion and legalization of President George W. Bush's policies. During the speech, Obama also called for the closure of the military prison at Guantánamo Bay—a campaign promise he made more than eight years ago that his administration has failed to fulfill. Obama also sought to push back on some of Donald Trump's proposals, which have included resurrecting the registry for immigrants from majority-Muslim nations, which was implemented after 9/11. This is President Obama, speaking at the MacDill Air Force Base in Tampa, Florida.
President Barack Obama: "The United States of America is not a country that imposes religious tests as a price for freedom. We're a country that was founded so that people could practice their faiths as they choose. The United States of America is not a place where some citizens have to withstand greater scrutiny or carry a special ID card or prove that they're not an enemy from within. We're a country that has bled and struggled and sacrificed against that kind of discrimination and arbitrary rule, here in our own country and around the world."
Trump Fires Michael Flynn's Son from Transition Team for Sharing Fake News
President-elect Donald Trump has fired Lt. Gen. Michael Flynn's son from Trump's transition team for sharing fake news. Michael Flynn is Trump's pick for national security adviser. His son, also named Michael Flynn, has come under fire for sharing fake news pushed by right-wing websites. In one such tweet, Flynn wrote, "U decide–NYPD Blows Whistle on New Hillary Emails: Money Laundering, Sex Crimes w Children, etc...MUST READ!" and then linked to a fake news article on the website TruePundit.com. Among the conspiracy theories Flynn has pushed is one claiming Hillary Clinton and other prominent Democrats were running a child sex ring from the back rooms of a Washington, D.C., pizza restaurant. On Sunday, an armed North Carolina man was arrested after walking into the restaurant, Comet Ping Pong, and then firing at least one shot. He said he was inspired by the fake news stories.
Trump Meets with NC Gov. Pat McCrory Today
Donald Trump is slated to meet with outgoing North Carolina Governor Pat McCrory today. Earlier this year, McCrory signed the anti-LGBT law HB 2, known as the bathroom bill, which denies transgender people use of the bathroom, changing room or locker room that matches their gender identity. It's sparked massive protests nationwide. News reports suggest McCrory is under consideration for the position of FEMA director or possibly a high-level position in the Energy or Transportation departments.
NYC: Dozens Protest Outside Wells Fargo Pipeline Symposium
In New York City, close to 100 people protested outside Wells Fargo's 15th annual pipeline symposium to demand Wells Fargo and other banks stop investing in the $3.8 billion Dakota Access pipeline. This is Rachel Marco-Havens of Earth Guardians.
Rachel Marco-Havens: "We're standing here today in front of the Waldorf Astoria, traditionally has held the 1 percent for as long as it's been standing. Inside, there are pipeline investors, and I just met one. And I met three, and they all say they don't care about what happens to the people along the lines of the extractive industry. We are here because water is life. We are here because we must stand in solidarity across Turtle Island to take care of each other and to stop this fossil fuel infrastructure and to recognize that we can transition to renewable now. We must defund these corporations."
On Sunday, the U.S. Army Corps of Engineers denied Energy Transfer Partners, the company behind the pipeline, a permit to drill under the Missouri River, halting construction for now. This is Rocio Velandia at the New York City protest reacting to the news.
Rocio Velandia: "They had announced that they were going to stop, but we saw it just like a war tactic to disperse and confuse. But we are the indigenous peoples of Mother Earth, and we are used to the injustices against our people. We know how to survive. We have been here for thousands of years, and we will remain. And whatever happens to the indigenous people is actually happening to everyone on Earth. We have to understand that when the water is gone, we will all be gone."
Standing Rock: Protectors Demand Police End Roadblock Amid Blizzard Evacuations
A second massive winter blizzard has hit the resistance camps at Standing Rock in North Dakota last night, forcing water protectors to seek shelter in nearby community centers and the Standing Rock Sioux Tribe casino. The Standing Rock Medic & Healer Council said it has treated two people for hypothermia, and condemned the state of North Dakota for maintaining a police roadblock on Highway 1806—the main road leading in and out of the camps—that has been delaying the evacuation of patients amid the blizzard. Thousands of water protectors remain at Standing Rock, concerned that the company behind the pipeline has vowed to drill on despite being denied the permit by the Army. On Monday, Energy Transfer Partners filed a lawsuit in federal court asking a judge to grant the necessary permit, claiming the Army has bowed to political pressure. In the filing, Energy Transfer Partners says the delays to the project have cost $450 million so far.
North Dakota Officials Shut Down Pipeline After Oil Leaks into Creek
Meanwhile, in western North Dakota, authorities shut down an oil pipeline after a spill leaked into a nearby creek. Authorities say they do not know how much oil has contaminated the water stream.
Canadian Minister Apologizes for Threatening to Deploy Troops to Quell Pipeline Protests
Canadian Energy Minister Jim Carr has apologized after implying the Canadian government would deploy troops against protesters opposing the proposed billion-dollar Kinder Morgan tar sands pipeline, which was approved by Prime Minister Justin Trudeau last week. Last week, Carr said the government would use "its defense forces" to quell possible protests.
Montana: Thousands of Geese Die After Landing on Toxic Water of Open-Pit Mine
Israel Deports African Theologian over BDS Advocacy
The World Council of Churches is condemning Israel for interrogating and deporting its associate general secretary, Isabel Apawo Phiri, upon her arrival at Tel Aviv airport. The respected African theologian was traveling with other church leaders for a conference in Jerusalem, when she was denied entry into Israel. Israeli officials say they blocked her entry because of her support for the Boycott, Divestment and Sanctions movement, or BDS, an international campaign to pressure Israel to comply with international law and respect Palestinian rights.
Colombia: Kidnap, Rape & Murder of 7-Year-Old Girl Sparks Protests
In Colombia, authorities have arrested a man suspected of kidnapping, raping and murdering a 7-year-old indigenous girl over the weekend, in a brutal case of sexual violence that has sparked widespread outrage in Colombia. On Tuesday, authorities charged an upper-class architect with the kidnap and murder of Yuliana Andrea Samboni. The crime has sparked ongoing protests. On Monday, Colombian President Juan Manuel Santos tweeted, in Spanish, "With profound indignation I condemn the crime against the 7-year-old in Bogotá. #NiUnaMás," or "not one more," the hashtag used across Latin America to condemn violence against women.
Greece: Riot Police Attack Protesters at Anti-Police Brutality March
In Greece, riot police attacked hundreds of protesters marking the eighth anniversary of the police killing of 15-year-old Alexandros Grigoropoulos in 2008. His killing sparked weeks of massive protests, and a march commemorating his death is held each year in Athens.
Louisiana: Man Arrested for Killing Fmr. NFL Player Joe McKnight, After Outrage
In Louisiana, authorities have arrested Ronald Gasser, who is white, for shooting and killing former NFL player Joe McKnight, who is black, in a possible case of road rage last week. He's been charged with manslaughter for the fatal shooting last Thursday. This is Jefferson Parish Sheriff Newell Normand.
Sheriff Newell Normand: "We're here to announce the arrest of Ronald Gasser, white male born 12/17 of '61, for the count of manslaughter as it relates to the incident relative to the killing of Joe McKnight that occurred Thursday afternoon at the corner of Holmes and Behrman Highway."
The case sparked outrage after authorities released Gasser last week, even though he admitted to shooting McKnight multiple times.
Ohio Lawmakers Pass Severe Anti-Abortion "Heartbeat" Legislation
In Ohio, lawmakers have passed anti-abortion legislation that would ban abortion from the moment a heartbeat can be detected, which is usually about six weeks into a pregnancy. Ohio Governor John Kasich must now decide whether to sign the bill, which would become one of the most severe anti-abortion restrictions in the country. The American Civil Liberties Union and a slew of other organizations have denounced the legislation as unconstitutional and vowed to challenge it in court, if it's signed into law.
Former Black Panther Maliki Shakur Latine is Free After 37 Years
In New York, a former Black Panther is free after 37 years in prison. Maliki Shakur Latine was reunited with his family and friends on Tuesday. His release was granted after he had support from the Parole Preparation Project of the National Lawyers Guild's New York City chapter. In 1981, Maliki Shakur Latine was sentenced to 25 years to life for attempted murder of a police officer. A court later overturned his conviction and ordered a new trial, but the decision was reversed on appeal. Supporters have launched a website to raise funds for his basic needs as he turns to his next challenge: finding a job.
---
Courtesy of Democracy Now (www.democracynow.org).  The original content is licensed under a Creative Commons Attribution-Noncommercial-No Derivative Works 3.0 United States License.