ICE Arrests More Than 600 People Nationwide in Last Week
Immigration officials have arrested more than 600 people across the U.S. in the last week. The arrests in at least 11 states, including California, New York, Georgia, North Carolina, South Carolina, Illinois, Indiana, Kansas, Kentucky, Missouri and Wisconsin, have spread fear among immigrants and their advocates. It is not clear if ICE, or Immigration and Customs Enforcement, is continuing routine operations or stepping up its deportations in line with President Trump's policies. On Sunday, Trump tweeted, "The crackdown on illegal criminals is merely the keeping of my campaign promise. Gang members, drug dealers & others are being removed!" The Department of Homeland Security has said the arrests are routine practice.
Amid ICE Raids in NYC, Protest Demands End to "Broken Windows" Policing
In New York City, ICE says that it has arrested at least 40 people over the last week. The raids in New York City come despite the fact that Mayor Bill de Blasio has insisted New York City is a sanctuary city. On Saturday, hundreds protested the New York Police Department's "broken windows" policing strategy, under which the police target and arrest people for low-level offenses, funneling people into a process that can result in deportation. Under President Trump's public safety executive order, immigrants face deportation if charged with a crime, even if they are never convicted. This is Albert Saint Jean, a Haitian-American fellow with the Black Alliance for Just Immigration, addressing Mayor Bill de Blasio at the protest Saturday.
Albert Saint Jean: "He has to get his house in order, if he really wants a sanctuary city, a freedom city, where we can feel free to walk around in our own communities without feeling like I did something wrong just for existing, where little mistakes won't ruin the rest of our lives."
At a march after the protest, police arrested five protesters, charging four with "crossing against a steady red light" and one with "resisting arrest" and "obstructing governmental administration"—one of 170 offenses the NYPD cooperates with federal immigration authorities on. We'll have more on the immigration raids nationwide later in the broadcast.
Trump Adviser Stephen Miller Repeats Trump Lie About Voter Fraud in 2016 Election
Senior White House policy adviser Stephen Miller repeated President Trump's lies about widespread voter fraud in the 2016 election during an interview with ABC's George Stephanopoulos Sunday. He falsely claimed "thousands" of people were bused to New Hampshire to vote—a claim that has been widely debunked, including by New Hampshire's former attorney general. Trump's other lies about voter fraud have also been widely debunked.
Trump Adviser Stephen Miller: "The Powers of the President Will Not Be Questioned"
In a separate interview with CBS program "Face the Nation" also on Sunday, Miller said the White House will fight to reinstate Trump's travel ban and that Trump's authority will "not be questioned."
Stephen Miller: "The end result of this, though, is that our opponents, the media and the whole world will soon see, as we begin to take further actions, that the powers of the president to protect our country are very substantial and will not be questioned."
The suspension of Trump's travel ban was unanimously upheld by a federal appeals court on Thursday.
Trump Says He May Sign "Brand New" Travel Ban
The administration now seems divided on whether and when to appeal the ruling to the Supreme Court. A White House official told media outlets Friday the administration wouldn't immediately challenge the appeals court ruling, but only an hour later, Chief of Staff Reince Priebus said the White House might appeal the ruling. Trump also said he might sign a new executive order to ban immigration from some majority-Muslim countries. Speaking Friday to reporters, Trump said the new executive order might include "extreme vetting" of immigrants—which many have criticized as being an ideological test.
North Korea Tests Ballistic Missile, Sparking International Condemnation
North Korea tested a ballistic missile on Sunday, sparking widespread condemnation from South Korea, China, Japan, Russia, the European Union, NATO and the United States. The test is a violation of a United Nations Security Council resolution. North Korea claimed the test was a successful launch of an intermediate-range missile. The United Nations Security Council says it will hold an "urgent" consultation Monday in response to the launch. The test came while Trump hosted Japanese Prime Minister Shinzo Abe over the weekend at the Trump-owned Mar-a-Lago resort in Palm Beach, Florida. The two also played golf at the Trump International Golf Club. Ethics groups say the move to host Japan's leader at Trump properties is a clear conflict of interest.
Pro- and Anti-Planned Parenthood Rallies Held Nationwide
Thousands of people rallied nationwide Saturday in support of Planned Parenthood, in efforts to counter the planned anti-Planned Parenthood rallies. Opponents of Planned Parenthood said they organized more than 100 rallies in more than 40 states for Saturday. But in multiple cities, when the anti-Planned Parenthood protesters showed up, they were met by even bigger crowds of people who support the women's health organization. In Denver, for example, as many as 6,000 pro-Planned Parenthood people rallied, compared to only about 250 to 400 people who rallied to demand the defunding of the organization.
U.N.: 26 People Killed in NATO & U.S. Airstrikes, the Majority Women & Children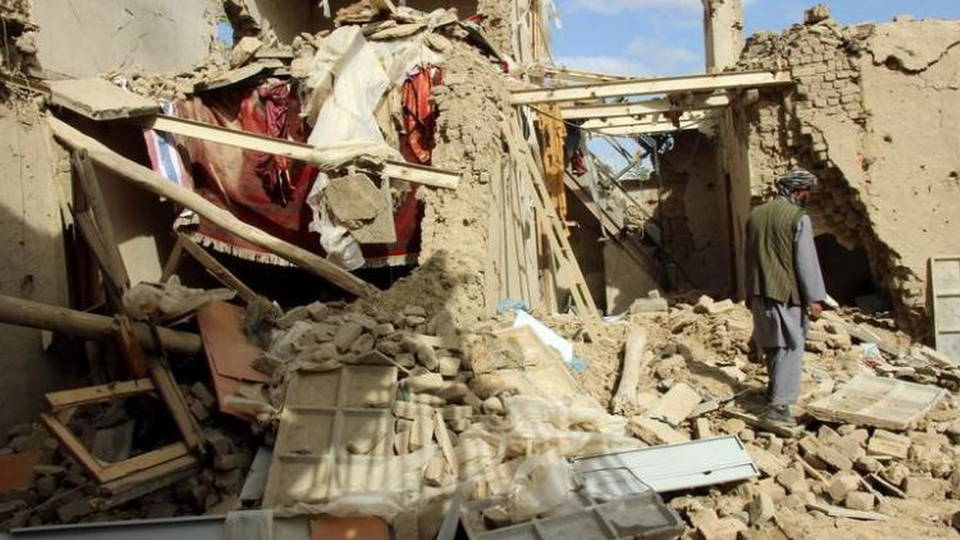 In Afghanistan, at least 26 people died in U.S. and NATO-led airstrikes in Helmand Province last week. The United Nations says the majority of victims were women and children. The deadliest strikes were on Thursday and Friday, when as many as 18 civilians, the majority women and children, were killed.
Thousands of Mexicans March to Denounce Trump's Deportation Plans
Thousands of Mexicans marched on Mexico City on Sunday to denounce President Trump and his plans to deport millions of undocumented immigrants from the U.S. This is Mexican writer Héctor Aguilar.
Héctor Aguilar: "I say that he's insane. Mexicans have said no to all that he has done, and we are against the wall and deportations and against all that he is doing to Mexicans over there like they are enemies. This is how it's perceived here. And there are families who have been very affected. Children don't want to go to school. It's a ghetto-like environment."
Veterans Return to Standing Rock as Dakota Access Construction Resumes
In North Dakota, military veterans have begun returning to Standing Rock to support the fight to stop the construction of the $3.8 billion Dakota Access pipeline, which was approved by the Army Corps of Engineers last week. Water protectors say there are an increasing number of helicopters and Bureau of Indian Affairs agents policing the resistance camps.
Report: FBI Terrorism Task Force Investigating #NoDAPL Water Protectors
The Guardian reports multiple agents from the FBI's Joint Terrorism Task Force have been attempting to contact water protectors, sparking concerns the FBI may be investigating the indigenous-led movement as a form of domestic terrorism. Civil rights lawyer Lauren Regan said, "The idea that the government would attempt to construe this indigenous-led nonviolent movement into some kind of domestic terrorism investigation is unfathomable to me. It's outrageous, it's unwarranted … and it's unconstitutional."
Standing Rock: Indigenous Women's Gathering Planned for Feb. 18-19
Water protectors are organizing an Indigenous Women's Gathering for next weekend, February 18 and 19, at the main Oceti Sakowin resistance camp. Meanwhile, activists in Bellingham, Washington, shut down Interstate 5 on Saturday as a protest against the Dakota Access pipeline.
California: 180,000+ Evacuated Amid Fears of Dam Break
In California, more than 180,000 people evacuated their homes after erosion caused damage to the spillway at the nation's tallest dam on Sunday, prompting fears of potential flooding. The Oroville Dam is about 75 miles north of Sacramento. It's already filled after a season of heavy rainfall. On Sunday, officials realized the emergency spillway was eroding, prompting a mandatory evacuation for several counties around the dam.
6 Patriots Players Won't Visit White House as Protest of Trump
At least six New England Patriots players now say they won't visit the White House for the traditional Super Bowl celebration as a protest against President Trump. Defensive end Chris Long, running back LeGarrette Blount, defensive tackle Alan Branch, linebacker Dont'a Hightower, safety Devin McCourty and tight end Martellus Bennett are all boycotting the visit.
NFL Players Pull Out of Trip to Israel in Solidarity with Palestinians
Meanwhile, Seahawks defensive end Michael Bennett and Miami Dolphins wide receiver Kenny Stills have pulled out of an Israeli government-sponsored trip to Israel next week. In an open letter that referenced Muhammad Ali and quoted Olympian John Carlos, Bennett said, "When I do go to Israel—and I do plan to go—it will be to see not only Israel but also the West Bank and Gaza so I can see how the Palestinians, who have called this land home for thousands of years, live their lives." President Trump is meeting with Israeli Prime Minister Benjamin Netanyahu this week. Trump is also meeting with Canadian Prime Minister Justin Trudeau today.
After Years of Protests, Yale to Rename Calhoun College
Yale University says it will rename the residential dorm Calhoun College, named after former Vice President John C. Calhoun, one of the most prominent pro-slavery figures in American history. The announcement comes after years of organizing and protests led by students of color. On Saturday, Yale University President Peter Salovey said, "John C. Calhoun's legacy as a white supremacist and a national leader who passionately promoted slavery as a 'positive good' fundamentally conflicts with Yale's mission and values." Over the summer, Yale University dishwasher Corey Menafee broke a stained-glass window at Calhoun College depicting smiling enslaved Africans carrying bales of cotton. This is Menafee, speaking about the window and his protest.
Corey Menafee: You know, it's a picture—it was a picture that just—you know, as soon as you look at it, it just hurts. You feel it in your heart, like, oh, man—like here in the 21st century, you know, we're in a modern era where we shouldn't have to be subjected to those primitive and degrading images."
The residential dorm will be renamed for Grace Murray Hopper, a groundbreaking computer scientist and Yale alum.
Beyoncé at Grammys: "It's Important to Show Images to My Children That Reflect Their Beauty"
And last night was the 59th annual Grammy Awards. British singer Adele won a total of five awards, including Album of the Year for "25"—even though many had expected Beyoncé to win the night's top award for her wildly popular album "Lemonade." Even Adele said Beyoncé should have won the award, and she broke her Grammy in half while on stage. Beyoncé did win two awards for Best Music Video and Best Urban Contemporary Album. She was the first of the night to speak about politics in her acceptance speech.
Beyoncé: "It's important to me to show images to my children that reflect their beauty, so they can grow up in a world where they look in the mirror, first through their own families, as well as the news, the Super Bowl, the Olympics, the White House and the Grammys, and see themselves and have no doubt that they're beautiful, intelligent and capable."
Backstage Adele talked more about why she felt Beyoncé should have won. "The way I felt when I first heard 'No No No' was exactly the same as when I heard Lemonade last year," Adele said. "I felt like it was her time to win. My view is what the f— does she have to do to win Album of the Year? That's also how I feel."
Paris Jackson Shouts Out #NoDAPL During Grammys
Other artists also spoke about politics throughout the night, including Michael Jackson's daughter Paris Jackson, who mentioned the Dakota Access pipeline protests.
Paris Jackson: "Thank you so much. We can really use this kind of excitement at a pipeline protest, guys! #NoDAPL."
Meanwhile, JLo quoted a Toni Morrison essay. Actress Laverne Cox spoke about high school student Gavin Grimm's fight for the right to use the bathroom that matches his gender identity—a reference that came only two days after the Trump administration said it was dropping a challenge to a federal injunction prohibiting Grimm and other transgender students from having the right use the bathroom that corresponds to their identity. Katy Perry wore a Planned Parenthood pin and an armband reading "persist"—in reference to Elizabeth Warren's reading of Coretta Scott King's letter against Jeff Sessions during a debate over his confirmation as attorney general. Senator Warren was silenced and rebuked for reading this letter.
---
Courtesy of Democracy Now (www.democracynow.org).  The original content is licensed under a Creative Commons Attribution-Noncommercial-No Derivative Works 3.0 United States License.