Michael Flynn Resigns as National Security Adviser
President Trump's national security adviser, Michael Flynn, has resigned following revelations he spoke with the Russian ambassador about U.S. sanctions during a late December phone call. Flynn now says he misinformed Vice President Mike Pence and top White House officials about contents of the call. The phone call was on December 29—the same day President Obama imposed sanctions against Russia and expelled diplomats in retaliation for the alleged Russian hacking of the U.S. election.
Flynn has claimed the phone call involved only small talk. But U.S. officials who reviewed a transcript of a wiretap of the conversation say Flynn discussed the sanctions—a move that violates a 1799 U.S. law, the Logan Act, which prohibits unauthorized people from negotiating with a foreign government.
The Washington Post reports former Acting Attorney General Sally Yates had warned Trump's administration weeks ago that Flynn might be lying about the call. Last month, Trump ousted Yates after she refused to defend his Muslim travel ban. On Monday, The Washington Post reported the Justice Department had warned the White House that Flynn's call and his lies made him a blackmail risk. His resignation Monday came after a tumultuous few days in which Flynn increasingly lost support from Trump and key White House officials, even as members of Trump's inner circle publicly contradicted each other about Flynn's fate.
On Monday, counselor to the president Kellyanne Conway went on MSNBC to say Flynn had the "full confidence" of the president. One hour later, White House Press Secretary Sean Spicer told reporters Trump was "evaluating the situation." On Monday night, Trump accepted Flynn's resignation and appointed retired Army Lieutenant General Keith Kellogg to be the acting national security adviser.
Many are now asking what, if anything, Trump himself knew about Flynn's conversation. Longtime New York Times reporter and editor Jim Roberts tweeted Monday, "There is still a HUGE question hanging. Did Trump or Bannon know that Flynn was discussing sanctions with the Russian AMB?" Some are even calling for impeachment hearings.
Flynn has been one of Trump's most criticized and controversial picks for top positions. Flynn is well known for his anti-Muslim worldview, having called Islam a "cancer" and saying "fear of Muslims is rational." His son, also named Michael Flynn, was fired as a member of Trump's transition team after he shared fake news pushed by right-wing websites. Among the conspiracy theories Flynn pushed is one claiming Hillary Clinton and other prominent Democrats were running a child sex ring from the back rooms of a Washington, D.C., pizza restaurant.
"Holy Moly!": Diners Watch as Trump Handles N. Korea Missile Launch in Public
The Trump administration is also facing criticism for its very public handling of the North Korea ballistic missile launch. The news of the launch broke on Saturday night as Trump and other White House officials were dining in the restaurant at the Trump-owned Mar-a-Lago resort in Florida, where Trump was hosting Japanese Prime Minister Shinzo Abe for the weekend. As Trump and top officials moved to coordinate the United States' response, other Mar-a-Lago diners gawked at the scene, including diner Richard DeAgazio, who posted a series of photos on Facebook along with the comments, "HOLYMOLY !!! It was fascinating to watch the flurry of activity at dinner when the news came that North Korea had launched a missile in the direction of Japan. … Wow.....the center of the action!!!" The display of dealing with classified information in public drew fire from both Senate Democrats and Republicans, including Arizona Republican Senator John McCain. Rhode Island Democratic Senator Sheldon Whitehouse and New Mexico Democratic Senator Tom Udall said, "This is America's foreign policy, not this week's episode of 'Saturday Night Live.' We urge our Republican colleagues to start taking this administration's rash and unprofessional conduct seriously before there are consequences we all regret." On Monday, the U.N. Security Council condemned North Korea for the missile test, which is a violation of U.N. Security Council resolutions.
Senate Confirms Steven Mnuchin to Be Treasury Secretary
On Capitol Hill, the Senate has voted 53-47 to confirm Steven Mnuchin to be the treasury secretary. Mnuchin is a former Goldman Sachs executive who has faced widespread criticism about his bank, OneWest, which has been called a "foreclosure machine." Under Mnuchin's ownership, the bank foreclosed on 36,000 families, particularly elderly residents trapped in reverse mortgages. It was also accused of racially discriminatory lending practices. On Monday, Oregon Democratic Senator Ron Wyden criticized Mnuchin's role in the housing crisis.
Sen. Ron Wyden: "A lot of people in those communities cast their votes in November based on a Trump message that real change was coming. Heads are going to be spinning tonight at the news from the Senate. In just a few minutes, this body will vote to confirm as treasury secretary Steven Mnuchin, known by many as the foreclosure king."
Mnuchin is one of at least six of Trump's top advisers and Cabinet nominees who are tied to Goldman Sachs. That list also includes National Economic Council Director Gary Cohn, Trump chief strategist Stephen Bannon, Securities and Exchange Commission chairman nominee Jay Clayton, senior White House adviser Anthony Scaramucci and senior counselor for economic initiatives Dina Habib Powell. During his bruising confirmation hearings, Mnuchin also faced criticism for not initially disclosing about $100 million in assets. Fortune magazine recently reviewed financial disclosures by Mnuchin and reported that he's as much as 10 times richer than previously thought, worth as much as $400 million.
Hundreds of Fast-Food Workers Protest Labor Sec. Pick Andrew Puzder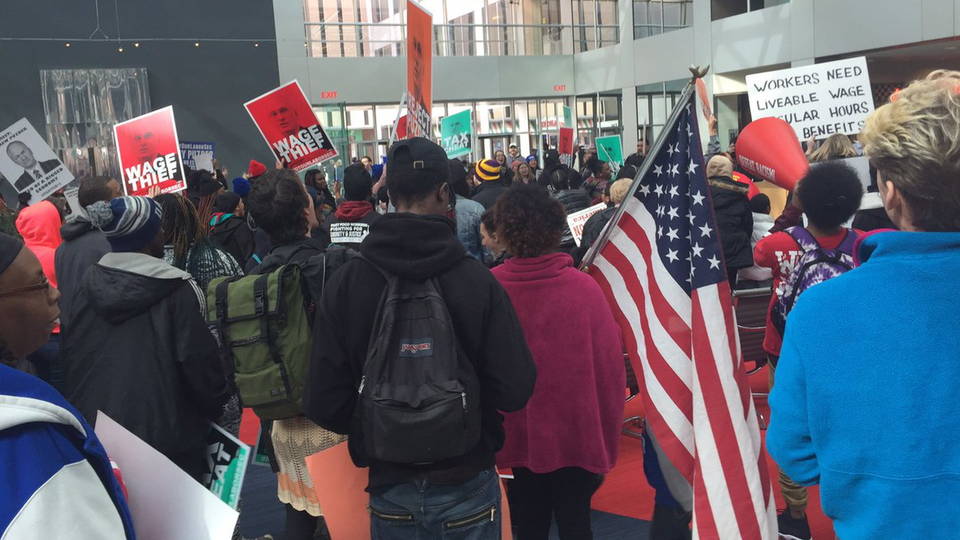 Hundreds of fast-food workers rallied in multiple cities Monday to demand fast-food mogul Andrew Puzder withdraw his nomination for labor secretary. In Anaheim, California, hundreds of fast-food workers and their supporters marched on the corporate office of Puzder's CKE Restaurants, the company that franchises the fast-food outlets Hardee's and Carl's Jr. In St. Louis, Missouri, hundreds flooded into the lobby of Hardee's corporate headquarters to protest Puzder. Workers also rallied at Hardee's and Carl's Jr. outlets in Austin, Texas; St. Paul, Minnesota; and in other cities. The nationwide protests came as four Republican senators said they may not support Puzder's nomination, threatening to derail his confirmation vote. The Washington Post reports Republican Senators Susan Collins of Maine, Lisa Murkowski of Alaska, Tim Scott of South Carolina and Johnny Isakson of Georgia say they may oppose Puzder. Puzder's confirmation hearing is scheduled for Thursday after being delayed four times. He's facing increasing criticism for reports of widespread sexual harassment at his chain restaurants, as well as labor and safety violations. He's also under fire for allegations of domestic violence against his ex-wife, who even appeared on the "The Oprah Winfrey Show" in disguise in 1990 to speak about being abused. Politico reports senators have now viewed that March 1990 episode, which was titled "High-Class Battered Women," after the Oprah Winfrey Network turned over a tape of the show to lawmakers. Puzder's ex-wife has since retracted the accusations of abuse.
Senate Confirms David Shulkin as Head of Veterans Administration
In more news on Trump's Cabinet nominations, the Senate has unanimously confirmed David Shulkin to be head of the Veterans Administration. Shulkin, a physician, served as VA undersecretary during the Obama administration. He's the first head of the Department of Veterans Affairs to have never served in the military.
Trump's Muslim Ban Suffers Two More Legal Blows
President Trump's Muslim travel ban has received two more legal blows. On Monday, U.S. District Court Judge Leonie Brinkema in Virginia granted a preliminary injunction against the executive order being enforced against Virginia residents or anyone who either works or studies at Virginia public universities. In her ruling, she wrote, "Maximum power does not mean absolute power." Also on Monday, Seattle U.S. District Judge Robart ruled the lawsuit against the travel ban should proceed quickly in lower court—a decision that ruled against the Justice Department, which wanted the case to be put on hold. Robart was the federal judge who first ordered a nationwide suspension of Trump's travel ban, sparking a Twitter rant from the president, who called Robart a "so-called judge." Last week, a federal appeals court in San Francisco unanimously upheld the nationwide suspension of President Trump's executive order, which sought to temporarily bar all refugees and citizens from seven Muslim-majority countries from entering the United States.
Milwaukee: 20,000 March for "Day Without Latinos, Immigrants and Refugees"
Resistance to the Muslim travel ban, as well as Trump's crackdown against immigration and immigrants currently living in the United States, continues nationwide. In Milwaukee, Wisconsin, tens of thousands of people marched Monday for a "Day Without Latinos, Immigrants and Refugees." The massive march was called to oppose Milwaukee County Sheriff David Clarke's plan to cooperate with Trump's deportation plans and allow his deputies to be used as immigration agents. Sheriff Clarke sparked controversy with his speech at the Republican National Convention when he celebrated the acquittal of a police officer charged in the case of Freddie Gray, who died from injuries sustained in police custody in Baltimore. Monday's march in Milwaukee is the latest in a series of mass demonstrations since Trump's inauguration, which also include a massive march in Raleigh, North Carolina, on Saturday. An estimated 20,000 people flooded into the streets for the North Carolina NAACP's annual "Moral March on Raleigh" to demonstrate against President Trump and North Carolina's anti-LGBT legislation HB 2, also known as the bathroom bill, which denies transgender people the use of the bathroom, changing room or locker room that matches their gender identity.
U.S. Blocks Fmr. Palestinian PM from Serving as U.N. Special Rep. to Libya
United Nations Secretary-General António Guterres says he "deeply regrets" the U.S. decision to block former Palestinian Prime Minister Salam Fayyad from serving as the next U.N. special representative to Libya. U.S. Ambassador to the U.N. Nikki Haley blocked his appointment Friday, claiming the U.N. has been biased in favor of the Palestinian Authority and that the move was intended to show U.S. support for Israel. This is U.N. Secretary-General Guterres.
Secretary-General António Guterres: "I believe he is the right person for the right job at the right moment. He has qualities that are recognized everywhere. He has a competence that nobody denies. And Libya requires the kind of capacity that he has. And I think it's a loss for the Libyan peace process and for the Libyan people that I am not able to appoint him."
Pakistan: Suicide Attack Kills 13 in Lahore
In Pakistan, a suicide attack targeting a protest in Lahore killed at least 13 people Tuesday. Jamaat-ur-Ahrar, a breakaway faction of the Pakistani Taliban, claimed responsibility for the attack, which also wounded more than 80 people. It struck a rally of hundreds of pharmacists and drug manufacturers who were protesting against government regulations of drugs. This is Lahore resident Hassan Babur.
Hassan Babur: "There was peace and tranquillity in Lahore recently, but yesterday's incident once again shook people's hearts. It showed that these things, incidents of terrorism, have started taking place once again."
Fmr. Black Liberation Activist Zolo Azania Freed After 35 Years
And a former black liberation activist who spent 35 years in prison—27 on death row—is free. Zolo Azania was convicted of killing a police officer during a 1981 bank robbery in Indiana. At his trial, he was an outspoken member of the Republic of New Afrika and maintained his innocence. An all-white jury sentenced him to death, but the state Supreme Court twice overturned his death sentence. He was later given a 74-year sentence, and was released early last week after earning credit for good behavior.
Zolo Azania: "I got out of prison. I was released February the 6th, which was a Monday. And my whole life changed! The whole world. The Earth even smelled different. I want to thank everyone who supported me over the years, everyone who has supported me and offered me their assistance and their sympathies and condolences, and for the people that I've lost and people who didn't make it. I've seen a lot of people get executed."
Zolo Azania's supporters have set up a GoFundMe page to help the 62-year-old "rebuild his life" as he looks for employment and continues his activism.
---
Courtesy of Democracy Now (www.democracynow.org).  The original content is licensed under a Creative Commons Attribution-Noncommercial-No Derivative Works 3.0 United States License.