Trump White House in Crisis After Flynn's Resignation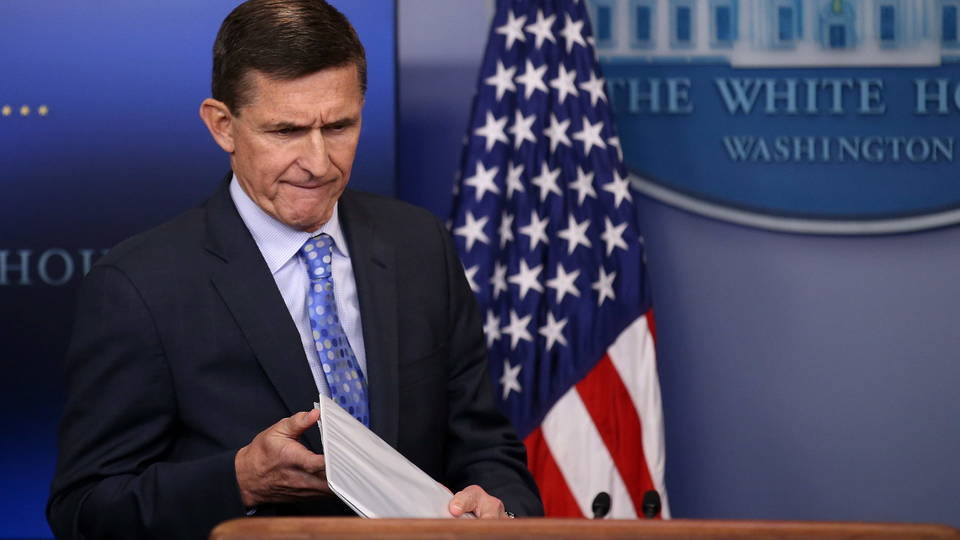 The Washington Post reports the White House is in "full-blown crisis" following the resignation of former National Security Adviser Michael Flynn. On Tuesday, the White House admitted that Trump knew "for weeks" Flynn had discussed sanctions in a call on December 29 with the Russian ambassador and then lied to Vice President Mike Pence and other top White House officials about it.
The New York Times and CNN are now reporting phone records and intercepted calls show that members of Donald Trump's presidential campaign had repeated contacts with senior Russian intelligence officials in the lead-up to November's election. The Times reports U.S. law enforcement and intelligence agencies intercepted the communications around the same time they were discovering evidence that Russia was trying to disrupt the presidential election by hacking into the Democratic National Committee. These advisers include Trump's former campaign chair Paul Manafort and former Trump adviser Carter Page. According to the Times, call records show Manafort was in touch with Russian officials before the election. The publication of the Times exposé came only hours after White House Press Secretary Sean Spicer denied anyone from the Trump campaign was in touch with Russia before the election. During the conference, Spicer also refused to say when Trump became aware of the contents of Flynn's phone call with the Russian ambassador, saying instead that Flynn had simply lost the president's trust.
Press Secretary Sean Spicer: "We got to a point—not based on a legal issue, but based on a trust issue—where the level of trust between the president and General Flynn had eroded to the point where he felt he had to make a change."
While the White House has acknowledged Trump knew about Flynn's discussion of sanctions after former Acting Attorney General Sally Yates warned the administration weeks ago, many are questioning whether Trump in fact knew at the very time of the call. On December 30, the day after the call, Trump tweeted, "Great move on delay (by V. Putin)–I always knew he was very smart!"—referencing Putin's decision not to take reciprocal measures to expel U.S. diplomats.
On Tuesday morning, President Trump initially responded to Michael Flynn's resignation by tweeting, "The real story here is why are there so many illegal leaks coming out of Washington? Will these leaks be happening as I deal on N. Korea etc?"
Lawmakers are now calling for an investigation. Michigan Congressmember John Conyers and Maryland Congressmember Elijah Cummings said in a statement, "We in Congress need to know who authorized his actions, permitted them and continued to let him have access to our most sensitive national security information despite knowing these risks. We need to know who else within the White House is a current and ongoing risk to our national security." We'll have more on Flynn's resignation after headlines.
Gov't Watchdog: Conway Violated Ethics Rules with "Free Commercial" for Ivanka Products
The Office of Government Ethics says counselor to the president Kellyanne Conway committed a "clear violation" of federal ethics rules when she used a TV appearance on "Fox & Friends" last week to market merchandise sold by President Trump's daughter, Ivanka.
Steve Doocy: "30 seconds."
Kellyanne Conway: "Go buy Ivanka's stuff, is what I would tell you. I'm going to––"
Steve Doocy: "Well, there is that––"
Kellyanne Conway: "I hate shopping. I'm going to go get some myself today. ... It's a wonderful line. I own some of it. I fully—I'm going to just give—I'm going to give a free commercial here. Go buy it today, everybody. You can find it online."
In a letter released Tuesday, Office of Government Ethics Director Walter Shaub called on the White House to investigate Conway and consider disciplining her. Last Thursday, following Conway's "free commercial" on "Fox & Friends," Conway told CNN she spoke to Trump, and he stands behind her "100 percent." Conway is also under fire this morning, after BuzzFeed reported Conway tweeted "Love you" to an apparent white nationalist on Valentine's Day. The Twitter user "Lib Hypocrisy" has a bio that reads "Hate anti-American liberals, Marxists and Commies. #White Identity, #Nationalist." It also includes an image of Pepe the Frog, which the Anti-Defamation League has classified as a hate symbol. Lib Hypocrisy tweeted at Conway Tuesday, "Your strength and resiliency in face of vile hatred, bigotry, & sexism of the unhinged Left is a daily inspiration. Love you!" Conway retweeted the message and added, "Love you back."
Trump Scraps Rule Requiring Oil Company to Disclose Payments
President Trump also signed legislation Tuesday to repeal a Dodd-Frank anti-corruption measure requiring oil and mining companies to disclose payments to governments.
President Donald Trump: "And this is H.J. Resolution 41, disapproving the Securities and Exchange Commission's rule on disclosure of payments by resource extraction issuers. It's a big deal. We're bringing back jobs big league. We're bringing them back at the plant level. We're bringing them back at the mine level. The energy jobs are coming back."
The rule had required public oil, gas and mineral extraction companies to disclose annually its payments to both foreign governments and the U.S. government. Lawmakers say these disclosures help fight corruption in resource-rich countries. The oil industry had fiercely lobbied against the measure. Politico reports longtime ExxonMobil CEO Rex Tillerson, who is now secretary of state, personally lobbied against the rule, flying to Washington, D.C., to meet with then-Senator Richard Lugar in 2010 to try to get the measure removed from Dodd-Frank.
In Meeting with Netanyahu Today, Trump May Abandon Two-State Solution
President Trump is meeting with Israeli Prime Minister Benjamin Netanyahu today. A U.S. official told reporters Tuesday Trump may not focus on a two-state solution as the path to peace between Israelis and Palestinians. If so, Trump would be departing sharply from the U.S.'s public diplomatic stance for more than 20 years. Since Trump won the U.S. election, Netanyahu's far-right government has announced the construction of hundreds of settlement housing units—as well as the first brand-new settlement in two decades—in the Israeli-occupied West Bank. Trump's pick for ambassador to Israel, David Friedman, is a longtime political and financial supporter of Israel's settlements, which are illegal under international law. Netanyahu is a close friend of the Kushner family. Jared Kushner is an adviser to President Trump and also his son-in-law.
Seattle: ICE Arrested DACA Recipient Daniel Ramirez Medina
In Washington state, lawyers are suing the federal government over the arrest and detention of Daniel Ramirez Medina, who was arrested Friday by agents with Immigration and Customs Enforcement, known as ICE, even though the 23-year-old has permission to live and work in the United States under President Obama's program DACA, or Deferred Action for Childhood Arrivals. His lawyers have called his detention "unprecedented and unjustified." Ramirez was arrested when ICE agents came to his father's home and detained both men on Friday. Ramirez has been living in the United States since he was seven years old. His family is originally from Mexico. He's now being imprisoned at Tacoma's Northwest Detention Center. Advocates say his detention may be the first of a DACA recipient since Trump took office. It came amid a wave of ICE raids nationwide last week, in which more than 600 people were arrested and detained.
Scientists: Climate Change Exacerbated Oroville Dam Crisis
In California, authorities have lifted a mandatory evacuation order, allowing tens of thousands of residents near the Oroville Dam to return to their homes. Nearly 200,000 residents living near the nation's tallest dam were forced to evacuate over the weekend, after erosion caused a hole to open up in the dam's emergency spillway, threatening to unleash a "30-foot wall of water" onto nearby towns. Environmental groups had warned California officials more than a decade ago that the Oroville Dam's emergency spillway was at risk of erosion, but the officials ignored the warnings. Scientists say this season's record-breaking levels of rainfall in California, which has filled the Oroville Dam to the brink, is one of the latest examples of extreme weather caused by climate change.
Report: Sea Ice Around Antarctica at Lowest Point Ever Recorded
In more climate change news, preliminary data from the National Snow and Ice Data Center shows the sea ice around Antarctica has shrunk to the smallest annual extent ever recorded.
Bolivia's Drought State of Emergency Hits 100 Days
Meanwhile, in Bolivia, a state of emergency over drought conditions has now been in place for over 100 days. Scientists say the drought is fueled by the retreat of Bolivian glaciers as a result of global warming. Protesters in Bolivia also say the water shortages have been worsened by government mismanagement and industrial mining projects. This is Bolivian President Evo Morales.
President Evo Morales: "Perhaps global warming brings with it many issues. My concerns are in the Bolivian highlands. In January, there was a lot of rain, but now there is no rain. If it does not rain this month and the next month of March, we are going to have many problems with the issue of water."
Russia Says It Will Not Relinquish Control of Crimea
Russia's Foreign Ministry says Russia will not relinquish control of Crimea, despite calls from the White House that Russia return the territory to Ukraine. On Wednesday, a Russian spokesperson said, "We don't give back our own territory." Russia illegally annexed Crimea in 2014, prompting the U.S. and the European Union to impose sanctions. Russia's announcement comes as the U.S. is embroiled in the political scandal of former National Security Adviser Michael Flynn's resignation, after revelations he discussed separate sanctions imposed against Russia with the Russian ambassador in late December and then lied about the phone call.
HRW: Syrian Gov't Repeatedly Used Chlorine Gas Against Aleppo Residents
Human Rights Watch says the Syrian government repeatedly and systematically deployed the chemical weapon chlorine gas against residents in Aleppo during the final weeks of a siege and battle to retake the city from anti-government rebels late last year. The report, released Monday, accuses Syrian military helicopters of dropping chlorine gas canisters on residential neighborhoods at least eight times. Last week, Amnesty International published a shocking report accusing the Assad government of engaging in a "deliberate policy of extermination" by hanging thousands of civilians at the Saydnaya prison near Damascus.
China: Protests Erupt Against $6.7 Billion Aluminum Plant
In China, mass protests have erupted against the proposed construction of a $6.7 billion aluminum plant in a city near the Siberian border. On Tuesday, thousands of people poured into the streets of Daqing for a third straight day of protest against the plant over concerns of pollution. Protesters say there are already two chemical plants in the city, which they say have caused high levels of pollution.
Dominican Republic: Two Radio Journalists Killed
In the Dominican Republic, two radio journalists were shot dead Tuesday morning after gunmen opened fire in the middle of a broadcast on Facebook Live. Radio host Luis Manuel Medina of the program "Hot Millennium" and producer and director Leo Martínez were killed at the station in San Pedro de Macorís in the middle of the live broadcast, during which one can hear the sound of a gunshot and then the words "tiro, tiro," or "shots, shots," before the video cuts out.
WSJ Faces Criticism over Favorable Coverage of Trump
And in more journalism news, back in the United States, The Wall Street Journal is facing accusations of being too favorable in its coverage of President Trump. On Monday, The Wall Street Journal's top editor, Gerard Baker, called a staff meeting to address internal dissent. The paper is owned by conservative mogul Rupert Murdoch. Under Baker's direction, The Wall Street Journal ousted opinion editor Mark Lasswell, after blocking him from publishing editorials critical of President Trump. The paper refused to run a story about white supremacist support for Trump. Business Insider reports Baker even tried to avoid highlighting that the seven countries included in Trump's travel ban were majority-Muslim, instead suggesting to editors the nations be called "terror hotspots."
White House Gives Credentials to Far-Right-Wing Gateway Pundit
Meanwhile, the White House has given press credentials to a reporter with the far-right-wing outlet Gateway Pundit, one of the most fervently pro-Trump blogs. It's considered even farther to the right than Breitbart Media. Even conservative commentator Erick Erickson has criticized the move, writing, "I'm not sure there is a greater purveyor of fake news … Gateway Pundit runs nonsense and I still have not determined if it is intentional or just because of some level of insanity."
Humana to Pull Out of Obamacare's Public Exchange in 2018
And in healthcare news, Humana has announced it will stop offering health insurance coverage in the Affordable Care Act's state marketplaces in 2018—dealing another blow to Obamacare. The announcement came as Aetna said it was abandoning its plan to merge with Humana, after the proposed $37 billion merger was blocked on antitrust grounds. Last year, Aetna announced it would cut its participation in the Affordable Care Act's marketplaces by two-thirds. President Trump and Republicans have vowed to dismantle the Affordable Care Act.
---
Courtesy of Democracy Now (www.democracynow.org).  The original content is licensed under a Creative Commons Attribution-Noncommercial-No Derivative Works 3.0 United States License.