President Trump Not Committed to Israel-Palestine Two-State Solution
President Donald Trump on Wednesday ended a long-standing U.S. commitment to the establishment of a Palestinian state, saying he had no preference for either a one-state or two-state solution to the Israeli-Palestinian conflict. Trump's comment came during a joint news conference at the White House with Israeli Prime Minister Benjamin Netanyahu.
President Donald Trump: "So I'm looking at two-state and one-state, and I like the one that both parties like. I'm very happy with the one that both parties like. I can live with either one. I thought for a while the two-state looked like it may be the easier of the two. But honestly, if Bibi and if the Palestinians—if Israel and the Palestinians are happy, I'm happy with the one they like the best."
Israel continues to annex Palestinian lands to construct Jewish-only settlements, leading many observers, including former Secretary of State John Kerry, to say a two-state solution may no longer be viable. But Trump's remarks represented a break from 20 years of official U.S. support for a Palestinian state alongside Israel. In the West Bank, chief Palestinian negotiator Saeb Erekat responded to President Trump's comments.
Saeb Erekat: "Those who believe that they can undermine the two-state solution and replace it with what I call one state, two systems—maintaining the status quo now, apartheid—I don't think in the 21st century they will get away with it."
In a statement, the group Jewish Voice for Peace said, "Today Trump and Netanyahu spoke of their 'shared values' of democracy and respect for human rights. These are alternative facts. Their 'shared values' are in reality a shared agenda of walls, militarism, xenophobia, racism, anti-Muslim bigotry, and borders closed to refugees."
Lawmakers Want Transcripts of Michael Flynn Russia Calls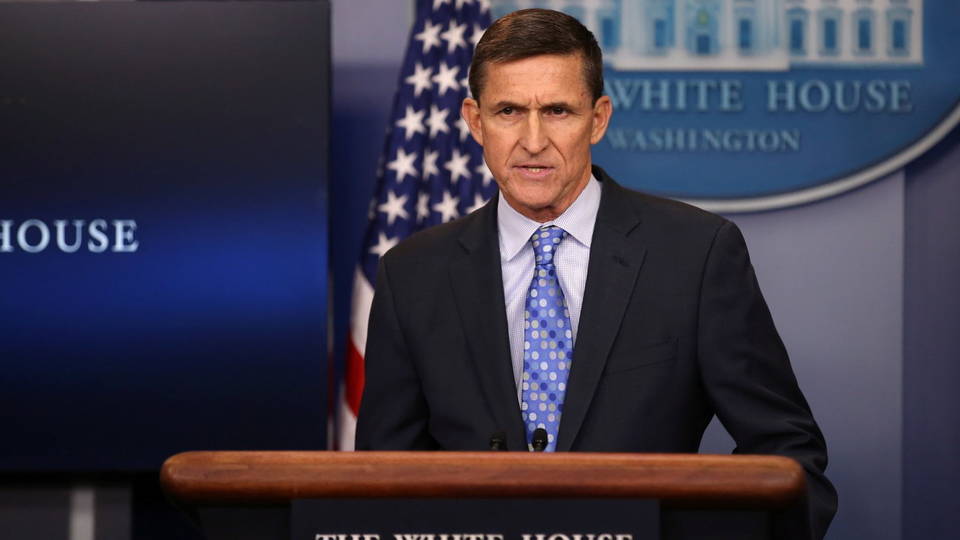 On Capitol Hill, lawmakers are ratcheting up their demands for an investigation into alleged ties between senior aides to Donald Trump and Russian officials. Republican Senator Chuck Grassley of Iowa joined California Democratic Senator Dianne Feinstein Wednesday in a letter to the Justice Department asking for transcripts of former National Security Adviser Michael Flynn's calls with the Russian ambassador last December, before Trump's inauguration. The calls broke U.S. law and led to Flynn's resignation on Monday. At Wednesday's press conference, President Trump defended Flynn.
President Donald Trump: "Michael Flynn, General Flynn, is a wonderful man. I think he's been treated very, very unfairly by the media—as I call it, the fake media, in many cases. And I think it's really a sad thing that he was treated so badly."
Trump's comment came after his press secretary, Sean Spicer, said the level of trust between the president and Flynn had eroded to the point where Trump had to demand Flynn's resignation.
Report: Agencies Withhold Intelligence from Trump over Leak Concerns
The Wall Street Journal is reporting U.S. intelligence officials are withholding sensitive intelligence from President Trump because they are concerned it could be leaked or compromised. The New York Times is reporting Trump is considering ordering a review of the nation's intelligence agencies led by Stephen Feinberg, a billionaire private equity executive who is close to Stephen Bannon and Jared Kushner.
Senior General Warns U.S. Government in "Unbelievable Turmoil"
The turmoil surrounding Flynn's firing drew an alarming comment from the head of U.S. Special Operations Command. Gen. Raymond Thomas told a military conference in Maryland, "Our government continues to be in unbelievable turmoil. I hope they sort it out soon because we're a nation at war."
Secretary of State Tillerson in Talks with Russian Counterpart
In Moscow, Kremlin officials denied any contact with the Trump campaign in the run-up to November's election. Russian Foreign Minister Sergey Lavrov is meeting Trump's newly minted secretary of state, former ExxonMobil CEO Rex Tillerson, during talks in Bonn today. Tillerson is expected to confront Lavrov over Russia's annexation of the Ukrainian province of Crimea in 2014.
Report: Russia Deploys Cruise Missile, Violating Arms Treaty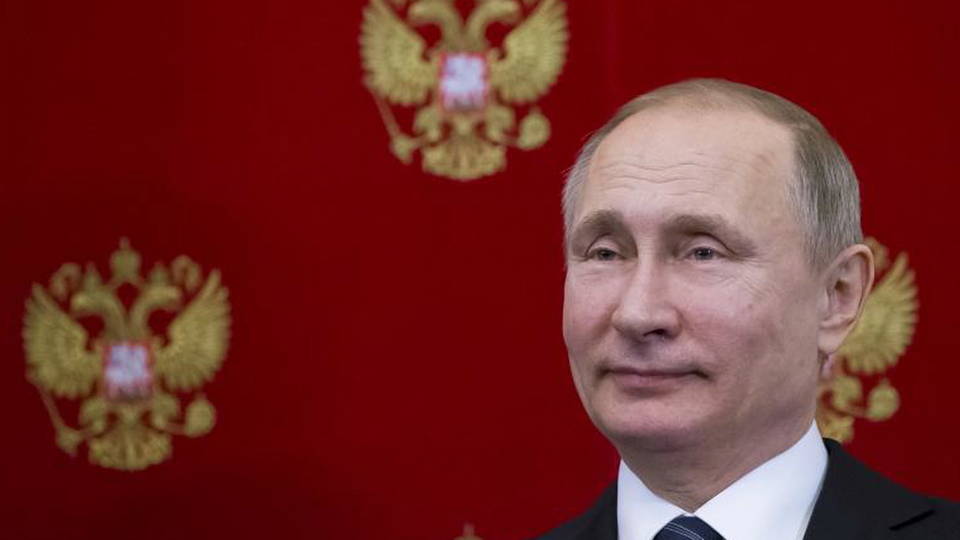 Meanwhile, Russia's military has deployed a secret nuclear-capable cruise missile that violates a landmark 1987 arms reduction treaty between the U.S. and Russia. That's according to The New York Times, which reports the new weapon threatens to derail any future arms treaties with Russia, and has the Pentagon considering whether to develop medium-range cruise missiles of its own. Meanwhile, the U.S. Navy says it's tracking a Russian intelligence vessel that's come within 30 miles of the coast of Connecticut. The ship appears to be spying on a U.S. submarine base.
Fast-Food CEO Andrew Puzder Withdraws as Labor Secretary Nominee
Fast-food CEO Andrew Puzder has withdrawn his nomination as labor secretary one day before his confirmation hearing was set to begin. Puzder was facing increasing criticism for reports of widespread sexual harassment at his chain restaurants, as well as labor and safety violations. He's also under fire for allegations of domestic violence against his ex-wife, who even appeared on "The Oprah Winfrey Show" in disguise in 1990 to speak about being abused. On Wednesday, the website Politico published video of the appearance by Lisa Fierstein.
Lisa Fierstein: "The most frightening thing was leaving, because once I made that break and once I made it public—and remember, my ex-husband was a public figure. Everyone knew him and knew what he was doing. And once I made that public, he vowed revenge. He said, 'I will see you in the gutter. This will never be over. You will pay for this.' I wound up losing everything."
Vermont independent Senator Bernie Sanders praised Puzder's decision to step down, saying, "We need a secretary of labor who is going to fight to raise the minimum wage to a living wage of $15 an hour and pay equity for women. We don't need a labor secretary who makes millions while his workers are paid starvation wages."
Report: Pentagon Considers Deploying Ground Troops in Syria
CNN is reporting the Pentagon is considering a plan to deploy ground troops to Syria. The U.S. has already authorized up to 500 special operations forces in Syria, but the Pentagon plan under consideration would allow for a large conventional force. President Trump has given Defense Secretary James Mattis until the end of the month to come up with a plan to fight ISIS.
Yemen: U.S.-Backed, Saudi-Led Coalition Strikes Kill 10 Civilians
In Yemen, a pair of U.S.-backed, Saudi-led coalition airstrikes ripped through a funeral reception overnight, killing eight women and a child. Witnesses say a second airstrike targeted emergency workers responding to the initial attack. This is survivor Hameed Aly.
Hameed Aly: "The people are still looking under the rubble, like you see. Each one is looking for their child or their sister. And this all happened from the bombing. There are nine victims, and they're still searching for more. And there are dozens of injured in the hospital."
The Saudi-led coalition battling Yemen's Houthi rebels has the support of the United States. The United Nations warns the bombing campaign and naval blockade have devastated Yemen's infrastructure and left 12 million people facing the threat of famine.
Iraq: Suicide Bomb Blast in Baghdad Kills 15, Wounds Dozens
In Iraq, a suicide bomber in a pickup truck detonated in Baghdad's Sadr City Wednesday, killing at least 15 people and wounding 50 others. There was no immediate claim of responsibility, but ISIS has claimed similar attacks targeting Shia communities in recent months.
Malaysia: Three Arrests in Murder of DPRK Leader's Half-Brother
In Malaysia, police have arrested a third suspect in the apparent assassination of the estranged half-brother of North Korean leader Kim Jong-un. Kim Jong-nam told medics on Monday he was sprayed in the face with a chemical agent while waiting to board a flight at Kuala Lumpur airport. He became disoriented from the poisoning and suffered a seizure before dying en route to a nearby hospital. Kim Jong-nam was the eldest son of former ruler Kim Jong-il. He became estranged from North Korea's ruling dynasty in 2001 after he was caught using a forged passport to enter Japan, where he told officials he hoped to visit Tokyo Disneyland. South Korean officials believe the North Korean regime long sought to assassinate Kim.
Texas: ICE Agents Detain Immigrant Seeking Domestic Abuse Protection
In Texas, agents with Immigration and Customs Enforcement, or ICE, entered the El Paso County Courthouse last week in order to arrest an undocumented woman who had gone to court seeking a protective order against her alleged domestic abuser. County Attorney Jo Anne Bernal said Wednesday she fears the move sets a precedent that will see undocumented survivors of domestic assault stay with their abusers rather than risk deportation and separation from their families.
Colorado: Undocumented Mother Seeks Sanctuary in Denver Church
Meanwhile, in Denver, Colorado, an undocumented mother of four sought refuge in a church Wednesday, after ICE officials denied her request to remain in the country. Jeanette Vizguerra skipped a scheduled check-in with ICE officials and instead brought her family to the First Unitarian Society church, where she addressed supporters.
Jeanette Vizguerra: "And if this system thinks that it can break me, that it can make me kneel, the system is wrong, because you can see the reasons behind me why I am fighting so hard to win my case. And I know that I am not alone, that there are many people in the community and in the immigrant community who share my anger and my passion for justice."
Vizguerra came to the U.S. from Mexico in 1997. She previously won five postponements of deportation, but said Wednesday she doubts she could win a similar reprieve under the Trump administration.
Senate Set to Approve Tea Party Lawmaker as Budget Director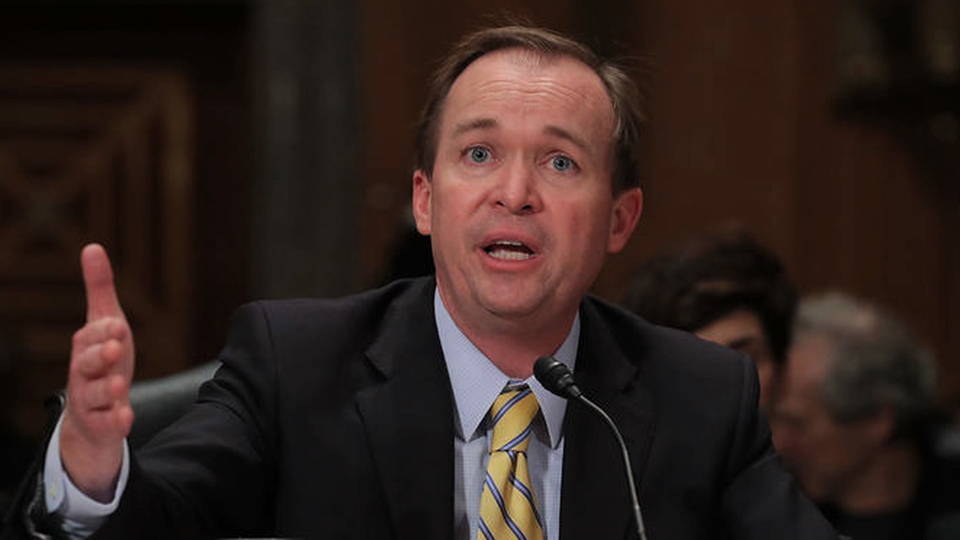 In Washington, D.C., the Senate is expected to narrowly confirm Congressmember Mick Mulvaney as head of the White House budget office. Mulvaney is a tea party Republican from South Carolina, who's opposed by the entire Senate Democratic Caucus.
Democrats Seek Delay on Scott Pruitt EPA Confirmation Vote
After Mulvaney's confirmation vote, the Senate is scheduled to take up the nomination of Oklahoma Attorney General Scott Pruitt to head the Environmental Protection Agency. Democrats are calling for a delay on the vote while a court decides whether to force Pruitt's office to turn over email communications with coal, oil and gas companies. Meanwhile, Republican Senator Susan Collins of Maine said Wednesday she'll vote against Pruitt. But the defection won't be enough to derail his confirmation, and Senator Joe Manchin of West Virginia has said he'll become the lone Democrat to vote in favor of Pruitt.
Trump Science Adviser Candidate Calls Climate Science a "Cult"
The frontrunner to become science adviser to President Trump called climate scientists a "glassy-eyed cult" and falsely accused the National Oceanographic and Atmospheric Administration of manipulating climate data. Princeton University physicist William Happer made the remarks in an interview published Wednesday by The Guardian, saying, "There's a whole area of climate so-called science that is really more like a cult. It's like Hare Krishna or something like that. They're glassy-eyed and they chant." Happer also supports prohibiting federally funded scientists from communicating their findings to the public.
Standing Rock Sioux Sue for Halt to Dakota Access Pipeline
The Standing Rock Sioux Tribe has filed a fresh legal challenge to the Dakota Access pipeline, asking a federal judge in Washington, D.C., to block an easement allowing construction on the final leg of the $3.8 billion project. Tuesday's lawsuit came a day after a judge threw out a separate legal challenge calling for a temporary restraining order against construction. The legal fight came as a top executive with the company building the Dakota Access pipeline on Wednesday compared his opponents to terrorists. In a written statement submitted to Congress, Energy Transfer Partners Executive Vice President Joey Mahmoud accused water protectors of violence and blasted them for shutting down pipeline pumping stations. Mahmoud wrote, "Had these actions been undertaken by foreign nationals, they could only be described as acts of terrorism."
Patients' Advocates Seek Life-Saving Generic Hepatitis C Drugs
In medical news, patients' advocates have launched legal challenges to patents on hepatitis C drugs in India and Argentina, saying pharmaceutical companies are profiting from monopoly prices that leave millions unable to afford life-saving medications. In a statement, Médecins Sans Frontières, or Doctors Without Borders, said, "There are 80 million people worldwide living with hepatitis C, and we need a wide range of combination treatments available at an affordable price. With patents blocking generic competition, treatment remains prohibitively expensive in many countries."
Journalist Jeremy Scahill Cancels HBO Appearance to Protest White Nationalist
And investigative journalist Jeremy Scahill has canceled his appearance Friday night on "Real Time with Bill Maher" after the HBO program scheduled white nationalist and Breitbart News editor Milo Yiannopoulos to appear on the same episode. In a statement, Scahill said, "There is no value in 'debating' him. Appearing on Real Time will provide Yiannopoulos with a large, important platform to openly advocate his racist, anti-immigrant campaign. … Yiannopoulos's appearance could also be used to incite violence against immigrants, transgender people, and others at a time when the Trump administration is already seeking to formalize a war against some of the most vulnerable people in our society." Jeremy Scahill is co-founder of The Intercept and a former producer and correspondent with Democracy Now!
---
Courtesy of Democracy Now (www.democracynow.org).  The original content is licensed under a Creative Commons Attribution-Noncommercial-No Derivative Works 3.0 United States License.