North Dakota: Eviction of Pipeline Resistance Camp Underway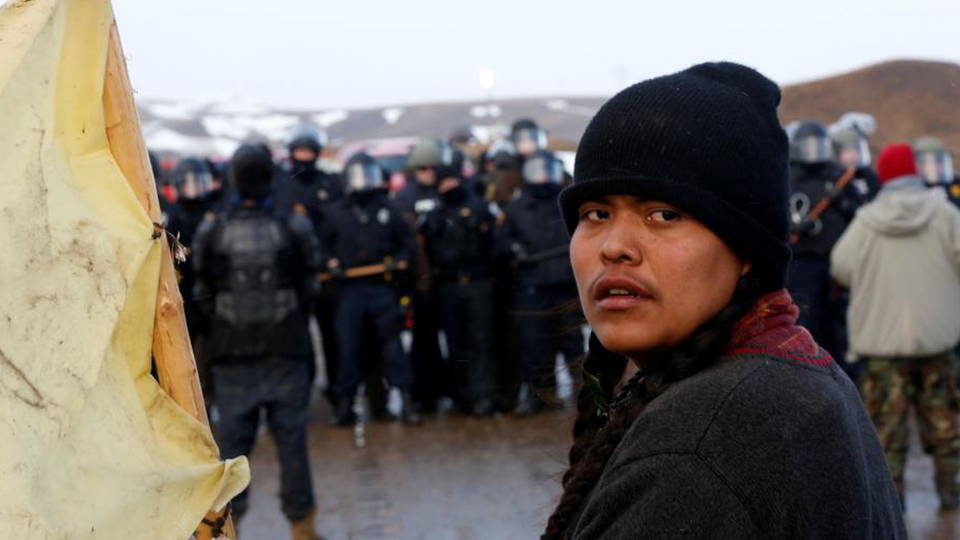 In North Dakota, the main resistance camp set up by Lakota water protectors fighting the $3.8 billion Dakota Access pipeline has been largely vacated after protesters were ordered to leave the camp on Wednesday. Police arrested around 10 people. The U.S. Army Corps of Engineers and the North Dakota governor had imposed a noon eviction deadline for the hundreds of water protectors still living at the resistance camp. This is Governor Doug Burgum speaking Wednesday.
Gov. Doug Burgum: "Our big ask for tomorrow is that, you know, anybody that's remaining in the camp, we want to make sure they know that they have an opportunity to voluntarily leave, take your belongings, remove anything that you think might be culturally significant, and we'll help you get on your way if you need to do that."
Prayer ceremonies were held on Wednesday, and part of the camp was set on fire before the eviction began. One 17-year-old girl was badly injured by the flames. Water protectors say the resistance camp sits on unceded Sioux territory under the 1851 Treaty of Fort Laramie and that they have a right to remain on their ancestral land. A couple dozen people are still remaining at the camp.
Protester: "You know, a little scared of getting arrested and whatever consequences come from that, but I believe full-heartedly in the movement here, and I'm willing to risk that."
Earlier this month, construction crews resumed work on the final section of the pipeline, after the Trump administration granted an easement to allow Energy Transfer Partners to drill beneath the Missouri River.
Trump Administration Rescinds Protections for Transgender Students
The Trump administration has rescinded key protections for transgender students in public schools. The move reverses President Obama's landmark decision last May to order public schools to let transgender students use the bathrooms matching their chosen gender identity. On Wednesday, hundreds of protesters gathered outside the White House to call on Trump to protect transgender students. Participants included Mara Keisling of the National Center for Transgender Rights.
Mara Keisling: "The worst-case scenario is what is already happening. Children all over the country are scared by this man. They are really worried that they're going to go to school tomorrow, they're going to be bullied. These are kids who have to go to school all the time worried about being bullied by other kids, being bullied sometimes even by educators. And now they have to worry about the attorney general of the United States and the president of the United States bullying them? It's just not OK."
According to press accounts, there was initially a fight over the issue in the Oval Office between Attorney General Jeff Sessions and Education Secretary Betsy DeVos. The New York Times reports DeVos initially resisted signing off and told Trump that she was uncomfortable because of the potential harm that rescinding the protections could cause transgender students. The president sided with Sessions and pushed DeVos to drop her opposition, which she did.
White House Delays New Ban on Refugees and Muslim Travelers
The White House says President Trump will wait until next week to unveil a new ban on refugees and travelers from some majority-Muslim countries. President Trump's January 27 executive order canceled tens of thousands of visas, stranding travelers worldwide and sparking mass protests at airports, before a federal appeals court blocked the order. Trump had promised to reveal a revised order this week.
Mexico's Foreign Minister Blasts U.S. Immigration Policy
Secretary of State Rex Tillerson and Homeland Security Secretary John Kelly visited Mexico City on Wednesday, in the first visit by senior Trump administration officials since Mexican President Enrique Peña Nieto canceled a planned meeting with President Trump last month. The pair sought to improve relations with Mexico after Trump promised to force Mexico to pay for an expanded border wall and after his administration announced plans for mass deportations to Mexico—including immigrants who are not Mexican citizens. On Wednesday, Mexico's foreign minister, Luis Videgaray, angrily denounced those plans.
Luis Videgaray: "I want to say clearly and emphatically that the government of Mexico and the Mexican people do not have to accept provisions that one government unilaterally wants to impose on the other. We will not accept it, because there's no reason why we should and because it is not in the interests of Mexico."
The foreign minister added that Mexico will ask the United Nations to help preserve the rights of immigrants inside the United States.
Mexican Man Commits Suicide Minutes After His Deportation from U.S.
At the U.S.-Mexico border, a 45-year-old man leapt to his death just minutes after he was deported by U.S. border guards. Witnesses say Guadalupe Olivas Valencia was distraught and shouted that he did not want to return to Mexico, moments before he committed suicide by jumping from a bridge at the El Chaparral border crossing in Tijuana. Olivas's family says he was a widowed father of three who was struggling to support his children.
Texas: ICE Removes Woman with Brain Tumor from Hospital
In Texas, ICE officers removed an undocumented immigrant asylum seeker from a hospital, where she was being treated for a brain tumor, and returned her to a detention center. Lawyers for the Salvadoran woman, who's identified only as Sara, say immigration agents cut off all communication with her family and attorneys, and bound her hands and ankles as they transferred her from the hospital to the for-profit Prairieland Detention Center near Dallas. The lawyers say Sara has been suffering convulsions, nosebleeds and severe headaches, and needs brain surgery if she's to survive.
Republican Lawmakers Face More Angry Constituents at Town Halls
Protests by thousands of angry constituents at town hall meetings across the country Wednesday once again targeted Republican lawmakers, as voters challenged the policies of President Trump and the Republican Congress. In Louisiana, constituents chanted "Where is he?" as Senator Bill Cassidy arrived nearly a half-hour late to a public forum. They booed as Cassidy defended his plans to repeal the Affordable Care Act. In Arkansas, Senator Tom Cotton was jeered after proclaiming the U.S. has the world's best healthcare system. He was questioned about President Trump's plans to expand the wall on the U.S.-Mexico border.
Toby: "Donald Trump makes Mexicans not important to people who are in Arkansas who like Mexicans, like me, my grandma and all my people. And he's deleting all the parks and PBS Kids just to make a wall. He shouldn't do that. He shouldn't. He shouldn't do all that stuff for just a wall."
That was a question from one of Senator Cotton's constituents—a 7-year-old named Toby. In New Jersey, Congressmember Leonard Lance heard angry boos from constituents after pledging to bar federal funding for abortion. Wednesday's raucous town hall meetings come on the heels of similar protests at events by Republican Senators Chuck Grassley and Joni Ernst of Iowa, Florida Congressmember Dennis Ross, Tennessee Congressmember Marsha Blackburn and Senate Majority Leader Mitch McConnell of Kentucky.
Emails Show Cozy Relationship Between EPA Head and Energy Executives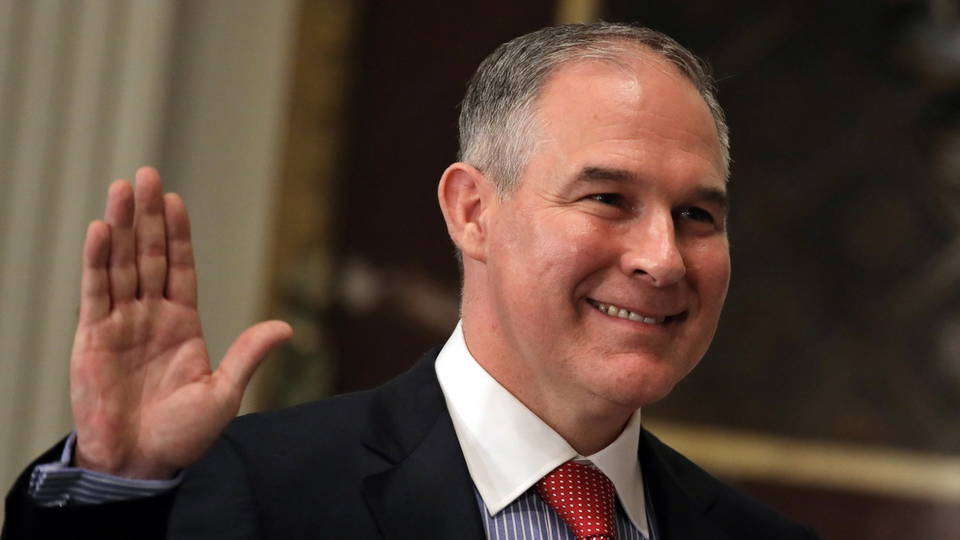 Thousands of pages of newly released emails reveal how EPA Administrator Scott Pruitt closely collaborated with Koch brothers-backed oil, coal and gas companies to roll back environmental regulations during his time as Oklahoma attorney general. The documents were released just days after Pruitt was sworn in as the new head of the EPA, the agency tasked with curtailing pollution and safeguarding public health. The trove of new documents shows how energy companies drafted language for Pruitt's Attorney General's Office to use to sue the EPA over environmental regulations. We'll have more on Scott Pruitt's emails after headlines; we'll speak with Lisa Graves of the Center for Media and Democracy, which successfully sued for the release of the messages.
Supreme Court Halts Execution of Texas Prisoner, Citing Racism
The Supreme Court overturned the death sentence of a Texas prisoner Wednesday, after ruling his own defense team presented a jury with racist comments. Duane Buck was convicted of murdering his ex-girlfriend in 1996. At his trial, a state psychologist called by the defense testified that African-American criminals are more likely to pose a future danger to the public. Writing for the majority in a 6-2 decision, Chief Justice John Roberts ruled, "[The] testimony appealed to a powerful racial stereotype—that of black men as 'violence prone.'"
Anaheim, California: Off-Duty Officer Fires Pistol Near 13-Year-Old
In Anaheim, California, video has emerged of an off-duty LAPD officer grabbing a 13-year-old boy by his hoodie and restraining him, before drawing a pistol and firing a single shot. No one was injured in Tuesday's incident, which was captured on a cellphone video that went viral on social media. The video shows a man in plainclothes holding a boy against his will, who says repeatedly, "Let me go." The officer is surrounded by other children, who eventually come to the aid of the boy, pushing the officer over a row of hedges. The man is then seen drawing a pistol from his waistband before a gunshot rings out. Anaheim police say the officer had an ongoing dispute against children who were walking on his lawn. Both the 13-year-old boy and his 15-year-old brother were arrested. The off-duty officer, who has not been identified, was questioned by Anaheim police and released. The LAPD said today he is on paid administrative leave. Overnight, hundreds of protesters gathered near the officer's home, before marching through Anaheim's streets and blocking intersections.
Iraq: U.S. Forces Join Fight to Capture Western Mosul from ISIS
In Iraq, security forces stormed Mosul's airport and a nearby military base today as they sought to capture the city's western half from ISIS. Mosul has been besieged since October, when U.S. special forces joined Iraq's army, Shia militias and Kurdish fighters in a campaign to recapture the city from the self-proclaimed Islamic State. A military spokesperson admitted Wednesday U.S. troops have been wounded in the fighting, but would not say how many. Aid groups say they've prepared food and basic supplies for up to 400,000 civilians who are expected to flee the fighting.
U.N. Requests $5.6 Billion in Aid to Prevent Famine for 20 Million
The United Nations says it needs to raise $5.6 billion—most of it by the end of March—to avert a famine affecting 20 million people in Yemen and several African countries. U.N. Secretary-General António Guterres said Wednesday that war and climate change have left millions at risk of starvation in a "world of plenty."
Secretary-General António Guterres: "I'm here with my colleagues to draw the world's attention to the fact that today more than 20 million people in South Sudan, Somalia, Yemen and northeast Nigeria are going hungry and facing devastating levels of food insecurity. Famine is already a reality in parts of South Sudan. Unless we act now, it is only a matter of time until it affects other areas and other countries. We are facing a tragedy. We must avoid it becoming a catastrophe. This is preventable, if the international community takes decisive action."
Hardest hit is Yemen, where a U.S.-backed, Saudi-led bombing campaign and naval blockade has left more than 14 million people hungry. Among them are nearly a half-million children who face severe acute malnutrition.
White House Tries to Shield Top CIA Official from Torture Testimony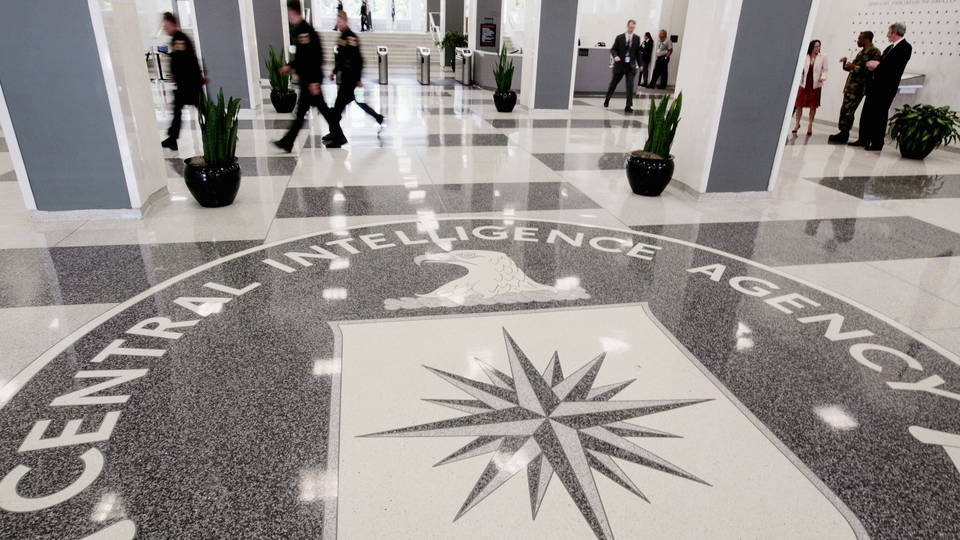 The Trump administration is seeking to shield a high-ranking intelligence official from testifying over her role in torturing prisoners at a secret CIA "black site." In a court filing, the Justice Department says it will assert a state secrets privilege to shield CIA Deputy Director Gina Haspel from being deposed in a civil trial against psychologists James Mitchell and Bruce Jessen. The pair are being sued for overseeing the torture of four men, one of whom died in CIA custody. Haspel was reportedly present at a CIA black site in Thailand in 2002 as interrogators carried out Mitchell and Jessen's program of waterboarding, beatings, sleep deprivation, starvation and other forms of torture. This month, the former acting director of the CIA confirmed that in 2005 Haspel personally oversaw the destruction of videotapes showing torture at the black site.
Thousands Evacuate Homes in San Jose, California, Amid Heavy Flooding
In San Jose, California, more than 14,000 residents have been forced to evacuate their homes after heavy rains caused the region's largest reservoir to overflow. Some neighborhoods were so badly flooded that firefighters went door to door in boats rescuing trapped residents. It's the worst flooding to hit Silicon Valley in a century.
Richmond, California, Approves Trump Impeachment Resolution
And Richmond, California, has become the first U.S. city to call for an investigation into whether to impeach President Donald Trump. Tuesday's resolution, approved by the Richmond City Council, states Trump is in violation of the Emoluments Clause of the Constitution, which prohibits people holding federal office from accepting payments from foreign governments. These are some of the city officials who voted unanimously in favor of the impeachment resolution.
Councilmember Jael Myrick: "Ordinarily, it would be odd to be talking about the—well, everything about this administration is odd. But it would be odd to be talking about the impeachment of a president only a month into his term. Unfortunately, with this president, it's oddly appropriate."
Councilmember Jovanka Beckles: "The word is very, very clear that the residents of these United States are not in alignment with his movement of hate, his movement of fear, his movement of bullying and intimidation, and his movement of just out-and-out lies."
---
Courtesy of Democracy Now (www.democracynow.org).  The original content is licensed under a Creative Commons Attribution-Noncommercial-No Derivative Works 3.0 United States License.