Trump Names Son-in-Law Jared Kushner as White House Senior Adviser
President-elect Donald Trump has named his son-in-law Jared Kushner to be a senior adviser in the White House on trade and the Middle East. Kushner is married to Trump's daughter Ivanka. The appointment may violate federal anti-nepotism laws. Kushner says he won't draw a salary from his White House position. Kusher is a wealthy real estate investor. He says he'll sell some of his assets in efforts to avoid conflicts of interest. However, ethics lawyers say his divestment plans will not avoid these conflicts, as he says he'll simply sell his assets to his brother Joshua or a family trust controlled by his mother. Ethics lawyer Matthew Sanderson, who served as general counsel to Senator Rand Paul's presidential campaign, told The New York Times, "It sounds like a shell game to me." Kushner was one of Trump's most trusted advisers during the 2016 campaign and now during the Trump transition. He has defended Trump's chief strategist Stephen Bannon amid widespread charges of Bannon's racism and anti-Semitism. Kushner is an Orthodox Jew.
NYT: Kushner's Dealings with Chinese Company Spark Concerns
A New York Times investigation into Jared Kushner's real estate dealings with a multibillion-dollar Chinese company has sparked a new round of concern about the Trump family's conflicts of interest. The New York Times reports that on November 16—a week after Trump's election victory—Kushner held secret talks with Wu Xiaohui, head of the $285 billion Chinese company Anbang Insurance Group, to negotiate the joint redevelopment of 666 Fifth Avenue, one of dozens of buildings Kushner's family business owns. The Times reports that at the meeting Wu toasted to Trump and said he hoped to meet President-elect Trump.
Confirmation Hearings Begin for Jeff Sessions & John Kelly
In Washington, D.C., confirmation hearings for Donald Trump's Cabinet nominees are slated to begin today. Alabama Senator Jeff Sessions will go before the Senate Judiciary Committee to be considered for confirmation as attorney general. Trump's pick has drawn widespread outrage because of Sessions's opposition to the Voting Rights Act, support for anti-immigration legislation and history of making racist comments, which included reportedly saying he thought the Ku Klux Klan was "OK until I found out they smoked pot." He has also called the American Civil Liberties Union and the NAACP "un-American" and "Communist-inspired." In 1986, Sessions was denied confirmation for a federal judgeship by a Republican-controlled Senate committee over his racist comments. Those set to testify at Sessions's hearing include civil rights era icon and Democratic Congressmember John Lewis and Democratic Senator Cory Booker, marking the first time in Senate history that a sitting senator will testify against another sitting senator for a Cabinet post during a confirmation hearing. Last Tuesday, NAACP President Cornell William Brooks and five other civil rights leaders were arrested during a sit-in at Sessions's Alabama office, demanding he withdraw his name for consideration for attorney general. On Monday, The New York Times editorial board criticized Sessions for failing to turn over dozens, if not hundreds, of documents requested by the Senate Judiciary Committee's questionnaire. The Huffington Post reported in December that Sessions' submitted questionnaire originally failed to disclose even the fact that he'd been denied confirmation for the federal judgeship in 1986. And while the Office of Government Ethics has completed Sessions's ethics report, The Washington Post reports Sessions failed to disclose that he owns oil interests in Alabama—a breach of the ethics requirements. As of Monday afternoon, the ethics disclosure reports for four other Trump nominees slated to go before the Senate this week for confirmation hearings have not been made public at all, including the ethics report for the homeland security nominee, retired General John Kelly, whose hearing is slated to begin today at 3:30 p.m. The Office of Government Ethics has also not made public the ethics reports for the commerce secretary nominee, billionaire Wilbur Ross; housing and urban development nominee Ben Carson; and education secretary nominee Betsy DeVos, whose confirmation hearing has been delayed from this Wednesday until January 17. The Washington Post reports her family has given a total of $250,000 to five of the very lawmakers on the Health, Education, Labor, and Pensions Committee who will be tasked with overseeing DeVos's confirmation hearing.
Protests in Dozens of Cities Demand Lawmakers Reject Trump Nominees over Climate Change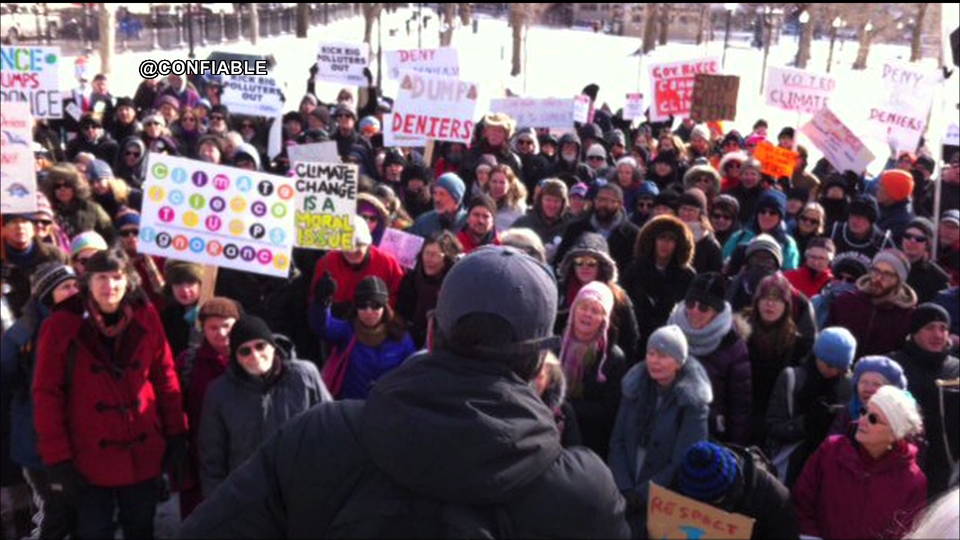 On Monday, activists rallied in Boston; Washington, D.C.; San Francisco; Minneapolis; Portland, Maine; Newark, New Jersey; and more than a dozen other U.S. cities for #DayofDenial protests to demand the Senate refuse to confirm Trump nominees former ExxonMobil CEO Rex Tillerson for secretary of state, former Texas Governor Rick Perry for energy secretary, Oklahoma Attorney General Scott Pruitt for head of the Environmental Protection Agency and Montana Congressmember Ryan Zinke for interior secretary. The day of action was organized by 350.org and demanded the Senate refuse to confirm the nominees on the basis that the men have denied the human impact on climate change.
Turkish Parliament Debates Measures to Extend Erdogan Rule to 2029
In Turkey, the Parliament has voted to continue debate on controversial measures that would rewrite Turkey's constitution and permit President Recep Tayyip Erdogan to remain in office until 2029. Erdogan has been president since 2014. Before that, he was prime minister from 2003 to 2014. The Turkish Parliament vote comes amid a massive crackdown in Turkey following this summer's failed military coup. On Friday, Turkey fired another 6,000 public workers, including academics. A total of 120,000 people have been suspended or fired, and 40,000 jailed, over the last six months in Turkey.
Pentagon: U.S. Troops Launched Ground Raid in Syria
The Pentagon said Monday U.S. special operations troops launched a raid in eastern Syria over the weekend. Unnamed U.S. officials said the raid was carried out by the Expeditionary Task Force and was aimed at capturing top ISIS militants. The U.K.-based Syrian Observatory for Human Rights says 25 people were killed in the operation. The website Deir Ezzor 24 quoted witnesses who said the U.S. troops landed by helicopter and then left an hour and a half later carrying prisoners and bodies.
Volkswagen Executive Arrested in Miami over Emissions Cheating Scandal
Volkswagen executive Oliver Schmidt appeared in U.S. federal court in Miami on Monday on charges of violating the Clean Air Act and defrauding the U.S. government. Schmidt was formerly the top emissions compliance executive in the United States. Volkswagen has admitted to rigging some 11 million vehicles worldwide, allowing them to emit up to 40 times more nitrogen oxide pollutants than standards allow.
NY: Anti-Drug-War Activist Anthony Papa Wins Pardon
In New York state, anti-drug-war activist, painter and author Anthony Papa has received a pardon from New York Governor Andrew Cuomo. In 1985, Papa agreed to deliver an envelope of cocaine in a police sting operation in return for $500. His first and only criminal offense cost him a 15-year-to-life sentence. In 1996, Papa won a sentence commutation from then-New York Governor George Pataki. He's believed to be the first person in New York state history to receive both a sentence commutation and a pardon.
8 Jewish Community Centers Across U.S. Evacuated After Bomb Threats
At least eight Jewish community centers across six states were evacuated Monday after being targeted with bomb threats. Authorities say it's not clear whether the threats were linked. The threats led to the frantic evacuation of children from three Jewish community centers in Florida, as well as evacuations of JCCs in New Jersey, Delaware, Maryland, Tennessee and South Carolina.
U.S. & Cuba Sign Accord to Work Together to Prevent Oil Spills in Gulf
The United States and Cuba have signed an agreement to work together to prevent, contain and clean up oil spills in the Gulf of Mexico. The accord comes as negotiators on both sides are rushing to sign a half-dozen agreements before President-elect Donald Trump takes office. This is Cuban Deputy Transportation Minister Eduardo Rodríguez Dávila.
Eduardo Rodríguez Dávila. "The signed agreement will lead to the preparation of the coordination plan for the actions of prevention, preparation and response to events of contamination by spills of hydrocarbons and other damaging and potentially dangerous substances taking place in the geographic zone described."
---
Courtesy of Democracy Now (www.democracynow.org).  The original content is licensed under a Creative Commons Attribution-Noncommercial-No Derivative Works 3.0 United States License.