Secretary of State Nominee Rex Tillerson Questioned on Climate Denial
Former ExxonMobil CEO Rex Tillerson refused to answer questions on Wednesday about the oil giant's long history of denying the science of climate change, telling senators that scientific literature on global warming is "inconclusive." The comments came during a Senate Foreign Relations Committee hearing into Tillerson's nomination for secretary of state. Exposés by InsideClimate News and the Los Angeles Times have revealed Exxon knew that fossil fuels cause global warming as early as the 1970s, but hid that information from the public and instead poured millions of dollars into PR efforts aimed at sowing doubt over the science of climate change. Tillerson was asked about those reports by Virginia Democrat Tim Kaine.
Sen. Tim Kaine: "Are these conclusions about ExxonMobil's history of promoting and funding climate science denial, despite its internal awareness of the reality of climate change, during your tenure with the company true or false?"
Rex Tillerson: "Senator, since I'm no longer with ExxonMobil, I'm in no position to speak on their behalf. The question would have to be put to them."
Sen. Tim Kaine: "And let me ask you: Do you lack the knowledge to answer my question, or are you refusing to answer my question?"
Rex Tillerson: "A little of both."
Sen. Tim Kaine: "Um, I have a hard time believing you lack the knowledge to answer my question."
Tillerson worked at Exxon for 41 years. During Wednesday's hearing, Tillerson refused to label Saudi Arabia a human rights violator and avoided condemning Philippines President Rodrigo Duterte over thousands of extrajudicial killings carried out under Duterte's "war on drugs." Tillerson said he would advise President Trump to veto any attempt to end the U.S. embargo on Cuba, and said the U.S. should challenge China over its territorial claims in the South China Sea. Tillerson also denied knowledge of ExxonMobil's efforts to prevent U.S. sanctions against Russia, testifying that he never personally lobbied against sanctions. That prompted Senate Foreign Relations Committee Chair Bob Corker to respond, "I think you called me at the time." During the hearing, Tillerson was repeatedly interrupted by protesters from Greenpeace opposed to naming an oil company executive as secretary of state. Outside the hearings, about 200 people rallied holding signs reading #EXXONKNEW. We'll have more on Rex Tillerson's nomination—and ExxonMobil's history of climate denial—after headlines, with oil and energy analyst Antonia Juhasz.
Attorney General Nominee Jeff Sessions Opposed by Senate Colleague
Donald Trump's pick to lead the Justice Department faced unprecedented criticism from a Senate colleague on Wednesday. New Jersey Democrat Cory Booker told the Senate Judiciary Committee that Alabama Sen. Jeff Sessions is unfit to become the next attorney general.
Sen. Cory Booker: "If confirmed, Senator Sessions will be required to pursue justice for women, but his record indicates that he won't. He will be expected to defend the equal rights of gay and lesbian and transgender Americans, but his record indicates that he won't. He will be expected to defend voting rights, but his record indicates that he won't. He will be expected to defend the rights of immigrants and affirm their human dignity, but his record indicates he won't."
Booker's testimony was the first time a United States senator has opposed a colleague's nomination for a presidential Cabinet post. Sen. Booker was joined by civil rights icon, Georgia Congressmember John Lewis, who said Sessions could roll back decades of civil rights gains. Also testifying against Sessions on Wednesday was Amita Swadhin, a survivor of childhood sexual assault. Swadhin cited a 2005 videotape in which Donald Trump is heard boasting of grabbing women by the genitals.
Amita Swadhin: "I live with complex post-traumatic stress disorder and struggle every day to be well. It directly and negatively impacts me when people minimize sexual assault. So to hear Senator Sessions initially say President-elect Trump's comments do not constitute sexual assault, and then to consider him leading the Department of Justice, has been incredibly worrisome."
On Tuesday, Sessions revised his earlier statement and said he would consider grabbing a woman by her genitals without consent to be sexual assault. Sessions is expected to sail through a confirmation vote in the full Senate.
Trump Assails Journalists in First Press Conference Since July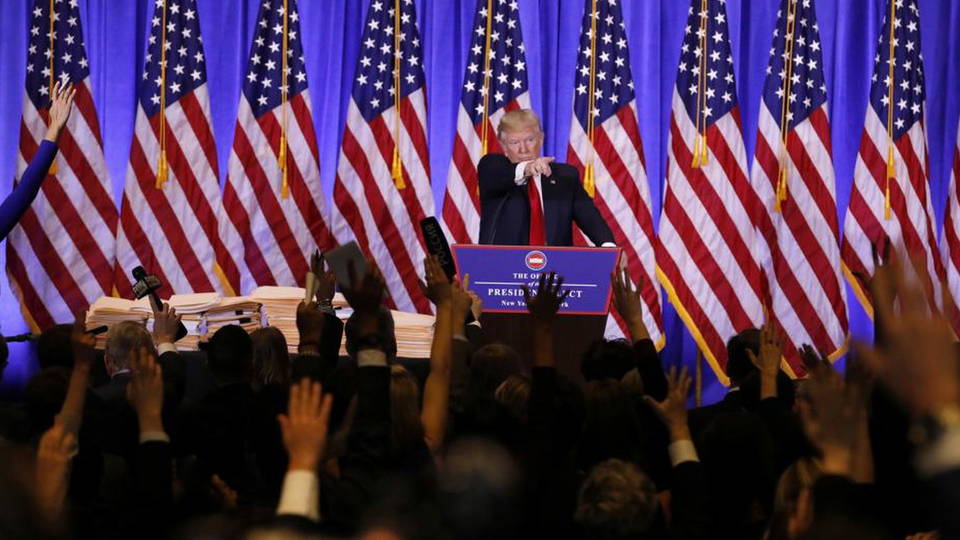 Donald Trump lashed out at reporters during a press conference on Wednesday, slamming CNN as "fake news" and calling BuzzFeed a "failing pile of garbage." The diatribe came as Trump denounced unverified reports that Russia's government has compromising information that it could use to blackmail the president-elect. On Tuesday, CNN reported that top intelligence officials had briefed Trump, President Obama and top lawmakers over the claims, which also allege Trump representatives met repeatedly with Russian officials during the 2016 campaign and discussed the hacking of the DNC and the email of Hillary Clinton campaign chair John Podesta. BuzzFeed later published a dossier, prepared by British former intelligence officer Christopher Steele, outlining unverified allegations of a political and sexual nature. The reports prompted Trump to respond on Twitter, "Intelligence agencies should never have allowed this fake news to leak into the public. One last shot at me. Are we living in Nazi Germany?" On Wednesday, Director of National Intelligence James Clapper said he was dismayed over the leaked dossier, and denied that anyone from the U.S. intelligence community was responsible. At Wednesday's press conference, Trump refused to answer questions from CNN's Jim Acosta.
President-elect Donald Trump: "Go ahead. Go ahead."
Jim Acosta: "Mr. President-elect, Mr. President-elect, since you are attacking our news organization—"
President-elect Donald Trump: "No, not you. Not you."
Jim Acosta: "Can you give us a chance?"
President-elect Donald Trump: "Your organization is terrible."
Jim Acosta: "You are attacking our news organization."
President-elect Donald Trump: "Your organization is terrible. Let's go—"
Jim Acosta: "Can you give us a chance to ask a question, sir?"
President-elect Donald Trump: "Go ahead."
Jim Acosta: "Sir, can you—"
President-elect Donald Trump: "Quiet. Quiet."
Jim Acosta: "Mr. President-elect, can you say categorically—"
President-elect Donald Trump: "Go ahead. She's asking a question. Don't be rude."
Jim Acosta: "Mr. President-elect, can you give us a question?"
President-elect Donald Trump: "Don't be rude."
Jim Acosta: "You're attacking us. Can you give us a question?"
President-elect Donald Trump: "Don't be—"
Jim Acosta: "Can you give us a question?"
President-elect Donald Trump: "No, I'm not going to give you a—I am not going to give you a question."
Jim Acosta: "Can you state categorically—"
President-elect Donald Trump: "You are fake news. Go ahead."
Trump gave the next question to a reporter with Breitbart News, a website that champions the white nationalist movement and was headed until last August by Trump's chief strategist, Steve Bannon. CNN's Jim Acosta later said that Trump's spokesperson, Sean Spicer, threatened to have him expelled if he tried to ask another question. The press conference was Trump's first since July, when he called on Russia to hack Hillary Clinton's email servers. On Wednesday, Trump said it was "probably Russia" that broke into the DNC's servers and hacked John Podesta's emails, but insisted he had no loans and no business dealings with Russia. This is NBC reporter Hallie Jackson questioning Trump.
Hallie Jackson: "Will you release your tax returns to prove what you're saying about no deals in Russia?"
President-elect Donald Trump: "Well, I'm not releasing tax returns, because, as you know, they're under audit."
Hallie Jackson: "But every president since the '70s—"
President-elect Donald Trump: "Oh, gee, I've never heard that. Oh, gee, I've never heard that. I've never heard that. You know, the only one that cares about my tax returns are the reporters. OK? They're the only ones."
Hallie Jackson: "You don't think the American public is concerned about that?"
President-elect Donald Trump: "But, no, I don't think so. I won. I mean, I became president. No, I don't think they care at all. I don't think they care at all. I think you care. I think you care."
Ethics Chief: Trump's Plan "Wholly Inadequate" to Prevent Conflicts
Trump told reporters he would not be selling off his company or real estate holdings, and would instead place his business assets into a trust controlled by his adult sons, Eric Trump and Donald Trump Jr. The head of the Office of Government Ethics, Walter Shaub, blasted the plan, calling it "wholly inadequate" to avoid conflicts of interest. We'll have more on Trump's conflicts of interest after headlines.
Trump to Name Supreme Court Nominee Within Two Weeks of Inauguration
Also at Wednesday's press conference, Trump revealed his plans to name a replacement for Antonin Scalia, whose Supreme Court seat Republicans have refused to fill since his death nearly a year ago. Trump said he was consulting with former Senator Jim DeMint and members of the Federalist Society on a nominee, to be named within two weeks of the inauguration.
Transportation Secretary Pick Elaine Chao Breezes Toward Confirmation
Donald Trump's nominee to head the Department of Transportation, Elaine Chao, received a warm welcome at a Senate hearing on Wednesday and appears to be headed for a confirmation by the full Senate. Chao previously served as labor secretary under President George W. Bush and is on several corporate boards, including Wells Fargo and News Corp., the parent company of Fox News. Chao is the wife of Senate Majority Leader Mitch McConnell.
Protest in Senate Office Building Marks 15 Years of Guantánamo Prison
As senators met for a flurry of confirmation hearings Wednesday, activists dressed in orange jumpsuits held a "die-in" on the floor of the Senate's office building, calling for the closure of the Guantánamo Bay detention center on the 15th anniversary of the prison's opening. The group reported 16 of its members were arrested during nonviolent protests around the Hart Senate Office Building.
Pentagon Chief Nominee James Mattis Faces Opposition over Waiver
Donald Trump's nominee to head the Pentagon, retired Marine General James Mattis, is scheduled to testify at a Senate confirmation hearing today, but his nomination is in doubt after House Democrats threatened a revolt. Mattis retired from the military in 2013, meaning he needs Congress to waive rules requiring defense secretaries to be civilians for seven or more years after leaving the military. The top Democrat on the House Armed Services Committee, Rep. Adam Smith of Washington, said he will urge all House Democrats to vote no on the waiver. In the Senate, New York Democrat Kirsten Gillibrand said, "Civilian control of our military is a fundamental principle of American democracy, and I will not vote for an exception to this rule." We'll have more on James Mattis, including allegations he committed war crimes in Iraq, later in the broadcast, as we speak with Aaron Glantz of The Center for Investigative Reporting.
Trump Taps Nonveteran to Head Veterans Administration
Donald Trump has tapped physician David Shulkin to lead the Department of Veterans Affairs. Shulkin is currently serving in the Obama administration as VA undersecretary. If confirmed, Shulkin will be the first head of the Department of Veterans Affairs to have never served in the military.
FBI Chief Won't Comment on Trump Inquiry, Weeks After Revealing Clinton Probe
FBI Director James Comey came under fire this week after he refused to state whether the bureau is investigating reports of contacts between Donald Trump's campaign and the Russian government. Comey repeatedly told members of the Senate Intelligence Committee on Tuesday that he was not free to comment on an open investigation. That drew fire from Democrats, as well as Maine independent Senator Angus King, who pointed to a letter Comey made public just days before the November election stating the FBI had reopened an investigation into Hillary Clinton's use of a private email server. This is Senator King questioning Comey.
Sen. Angus King: "You didn't say one way or another whether even there's an investigation underway."
James Comey: "Correct. I don't—especially in a public forum, we never confirm or deny a pending investigation."
Sen. Angus King: "The irony of—"
James Comey: "I'm not saying—"
Sen. Angus King: "The irony of your making that statement here, I cannot avoid."
Turkey: Parliamentarians Brawl over Presidential Power Amendments
In Turkey, a fistfight broke out on the floor of the Parliament in Ankara on Wednesday, as lawmakers advanced measures that would rewrite the Turkish constitution and bring sweeping new powers to President Recep Tayyip Erdogan. The amendments would allow Erdogan to appoint and dismiss government ministers, take back the leadership of the ruling party and govern until at least 2029.
Volkswagen Executives Indicted as Company Ordered to Pay $4.3 Billion
Six top executives of Volkswagen were indicted Wednesday on charges they helped the company skirt the Clean Air Act while defrauding the U.S. government. The indictments came as the Justice Department announced Volkswagen will pay $4.3 billion in fines after pleading guilty to three felony counts. This is Attorney General Loretta Lynch.
Attorney General Loretta Lynch: "Hundreds of thousands of cars that Volkswagen sold in the United States were pumping illegal levels of nitrogen oxide into our atmosphere—up to 40 times more than the amounts permitted under federal law. Now, what's more, these vehicles were equipped with software that masked the true amount of the pollutants the cars released, thwarting the regulators who were doing the environmental testing."
Chelsea Manning Reportedly on "Short List" for Presidential Commutation
U.S. Army whistleblower Chelsea Manning is reportedly on a short list of names for a possible presidential commutation. NBC News reports a senior Justice Department official said a decision could come this week. In 2013, Manning was sentenced to 35 years in prison for leaking more than 700,000 classified files and videos to WikiLeaks about the wars in Iraq and Afghanistan and U.S. foreign policy. Manning has been held since 2010. She has been subjected to long stretches of solitary confinement and denied medical treatment related to her gender identity.
Slain Civil Rights Leader Medgar Evers Honored with Historic Landmark
The National Parks Service said Wednesday it will honor slain civil rights leader Medgar Evers by naming his former home as a National Historic Landmark. On June 12, 1963, Evers was assassinated in the driveway outside his home in Jackson, Mississippi. He had served as the NAACP's first field secretary in Mississippi, working to end segregation and racist violence.
---
Courtesy of Democracy Now (www.democracynow.org).  The original content is licensed under a Creative Commons Attribution-Noncommercial-No Derivative Works 3.0 United States License.