Obama Commutes Sentences of Chelsea Manning & Oscar López Rivera
President Obama has commuted the sentences of Army whistleblower Chelsea Manning and Puerto Rican independence activist Oscar López Rivera as part of more than 200 commutations issued Tuesday. Chelsea Manning is now set to be freed on May 17, after Obama shortened her sentence from 35 years to seven. Attorneys for Manning say she is already the longest-held whistleblower in U.S. history. Manning leaked more than 700,000 classified files and videos to WikiLeaks about the wars in Iraq and Afghanistan and U.S. foreign policy. She has been subjected to long stretches of solitary confinement and denied medical treatment related to her gender identity. She attempted to commit suicide twice last year. Puerto Rican independence activist Oscar López Rivera has been imprisoned for about 35 years, much of the time in solitary confinement. In 1981, López Rivera was convicted on federal charges including seditious conspiracy—conspiring to oppose U.S. authority over Puerto Rico by force. In 1999, President Bill Clinton commuted the sentences of 16 members of the FALN, but López Rivera refused to accept the deal because it did not include two fellow activists, who have since been released. Under Obama's commutation order, López Rivera will be also released on May 17.
---
Obama Commutes Sentence of General James Cartwright
Activists Continue Calling for Freedom for Leonard Peltier
President Obama did not, however, pardon NSA whistleblower Edward Snowden or Native American activist Leonard Peltier on Tuesday. Peltier is a former member of the American Indian Movement who was convicted of killing two FBI agents during a shootout on South Dakota's Pine Ridge Indian Reservation in 1975. He has long maintained his innocence. Many are calling on Obama to pardon Peltier, and activists have been maintaining a daily vigil outside the White House since late November demanding his freedom. We'll have more on the case of Leonard Peltier later in the broadcast.
Did Betsy DeVos Lie to Senate About Her Involvement in Family Foundation?
Confirmation hearings for President-elect Donald Trump's Cabinet nominations continue on Capitol Hill. On Tuesday, education secretary nominee Betsy DeVos faced intense questioning by Democratic senators over her role in her family's foundations, which have poured millions of dollars into funding private Christian schools and anti-LGBT organizations, including the groups Focus on the Family and the Family Research Council, which the Southern Poverty Law Center has listed as an "anti-LGBT hate group." This is New Hampshire Senator Maggie Hassan.
Sen. Maggie Hassan: "I understand that there is a foundation, the Edgar and Elsa Prince Foundation, which I take it is a foundation named for your parents. Is that correct?"
Betsy DeVos: "It's my mother's foundation, yes."
Sen. Maggie Hassan: "It's your mother's foundation. And you sit on the board."
Betsy DeVos: "I do not."
Sen. Maggie Hassan: "You do not?"
Betsy DeVos: "No."
Sen. Maggie Hassan: "OK. So when it made its over $5 million donation to Focus on the Family, you didn't know anything about it."
Betsy DeVos: "My mother makes the decisions for her foundation."
That's Betsy DeVos answering Senator Hassan's questioning. Later in the confirmation hearing, Senator Hassan again questioned DeVos about her role in the family foundation.
Sen. Maggie Hassan: "I just wanted to clarify the issue about whether you were on the board of your mother's foundation. I have 990s up through 2013 where you're listed as the vice president and a board member. So, was that just a mistake on your part?"
Betsy DeVos: "That was a clerical error. I can assure you I have never made decisions on my mother's behalf on her foundation board."
Sen. Maggie Hassan: "So the listing that you were the vice president of the board is incorrect."
Betsy DeVos: "That is incorrect."
DeVos was listed as the foundation's vice president in federal tax filings for several years. DeVos is a longtime backer of charter schools and vouchers for private and religious schools. She and her husband have also invested in a student debt collection agency that does business with the Education Department. During Tuesday's hearing, Washington Senator Patty Murray questioned DeVos about whether she would privatize education.
Sen. Patty Murray: "Can you commit to us tonight that you will not work to privatize public schools or cut a single penny from public education?"
Betsy DeVos: "Senator, thanks for that question. Um, I—I look forward, if confirmed, to working with you to talk about how we address the needs of all parents and all students. And we acknowledge today that not all schools are working for the students that are assigned to them. And I'm hopeful that we can work together to find common ground in ways that we can solve those issues and empower parents to make choices on behalf of their children that are right for them."
Sen. Patty Murray: "I take that as not being willing to commit to not privatizing public schools or cutting money from education."
Trump Interior Pick Ryan Zinke Says He'd Review Reversing Ban on Arctic Drilling
The Senate also held confirmation hearings Tuesday for Montana Congressmember Ryan Zinke, who is Trump's nominee to lead the Interior Department. This is Alaska Senator Lisa Murkowski questioning Zinke about whether he would attempt to roll back President Obama's ban on oil drilling in the Arctic.
Sen. Lisa Murkowski: "Will you commit to a formal review of all of the Obama administration's actions that took resource-bearing lands and waters in Alaska effectively off the table, including the decisions that specifically prevented the leasing of those lands and those waters for development, and determine whether or not they can be reversed?"
Rep. Ryan Zinke: "Yes. I think the president-elect has said that we want to be energy independent."
Today, the Senate will hold confirmation hearings for billionaire Wilbur Ross, Trump's nominee for commerce secretary; Oklahoma Attorney General Scott Pruitt for EPAdirector; and Georgia Republican Congressmember Tom Price, Trump's pick to head the Department of Health and Human Services.
Report: 18 Million Could Lose Healthcare If Obamacare Is Repealed
Price's confirmation hearing comes as a new study by the Congressional Budget Office says 18 million people could lose their health insurance if the Congress repeals major provisions of the Affordable Care Act. The office's report says the repeal would leave 32 million people without health insurance and cause the cost of insurance premiums to double over the next 10 years. Obamacare currently has a favorable approval rating of 44 percent.
Nearly 60 Congressmembers Will Not Attend Trump Inauguration
Woman Sues Trump for Defamation, After Accusing Trump of Sexual Assault
Summer Zervos: "Since Mr. Trump has not issued a retraction as I requested, he has therefore left me with no alternative other than to sue him in order to vindicate my reputation. I want Mr. Trump to know that I will still be willing to dismiss my case against him, immediately, for no monetary compensation, if he would simply retract his false and defamatory statements about me and acknowledge that I told the truth about him."
Russian President Putin Defends Trump Against Sex Video Claims
President Vladimir Putin: "Trump arrived and straightaway rushed to meet with Moscow prostitutes? This is an adult man, first of all, and, apart from that, is a man who for many years took part in organizing beauty contests. He has socialized with the most beautiful women in the world. It is hard to believe that he ran to a hotel to meet with our girls of loose morals, although they are the best in the world."
Trump on Tillerson: "He Goes into a Country, Takes the Oil, Goes into Another Country…"
President-elect Donald Trump: "Rex Tillerson—and these lights are bright, but he's around here someplace. Where's our Rex? Wow. What a job. And, Renda, thank you very much. Thanks, Rex. I think it's tougher than he thought. Again, he's led this charmed life. He goes into a country, takes the oil, goes into another country. It's tough dealing with these politicians, right? He's going to be so incredible, and I'm very proud of him."
During Tillerson's confirmation hearing, he faced opposition from some members of the Senate Foreign Relations Committee,including Florida Senator Marco Rubio and others, over Tillerson's close ties to Russia. But even if Rubio votes against Tillerson and the committee does not approve him, committee chairman Sen. Bob Corker may take the unusual step of calling a vote on whether to send Tillerson's confirmation to the full Senate—a move that hasn't happened in decades.
Nigerian Military Bombs Refugee Camp, Killing Dozens
Hugues Robert: "We are speaking about a location that was really hard to reach, where people for more than six months could not access basic assistance, where the population was really in a very bad situation with all the extremely severe acute malnutrition on spots. And now, on top of that, now we have these mass casualties, with these massive, I mean, casualties due to a direct bombing of a highly populated area. So it's really like the worst you can imagine in terms of situation."
North Dakota Pushes Bill to Protect Drivers Who Accidentally Hit Water Protectors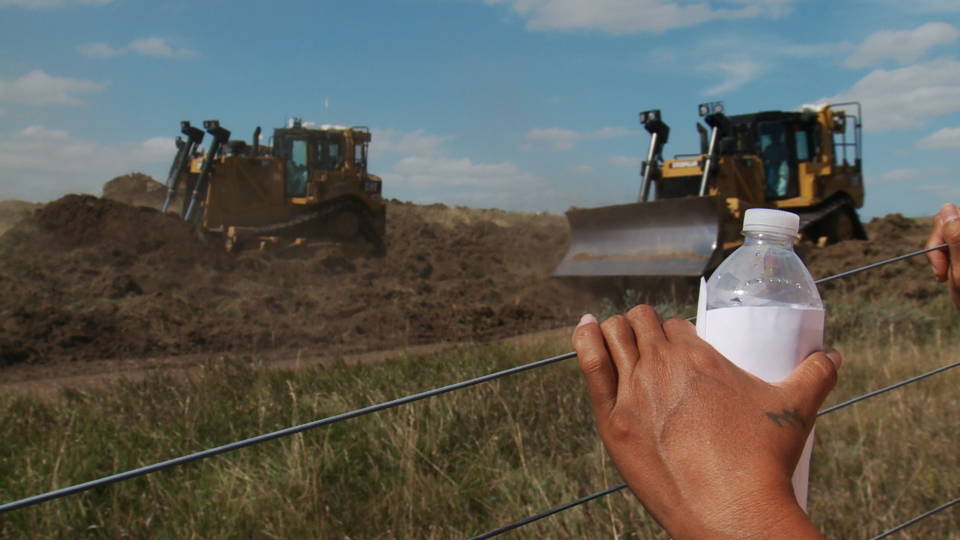 Activists Arrested Resisting Pipelines in Texas, Tennessee & Florida
Actions against pipelines continue across the United States, including in Florida, where water protectors locked themselves to a truck Monday to stop the Sabal pipeline; in Memphis, Tennessee, where 12 activists were arrested at the Valero refinery at a protest against the Diamond pipeline on Monday; and in Texas, where two water protectors were arrested after locking themselves to heavy equipment Friday to delay construction of the Trans-Pecos pipeline, which is being built by the same company behind the Dakota Access pipeline.
NYC: Activists Launch Encampment Outside Goldman Sachs Headquarters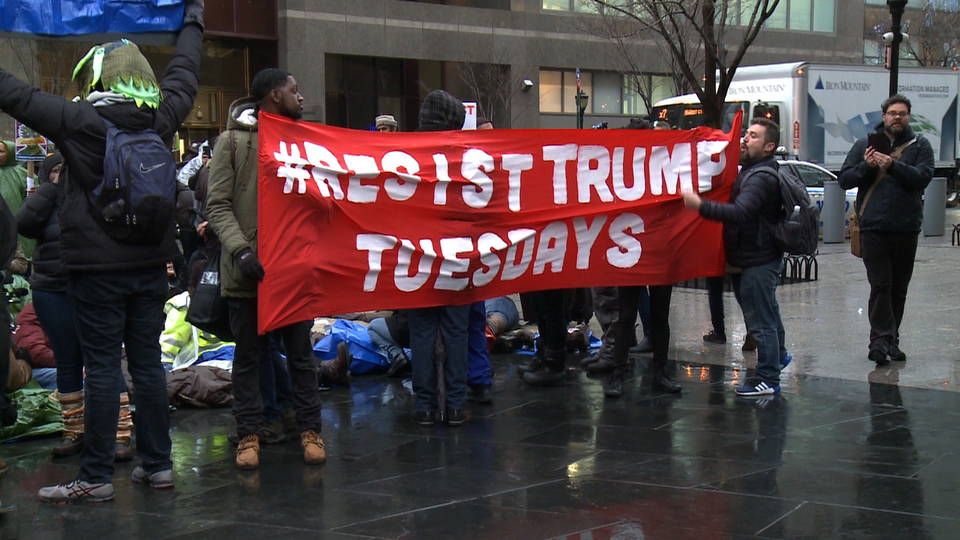 Over a dozen people camped out overnight in the freezing cold. This is protester Jonathan Westin.
Jonathan Westin: "I would say people that believed he was going to drain the swamp have been lied to. It has been a complete fraud when he talked about draining the swamp. He brought them in closer. He brought all the swamp monsters inside the White House. Now they have a permanent office and are controlling all the institutions of government."
Mexico: Indigenous Environmental Leader Isidro Baldenegro López Assassinated
Isidro Baldenegro López: "We know there are people who want to pillage the riches of the Sierra, and they don't even live here. By fraud and forgery, they manage to get away with it. And we oppose this. They are not going to log the forest."
---
Courtesy of Democracy Now (www.democracynow.org).  The original content is licensed under a Creative Commons Attribution-Noncommercial-No Derivative Works 3.0 United States License.