President Obama Gives Final News Conference
President Barack Obama: "Having you in this building has made this place work better. It keeps us honest. It makes us work harder. You have—it made us think about how we are doing what we do and whether or not we're able to deliver on what's been requested by our constituents."
Donald Trump had proposed moving the press corps out of the White House and instead relocating them in the Old Executive Office Building. He had to back away from the proposal Wednesday, after outrage among members of the press and those concerned about press freedoms.
Obama Denies Clemency to Native American Activist Leonard Peltier
During President Obama's final news conference Wednesday, he also spoke about his recent decision to commute Army whistleblower Chelsea Manning's sentence.
President Barack Obama: "It has been my view that given she went to trial, that due process was carried out, that she took responsibility for her crime, that the sentence that she received was very disproportional—disproportionate relative to what other leakers had received."
Also on Wednesday, the Office of the Pardon Attorney has announced President Obama has denied clemency to imprisoned Native American activist Leonard Peltier. Peltier is a former member of the American Indian Movement who was convicted of killing two FBIagents during a shootout on South Dakota's Pine Ridge Indian Reservation in 1975. Imprisoned for 40 years, he has long maintained his innocence. Amnesty International condemned the decision, saying, "We are deeply saddened by the news that President Obama will not let Leonard go home." We'll have more on President Obama's speech and legacy after headlines with professors Eddie Glaude and Rashid Khalidi.
2016 was Third Straight Hottest Year on Record
Scientists with both NASA and NOAA—the National Oceanic and Atmospheric Administration—have confirmed 2016 was the hottest year on record, topping the previous record set in 2015, which topped the previous record only one year earlier. This marks the first time in recorded human history that the Earth has smashed temperature records three straight years in a row. Scientists with the U.S. National Snow and Ice Data Center have also announced global sea ice levels are at their lowest point in recorded human history.
Bernie Sanders Slams EPA Nominee Scott Pruitt at Confirmation Hearing
The unprecedented warming of the planet due to human-caused climate change comes as Oklahoma Attorney General Scott Pruitt underwent his confirmation hearing to be the head of the Environmental Protection Agency. Pruitt has long denied the overwhelming scientific consensus on climate change. Dozens of people protested outside his hearing. At least three people were arrested, including Lakota water protector Joann Spotted Bear, who was arrested while in prayer. This is Scott Pruitt being questioned by Vermont Senator Bernie Sanders.
Sen. Bernie Sanders: "So you are applying for a job as administrator for the EPA to protect our environment. Overwhelming majority of scientists say we have got to act boldly. And you're telling me that there needs to be more debate on this issue?"
Scott Pruitt: "It's a debate hall."
Sen. Bernie Sanders: "I'm asking your personal opinion."
Scott Pruitt: "My personal opinion is immaterial to the—"
Sen. Bernie Sanders: "Really?"
Scott Pruitt: "—to the job of—to the job of carrying out—"
Sen. Bernie Sanders: "You are going to be the head of the agency to protect the environment, and your personal feelings about whether climate change is caused by human activity and carbon emissions is immaterial?"
Scott Pruitt: "Senator, I've acknowledged to you that the human activity impacts the climate."
Sen. Bernie Sanders: "Impacts. If that's the kind of EPA administrator you will be, you're not going to get my vote."
We'll have more on Pruitt's confirmation hearing later in the broadcast.
Amid Scandal, Tom Price Undergoes Confirmation Hearing for HHS Head
Georgia Congressmember Tom Price also underwent his confirmation hearing on Wednesday to be the head of the Department of Health and Human Services. Price is one of the leading opponents of President Obama's Affordable Care Act. He supports privatizing Medicare, opposes abortion and has voted to cut all federal funding for Planned Parenthood. His hearing came only days after CNN reported Price invested thousands of dollars in the medical device maker Zimmer Biomet shortly before introducing a bill to benefit the company. Price's legislation sought to delay regulations that would have changed the way Medicare pays for hip and knee replacements, thereby cutting into Zimmer Biomet's profits. We'll have more on Congressmember Tom Price's confirmation hearing later in the broadcast.
Wilbur Ross, Nikki Haley Undergo Confirmation Hearings
Confirmation hearings were also held Wednesday for billionaire Wilbur Ross, Trump's pick for commerce secretary. Ross is worth an estimated $2.9 billion. If confirmed, he will be one of the richest people ever to hold public office. During the hearing, Ross admitted he has recently fired an undocumented immigrant who had been working in his home since 2009, after rechecking his household employees' documentation status. South Carolina Governor Nikki Haley also had her confirmation hearing to serve as United States ambassador to the United Nations. During her hearing, she criticized the U.N. for what she claimed was its bias against Israel, and she said she supports Trump's plan to move the U.S. Embassy in Israel from Tel Aviv to Jerusalem—a proposal which has outraged Palestinians and much of the world community.
Rick Perry Faces Confirmation Hearing to Head Agency He Vowed to Abolish
More confirmation hearings are slated to take place today, including for former Texas Governor Rick Perry, who Trump tapped to head the Energy Department. Governor Perry famously attempted to propose to abolish the Energy Department—but then couldn't even remember the name of the agency during a live televised debate in 2011, when Perry was running for president.
Homeowners Facing Foreclosure by Mnuchin's Bank Urge Lawmakers to Reject His Nomination
Former Goldman Sachs executive Steven Mnuchin will also have his confirmation hearing for treasury secretary today. Mnuchin has faced criticism for his role at OneWest, a bank which has been called a "foreclosure machine" that profited from the collapse of the housing market. On Wednesday, homeowners who face foreclosure by OneWest or its subsidiaries testified at a meeting held by Massachusetts Senator Elizabeth Warren. This is 84-year-old Colleen Ison-Hodroff, who took out a reverse loan with the OneWest subsidiary Financial Freedom in 2006 on the home she and her husband, Monroe, had been living in since 1963.
Colleen Ison-Hodroff: "My husband Monroe passed on September 12th, 2014. A mere 10 days later, despite what we had been told, Financial Freedom contacted me and told me that I needed to pay off the loan immediately. This was news to me. I was in no financial position to do so. Since then, Financial Freedom has been trying to foreclose on me. I think this is an injustice, in that an elderly woman was deceived and now Financial Freedom is trying to take my home. I hear that Steve Mnuchin was a leader of the bank that is doing this to me and other seniors. I do not think a man like that should be the treasury secretary and in charge of our economy."
That's Colleen Ison-Hodroff speaking about her fight to save her home from foreclosure by a subsidiary of OneWest, Steven Mnuchin's bank. Two organizations have filed a complaint with the Department of Housing and Urban Development accusing OneWest of discriminating against people of color by refusing to make loans to African Americans, Asian Americans and Latinos while Mnuchin was in charge of the bank. Ahead of today's hearing, Mnuchin submitted a revised questionnaire, which reveals he is the director of investment fund Dune Capital International Ltd., which is incorporated in the tax haven the Cayman Islands. He also admitted he has management posts in seven other funds, which he claims he "inadvertently" failed to include on his first questionnaire. Fortune magazine recently reviewed financial disclosures by Mnuchin and reported that he's worth as much as 10 times richer than previously thought, worth as much as $400 million.
Trump Taps Georgia Gov. Sonny Perdue to Be Agriculture Secretary
Trump has announced he's nominated former Georgia Governor Sonny Perdue to be secretary of agriculture. Perdue ran a grain and fertilizer business before becoming Georgia's first Republican governor since Reconstruction. Environmental activists have slammed Perdue for receiving hundreds of thousands of dollars in subsidies for chemical corporations and factory farming. The Environmental Working Group said, "It's certainly hard to imagine that a former fertilizer salesman will tackle the unregulated farm pollution that poisons our drinking water, turns Lake Erie green, and fouls the Chesapeake Bay and the Gulf of Mexico." With Perdue's nomination, Trump has now named all his Cabinet choices. They are overwhelmingly white male millionaires or billionaires. If all his picks are confirmed, Trump's Cabinet will be the first without a Latino member since 1988.
Trump's Budget Director Didn't Pay $15K in Taxes; Trump's Army Sec. Accused of Punching Man in Face
More controversies are surfacing about some of Trump's other choices for top positions. The Washington Post reports South Carolina Republican Congressmember Mick Mulvaney, whom Trump has tapped as budget director, did not pay $15,000 in taxes for a household worker from 2000 to 2004. Meanwhile, The New York Times reports billionaire Wall Street investor Vincent Viola, whom Trump has tapped to be Army secretary, was accused this past summer of punching a concessions worker in the face at a racehorse auction in Saratoga Springs, New York.
Hundreds Attend Queer Dance Party Protest at VP-Elect Pence's House
Hundreds of people danced the night away Wednesday at a "Queer Dance Party" outside Vice President-elect Mike Pence's rental house in Chevy Chase, Maryland. The dance party was a protest against the former Indiana governor's long history of pushing extreme anti-LGBTQ legislation. Pence has opposed marriage equality and anti-discrimination laws to protect LGBTQ people.
Water Protectors Score Key Legal Victories in Fight Against Dakota Access Pipeline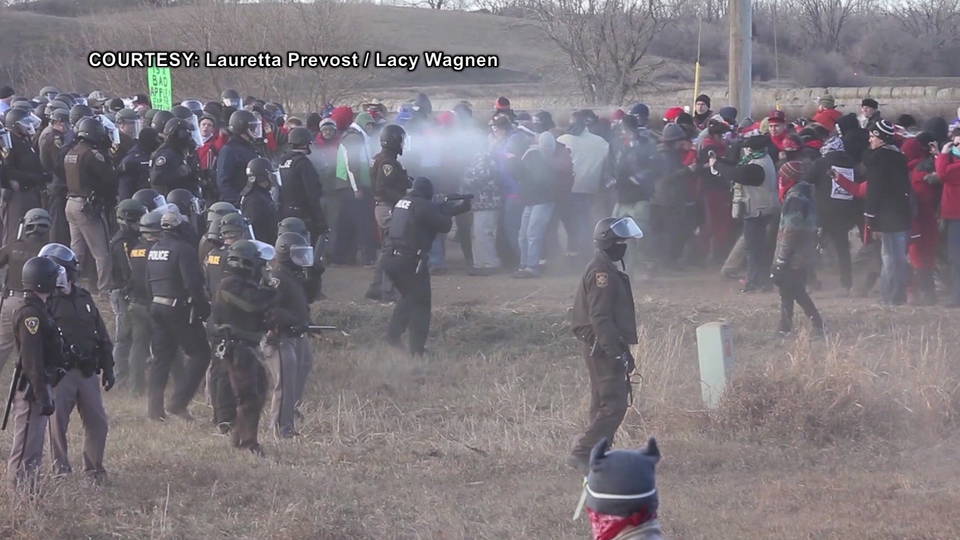 Native Americans and their allies fighting the $3.8 billion Dakota Access pipeline have scored a series of legal victories. The North Dakota Supreme Court partially granted a petition that will open the door for out-of-state lawyers to represent the more than 600 people who have been arrested amid the ongoing resistance. Also on Wednesday, a federal judge rejected an attempt by the Dakota Access pipeline company, Energy Transfer Partners, to block the Army Corps of Engineers from beginning a lengthy environmental impact statement on the section of the pipeline slated to cross the Missouri River. The ruling means the environmental impact study will now move forward, indefinitely halting construction of the pipeline. The legal victories came only hours before, late Wednesday night, water protectors say police deployed tear gas and rubber bullets against Native Americans trying to erect a tipi on Backwater Bridge, a site of frequent police attacks.
Canada: Sabotage Against Alberta Pipeline Costs Company Half a Million
In more pipeline news, the Royal Canadian Mounted Police say more than a half-million dollars of damage was caused after people sabotaged an oil pipeline under construction in northern Alberta. Authorities say people used heavy machinery to dig up a section of the contested pipeline.
Gambia: Tensions Rise as Longtime Leader Refuses to Relinquish Power
In Africa, West African troops are amassing at Gambia's border, poised to intervene if President Yahya Jammeh does not relinquish power today. Incoming President Adama Barrow won December's elections, but Jammeh has so far refused to step down. He's been in power since 1994 and once vowed to rule for "a billion years." The United Nations say more than 25,000 people have fled Gambia to neighboring Senegal amid the rising tensions.
Indiana: Outrage as Republicans Push Law Dubbed "Block Traffic and You Die" Bill
In Indiana, Republican legislators have sparked outrage after introducing a bill that would empower police to remove protesters blocking traffic using "any means necessary." Organizers and activists opposed to the legislation have dubbed it the "block traffic and you die" bill. The bill is being pushed by Indiana Republican state Senator Jim Tomes, who has previously pushed other controversial proposals, including one to jail transgender people for using public bathrooms that match their gender identity.
JPMorgan Chase to Pay $55M to Settle Housing Discrimination Lawsuit
In financial news, JPMorgan Chase will pay $55 million to settle a lawsuit with the Justice Department accusing the bank of discriminating against more than 50,000 homeowners of color between 2006 and 2009. The lawsuit accuses JPMorgan Chase of violating the Fair Housing Act and Equal Credit Opportunity Act. As part of the settlement, JPMorgan Chase does not have to admit wrongdoing, and no bankers are facing criminal charges.
Colombia: 2 Human Rights Defenders Assassinated
And in Colombia, human rights defenders Emilsen Manyoma and her husband Joe Javier Rodallega have been assassinated. Manyoma was a leader in Bajo Calima's human rights organization and has been documenting human rights violations in the region. She first began organizing against the paramilitary control of the region in 2005. She and her husband reportedly received a series of threats in the days leading up to their murders. Last week, three other human rights defenders were killed in Colombia.
---
Courtesy of Democracy Now (www.democracynow.org).  The original content is licensed under a Creative Commons Attribution-Noncommercial-No Derivative Works 3.0 United States License.