Trump Withdraws U.S. from Massive TPP Trade Deal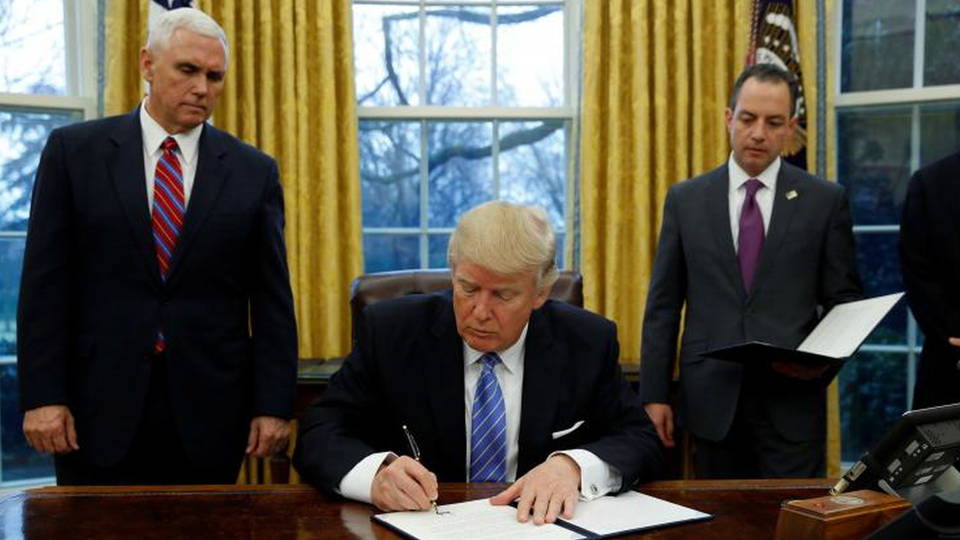 President Donald Trump withdrew the United States from the sweeping Trans-Pacific Partnership trade deal, known as the TPP, on Monday. It would have encompassed 12 Pacific Rim nations, including the U.S., and 40 percent of the global economy. The TPPfaced years of global public resistance by those who say free trade deals benefit corporations at the expense of health and environmental regulations. The TPP became a major issue during the 2016 presidential campaign. Donald Trump, Vermont Senator Bernie Sanders and, eventually, former Secretary of State Hillary Clinton all said they would withdraw from the deal, if elected. Lori Wallach of Public Citizen's Global Trade Watch said Trump's executive order Monday "will bury the moldering corpse of a deal that couldn't gain majority support in Congress, but the question is going forward: Will President Trump's new trade policies create American jobs and reduce our damaging trade deficit while raising wages and protecting the environment and public health not just here but also in trade partner nations?"
Trump Reinstates Global Gag Rule, Barring Funds for Abortion Education & Services
On Monday, Trump also reinstated the controversial "global gag rule," a Reagan-era policy that bans U.S. funding for any international healthcare organizations that perform abortions, advocate for the legalization of abortion or even provide information about abortions. This is White House Press Secretary Sean Spicer.
Press Secretary Sean Spicer: "The president, it's no secret, has made himself—made it very clear that he's a pro-life president. He wants to stand up for all Americans, including the unborn. And I think the reinstatement of this policy is not just something that echoes that value, but respects taxpayer funding, as well, and ensures that we're standing up not just for life, for life of the unborn, but for also taxpayer funds that are being spent overseas to perform an action that is contrary to the values of this president, and, I think, continue to further illustrate, not just to the folks here in this country, but around the world, of what a value we place on life."
Trump signed the global gag rule only two days after millions of people poured into the streets of Washington, D.C., and cities around the world for the historic Women's March on Washington. We'll have more on the global gag rule later in the broadcast.
Trump Falsely Claims Millions of Undocumented Immigrants Voted in Election, Swinging Popular Vote
President Trump had his first meeting with congressional lawmakers Monday, during which he again lied about the 2016 election results. He falsely claimed that he lost the popular vote because 3 to 5 million unauthorized immigrants voted for Hillary Clinton. Experts say there's no evidence of voter fraud during the 2016 election.
White House Vows Hard Military Line Against China in South China Sea
White House Press Secretary Sean Spicer has vowed the United States would take a hard military line against China in the South China Sea, one of the busiest trade routes in the world, which also has significant oil and gas reserves. The U.S. claims the area is international water, while China claims territorial control. Longtime ExxonMobil CEO Rex Tillerson said during his confirmation hearing for secretary of state that he would stop China from accessing islands where it has installed weapons systems and built air strips in the area. Tillerson's comments prompted Chinese state media to say the U.S. would have to "wage war" to stop China from accessing the islands.
White House Suggests Trump Will Move to Push Through Dakota Access Pipeline
Spicer also suggested Monday that the Trump administration would move quickly to push through the contested $3.8 billion Dakota Access pipeline.
Press Secretary Sean Spicer: "I'm not going to get in front of the president's executive actions, but I will tell you that areas like Dakota and the Keystone pipeline, areas that we can increase jobs, increase economic growth and tap into America's energy supply more, that's something that he has been very clear about. ... I think the president is very, very keen on making sure that we maximize our use of natural resources to America's benefit. It's good for economic growth, it's good for jobs, and it's good for American energy."
The pipeline has faced months of resistance from the Standing Rock Sioux in North Dakota, members of hundreds of indigenous nations, as well as their non-Native allies. On Monday, here at the Sundance Film Festival in Park City, Utah, water protectors blocked the entrance to a Chase Bank lounge to protest the connection of one of the festival's leading sponsors to investment in the Dakota Access pipeline. This is Bobbi Jean Three Legs of the Standing Rock Reservation in South Dakota.
Bobbi Jean Three Legs: "Right now we're on a lockdown in front of Chase Bank, because we want people across America to divest their money from these banks. The big banks—Chase, Wells Fargo—all the big banks, these are paying for the pipelines around the country. We want you to know what your money is being paid for and what it's being used for. And pretty much our lives are at risk right now—everybody. There's already people's waters ruined around the country. And we're just trying to protect that. We want to know that seven generations ahead, that our children are going to be OK."
White House Says It Has Not Decided on Moving U.S. Embassy in Israel
White House Press Secretary Sean Spicer said Monday the United States has not decided whether it will attempt to take the controversial step of moving the U.S. Embassy in Israel from Tel Aviv to Jerusalem. The move is fiercely opposed by Palestinians and much of the world community. This is Palestinian President Mahmoud Abbas.
President Mahmoud Abbas: "We say to Mr. Trump that we hope he will not move the embassy from Tel Aviv to Jerusalem, because Jerusalem, from the Israeli point of view, is a united city, and this is not correct and illegal. Therefore, moving the embassy to any place will be a step ahead of anything that may happen in the future, and will damage the peace process. Also, we hope to stop these comments and to start negotiations based on international legitimacy."
That was Palestinian President Mahmoud Abbas. During Monday's news conference, Sean Spicer also refused to answer repeated questions by reporters about what the national unemployment rate is. He ultimately claimed the Bureau of Labor Statistics puts out "several versions" of this figure.
Mike Pompeo Sworn In as CIA Director
Former Kansas Congressmember Mike Pompeo was sworn in as CIA director after being approved by the Senate Monday. His confirmation had faced opposition over concerns about his position on torture. In the past, Pompeo falsely claimed so-called enhanced interrogation tactics, such as waterboarding, were constitutional. But he reversed his decision during his confirmation hearing, saying he is now against torture.
Senate Committee Approves Exxon's Rex Tillerson as Secretary of State
On Monday, the Senate Foreign Relations Committee voted 11-10 to approve longtime ExxonMobil CEO Rex Tillerson for secretary of state. Florida Senator Marco Rubio was the swing vote; he had said he might vote against Tillerson, but instead decided to back him. Tillerson's confirmation will go before the full Senate next week.
Tom Price Faces 2nd Confirmation Hearing to Head Health & Human Services
Georgia Congressmember Tom Price faces his second confirmation hearing to head the Department of Health and Human Services today, where he's expected to face more questions about his investments in medical and pharmaceutical companies and potential conflicts of interest.
Confirmation Votes Delayed for Jeff Sessions and Betsy DeVos
Democrats have delayed the confirmation vote for Alabama Senator Jeff Sessions for attorney general. The Senate Judiciary Committee was slated to vote on his confirmation today, but will now vote January 31. If approved, the full Senate will not vote until February. Democrats have also asked for a second confirmation hearing for billionaire Betsy DeVos for education secretary, amid widespread concerns about potential conflicts of interest stemming from her family's many investments, including in private charter schools and a student loan company.
Trump Taps Anti-Net Neutrality Ajit Pai to Chair FCC
Trump has tapped Federal Communications Commissioner Ajit Pai to be FCC chair. Pai is a fierce opponent of net neutrality rules, which seek to keep the internet open and prevent corporate service providers from blocking access to websites, slowing down content or providing paid fast lanes for internet service. Activists fear Pai may now roll back net neutrality rules adopted by the FCC in recent years.
Officials Investigating Michael Flynn over Call to Russian Ambassador
U.S. officials say they are investigating a phone call between President Trump's national security adviser, Michael Flynn, and Russia's ambassador to the United States. The call was on December 29—the same day President Obama imposed sanctions against Russia and expelled diplomats, in retaliation for the alleged Russian hacking of the U.S. election. U.S. officials are also investigating a handful of Donald Trump's close associates, including former campaign manager Paul Manafort, over possible ties to Russia.
Trump Hands Ambassadorships to 2 Major Campaign Donors
Trump is handing ambassadorships to two of his major campaign donors. Private equity executive Lewis Eisenberg, who began his career at Goldman Sachs, will become the U.S. ambassador to Italy. Private equity executive William Hagerty, who served as an economic adviser to George H.W. Bush, will become the U.S. ambassador to Japan.
Yemen: First Drone Strike Under Trump Administration Kills 10
In Yemen, one of the first drone strikes launched under the new Trump administration killed at least 10 people Saturday. Yemeni news reports say the victims of the strike were al-Qaeda fighters. U.S.-backed, Saudi-led airstrikes killed more than 50 people over the weekend, as part of the Saudi and Yemen Army's campaign to seize control of Mokha. On Monday, the Yemen Army said it had taken control of the port city.
CFPB Suing Largest Student Loan Servicer in U.S. for Overcharging Students
The Consumer Financial Protection Bureau is suing the nation's largest student loan servicer, Navient, accusing it of "systematically and illegally failing borrowers at every stage of repayment." Navient services $300 billion in private and federal loans. The suit argues Navient illegally increased the cost of the loans for millions of students.
Mexico: Nationwide Protests Against Fuel Hike Continue
In Mexico, widespread protests against the government's decision to raise fuel prices by more than 20 percent continue to rock the country. On Sunday, protesters took to the streets for coordinated demonstrations in Mexico City and in at least 12 Mexican states. Protesters in Tijuana seized control of one of the busiest border crossings along the U.S. border, forcing Mexican authorities to abandon their posts. This is one of the protesters.
Laura Islas: "I am here because I am in disagreement with all the policies of the government of Enrique Peña Nieto and what his whole Cabinet has imposed on this country, which has caused a lack of equality, inflation. They continue to rob, continue taking from the country."
NYPD Settles Suit over Baseless Criminal Summonses for $75 Million
New York City taxpayers will pay $75 million to settle a class action lawsuit against the New York Police Department over its issuing of nearly a million criminal summonses that were later dismissed for lack of evidence. Lawyers say the summonses were "selectively and disproportionately" issued in communities of color.
British Supreme Court: Brexit Must Go Before Parliament
The British Supreme Court has ruled the British Parliament must approve the country's plans to leave the European Union—a process known as Brexit. The 8-3 ruling Tuesday does not mean Britain will stay in the EU, although it could delay Brexit and allows pro-EU lawmakers to influence the terms of Britain's departure.
#J20 Legal Team Sues D.C. Police for Excessive Force, as Protesters Face 10-Year Prison Sentences
In news from Trump inauguration protests, the legal team behind Friday's Disrupt J20 actions in Washington, D.C., have sued the police for using excessive force when officers attacked protesters with batons, tear gas, pepper spray and flashbang grenades "indiscriminately and repeatedly." Well over 200 protesters were arrested Friday. Nearly all of them are facing a possible 10-year prison sentence after being charged with felony riot. Their cellphones, which were confiscated by police after arrest, have not been returned.
---
Courtesy of Democracy Now (www.democracynow.org).  The original content is licensed under a Creative Commons Attribution-Noncommercial-No Derivative Works 3.0 United States License.