House Republicans Vote to Gut Office of Congressional Ethics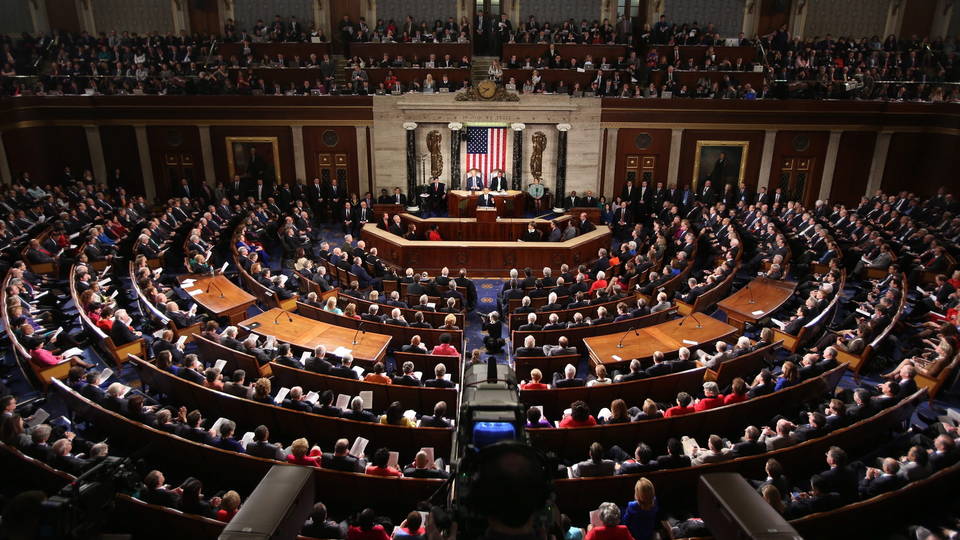 A new Republican-led Congress meets today. In one of their first moves, House Republicans voted Monday night to gut the Office of Congressional Ethics, dismantling reforms adopted after a previous Republican ethics scandal. The vote reportedly came as a surprise and without the support of House Speaker Paul Ryan or Majority Leader Kevin McCarthy. The full House is scheduled to vote later today. Under the measure, the Office of Congressional Ethics will be renamed the Office of Congressional Complaint Review and placed under the oversight of the House Ethics Committee. The move will take away authority and independence from the investigative body and give more power to lawmakers over internal inquiries. According to The Washington Post, under new rules, the office will not be able to employ a spokesperson, investigate anonymous tips or refer criminal wrongdoing to prosecutors without the express consent of the Ethics Committee, which would also gain the power to end any of the office's investigations. The measure's sponsor, Republican Bob Goodlatte of Virginia, said in a statement that the move "builds upon and strengthens" the current arrangement and improves the due process rights for the House members under investigation. We'll have more on the Office of Congressional Ethics later in the broadcast with Craig Holman, who helped set up the office.
New Year's Attack Inside Turkish Nightclub Kills 39
In Turkey, police have launched a series of raids across Istanbul, arresting at least 12 people, as police continue to search for a man who opened fire inside a nightclub during a New Year's celebration, killing 39 people. ISIS has claimed responsibility for Sunday's attack on the Reina nightclub, where hundreds of Turks and foreigners were celebrating early in the morning. The attack killed 11 Turkish citizens and more than two dozen tourists from Saudi Arabia, Iraq, Lebanon, Jordan, India, Morocco and other countries. This is a man who was inside the nightclub during the attack.
Younis Tuerq: "Actually, I didn't see him. As soon as he entered the club, he started firing, and he didn't stop. He fired nonstop for 20 minutes at least. We thought that there were several of them because it just didn't stop. And there was some kind of bomb, as well; he threw some explosives. We managed to hide ourselves, and, luckily, he didn't go out on the terrace. He stayed inside. He didn't go out on the terrace."
On Monday, Turkish authorities released two photographs of the suspected gunman. Officials say the Turkish military also attacked ISIS targets in Syria on Monday, killing at least 22 people. We'll go to Istanbul and Washington, D.C., for more on the attacks after headlines.
Iraq: Dozens Killed in a Series of Bombings Across Baghdad
In the Iraqi capital Baghdad, nearly 90 people have died in a series of attacks claimed by ISIS militants over the weekend and Monday. At least 39 people were killed and 50 more wounded in a suicide bomb attack Monday on a fruit and vegetable market in Sadr City. Local authorities say there was also a series of smaller bombings Monday across Baghdad that killed a total of 20 civilians and wounded 70 more. Monday's attacks come after more bombings Saturday in Baghdad killed 28 people. The bombings come as the United States and Iraqi militaries continue the campaign to retake the city of Mosul from ISIS.
Trump to Name Fmr. Reagan Official as Trade Representative
Donald Trump is expected to name Robert Lighthizer as head of the Office of the U.S. Trade Representative. Lighthizer served as deputy trade representative during the Reagan administration. He's a proponent of trade tariffs and has been a vocal critic of China. Trump still has a handful of Cabinet and Cabinet-level positions to fill, including the positions of secretaries of agriculture and veterans affairs, as well as the director of national intelligence and the head of the Council of Economic Advisers. Many are also expecting Trump to try to give his daughter Ivanka Trump and her husband, Jared Kushner, official positions within the White House, a move that may violate anti-nepotism laws.
Trump Business in UAE, Indonesia Sparks Concerns of Conflicts of Interest
The Trump Organization's ongoing business in the United Arab Emirates, Indonesia and other countries is continuing to raise concerns about conflicts of interest. Last month, Trump pledged his businesses would make "no new deals" during his time in office. However, a series of high-profile business deals are currently underway, including the construction of two luxury golf courses in Dubai. The first, Trump International Golf Club, Dubai, is slated to open in February, only weeks after Inauguration. Trump is developing the two courses with Dubai billionaire Hussain Sajwani, who attended Trump's New Year's Eve party at the Mar-a-Lago resort in Florida. Meanwhile, Trump's business dealings in Indonesia are also raising concerns. The Trump Organization is currently moving ahead with plans to open two resorts, one in Bali and another in West Java. These deals have brought Trump close to an Indonesian billionaire media mogul who has formed his own political party, as well as Indonesia's speaker of the House of Representatives, who suffered a recent corruption scandal. The New York Times reports Trump's companies are also currently moving ahead with projects in India, Uruguay and Canada.
Rebecca Ferguson Says She'll Perform at Inauguration If She Can Sing "Strange Fruit"
Just weeks away from inauguration on January 20, Trump is still struggling to book performers for the event. British singer Rebecca Ferguson has said she'd be willing to accept the invitation to perform—but only if she's allowed to sing Billie Holiday's "Strange Fruit." Ferguson wrote, "If you allow me to sing 'strange fruit' a song that has huge historical importance, a song that was blacklisted in the United States for being too controversial. A song that speaks to all the disregarded and down trodden black people in the United States. A song that is a reminder of how love is the only thing that will conquer all the hatred in this world, then I will graciously accept your invitation and see you in Washington."
SEIU to Cut Budget in Anticipation of Trump Assault on Labor
In labor news, one of the nation's largest unions is preparing to slash its budget in expectation of an assault on organized labor under President Trump. In an internal memo obtained by Bloomberg Businessweek, Service Employees International Union President Mary Kay Henry announced plans to cut spending by 30 percent by the end of next year. Henry wrote, "Because the far right will control all three branches of the federal government, we will face serious threats to the ability of working people to join together in unions. These threats require us to make tough decisions that allow us to resist these attacks and to fight forward despite dramatically reduced resources." SEIU represents nearly 2 million workers in the U.S. and Canada. Its current budget of about $300 million funds organizing efforts like the Fight for 15 campaign to raise the minimum wage. Donald Trump's pick to head the Labor Department, Andrew Puzder, is a fast-food executive, a member of an anti-union network and a vocal critic of increasing the minimum wage and other workplace protections.
U.S. Senators Call for More Sanctions Against Russia
U.S. senators are continuing to call for even stronger sanctions against Russia over allegations Russian agencies meddled in November's U.S. election. Senators John McCain, Lindsey Graham and Amy Klobuchar visited the country Georgia over the weekend and vowed action against Russia. This is South Carolina Republican Senator Lindsey Graham.
Sen. Lindsey Graham: "We hope to make 2017 a year of offense. We believe that Putin has hacked into our elections in America, that he's trying to undermine democracy all over the world, and it's time for new sanctions to hit him hard as an individual—his energy sector, his banking sector. It is time to push back against Putin, but be a better friend to our allies over here, including Georgia, to be more helpful. So 2017 is a year of offense, and we're going to tell our colleagues what's at stake if we don't push back."
On Friday, Russian President Vladimir Putin said he would not retaliate against President Obama's move last week to expel 35 Russian diplomats and impose new sanctions on Russian agencies accused of election meddling.
Syria: Rebels Weigh Pulling Out of Peace Talks After Gov't Violates Ceasefire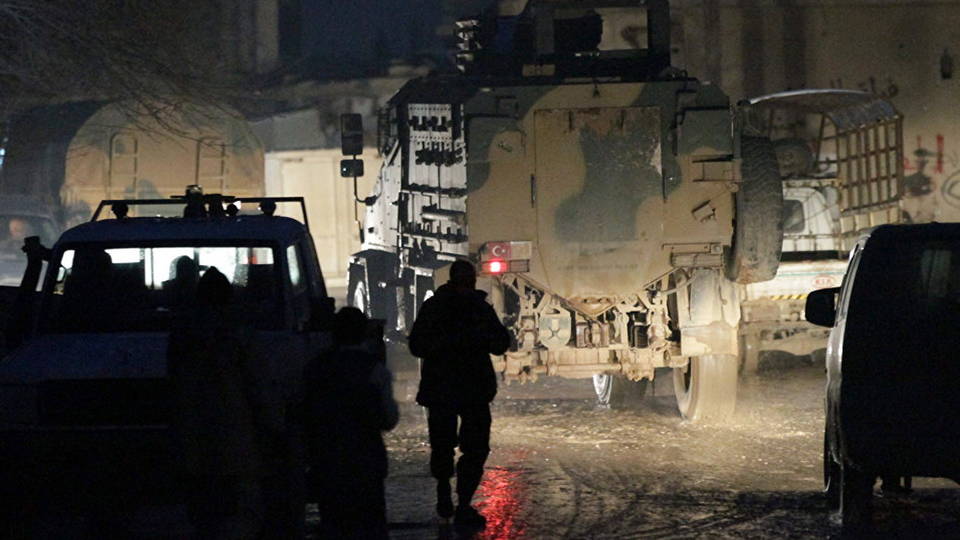 In Syria, anti-government rebels say they are considering pulling out of preliminary peace talks planned to take place in Kazakhstan this month, after accusing the Syrian government of violating the terms of the 5-day-old ceasefire. The anti-government rebels have accused the Syrian government of launching an assault on a rebel-held area near Damascus that is key to the city's water supply—a violation of the terms of the ceasefire that took effect late Thursday night and was welcomed by Syrians, including residents of Idlib. The upcoming talks in Kazakhstan for later this month are being planned by Turkey, Russia and Iran.
Brazil: 50+ People Die in Prison Uprising in Manaus
In Brazil, officials say more than 50 people died in an uprising in a prison in the city of Manaus. At the time of the riot, the prison held more than 1,200 people—three times its official capacity. Brazilian officials claim they have been trying to reduce overcrowding in the country's prisons for years over concerns about uprisings, but convictions for low-level drug offenses continue to increase the number of people incarcerated in Brazil.
Israeli Police Question PM Netanyahu over Corruption Allegations
In Israel, police questioned Prime Minister Benjamin Netanyahu as part of a growing corruption inquiry on Monday. Officials say the questioning lasted three hours and was conducted at his home. Netanyahu is accused of receiving gifts and favors from business executives.
New York Governor Commutes Sentence of Judith Clark
New York Governor Andrew Cuomo has commuted the sentence of prisoner Judith Clark, who drove a getaway car during a 1981 robbery in Rockland County that left a security guard and two police officers dead. The robbery was aimed at expropriating money from a Brink's armored car for the Republic of New Afrika. Clark was sentenced to 75 years for second-degree murder and robbery, although she did not fire any shots. Governor Cuomo has now commuted her sentence to 35 years, meaning she's eligible for parole this year. Two other people involved in the robbery, Mutulu Shakur, the stepfather of the rapper Tupac Shakur, and David Gilbert, a member of the Weather Underground, are still incarcerated. A growing number of people are calling on President Obama to grant clemency to Mutulu Shakur before he leaves office.
Buffalo, NY Residents Outraged by Racist Comments of Trump Campaign Co-Chair
In upstate New York, residents are continuing to call for the resignation from the Buffalo school board of Carl Paladino, former New York state co-chair of Trump's presidential campaign, over his racist comments about President Obama and first lady Michelle Obama. In December, Paladino responded to a question from Artvoice, a local alternative weekly newspaper, about what he most wanted to happen in 2017 by writing, "Obama catches mad cow disease after being caught having relations with a Herford. … Michelle Obama. I'd like her to return to being a male and let loose in the outback of Zimbabwe where she lives comfortably in a cave with Maxie, the gorilla." He said he meant to send this to friends, but mistakenly sent it to the newspaper. The Buffalo school board voted 6-2 Thursday night to give Paladino 24 hours to resign or face ouster over the racist comments. On Monday, Paladino told The Buffalo News he's still in good standing with Donald Trump. Trump has not commented on Paladino's statements.
Revolutionary British Writer John Berger Dies at 90
And revolutionary British novelist, screenwriter and literary critic John Berger has died Monday. Berger is most famous for the 1972 book and television series "Ways of Seeing." He won the Booker Prize that same year. This is John Berger speaking in 1972 about his reaction to winning the Booker Prize and how he planned to give half the money to the Black Panthers.
John Berger: "The prize is given by Bookers, Booker-McConnell, who are a firm who have extensive trading interests in the Caribbean for 130 years. The extreme poverty is the direct consequence of the exploitation of companies like Bookers and others. And so I intend, as a revolutionary writer, to share this prize with people in and from the Caribbean, people who are involved in a struggle to resist such exploitation and eventually to expropriate companies like Bookers. I am actually going to give half the prize to the London-based Black Panther movement."
That's writer John Berger speaking in 1972. He died Monday at his home in a Paris suburb at the age of 90.
---
Courtesy of Democracy Now (www.democracynow.org).  The original content is licensed under a Creative Commons Attribution-Noncommercial-No Derivative Works 3.0 United States License.