Canada: Two Gunmen Attack Quebec Mosque, Killing 6 and Injuring 8
In Canada, police have arrested two gunmen charged with opening fire at the Islamic Cultural Centre of Quebec City during evening prayers on Sunday, killing six worshipers and wounding eight others. Witnesses described gunmen in black launching a coordinated attack on the mosque, opening fire indiscriminately with semi-automatic weapons. Canadian Prime Minister Justin Trudeau condemned the massacre as an act of terrorism. The mosque has previously been the target of hate. During the Muslim holy month of Ramadan last June, a pig's head was left on the doorstep of the mosque.
Massive Protests at Airports Following Trump Immigration Ban
Thousands of protesters flooded airports across the United States over the weekend after President Donald Trump signed an executive order Friday temporarily banning all refugees from entering the country, and barring access for 90 days to nationals from seven majority-Muslim nations. The draconian measure instantly cut off access to the U.S. to 218 million people from Iran, Iraq, Libya, Somalia, Sudan, Syria and Yemen. It indefinitely suspended the admission of Syrian refugees. Across the world, travelers were left stranded, while scores were detained by customs officials after landing at U.S. airports. As news of the order spread on Saturday, thousands gathered at John F. Kennedy airport in New York City for a protest. They packed the space outside Terminal 4, chanting "Let them in!"
Protester: "I'm here as a Jewish American who is very aware of what we did just a couple generations ago, and I don't want to see us do this again. Muslims are my brothers, and they deserve to be here just as much as I do. And no person is illegal."
President Trump's order drew immediate legal challenges, and by Sunday judges in California, Massachusetts, New York, Virginia and Washington issued temporary stays blocking the deportation of valid visa holders. But some lawmakers report Customs and Border Protection officers are defying the courts. Congressmember Don Beyer of Virginia said officials at Dulles airport outside Washington, D.C., refused to comment on whether they were detaining travelers, and had denied them access to lawyers. Rep. Beyer tweeted, "We have a constitutional crisis today. Four Members of Congress asked CBP officials to enforce a federal court order and were turned away." In Los Angeles, police in riot gear deployed Sunday as thousands of demonstrators blocked traffic near the Tom Bradley International Terminal. Thousands more rallied at airports in Chicago, Denver, Atlanta, Houston, Seattle and elsewhere. In San Francisco, demonstrators blocked all security entry points in SFO's international terminal on Sunday. This is Lara Kiswani, executive director of the Arab Resource and Organizing Center.
Lara Kiswani: "We're asking workers to stand with us and not comply to these racist orders. We're asking lawyers to stay on our side and continue to defend these immigrants and refugees. And we're asking people to continue to show up for as long as it takes. And as harsh and as difficult as this may seem for the people out here staying hours and hours, we can only imagine what the detainees and the refugees and immigrants are experiencing on the other side of it. So we want to show courage and discipline and rigor, and make sure that they know they're going to be supported. And we're in this for the long run, until we defeat Trump."
Thousands More March in Cities Against Trump Executive Orders
In Washington, D.C., on Sunday, thousands marched from the White House to the Capitol to protest Donald Trump's executive orders. In Boston, a crowd of more than 10,000 packed Copley Square in support of immigrants' rights. And in New York, thousands gathered within sight of the Statue of Liberty in Lower Manhattan to call for the U.S. to welcome immigrants and refugees.
World Leaders Blast Trump's Ban of Refugees and Immigrants
Donald Trump's immigration order drew outrage and condemnation from world leaders. French President François Hollande urged European leaders to "stand up to" Trump, saying the U.S. president was encouraging extremism. A spokesperson for Angela Merkel said the German chancellor told Trump in a phone call he risks violating a Geneva convention requirement to take in war refugees on humanitarian grounds. And Iran's government said it would soon take "reciprocal measures" to ban U.S. citizens.
Republican Lawmakers Say Trump Order Encourages Terrorism
In Washington, some top Republicans criticized Trump's immigration order. Senators Lindsey Graham and John McCain said in a joint statement the move "sends a signal, intended or not, that America does not want Muslims coming into our country. That is why we fear this executive order may do more to help terrorist recruitment than improve our security."
Trump Favors Christian Refugees, Asked Advisers for "Muslim Ban"
The order appears to run afoul of U.S. laws preventing discrimination based on religious beliefs. In an interview with David Brody of the Christian Broadcasting Network, Trump admitted he wanted to give priority to Christian refugees.
David Brody: "The refugee program that—or the refugee changes you're looking to make, as it relates to persecuted Christians, do you see them as kind of a priority here?"
President Donald Trump: "Yes."
David Brody: "You do?"
President Donald Trump: "They've been horribly treated. Do you know, if you were a Christian in Syria, it was impossible, very, very—at least very, very tough to get into the United States? If you were a Muslim, you could come in, but if you were a Christian, it was almost impossible. And the reason that was so unfair is that the—everybody was persecuted, in all fairness, but they were chopping off the heads of everybody, but more so the Christians. And I thought it was very, very unfair. So, we are going to help them."
Trump later walked back those comments, saying in a statement Sunday night that his immigration ban was not about religion. But one of Trump's top advisers said the president explicitly ordered a Muslim ban. This is former New York City Mayor Rudy Giuliani, speaking on Fox News on Saturday.
Rudy Giuliani: "I'll tell you the whole history of it. So, when he first announced it, he said, 'Muslim ban.' He called me up. He said, 'Put a commission together. Show me the right way to do it legally.' I put a commission together with Judge Mukasey, with Congressman McCaul, Pete King, whole group of other very expert lawyers on this. And what we did was, we focused on, instead of religion, danger! The areas of the world that create danger for us, which is a factual basis, not a religious basis. Perfectly legal. Perfectly sensible. And that's what the ban is based on."
White House Considers Plan to Make Visitors Reveal Cellphone, Internet Data
Meanwhile, White House policy director Stephen Miller said Saturday the Trump administration is considering a policy requiring foreign visitors to disclose all websites and social media sites they visit, and to share the contacts in their cellphones. Failure to comply would be grounds for deportation. After headlines, we'll air a report from JFKairport and host a roundtable discussion on Trump's immigration orders.
Texas Mosque Set on Fire Hours After Trump Signs Immigration Order
In Texas, a mosque went up in flames just hours after President Trump signed Friday's executive order. Police have opened an arson investigation into the fire, which completely destroyed the Islamic Center of Victoria around 2 a.m. on Saturday. Meanwhile, a Massachusetts man faces hate crimes charges after he kicked and mocked a Muslim woman wearing a hijab in a lounge at JFK airport in New York. Police say the man shouted, "Trump is here now! He will get rid of all of you!"
Greece: Neo-Nazi "Golden Dawn" Members Voice Support for Donald Trump
In Greece, members of the neo-Nazi Golden Dawn party held a torchlight parade in Athens on Saturday, calling for a ban on migrants entering Greece. Among those marching was member of Parliament Ilias Panagiotaros, who praised President Donald Trump's ban on Muslim refugees and immigrants.
Ilias Panagiotaros: "We just see tens of thousands of illegal immigrants in our country and hundreds, thousands others that have already come to Greece years ago, and our country is an open field. Everyone can come whenever they want, and they can leave whenever they want. We would like to follow a policy like Donald Trump is doing in the States right now."
Golden Dawn is the third-largest party in the Greek Parliament. Its members have been arrested for assaulting and murdering immigrants and political opponents, and the group's emblem is a red-and-black flag resembling a swastika. In October, the party endorsed Donald Trump in the U.S. election.
Vice President Pence Delivers Keynote Address at Anti-Abortion March
In Washington, D.C., thousands of anti-abortion activists gathered on the National Mall Friday for the annual "March for Life" rally, held each year near the anniversary of the 1973 Roe v. Wade Supreme Court decision legalizing abortion. Among those addressing the crowd was Vice President Mike Pence, who became the highest-ranking official ever to attend the gathering. Pence predicted Donald Trump's next Supreme Court appointee would roll back abortion protections.
Vice President Mike Pence: "And that's why next week President Donald Trump will announce his Supreme Court nominee, who will uphold the God-given liberties enshrined in our Constitution in the tradition of the late and great Justice Antonin Scalia. You know, life is winning in America."
Last week, President Trump signed an executive order reinstating a "global gag rule," which bans U.S. funding for any international healthcare organization that performs abortions or even mentions abortion, even if those activities are funded by non-U.S. money.
White House Political Adviser Steve Bannon Gets Top National Security Role
Donald Trump has elevated chief strategist Steve Bannon to a top national security role, while downgrading the roles of the director of national intelligence and the chairman of the Joint Chiefs of Staff. The move adds Bannon to the "principals committee" of the National Security Council—a role usually filled by the secretaries of state and defense and senior intelligence officials. Bannon is the former head of right-wing Breitbart Media, a haven for the white nationalist movement.
Top U.S. Billionaires Quickly Grow Wealthier Under Trump
Forbes magazine reports that the 10 richest Americans added nearly $16 billion in wealth to their combined net worth since Donald Trump took office. Topping the list was Warren Buffett, whose net worth climbed by $2.5 billion to $74 billion in the week following January 20.
North Dakota Lawmakers Advance Bill to Limit Oil Spill Reporting
In North Dakota, the state House of Representatives has advanced a bill that would allow companies to conceal spills of oil, natural gas and contaminated water. House Bill 1151 passed overwhelmingly last Wednesday. It would end a requirement that fossil fuel companies report spills at well sites of less than 10 barrels, or 420 gallons.
Army Corps Opens Public Comment on Dakota Access Pipeline
Meanwhile, the Army Corps of Engineers has begun accepting public comments on an environmental impact statement for the Dakota Access pipeline. Members of the public have until February 20 to weigh in on the proposed $3.8 billion project, which has faced months of resistance from members of hundreds of indigenous nations, as well as their non-Native allies.
Yemen: Civilians Among the Dead in U.S. Commando Raid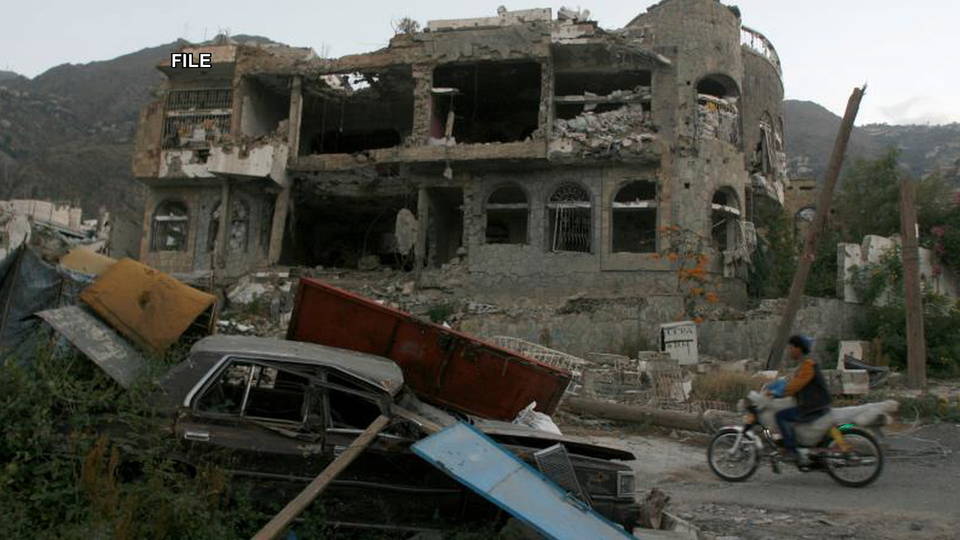 In Yemen, U.S. commandos and helicopter gunships raided a village on Sunday said to be home to al-Qaeda leaders, and local medics said civilians were among the dead. It was the first military operation authorized by President Donald Trump. The Pentagon said it killed 14 al-Qaeda members, while one U.S. commando was killed and three wounded in the raid. The AFP news service reported as many as eight women and eight children were killed in the assault. Among them was the 8-year-old daughter of Anwar al-Awlaki, a radical cleric and U.S. citizen who was killed in Yemen by a U.S. drone strike in 2011. The girl's grandfather, Nasser al-Awlaki, said she suffered for hours after she was shot in the neck. She's the second child of Anwar al-Awlaki to be killed by the United States in Yemen, after her brother, 16-year-old American citizen Abdulrahman al-Awlaki, was killed in a U.S. drone strike in 2011. As a presidential candidate, Donald Trump repeatedly promised to kill the families of terrorists, even though the practice violates international law.
Alabama: Civil Rights Leaders in Court After Jeff Sessions Protest
In Alabama, NAACP President Cornell William Brooks and five other civil rights leaders are due in court today, where they'll face misdemeanor charges stemming from their sit-in protest January 4 inside the office of Alabama Republican Senator Jeff Sessions. The six are demanding Sessions withdraw his name from consideration for attorney general due to his opposition to the Voting Rights Act and history of making racist comments. After today's hearing, the six leaders are scheduled to join a rally outside Sessions's office in Mobile, where they say they might participate in another direct action.
Screen Actors Guild Awards Dominated by Dissent Against Trump Policies
And the Screen Actors Guild held its annual awards ceremony on Sunday night, with "Hidden Figures" winning for best film ensemble and Denzel Washington winning a best actor award for his role in "Fences." The ceremony was dominated by statements of defiance against President Trump's ban on immigrants from majority-Muslim countries. This is Julia Louis-Dreyfus, who won an award for her role in HBO's "Veep."
Julia Louis-Dreyfus: "I want you all to know that I am the daughter of an immigrant. My father fled religious persecution in Nazi-occupied France. And I'm an American patriot, and I love this country. And because I love this country, I am horrified by its blemishes. And this immigrant ban is a blemish, and it is un-American."
---
Courtesy of Democracy Now (www.democracynow.org).  The original content is licensed under a Creative Commons Attribution-Noncommercial-No Derivative Works 3.0 United States License.