After Widespread Outrage, Republicans Ditch Effort to Gut Ethics Office
On Capitol Hill, Republican senators backed down Tuesday from a plan to gut the Office of Congressional Ethics, following widespread outcry from the public. If the rule change had gone through, it would have been the very first move enacted by the new Republican-controlled Congress. But the effort quickly fell apart Tuesday, as lawmakers' offices were inundated by calls from an angry public and President-elect Donald Trump took to Twitter, calling the ethics office "unfair" but encouraging Republicans to "Focus on tax reform, healthcare and so many other things of far greater importance!" Today, Republicans are now slated to begin debating legislation to dismantle parts of President Obama's Affordable Care Act. With the 115th Congress now sworn in, Republicans outnumber Democrats 52 to 48 in the Senate and 241 to 194 in the House. This is House Speaker Paul Ryan, Republican of Wisconsin, speaking Tuesday about Congress's Republican majority.
Speaker Paul Ryan: "And to the majority, especially to our returning members, I want to say this: This is a once-in-a-lifetime opportunity. This is the kind of thing that most of us only dreamed about. I know because I used to dream about this a lot. The people have given us unified government, and it wasn't because they were feeling generous. It was because they want results. How could we live with ourselves if we let them down? How could we let ourselves down?"
NAACP Leaders Arrested During Sit-in at Sen. Jeff Sessions' Office
In Mobile, Alabama, NAACP National President Cornell William Brooks and five other civil rights leaders were arrested Tuesday during a sit-in at the office of Alabama Senator Jeff Sessions, demanding he withdraw his name for consideration for attorney general. Trump's pick of Sessions for the position has drawn widespread outrage due to Sessions's opposition to the Voting Rights Act, support for anti-immigration legislation and history of making racist comments, which included reportedly saying he thought the Ku Klux Klan was "OK until I found out they smoked pot." He has also called the American Civil Liberties Union and the NAACP "un-American" and "Communist-inspired." In 1986, Sessions was denied confirmation for a federal judgeship by a Republican-controlled Senate committee over his racist comments. The sit-in came as more than 1,000 law school professors sent a letter to Congress urging lawmakers to reject Sessions's confirmation, writing, "Nothing in Senator Sessions' public life since 1986 has convinced us that he is a different man than the 39-year-old attorney who was deemed too racially insensitive to be a federal district court judge." Sessions's confirmation hearing is scheduled for January 10 and 11, followed by the confirmation hearing of former ExxonMobil CEO Rex Tillerson for secretary of state, who will go before the Senate on January 11 and 12. Tillerson stepped down as Exxon CEO on January 1, receiving a $180 million retirement package. On January 11, Trump says he'll also give his first formal news conference in nearly six months. His last press conference was in July, when he called on Russia to hack Hillary Clinton's email servers. Trump claims that in his upcoming news conference he'll reveal "things that other people don't know" about the alleged hacking of the U.S. election.
Turkey Extends State of Emergency for Three More Months
The Turkish Parliament has voted to extend the state of emergency for another three months, following a New Year's shooting attack in an Istanbul nightclub that left 39 people dead. The state of emergency was first imposed after the summer's failed military coup. Since then, 100,000 public workers have been suspended from their jobs, and 40,000 people, including dozens of journalists, have been arrested. On Tuesday, hundreds protested outside the Reina nightclub in Istanbul, condemning the violence and calling for more democracy in Turkey.
Kadri Kilici: "The only way to get over this kind of situation is to bring more democracy, freedoms, peace and the institutionalization of secularity."
Mucella Yapici: "They want to accustom us to grisly attacks. I am here to show that I will not surrender to this violence, I am very sorry."
6,878 Iraqi Civilians Killed in 2016
In Iraq, fighting continues in Mosul amid the U.S. and Iraqi militaries' ongoing campaign to retake the city from ISIS. The United Nations says 6,878 Iraqi civilians were killed, and more than 12,000 were wounded, amid fighting in Iraq in 2016.
Israeli Soldier Caught on Video Executing Palestinian Convicted of Manslaughter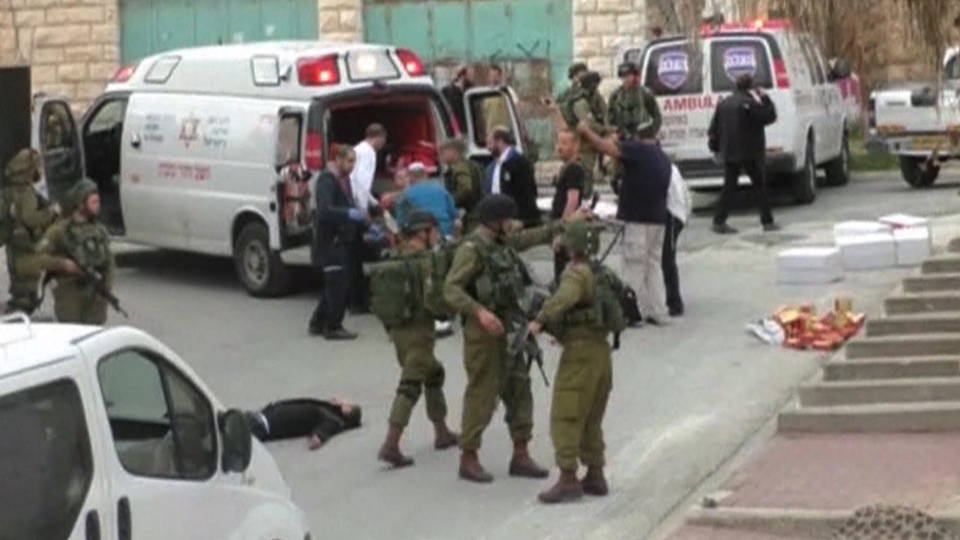 In Israel, an IDF soldier who was caught on video executing a wounded Palestinian man last March has been convicted of manslaughter. The video shows Palestinian Abdel Fattah al-Sharif, who was reportedly a suspect in a stabbing earlier in the day, lying immobilized on the ground in Hebron in the Israeli-occupied West Bank. The video then appears to show Israeli Sergeant Elor Azaria firing a single shot into the man's head from a close distance, killing him. Azaria's conviction today comes as a new report by Defense for Children International says Israeli soldiers killed 32 Palestinian children in the West Bank and East Jerusalem last year—the highest number in a decade.
New Puerto Rican Governor Promises to Push for Statehood
In Puerto Rico, the new governor, Ricardo Rosselló, has promised to push immediately for U.S. statehood in his inaugural speech Monday, saying there can be no resolution to the island's economic crisis while Puerto Rico remains a territory of the United States.
Gov. Ricardo Rosselló: "There's no way to overcome the current crisis that affects Puerto Rico while maintaining this colonial condition. Thus, the time has come to act and to defend the dignity and right to equality of Puerto Ricans as citizens of the United States of America."
Anchor Megyn Kelly Leaving Fox to Join NBC
Fox News anchor Megyn Kelly has announced she's leaving Fox to host her own daytime news show on NBC. Kelly famously faced off with Donald Trump during the 2016 election when she asked Trump about his history of calling women "fat pigs, dogs, slobs and disgusting animals." After the debate, Trump criticized Kelly, saying, "You could see there was blood coming out of her eyes, blood coming out of her—wherever." Fox News had offered Megyn Kelly more than $20 million a year to stay at the network.
Imprisoned Journalist Mumia Abu-Jamal Wins Hepatitis C Treatment
In a major victory in Pennsylvania, imprisoned journalist and former Black Panther Mumia Abu-Jamal has won an injunction forcing the Pennsylvania prison system to provide him life-saving Hepatitis C medicine. Lawyers with the Abolitionist Law Center say, "This is the first case in the country in which a federal court has ordered prison officials to provide an incarcerated patient with the new medications that came on the market in 2013."
South Carolina: Sentencing Trial Begins for Murderer Dylann Roof
In South Carolina, the sentencing phase of the trial of white supremacist and convicted murderer Dylann Roof is opening today in Charleston. Roof has been convicted of 33 counts of federal hate crimes for murdering nine black worshipers, including Pastor Clementa Pinckney, at the historic Emanuel AME Church in June 2015. A federal judge has ruled Roof mentally competent to represent himself at trial.
NY Gov. Proposes Free Tuition at Public Colleges for Some Students
And here in New York, Governor Andrew Cuomo has unveiled a new plan to make public colleges and universities tuition-free for families earning $125,000 or less a year. Cuomo announced the plan alongside Vermont Senator Bernie Sanders on Tuesday.
Gov. Andrew Cuomo: "The average college debt: $30,000 per student. Just think about that. And half the student debt in New York is higher than $30,000. That is not fair. That is not right. And New York state—New York state is going to do something about it."
---
Courtesy of Democracy Now (www.democracynow.org).  The original content is licensed under a Creative Commons Attribution-Noncommercial-No Derivative Works 3.0 United States License.