Confirmation Hearings to Begin Before Trump Nominees Finish Ethics Clearances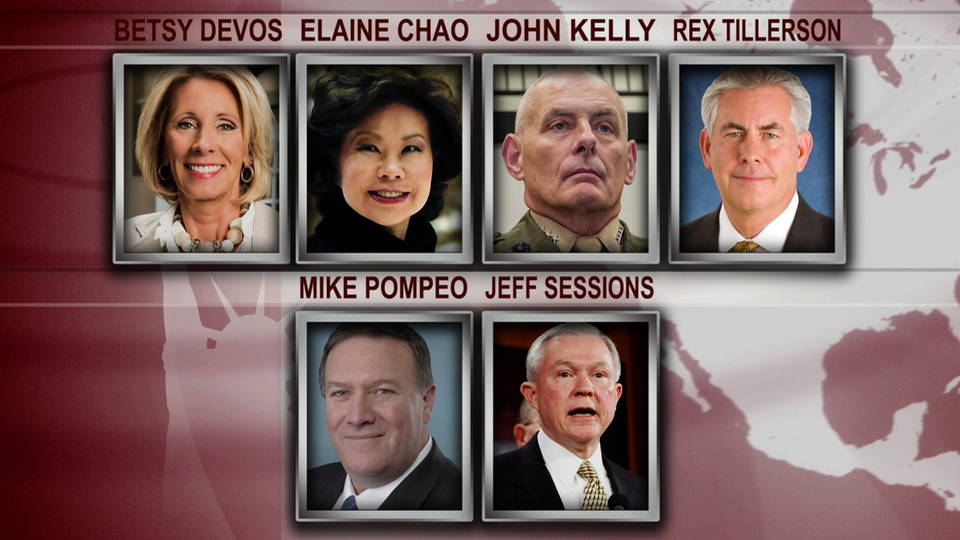 A barrage of Senate confirmation hearings is set to begin Tuesday for what would be the wealthiest Cabinet in modern American history. This comes despite concerns that ethics clearances and background checks are incomplete for several of President-elect Donald Trump's Cabinet picks. Senator Jeff Sessions faces questions Tuesday for his nomination as attorney general, along with Trump's pick to head the Department of Homeland Security, retired Marine General John Kelly. On Wednesday, hearings are set for former Exxon CEO Rex Tillerson as the potential secretary of state, along with education secretary pick Betsy DeVos, transportation secretary nominee Elaine Chao and CIA director nominee Mike Pompeo. Tillerson's net worth is at least $300 million, and several other nominees hold assets of more than a billion dollars, including Commerce Secretary Wilbur Ross, whose confirmation hearing is on Thursday. As Cabinet appointees, the nominees are required to submit a financial disclosure report that is used by the agencies they are to take over, along with the Office of Government Ethics. The New York Times reports that some of the nominees have so many assets that there are not enough boxes on the standard form for them. The leader of the Office of Government Ethics, Walter Shaub, wrote in a letter to Senators Chuck Schumer of New York and Elizabeth Warren of Massachusetts, "This schedule has created undue pressure on OGE's staff and agency ethics officials to rush through these important reviews." This comes as NBC reports that it requested emails between the Office of Government Ethics and Trump's transition team and found Shaub had emailed Trump aides in November to say, "We seem to have lost contact with the Trump-Pence transition since the election." We'll have more on the confirmation hearings after headlines.
Fort Lauderdale Alleged Shooter is Iraq War Vet with History of Domestic Violence
Video has emerged of the shooting at the Fort Lauderdale airport on Friday, which left five people dead and eight more people wounded after alleged gunman Esteban Santiago opened fire in the crowded baggage claim area in Terminal 2. Twenty-six-year-old Santiago, who was born in New Jersey and grew up in Puerto Rico, is an Iraq War veteran who deployed with the 130th Engineer Battalion in 2010. He was later discharged from the Alaska Army National Guard for "unsatisfactory performance." In November, Santiago walked into the Alaska FBI office and said he was being controlled by U.S. intelligence. He was briefly institutionalized, and his gun was seized. But law enforcement authorities returned his gun to him about a month later. CNN is reporting Santiago used the same gun during Friday's attack, which he had checked into his baggage legally during his flight from Alaska to Fort Lauderdale. This is Santiago's brother, Bryan.
Bryan Santiago: "He went to the FBI offices in Alaska, Anchorage, Alaska, to explain to them what he was seeing, the voices he was hearing, that the government was writing to him in secret code for him to do certain things. It's their fault, because there are people who never go to the government to ask for help. And when a barbaric act like this happens and when they evaluate them, the psychologists and psychiatrists understand that their mind isn't well. What more that a person who went ahead of time to explain the situation? They knew it was going to happen."
Esteban Santiago also has a history of domestic abuse. Last January, Santiago's then-girlfriend told prosecutors he threatened her, broke down the bathroom door, where she was hiding, then hit and strangled her. He was later arrested and released on the condition he'd avoid all contact with the victim—terms he later violated. The shooting in the Fort Lauderdale airport came as lawmakers in Florida were preparing to consider legislation that would loosen prohibitions on firearms in Florida. The legislation, which was proposed last month, would eliminate some of Florida's "gun-free zones"—which currently include airport terminals.
After Briefing, Trump Denies Russian Hacking Affected 2016 Election
President-elect Donald Trump is continuing to deny alleged Russian hacking had an effect on the 2016 presidential election. On Friday, Trump was briefed for 90 minutes by Director of National Intelligence James Clapper, CIA Director John Brennan and FBIDirector James Comey on a 50-page classified document on how Russian hackers meddled in November's election. A section of this document, declassified over the weekend, concludes Russian President Vladimir Putin "ordered an influence campaign in 2016 aimed at the U.S. presidential election … [and] aspired to help President-elect Trump's election chances when possible by discrediting Secretary Clinton and publicly contrasting her unfavorably to him." Following Friday's briefing, Trump released a statement saying, "While Russia, China, other countries, outside groups and people are consistently trying to break through the cyber infrastructure of our governmental institutions, businesses and organizations, including the Democrat National Committee, there was absolutely no effect on the outcome of the election, including the fact that there was no tampering whatsoever with voting machines."
U.S. Tanks & Troops Head to Eastern Europe Amid Tensions Between U.S. and Russia
Trump's briefing by intelligence officials came as hundreds of U.S. tanks and other military equipment arrived in Germany, en route to eastern Europe, where the U.S. is continuing its military buildup against Russia. The U.S. is in the process of sending 2,800 weapons, including tanks and armored vehicles, and 4,000 U.S. troops to Poland and eastern Europe over the coming days. This is Major General Timothy McGuire.
Maj. Gen. Timothy McGuire: "So this is where we're starting. But this is the first of many deployments. It is a commitment by the United States to continue to deploy armored brigade combat teams with their equipment. And so, while we started here at Bremerhaven, we look to use other ports. So, once again, we can learn. We can see what it takes to rapidly assemble this force and move it to where it's required on the continent."
Hundreds Protest as KY Legislature Passes Anti-Union, Anti-Choice Bills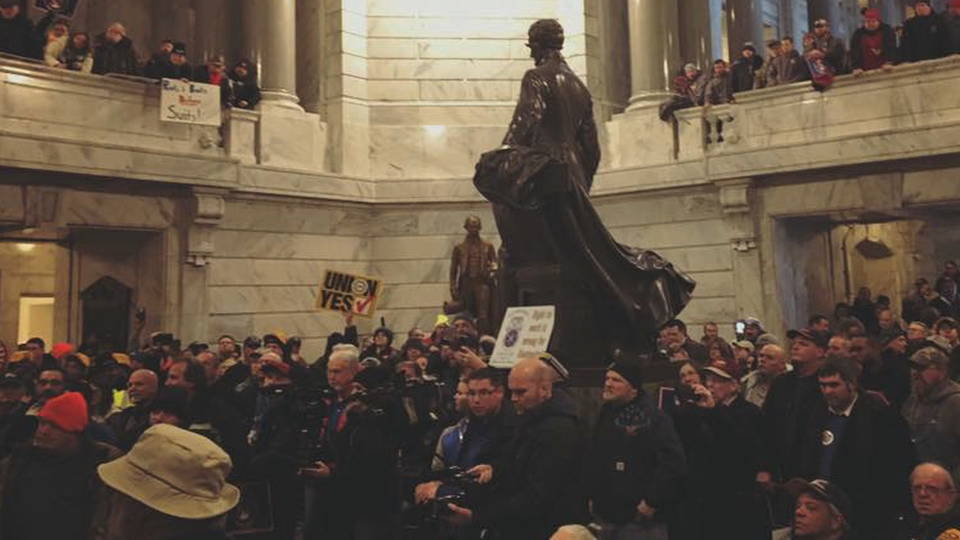 In Kentucky, hundreds of demonstrators packed into the Capitol building on Saturday to protest the Kentucky Legislature's passage of a slew of controversial bills, including an anti-union right-to-work law and extreme anti-choice legislation that bans abortions after 20 weeks and requires a woman to have an ultrasound before having an abortion. The surprise emergency legislative session Saturday came after Republicans seized a supermajority in the House of Representatives, giving the Republicans control of the House, the Senate and the governorship for the first time in Kentucky state history. On Saturday, the Legislature also repealed a law that had guaranteed higher wages for workers on publicly financed construction projects. We'll have more on Kentucky later in the broadcast.
Iraq: At Least 20 Killed in 2 Suicide Bomb Attacks in Baghdad
In Iraq, at least 20 people have been killed in two separate suicide bombing attacks at markets in eastern Baghdad over the weekend. ISIS took responsibility for the first attack, which killed 13 people. Elsewhere in Iraq, hundreds of civilians are continuing to flee Mosul daily amid the U.S.-led coalition's campaign to retake the city from ISIS.
Syria: Dozens Killed in Fuel Truck Explosion; Airstrikes Near Damascus & in North
In Syria, dozens of people died Saturday after a fuel truck blew up in front of a courthouse in the northern rebel-held town of Azaz, near the border with Turkey. No group has claimed responsibility for the bombing. Elsewhere in Syria, airstrikes resumed Sunday against a rebel-held valley near Damascus, after negotiations between the Syrian government and anti-government rebels collapsed and Russian warplanes began launching airstrikes in northern Syria, at the behest of Turkey.
Israel: 4 IDF Soldiers Killed in Palestinian Truck Attack
In Israel, four IDF soldiers have died after a Palestinian resident of East Jerusalem drove a truck into pedestrians at a promenade in southern Jerusalem on Sunday afternoon. At least a dozen more people were injured in the attack. The driver was shot dead by Israeli soldiers.
Brazil: Dozens Killed in 2 More Prison Uprisings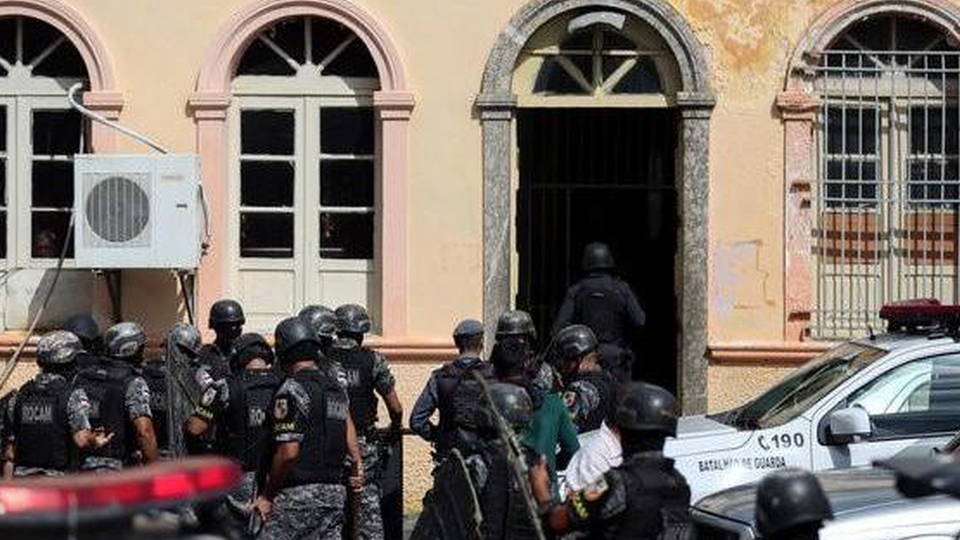 In Brazil, two more deadly prison uprisings have left 37 people dead, bringing the total death toll from prison uprisings over the last week to more than 90 people. Brazil has the fourth largest prison population in the world, after the United States, Russia and China. Widespread overcrowding in Brazilian prisons have led to a series of deadly uprisings in recent years.
Mexico: Massive Nationwide Demonstrations Protest Fuel Hikes
In Mexico, thousands of people took to the streets across the country on Saturday to protest the Mexican government's decision to raise fuel prices. The price of gasoline rose by more than 20 percent in most Mexican states on January 1, sparking widespread unrest as protesters raided gas stations and blockaded highways and train tracks throughout last week. Mexican authorities say over 1,000 people have been arrested and at least six people have been killed during clashes between protesters and police. The price hike came despite a promise by President Enrique Peña Nieto that the cost of gasoline would decrease as Mexico denationalized its oil company, Pemex, and opened its market to foreign corporations.
Texas: 2 Arrested Locked to Machinery to Delay Trans-Pecos Pipeline Construction
In Texas, two water protectors were arrested Saturday after locking themselves to heavy machinery to delay the construction of the Trans-Pecos pipeline, which is slated to carry natural gas under the Rio Grande and across the U.S.-Mexico border, where it will then continue to export terminals on Mexico's Pacific Coast. Local residents and members of the Society of Native Nations have set up a protest camp, the Two Rivers Camp, to block the Trans-Pecos pipeline, which is being built by Energy Transfer Partners, the same company constructing the $3.8 billion Dakota Access pipeline. This is Mark Glover with the Big Bend Defense Coalition during Saturday's lockdown.
Mark Glover: "We're trying to bring awareness to the people that the fact is the oil and gas industry is the strongest entity in the world, and they control this planet, that if we don't do something soon, we're going to wish we had done something a lot sooner."
Trans-Pecos is one of two pipelines Energy Transfer Partners is currently building in Texas. Construction of the second one, the Comanche Trail pipeline, was temporarily halted in November by federal authorities, after construction caused the collapse of a canal and concerns about the potential poisoning of the El Paso water supply.
Florida: 7 from Food Not Bombs Arrested Feeding People in City Park
In Florida, seven volunteers of the group Food Not Bombs were arrested Saturday while feeding people in Tampa's Lykes Gaslight Park. They were arrested for sharing food without a permit—a costly procedure required by the city of Tampa. Some were arrested still wearing the plastic gloves they were using to dish out food. Food Not Bombs has vowed to continue its twice-weekly feeding program.
New York: Indian Point Nuclear Power Plant to Shut Down by 2021
In New York state, authorities have announced that Indian Point nuclear power plant will shut down by 2021—following decades of protests and lawsuits by local residents and anti-nuclear activists concerned that a disaster at the nuclear plant could wipe out New York City. Residents have been protesting for the plant's closure since the 1970s, including a massive demonstration in 1979, when 200 people were arrested after tunneling under the plant's gates and chaining themselves to the entrance. Earlier this year, New York Governor Andrew Cuomo said that keeping Indian Point open "defies common sense, planning and basic sanity."
South Dakota: Residents Hold Vigil for Murdered Trans Woman Jamie Lee Wounded Arrow
In Sioux Falls, South Dakota, residents gathered for a vigil Saturday to honor the life of 28-year-old Jamie Lee Wounded Arrow, the second transgender woman to be murdered in 2017. She was Oglala Lakota, originally from the Pine Ridge Reservation in South Dakota.
Former Iranian President Hashemi Rafsanjani Dies at 82
Former Iranian President Ali Akbar Hashemi Rafsanjani has died at the age of 82. He was one of the leaders of the 1979 Iranian revolution and went on to serve as president from 1989 to 1997. Rafsanjani has long been one of the most influential political figures in Iran and the mentor of the current president, Hassan Rouhani, who is up for re-election this year.
Meryl Streep Rails Against Trump in Golden Globes Achievement Award Speech
And Meryl Streep won the Lifetime Achievement Award at Sunday night's Golden Globes. The Academy Award-winning actress used her speech to call for protections for the free press and to criticize President-elect Donald Trump, without ever saying his name, saying the performance that most stunned her this year was Trump's mocking imitation of a disabled reporter during the 2016 presidential campaign. This is Meryl Streep.
Meryl Streep: "It was that moment when the person asking to sit in the most respected seat in our country imitated a disabled reporter—someone he outranked in privilege, power and the capacity to fight back. It kind of broke my heart when I saw it, and I still can't get it out of my head, because it wasn't in a movie. It was real life. And this instinct to humiliate, when it's modeled by someone in the public platform, by someone powerful, it filters down into everybody's life, because it kind of gives permission for other people to do the same thing. Disrespect invites disrespect. Violence incites violence. When the powerful use their position to bully others, we all lose."
That was Academy Award-winning actress Meryl Streep at last night's Golden Globes. This morning, President-elect Donald Trump slammed Streep, tweeting, "Meryl Streep, one of the most overrated actresses in Hollywood, doesn't know me but attacked last night at the Golden Globes. She is a Hillary flunky who lost big."
---
Courtesy of Democracy Now (www.democracynow.org).  The original content is licensed under a Creative Commons Attribution-Noncommercial-No Derivative Works 3.0 United States License.