Courtesy of Democracy Now 
President Trump Announces U.S. Withdrawal from Paris Climate Accord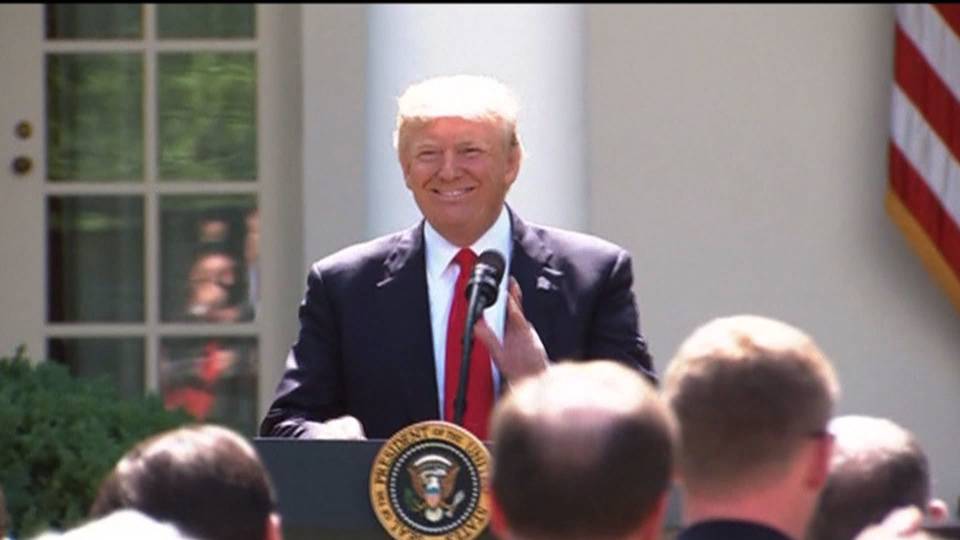 President Donald Trump: "In order to fulfill my solemn duty to protect America and its citizens, the United States will withdraw from the Paris climate accord—thank you—but begin negotiations to re-enter either the Paris accord or an, really, entirely new transaction on terms that are fair to the United States, its businesses, its workers, its people, its taxpayers."
Trump's decision drew swift condemnation from climate activists and heads of state in every corner of the globe. A spokesperson for the United Nations secretary-general called it a "major disappointment." France joined Germany and Italy in issuing a joint statement expressing "regret" and rejecting Trump's claim he would renegotiate the Paris accord. India and China joined European leaders in pledging to uphold their end of the deal. Back in the United States, former Secretary of State John Kerry, who led the U.S. into the Paris deal, said President Trump could have simply reduced U.S. pledges to reduce carbon emissions, which are voluntary under the Paris Agreement.
John Kerry: "No country is required by this agreement to do anything except what that country decided to do for itself. So Donald Trump is not telling the truth to the American people when he says, 'We have this huge burden that's been imposed on us by other nations.' No, we agreed to what we would do. We designed it. It's voluntary. And the president of the Unites States could have simply changed that without walking away from the whole agreement."
The former president of Ireland, Mary Robinson, said Trump's decision had turned the United States into "a rogue state." We'll have more on President Trump's move to withdraw from the Paris accord after headlines.
White House Issues "Retroactive" Ethics Waivers to Senior Officials
Russian President Says "Patriotic" Hackers May Have Meddled in U.S. Election
President Vladimir Putin: "Hackers are free-spirited people. They are like artists. If they are in a good mood in the morning, they wake up and paint. It is the same for hackers. They wake up today, they read that something is happening in interstate relations, and if they are patriotically minded, they start to make their own contribution to what they believe is the good fight against those who speak badly about Russia."
Senators Asked Former FBI Director for Perjury Probe into AG Sessions
Jared Kushner Used Loans for Low-Income Areas to Build Luxury Tower
Philippines: 36 Dead in Failed Robbery at Manila Casino Resort
Philippines: 11 Soldiers Die in Botched Airstrike Targeting ISIS
Iraq: Attack in West Mosul Kills More Than 20 Civilians
Venezuelan Judge Who Jailed Opposition Leader Shot Dead in Caracas
Néstor Reverol: "We have not ruled out that this was done by an assassin, a hit man contracted by right-wing terrorists, aimed at creating more terror."
With the killing, the death toll from two months of clashes between security forces and antigovernment protesters rose to 62. On Thursday, President Nicolás Maduro said he would hold a national referendum on his plan to create a new constituent assembly that would have the power to rewrite Venezuela's constitution.
Mexican Journalists Rally for Kidnapped Reporter Salvador Adame
Frida Urtiz: "All journalists in Mexico are scared. Journalists go through this constantly. Today, we should not be separated. We should be united. We have different opinions, but we should be united, so that no other Salvador goes missing."
Mexico's National Commission on Human Rights reports over 120 journalists have been killed since 2000.
U.N. Campaign Seeks to Aid Central American Migrant Children
Ema: "We can't live in Honduras anymore. There are many people leaving the country for the same reason: crime. The gangs are bad. There are deaths of innocent people, children. We can't live in Honduras anymore."
The UNHCR says more than 180,000 children fled Central America in 2016—a tenfold increase over the last five years.
Trump Administration Issues Tough New Rules for U.S. Visa Applicants
White House Asks Supreme Court to Reinstitute Travel Ban
Professor Keeanga-Yamahtta Taylor Cancels Speeches Amid Death Threats
Keeanga-Yamahtta Taylor: "The president of the United States, the most powerful politician in the world, is a racist, sexist megalomaniac. It is not a benign observation but has meant tragic consequences for many people in this country, from the terror-inducing raids in the communities of undocumented immigrants to his disparaging of refugees in search of freedom and respite."
Taylor said she would not give speeches planned for Seattle and San Diego this week, out of fear for the safety of her family after she received a torrent of vile comments and threats to her life. In a statement, Taylor wrote, "We have to change this dynamic and begin to build a massive movement against racism, sexism and bigotry in this country. I remain undaunted in my commitment to that project."
---
The original content is licensed under a Creative Commons Attribution-Noncommercial-No Derivative Works 3.0 United States License.