Supreme Court Nominee Neil Gorsuch Undergoes 10 Hours of Questioning
Sen. Al Franken: "It is absurd to say this company is in its rights to fire him because he made the choice of possibly dying from freezing to death or causing other people to die possibly by driving an unsafe vehicle. That's absurd. Now, I had a career in identifying absurdity, and I know it when I see it. And it makes me—you know, it makes me question your judgment."
Senate Minority Leader Chuck Schumer is calling on the Senate to delay a vote on Gorsuch for as long as the FBI is investigating the Trump's campaign.
Sen. Chuck Schumer: "It is unseemly to be moving forward so fast on confirming a Supreme Court justice with a lifetime appointment, while this big gray, gray cloud of an FBI investigation hangs over the presidency."
We'll have more on Gorsuch's confirmation hearings after headlines.
Trump Heads to Capitol Hill to Lobby for Republican Healthcare Plan
U.S. Gov't Pulls Out of Human Rights Hearing on Deportations, Muslim Ban, Dakota Access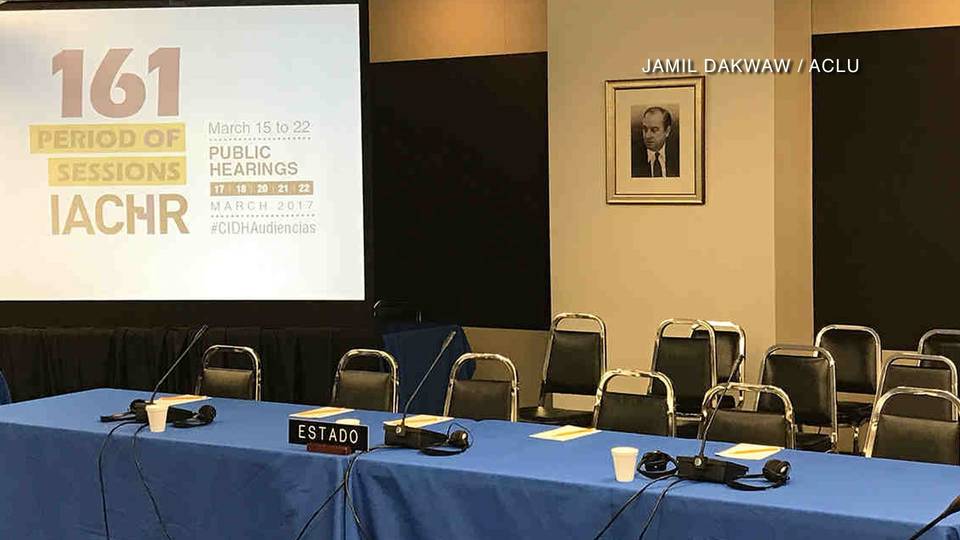 In an unprecedented move, the U.S. government pulled out of the Inter-American Commission on Human Rights hearing on Tuesday. The hearing was set to cover the Trump administration's deportation plans, its attempts to ban people from six majority-Muslim nations and its approval of the $3.8 billion Dakota Access pipeline. The American Civil Liberties Union wrote, "The Trump administration's refusal to engage with an independent human rights body, which has played a historic role in fighting impunity and barbaric military dictatorships in the region, sets a dangerous precedent that mirrors the behavior of authoritarian regimes and will only serve to embolden them."
Confirmation Hearings Begin for Labor Secretary Nominee Alex Acosta
Acosta's confirmation hearings open as a new lawsuit is raising questions about why he chose not to pursue federal charges against billionaire sex offender Jeffrey Epstein while Acosta was the Miami U.S. attorney. Epstein was facing allegations he'd sexually abused more than 40 underage girls, some as young as 13 years old. Acosta's staff had recommended pursuing federal charges that could carry a life sentence. But Acosta overruled his staff and instead cut a non-prosecution deal with Epstein, who ended up serving a 13-month jail sentence.
Trump has praised Epstein in the past, saying, "He's a lot of fun to be with. It is even said that he likes beautiful women as much as I do, and many of them are on the younger side." Trump is also on the witness list in the Florida lawsuit over Acosta's handling of the case.
AP: Paul Manafort Secretly Worked for Russian Billionaire to Advance Putin's Interests
Press Secretary Sean Spicer: "Even General Flynn was a volunteer of the campaign. And then, obviously, there's been discussion of Paul Manafort, who played a very limited role for a very limited amount of time. But beyond—"
Julie Pace: "But are you saying—"
Jonathan Karl: "But he was the chairman of the campaign."
Press Secretary Sean Spicer: "Hey, Jon—Jonathan, hold on. Can you—can you stop interrupting other people's questions?"
Jonathan Karl: "Paul Manafort didn't play a limited role."
Press Secretary Sean Spicer: "Hey, Jonathan, somebody's asking a question. It's not your press briefing. Julie is asking a question. Please calm down. Julie?"
Julie Pace: "Are you saying then that the president is aware of contacts that Manafort had been—"
Press Secretary Sean Spicer: "No, no, nothing that hasn't been previously discussed."
The New York Times reports that longtime Republican operative and Trump associate Roger Stone is also under investigation as part of the agency's probe into Russian interference in the 2016 election. Meanwhile, the State Department has announced Secretary of State Rex Tillerson has proposed new dates for an April NATO meeting he initially said he'd skip. His initial decision to skip the meeting had sparked concerns among European leaders, especially since Tillerson plans to head to Russia later in April.
Supreme Court Rules 6-2 to Limit Presidential Appointment Powers
Syria: Monitor Group Says U.S.-Led Coalition Strike Killed 33 Civilians
The U.K.-based Syrian Observatory for Human Rights says a U.S.-led coalition airstrike has killed dozens of civilians after it hit a school near the ISIS-held city of Raqqa. Both the observatory and local journalists say the school was being used to shelter displaced families. The U.S.-led coalition has been bombing Raqqa for months. The Pentagon has not confirmed the strike.
However, the Pentagon has announced a formal investigation into another recent U.S. airstrike, which killed at least 49 people in a rebel-held village in Aleppo province. Local journalists and monitoring groups say the dead were civilians who had gathered at a mosque to pray, while the Pentagon has claimed the strike hit an al-Qaeda meeting. In other news in Syria, rebels have launched an offensive on the government-held capital, Damascus, seizing several government positions. The offensive signals the 7-year-old civil war is far from over.
Somalia: 5 Killed in Car Bombing; 26 Starve to Death Amid Risk of Widespread Famine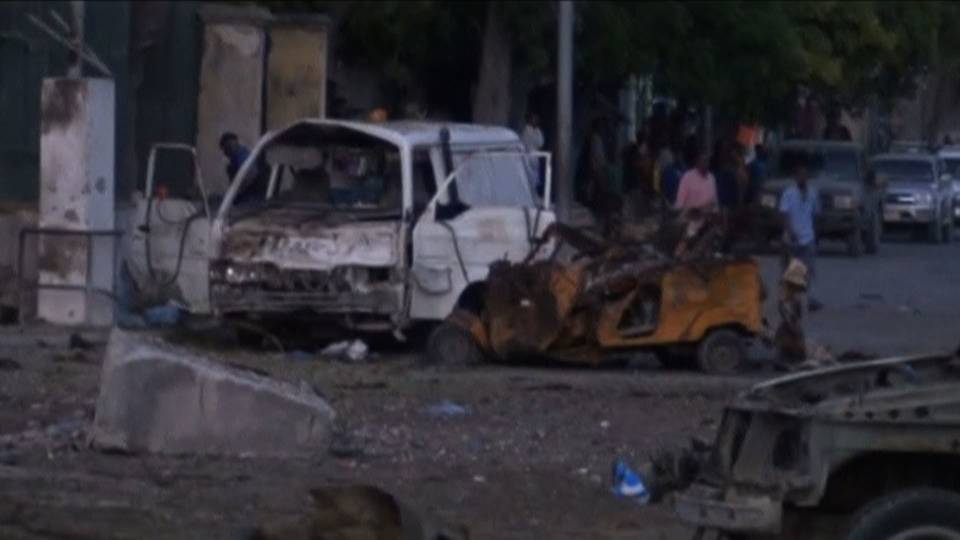 In Somalia, at least five people have died after a car bomb exploded at a security checkpoint near the presidential palace in the capital Mogadishu. Ten more people were wounded in the blast. Meanwhile, Radio Mogadishu is reporting at least 26 people have starved to death over the last day and a half in the southern region of Jubaland amid a severe drought. The United Nations is warning nearly 3 million people are at risk of famine in Somalia.
6,000 Refugees Rescued in Mediterranean over Last Few Days
More than 6,000 refugees seeking to reach Europe were rescued in the Mediterranean over the last few days—as warming weather is leading more people to attempt the dangerous crossing. An estimated 500 refugees have already drowned in the Mediterranean this year. This is Joel Millman of the International Organization for Migration.
Joel Millman: "Arrivals in Italy this year have already passed 20,000, which is twice the 2015 rate through three months of the year and considerably ahead of 2016's through three months of the year. So, we've yet to complete March, and we're already racing at a pace of arrivals that has exceeded anything we've seen before in the Mediterranean. This is typical of spring, getting very busy, but it's not typical to have the numbers be so high this early, and the corresponding deaths that go with it."
India: Auto Workers Protest Life Sentences in 2012 Plant Uprising Case
In India, tens of thousands of auto workers are protesting the recent convictions of 13 workers over the 2012 uprising at a Maruti Suzuki plant in the district of Gurgaon, which is outside New Delhi. The 13 union members have been sentenced to life in prison for the death of a plant manager during the 2012 uprising. Workers say the uprising began after a supervisor insulted one of the workers with caste-related slurs. The uprising occurred in the midst of the workers' ongoing struggle to win an independent union at the plants of India's largest carmaker. On Saturday, 35,000 workers observed a one-hour strike in protest of the convictions. Another mass protest has been called for tomorrow in Gurgaon.
Brussels: Thousands of Healthcare Workers Protest Austerity
As many as 14,000 people took to the streets of Brussels Tuesday to protest austerity measures. The march included healthcare workers calling for better conditions. This is mental healthcare worker Bernard Decelle.
Bernard Decelle: "Honestly, we can't take it anymore. We are really experiencing burnout. They don't provide replacements when people get sick. We always have to be available when a colleague is sick, and we don't get anything in return."
Washington, D.C.: Honduran President Faces Protests over Cáceres's Murder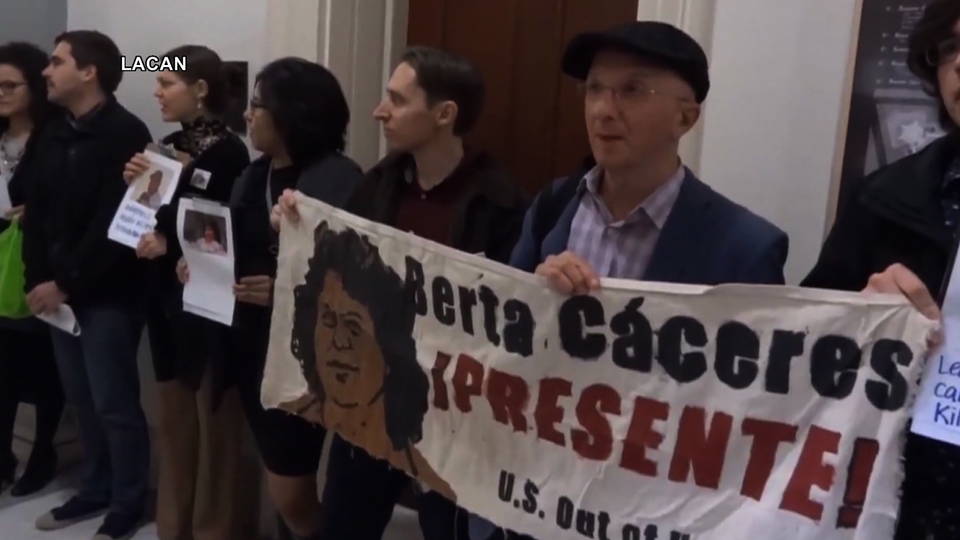 Head of Nation's Largest Anti-Muslim Group Visited White House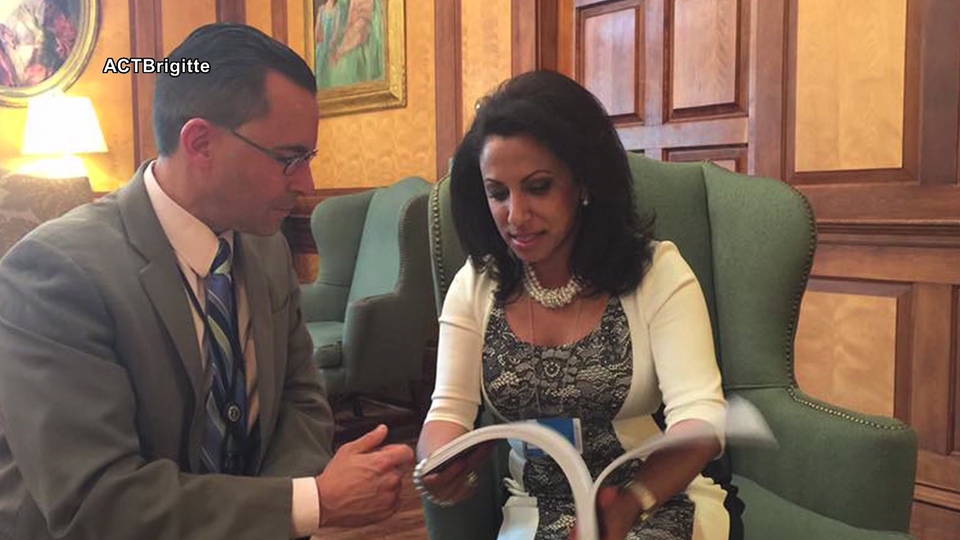 The White House is facing questions and criticism after photos surfaced showing the head of an anti-Muslim hate group visiting the White House Tuesday. Brigitte Gabriel is the head of ACT for America, which the Southern Poverty Law Center says is the nation's largest grassroots anti-Muslim group, whose mission is to "advance anti-Muslim legislation at the local and federal level while flooding the American public with wild hate speech demonizing Muslims." In February, Gabriel also posted a photo of herself posing with President Trump at Mar-a-Lago.
Vigils Held Across Ireland to Mourn Death of Martin McGuinness
And vigils were held across Ireland Tuesday to mourn the death of politician and former IRA leader Martin McGuinness. McGuinness served as the commander of the Irish Republican Army during Northern Ireland's struggle for independence. He later served as the chief negotiator for Sinn Féin, the IRA's political arm, and helped broker the 1998 peace deal known as the Good Friday Agreement. This is Sinn Féin President Gerry Adams.
Gerry Adams: "Martin was, as we all know, a very passionate Irish republican. He believed in our people, people of this island should be free. He believed in reconciliation. He worked very, very hard at all of that. He was also a very proud Derry man. He was steeped in the city of Derry and the county of Derry and Donegal. So, we are very, very sad that we lost him overnight."
Martin McGuinness died Tuesday at the age of 66.
---
Courtesy of Democracy Now (www.democracynow.org).  The original content is licensed under a Creative Commons Attribution-Noncommercial-No Derivative Works 3.0 United States License.