Amid Protests, House Set for Historic Vote on Healthcare Bill
Press Secretary Sean Spicer: "This bill represents the best chance of repealing and replacing Obamacare and instilling a patient-centric healthcare system that increases choice and lowers costs, and that this is the only train leaving the station."
Today's vote comes as Americans for Prosperity and Freedom Partners—two groups backed by billionaires Charles and David Koch—said they've created a multimillion-dollar campaign fund for Republicans who reject the healthcare legislation in favor of a more stringent repeal of Obamacare. Republican opposition to the bill appeared to soften late Wednesday, after President Trump reportedly promised that the final legislation would strip a requirement that insurance companies cover "essential health benefits" like emergency room visits, mental health and maternity and newborn care.
Supporters of the Affordable Care Act Rally on Capitol Hill
Rev. William Barber: "The 'Trump-Ryan take care away death bill' is being pushed through Congress. It is an unmerciful act of meanness."
Gov. Jerry Brown: "This is not about healthcare reform. This is about disease, death and suffering. Mr. Trump, come down from Trump Tower, walk among the people and see the damage that this latest exercise in raw political power will wreck on the women, the men and the children of this country."
Inside the Capitol, police arrested 54 disability rights activists—many of them in wheelchairs—after they held a protest that shut down the Capitol Rotunda for about an hour. Members of the group ADAPT chanted, "Rather go to jail than die without Medicaid."
High Court Rules 8-0 Against SCOTUS Nominee Gorsuch's 2008 Ruling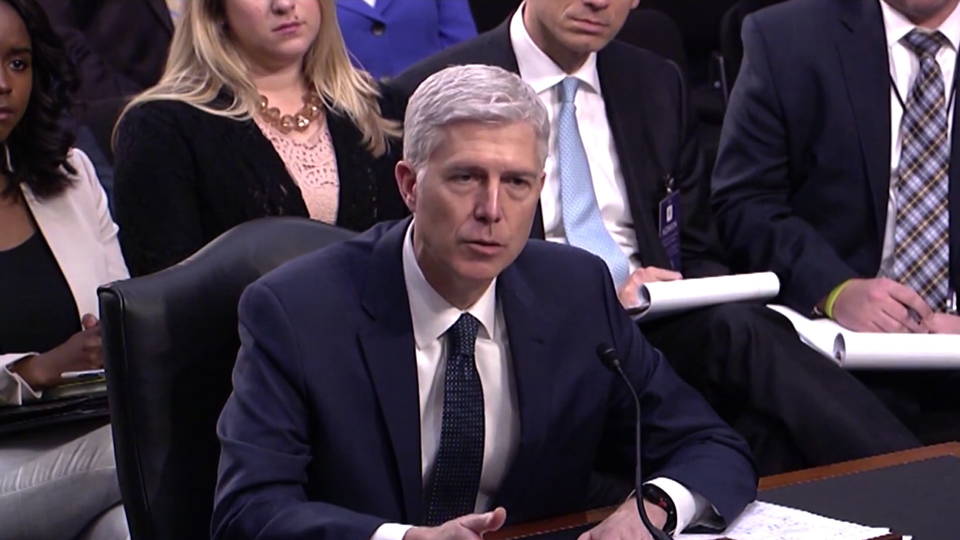 Meanwhile, the U.S. Supreme Court ruled unanimously Wednesday that a public school district in Colorado violated the Individuals with Disabilities Education Act by failing to adequately provide for an autistic student. The high court's 8-0 ruling overturned a 2008 decision written by Judge Neil Gorsuch in favor of the school district over the autistic child. The ruling was handed down as Gorsuch testified to the Senate Judiciary Committee for the third straight day of his confirmation hearings to join the Supreme Court. This is Illinois Senator Dick Durbin, quoting the Supreme Court ruling.
Sen. Dick Durbin: "The court went on to say, 'The IDEA demands more. It requires an educational program reasonably calculated to enable a child to make progress appropriate in light of the child's circumstances,' end of quote. It's a powerful decision. It's a unanimous decision."
Judge Neil Gorsuch: "If anyone is suggesting that I like a result where an autistic child happens to lose, it's a heartbreaking accusation to me. Heartbreaking. But the fact of the matter is, I was bound by circuit precedent. And so was the panel of my court."
At this point, the Senate Judiciary Committee is expected to vote in favor of Judge Gorsuch's nomination on April 3, and a Senate floor vote is expected later that week. Republican Senate Majority Leader Mitch McConnell has threatened to change Senate rules to allow Gorsuch's confirmation on a simple majority vote rather than the 60 votes now required for confirmation.
London Attacker Kills 3, Injures Dozens Near British Parliament
In London, a man driving an SUV mowed down pedestrians on a bridge over the River Thames Wednesday, before rushing onto the grounds of the British Parliament and fatally stabbing a police officer. Police say the attacker was shot dead following the afternoon rampage, which left two others dead and at least 29 more injured. The assault put Parliament on lockdown and suspended debate in the House of Commons. It drew swift condemnation from world leaders, who called it an act of terrorism. Police say they arrested eight suspects in London and Birmingham overnight, but said they believe the attacker acted alone. Prime Minister Theresa May said today the assailant was British-born and known to British intelligence. [After our broadcast police identified the suspect as a 52-year-old Kent man named Khalid Masood.]
House Intel Chair Claims Surveillance Swept Up Trump Communications
Rep. Devin Nunes: "I recently confirmed that on numerous occasions the intelligence community incidentally collected information about U.S. citizens involved in the Trump transition. Details about U.S. persons associated with the incoming administration, details with little or no apparent foreign intelligence value, were widely disseminated in intelligence community reporting."
Rep. Nunes, who served on Trump's transition team, said the surveillance "unmasked" the names of Trump transition officials. He claimed that none of the surveillance was related to the FBI's investigation into whether officials in the Trump campaign colluded with Russia to sway the 2016 election. President Trump seized on Rep. Nunes's comments, saying he felt "somewhat" vindicated over his discredited claim that President Obama ordered the wiretapping of Trump Tower ahead of November's election. Meanwhile, the ranking Democrat on the House Intelligence Committee blasted Rep. Nunes for making ostensibly classified information public, while failing to brief other committee members on the alleged findings. This is California Democratic Rep. Adam Schiff.
Rep. Adam Schiff: "The committee has still not received the intercepts or other information that the chairman was referring to, and therefore it is really impossible for us to evaluate any of the merits of what the chairman has said. But I can say this: The chairman will need to decide whether he is the chairman of an independent investigation into conduct which includes allegations of potential coordination between the Trump campaign and the Russians, or he is going to act as a surrogate of the White House, because he cannot do both."
CNN reported Wednesday the FBI has information that indicates Donald Trump's associates communicated with suspected Russian operatives to possibly coordinate the release of information damaging to Hillary Clinton's campaign. CNN cited unnamed U.S. officials, one of whom claimed, "People connected to the campaign were in contact [with Russian officials] and it appeared they were giving the thumbs up to release information when it was ready."
Labor Secretary Nominee Alexander Acosta Refuses to Commit to Obama-Era Labor Protections
Doctors Without Borders: Tens of Thousands Fleeing Mosul Need Care
Afghanistan: Taliban Fighters Overrun Sangin District
NYPD: Baltimore White Supremacist Targeted Black Men for Death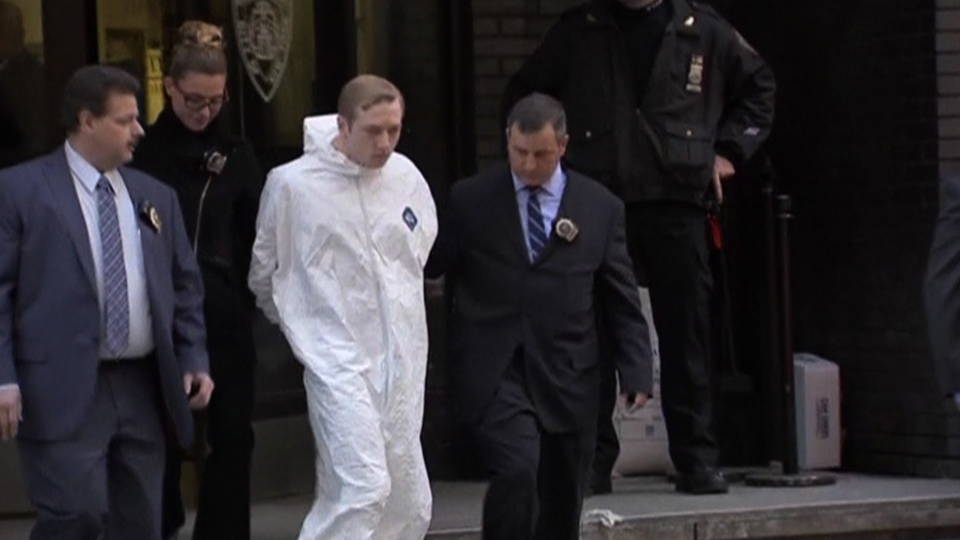 Assistant Police Chief William Aubry: "The reason why he picked New York is because it's the media capital of the world, and he wanted to make a statement. … It is believed that he was specifically intending to target male blacks for assault."
James Harris Jackson served in the U.S. Army in Afghanistan. Police say he's a known member of a hate group in Maryland, though they did not identify which group.
Tens of Thousands of Argentine Teachers March Amid Nationwide Strike
Gabriela Baigorri: "The figure of the teacher is being demonized, when in reality it's the state that is responsible for what is happening, because they said in their campaign that education is the priority, but then they do not act on that. Why? Because what is going on today is that we cannot negotiate, we cannot sit down in dialogue."
Teachers are set to return to classes today, but warn they could join a general strike called for April 6 if their demands aren't met.
Puerto Ricans Stage Protests in 7 U.S. Cities Against Austerity Cuts
David Galarza: "My name is David Galarza, and I'm with the Labor Council for Latin American Advancement. And today we're here with a bunch of people representing all different sectors to hold Santander, this bank, and other banks like it responsible for the economic crisis affecting Puerto Rico. Today is also the day that we commemorate the abolition of slavery in Puerto Rico. And what Santander and other banks like it and the fiscal control board that's been imposed on Puerto Rico by the U.S. government, what they are basically doing with this fiscal control board and these transactions that banks like Santander have created in Puerto Rico is another form of slavery, just as diabolical and just as damaging to the people in Puerto Rico."
NYC Bakery Faces Protests After Company Threatens to Fire Dozens of Immigrant Workers
Worker: "Last week, I was called into the office, and I was only given 10 days' notice to submit my working papers. We're fighting for our rights. We have demands. They have given us only until the 28th of this month. After that, we're fired. After hearing that news, we were devastated, because we've given so many years of our lives to the rise of this company."
The workers were joined by New York City Councilmember Mark Levine, who said Tom Cat Bakery should offer its employees a work-visa sponsorship to allow them to remain at the company.
---
Courtesy of Democracy Now (www.democracynow.org).  The original content is licensed under a Creative Commons Attribution-Noncommercial-No Derivative Works