Republicans Pull Healthcare Bill After Failing to Muster Enough Votes
Obamacare is the law of the land. That's what House Speaker Paul Ryan said Friday, after he pulled the Republicans' healthcare law with President Trump's support only minutes before the vote was scheduled. He pulled the legislation after it was clear he had failed to muster enough votes for the bill to pass. Both President Trump and Vice President Mike Pence had heavily lobbied Republican lawmakers ahead of the vote. But the bill was opposed by the entire Democratic Party, as well as many members of the ultraconservative House Freedom Caucus and some moderate Republicans. This is House Speaker Paul Ryan speaking to reporters shortly after pulling the bill.
Speaker Paul Ryan: "I don't know what else to say, other than Obamacare is the law of the land. It's going to remain the law of the land, until it's replaced. We did not have quite the votes to replace this law. And so, yeah, we're going to be living with Obamacare for the foreseeable future. I don't know how long it's going to take us to replace this law."
While Trump initially blamed Democrats for the legislative failure, he switched his focus to fellow Republicans over the weekend. On Sunday morning, he tweeted, "Democrats are smiling in D.C. that the Freedom Caucus, with the help of Club For Growth and Heritage, have saved Planned Parenthood & [Obamacare]!" On Sunday, Texas Congressmember Ted Poe resigned from the Freedom Caucus in protest of the group's opposition to the Republican healthcare plan. Meanwhile, Politico is reporting that the push to pass the legislation was harmed in part because Trump, unlike many congressmembers, did not appear to know that much—or care that much—about the details of healthcare policy. Following his first major legislative failure, Trump warned he is now going to let Obamacare explode.
President Donald Trump: "I've been saying for the last year and a half that the best thing we can do, politically speaking, is let Obamacare explode. It is exploding right now. It's—many states have big problems. Almost all states have big problems."
We'll have more on the Republicans' plan to repeal and replace the Affordable Care Act, and what comes next, after headlines.
Reports: U.S.-Led Coalition Airstrikes Killed 200+ in West Mosul
The U.S.-backed Iraqi military's ground campaign to retake west Mosul from ISIS has been halted as details emerged over the weekend about U.S.-led coalition airstrikes that killed over 200 people in a single day. The U.S.-led coalition has admitted launching the March 17 airstrikes that targeted a crowded section of the Mosul al-Jadida neighborhood.
Some reports say one of the strikes hit an explosive-filled truck, triggering a blast that destroyed nearby houses where hundreds of people were taking refuge amid the city's heavy fighting. Up to 80 civilians, including women and children, may have died in one house's basement alone. The March 17 strikes appear to be among the deadliest U.S. airstrikes in the region since the U.S. invasion of Iraq in 2003.
Over the weekend, witnesses told The Guardian that some of their family members remain trapped under the rubble after days of U.S.-coalition airstrikes battered neighborhoods in and around west Mosul. This is a family member of some of the civilians killed in the March 17 strike.
Witness: "I came to the house to stay with my family, but the owner of the house told me there was no place for me. More than 100 people were inside. Half an hour later, the house was hit in an airstrike. There were neither snipers nor ISIL militants on the street. At least 15 people from this street, that links into the alleyways, have been killed."
The journalistic project Airwars reports as many as 1,000 civilians have died in U.S.-led coalition airstrikes in Iraq and Syria in March alone. The high civilian death toll is leading many to question whether the U.S. military has loosened the rules of engagement that seek to limit civilian casualties. The Pentagon maintains the rules have not changed. We'll have more on U.S.-led airstrikes, including the devastating strikes in Mosul al-Jadida, later in the broadcast.
Yemen: Tens of Thousands Protest U.S.-Backed, Saudi-Led Bombing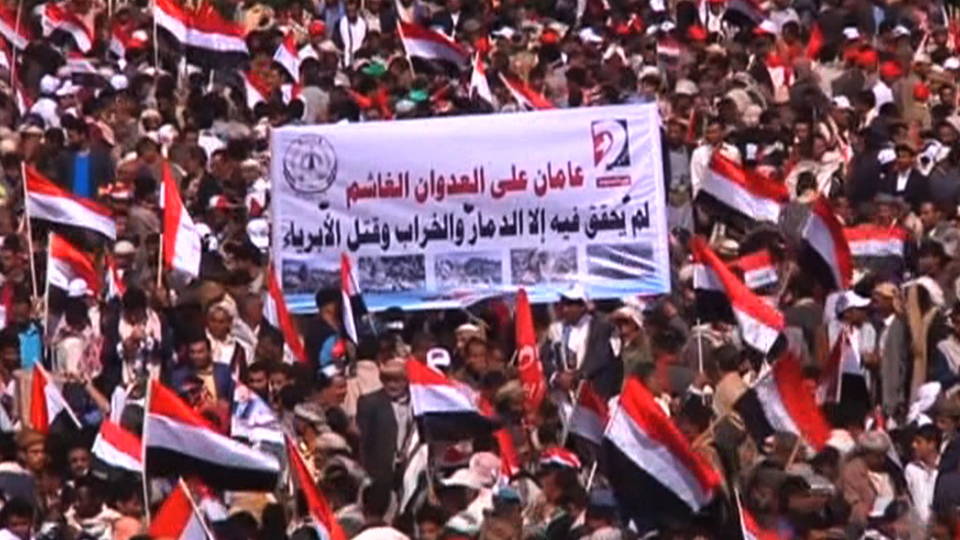 5th Round of Syrian Peace Talks Begin as 16 Civilians Killed in Damascus Airstrike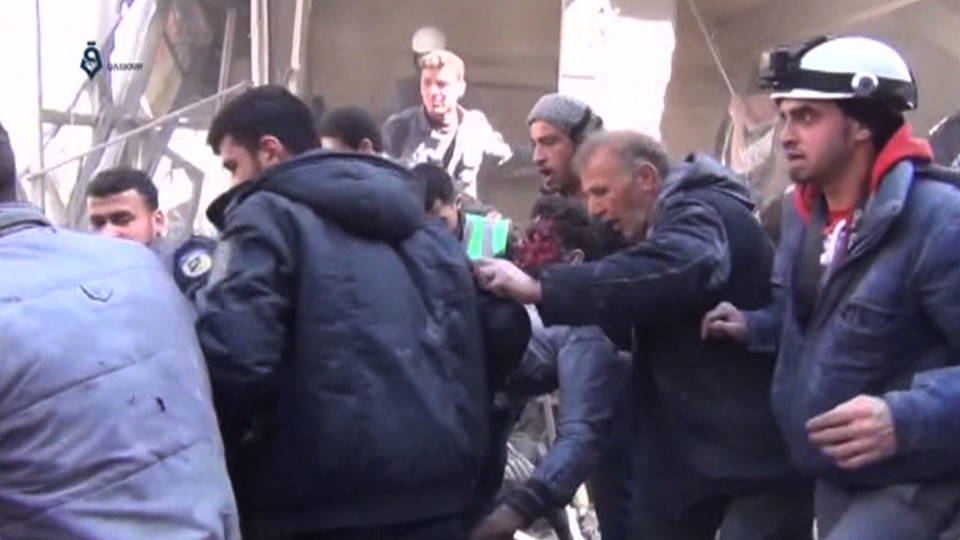 Russia: 600+ Protesters Arrested at Anti-Corruption Demonstrations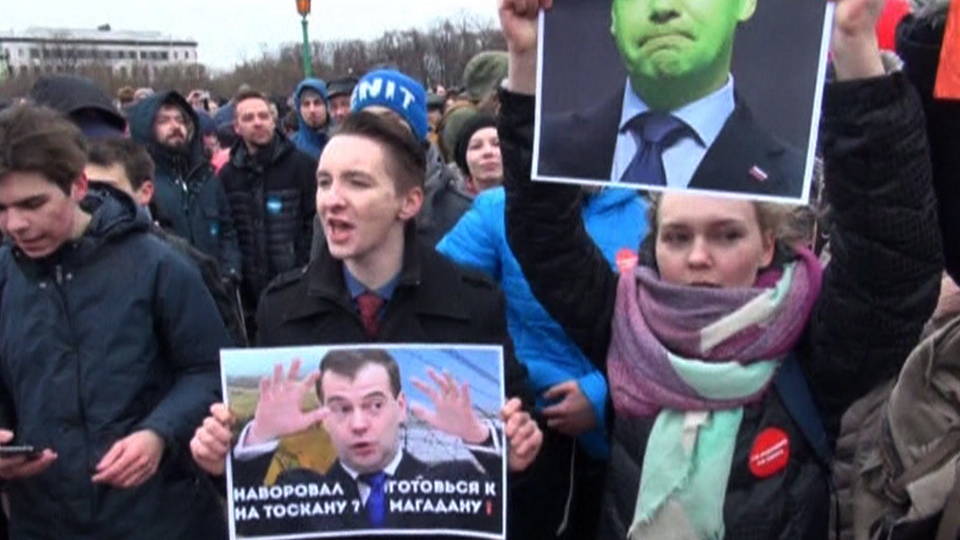 In Russia, as many as 600 people were arrested amid nationwide anti-corruption demonstrations on Sunday. The tens of thousands of protesters were demanding the resignation of Russian Prime Minister Dmitry Medvedev. Among those arrested was anti-corruption activist and opposition leader Alexei Navalny, who revealed the prime minister used a web of charities to conceal that he owns a slew of luxury real estate, yachts and an Italian vineyard. The demonstrations were among the biggest protests in years in Russia.
Belarus: Hundreds of Protesters Arrested Opposing Tax on Unemployed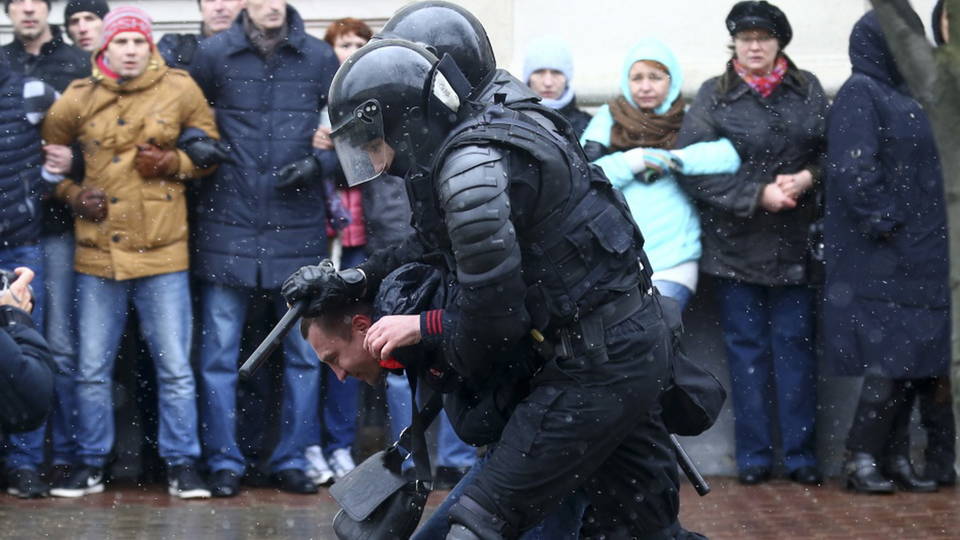 Meanwhile, hundreds of protesters were arrested Saturday in the neighboring country of Belarus. The arrests came after thousands of people defied a protest ban and poured into the streets of the capital Minsk to denounce a tax on people who are unemployed.
Jared Kushner: "Government Should Be Run Like a Great American Company"
Back in the United States, The Washington Post is reporting President Trump plans to unveil a new White House office today, which will be run by his son-in-law and senior adviser, Jared Kushner. The Post reports the White House Office of American Innovation will be staffed by former business executives who will be given wide-reaching authority to overhaul federal bureaucracy and even privatize some of the government's functions. On Sunday, Kushner told the Post, "The government should be run like a great American company. Our hope is that we can achieve successes and efficiencies for our customers, who are the citizens."
Democrats Demand Publication of White House & Mar-a-Lago Visitor Logs
Democratic lawmakers have introduced a new piece of legislation demanding the Trump administration publish visitor logs, not only for the White House but also for the private resorts where Trump conducts business, including his Florida resort, Mar-a-Lago. The legislation is known as the MAR-A-LAGO Act, which is the acronym for the full title: Making Access Records Available to Lead American Government Openness Act. This past weekend, Trump spent time at the Trump National Golf Club in Virginia—marking the eighth straight weekend the president has spent time at Trump-branded private properties.
California: Trump Supporters Attack Anti-Trump Protesters
While Trump was at the Trump National Golf Club in Virginia on Saturday, his supporters held pro-Trump rallies in cities across the country. In Huntington Beach, California, the rally descended into chaos and violence after some pro-Trump demonstrators attacked anti-Trump counterprotesters. A viral video shows a Trump supporter swinging a flagpole at the head of an anti-Trump protester. The flag reads: "TRUMP" and "Make America Great Again."
SC Sen. Lindsey Graham Booed at Angry Town Hall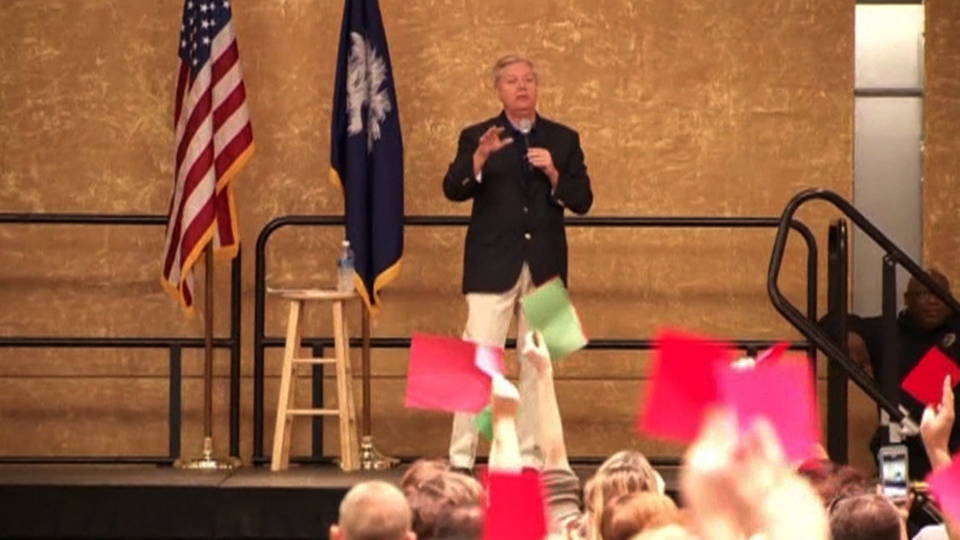 South Carolina Republican Senator Lindsey Graham faced an audience of angry constituents at a town hall meeting on Saturday. The audience repeatedly booed Senator Graham and at times chanted "Your last term!" This is Senator Graham trying to defend his decision to back Trump's Supreme Court nominee Neil Gorsuch.
Sen. Lindsey Graham: "We just finished the hearing this week. Judge Gorsuch was one of the finest people, I think, President Trump could have chosen."
Audience: "Boo!"
Sen. Lindsey Graham: "I am going to enthusiastically support him."
Audience: "Boo!"
Sen. Lindsey Graham: "And if the Democrats try to filibuster him—"
Audience: "Boo!"
Sen. Lindsey Graham: "—they will be making a huge mistake."
Audience: "Boo!"
Senate Moves to Dismantle Internet Privacy Protections
The Senate narrowly voted Thursday to dismantle internet privacy protections established under the Obama administration. The measures were pushed by Republican lawmakers, and the vote largely split across party lines. The bill, which now heads to the House, will give companies like Verizon, Comcast and AT&T more power to collect people's data, including their internet browsing history, and to sell this information.
Washington, D.C.: 1,000+ Jewish Activists Protest AIPAC Conference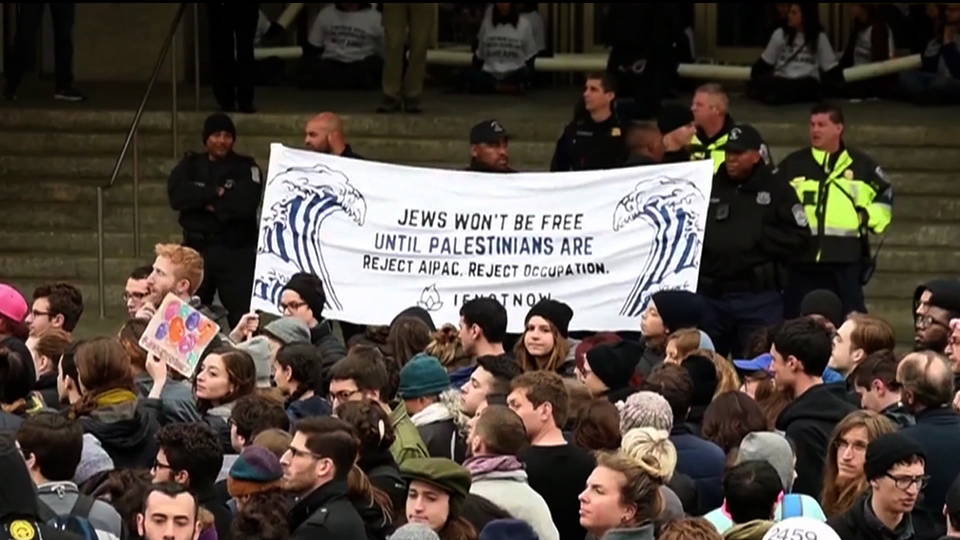 More than 1,000 Jewish activists and their allies descended on Washington, D.C., on Sunday to protest the annual policy conference held by the American Israel Public Affairs Committee, better known as AIPAC.
Vice President Mike Pence is a keynote speaker at this year's AIPAC conference, which opened only days after the Senate confirmed Trump's bankruptcy lawyer, David Friedman, to serve as the U.S. ambassador to Israel. Friedman is a backer of Israel's Jewish-only settlements in the Palestinian territories. A recently published U.N. report accused the Israeli government of imposing an "apartheid regime" on the Palestinians.
During Sunday's protest, some young Jewish activists chained themselves to the doors of the conference center, while others dropped banners from inside. This is Cornel West, speaking to activists outside the conference.
Cornel West: "We come from a very rich and deep prophetic tradition that goes back to Amos and Jeremiah and Esther. It goes back to Rabbi Abraham Joshua Heschel, Albert Einstein and Muriel Rukeyser and so many others. And so we tell some of our more conservative brothers and sisters on the inside that you do not represent the best of the Jewish prophetic tradition, and we're here to bear witness."
Chile: Massive Nationwide Protests Demand End to Privatized Pension System
In Chile, hundreds of thousands of people poured into the streets nationwide to protest Chile's privatized pension system Sunday. Protesters say the system benefits the rich while leaving the poor with a monthly pension below the minimum wage. Activists say as many as 2 million people protested nationwide—more than 10 percent of the country's population. This is activist Luis Mesina.
Luis Mesina: "We hope, in this large protest, to express exactly, with a majority viewpoint, that we workers will not rest until this cursed system, that condemns our parents and our grandparents to miserable pensions, is ended."
Argentina: Demonstrations Mark 41st Anniversary of 1976 Military Coup
In Argentina, thousands of people took to the streets across the country Friday to mark the 41st anniversary of the 1976 military coup that ousted President Isabel Perón. The coup ushered in a bloody U.S.-backed dictatorship under which as many as 30,000 people were disappeared. During Friday's nationwide demonstrations, family members carried signs with photos of their loved ones who are missing from this period.
Colombia: Town Votes Against Plans for Massive Open-Pit Gold Mine
In Colombia, the town of Cajamarca has voted by a landslide to halt the plans for the South African-based corporation AngloGold Ashanti to build a massive open-pit gold mine. The website Colombia Reports says the vote marks the first time a Colombian town has ever voted to ban mining in its territory. Meanwhile, in central China, at least 11 people have died in two separate accidents at gold mines in Henan Province on Friday.
South Korea: Prosecutors Seek to Arrest Fmr. President Park Geun-hye
In South Korea, prosecutors are seeking an arrest warrant for former President Park Geun-hye, who was removed from office earlier this month amid a corruption scandal that sparked massive nationwide protests. Prosecutors are seeking to arrest her on charges of bribery and abuse of power.
London: Crowds Protest Brexit Plans to Leave European Union
In Britain, as many as 50,000 people took to the streets Saturday to protest Brexit—Britain's plans to leave the European Union. This is protestor Poppy Somogyi.
Poppy Somogyi: "For me, it's especially important, because I was too young to vote, and I felt that there are a lot of people my age like-minded who didn't want this to happen, like we know it wasn't a majority vote. And a massive factor is that we both—we're both brother and sister. We come from a background of Hungarian immigrants. Our grandfather came here during the uprising. And just the kind of—the hate that you feel as a result of Brexit and as a result of this increase in xenophobia."
Prime Minister Theresa May has announced she'll send the formal paperwork, known as the Article 50 letter, notifying the EU of Britain's exit on Wednesday. The paperwork will set off a two-year negotiation about the terms of the exit.
Ohio: 1 Dies in Shooting in Cameo Nightclub in Cincinnati
Back in the United States, at least one person died, and at least 15 more were injured, when gunfire erupted in a crowded nightclub early on Sunday morning in Cincinnati, Ohio. Police say more than one person was involved in the shooting at the Cameo nightclub. Police say the incident appears to have stemmed from a dispute earlier in the day.
Mexican Journalists Protest Murder of 3 Reporters in March
And in Mexico, journalists marched through the streets of Mexico City Saturday to protest the killing of three of their colleagues this month. This is Mexican photographer Luis Baron.
Luis Baron: "The motive for the protest is to condemn the killings of the journalists Miroslava Breach, Cecilio Pineda and Ricardo Monlui, which means three colleagues have been killed in the last four months, and others have been injured. And authorities do nothing. Regrettably, the inaction in any state in the country, in which journalists are injured or any freedom of expression is undermined, is plain. Nothing happens."
---
Courtesy of Democracy Now (www.democracynow.org).  The original content is licensed under a Creative Commons Attribution-Noncommercial-No Derivative Works 3.0 United States License.