Trump Signs Executive Order Dismantling Rules to Curb Climate Change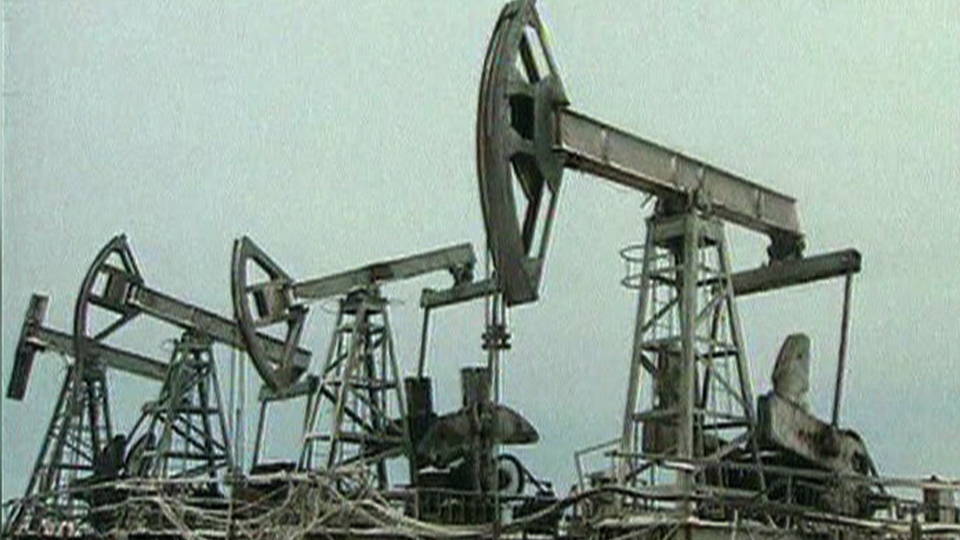 Surrounded by coal miners, President Trump signed an executive order Tuesday to dismantle a slew of climate rules established by President Obama. If carried out, the executive order will virtually guarantee the United States will fail to meet its 2015 Paris Agreement pledge to reduce emissions in order to curb the effects of climate change. The executive order marks the first step to undo Obama's Clean Power Plan to limit plant emissions and replace coal-fired power plants with new solar and wind farms. The Clean Power Plan is considered to be a critical element of the U.S.'s plan to meet the targets established in the Paris accord. Environmental and civil rights groups have vowed to fight the executive order.
On Tuesday afternoon, protesters gathered in the freezing rain outside Trump Tower in Manhattan to denounce the executive order. Other demonstrators gathered outside the EPA's headquarters in Washington, D.C., with a sign reading "Get this toxic dump out of the White House." We'll have more on Trump's executive order later in the broadcast.
House Intelligence Committee in Turmoil as Nunes Refuses to Step Down
The House Intelligence Committee has now canceled all meetings this week amid the ongoing turmoil. Lawmakers are calling on Nunes to step down as chair, after it emerged he had met with a source on the grounds of the White House and viewed secret U.S. intelligence reports before supposedly briefing President Trump about the reports. Nunes says the reports indicate Trump or his associates might have been "incidentally" swept up in surveillance carried out by American spy agencies as they conducted foreign surveillance. Nunes continues to reject the calls to step down and to this day has not shared the secret reports with fellow committee members. We'll have more on the House Intelligence Committee investigation and the ongoing turmoil after headlines.
Trump Lawyers Argue He's Immune from Civil Suit Because He's President
Lawmaker: Treasury Sec. Mnuchin Broke Ethics Rules by Promoting Movie He Financed
British Prime Minister Theresa May Formally Triggers Brexit Process
General: U.S. "Probably Had Role" in 200 Casualties from Airstrike on Mosul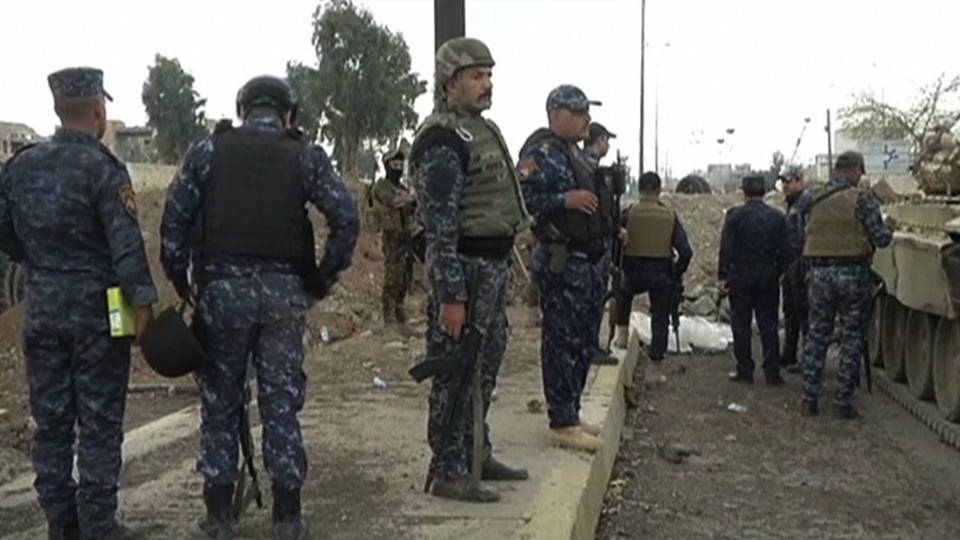 Wa'ad al-Tai: "My son Yousef, age nine; my daughter Shahad, age three; my brother Mahmoud Ahmed Mahmoud, his wife Manaya and their son, Aws Mahmoud; and my other niece, Hanan Saad Ahmad."
VT: 2 Immigrant Rights Activists Released After ICE Arrests
Zully Palacios: "It's so sad to see the situation within the prisons and jails, where they intimidate us, try to make us feel like we're all alone and like there's no one to support us. Once I found out I was going to be released, I wanted to shout out loud and scream for joy, but I also felt so much sadness, because, as Kike said, there are so many innocent people still in there. There are so many who have their dreams cut short, so many who have families waiting for them at home. There are so many people we have in captivity, and it's not fair."
A third activist with Migrant Justice, 23-year-old Cesar Alex Carrillo, remains jailed. He was arrested by ICE outside a courthouse two days before Zully and Kike were arrested. This is Carillo's wife, also speaking Tuesday.
Lymarie Deida: "First of all, it's a victory today, because I have two of the three of my family members here back home. But they're still missing one, the one that has the key to my heart. And he's not home. But that doesn't mean the fight is over. That doesn't mean I'm going to sit and wait. It means I'm going to get up every day, each and every day, to fight for his freedom, because, like everyone else, he is human, and we are all equal."
Meanwhile, in Seattle, Washington, lawyers for undocumented DREAMer Daniel Ramirez Medina say he's been granted bond and will be released later today. He's been jailed by ICE for six weeks, after being arrested when ICE agents came to his father's home. He was jailed even though he has permission to live and work in the United States under President Obama's DACA program. To see our full interview with Ramirez Medina's lawyer, as well as our interview with Migrant Justice organizer Will Lambek, go to democracynow.org.
Supreme Court Rules in Favor of Death Row Prisoner Bobby Moore
California: Anti-Choice Activist David Daleiden Charged with 15 Felonies
Women's Hockey Players Win Stipends & Paid Travel from USA Hockey
Olympic Gymnasts Testify to Congress About Sexual Abuse by Officials
In more sports news, Olympic women gymnasts testified before Congress on Tuesday about decades of sexual abuse by USA Gymnastics officials, including Dr. Larry Nassar, who is facing charges of criminal sexual conduct with children. He has been accused by dozens of women and children of penetrating their vaginas with his fingers and covering up the abuse by pretending it was part of a medical treatment. This is Olympic bronze medalist Jamie Dantzscher, speaking about Dr. Nassar.
Jamie Dantzscher: "Dr. Nassar abused me at the USA National Training Center in Texas. He abused me in California at meets and all over the world. Many times, the abuse took place in my own room, in my own bed. Worse, he abused me in my hotel room in Sydney at the Olympic Games."
French Guiana: General Strike Continues as 10,000 March in Capital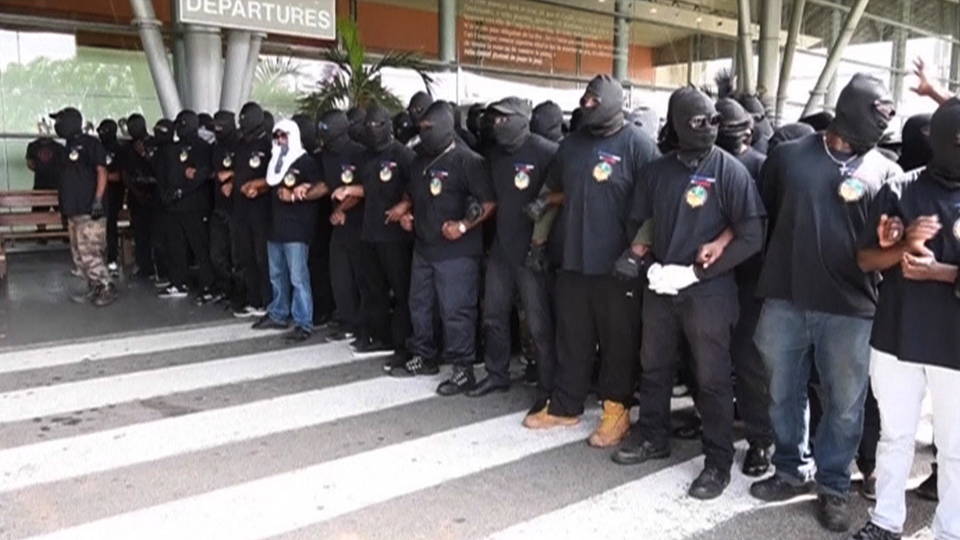 French Guiana was colonized by the French in the 17th century, serving first as a slave colony and then as a penal colony, and it's now considered one of France's five overseas departments. The French interior minister and the overseas minister have been dispatched from France to respond to the growing protests, and are slated to arrive in French Guiana later today.
Civil Rights Activist, Journalist, Professor Roger Wilkins Dies at 85
And longtime civil rights activist Roger Wilkins has died at the age of 85. Born in Kansas City, Missouri, in 1932, Wilkins went on to serve as an official in both the Kennedy and Johnson administrations, including serving as an assistant United States attorney general. He was also a journalist, writing for both The New York Times and The Washington Post, and a professor of history at George Mason University for nearly 20 years. His uncle, Roy Wilkins, led the NAACP for more than two decades, from 1955 to 1977. This is Roger Wilkins speaking about the civil rights movement with fellow activist Julian Bond as part of the oral history project "Explorations in Black Leadership."
Roger Wilkins: "Every fall, there was at least one violent, hideous outbreak in this evolving morality tale. And I remember, with Clinton, Tennessee, and a guy named Kasper blowing up stuff."
Julian Bond: "Yes, yes, John Kasper."
Roger Wilkins: "Right. There was, of course, Little Rock. There was Plaquemines Parish in—right outside New Orleans."
Julian Bond: "A little town in Texas, a year before."
Roger Wilkins: "Right. So, all of a sudden you're energized, because there really was good and evil. And, of course, in there, in that period, you also had the Montgomery bus boycott and the emergence of Martin King. So, all of a sudden, instead of getting depressed, what you're seeing is a morality tale in which black people are becoming energized."
That was Roger Wilkins, speaking with fellow civil rights activist Julian Bond, who died in 2015. Wilkins died on Sunday in Kensington, Maryland, at the age of 85.
---
Courtesy of Democracy Now (www.democracynow.org).  The original content is licensed under a Creative Commons Attribution-Noncommercial-No Derivative Works 3.0 United States License.