AG Sessions Recuses Himself from Russia Probe Amid Calls to Resign
Attorney General Jeff Sessions said Thursday he will recuse himself from any investigation into last year's presidential campaign, following reports he met twice with Russia's ambassador to the U.S. while serving as a campaign surrogate for Donald Trump. The revelation directly contradicts Sessions' sworn testimony to Congress in January that he did not meet with any Russian officials in the run-up to November's election. In a hastily assembled news conference Thursday, Sessions called charges he lied under oath "totally false" and said he failed to mention the meetings with Ambassador Sergey Kislyak because the two did not discuss the campaign.
Jeff Sessions: "I was taken aback a little bit about this brand new information, this allegation that surrogates and I have been, I had been called a surrogate for Donald Trump, had been meeting continuously with Russian officials. And that's what struck me very hard and that's what I focused my answer on. In retrospect, I should have slowed down and said, 'But I did meet one Russian official a couple of times, that would be the ambassador.' Thank you all, take care."
Sessions's decision to recuse himself came just hours after President Trump said calls for Sessions to resign amounted to a "total witch hunt." Trump was questioned by reporters while touring a naval warship Thursday.
Reporter: "Mr. President, do you still have confidence in the Attorney General, sir?
President Donald Trump: "Total."
Reporter: "Should Sessions recuse himself from investigations into your campaign and Russia?"
President Donald Trump: "I don't think so at all. I don't think so—" [crosstalk]
Reporter: "When did you first learn Sessions spoke to the Russian ambassador? Did you know during the campaign?"
President Donald Trump: "I don't think he should do that at all."
Reporter: "When were you aware that he spoke to the Russian ambassador?"
President Donald Trump: "I wasn't aware at all."
Meanwhile, ABC News reported Thursday that Sessions used political funds from his senatorial re-election account to meet with Ambassador Kislyak on the sidelines of the Republican National Convention in July. There were growing calls Thursday for Sessions to resign and even to face prosecution. The ACLU demanded an investigation into whether Sessions committed perjury. And President George W. Bush's former ethics lawyer, Richard Painter, said, "Misleading the Senate in sworn testimony about [one's] own contacts with the Russians is a good way to go to jail." On Capitol Hill, a chorus of Democratic lawmakers called for Sessions to step down, while demands grew for a special prosecutor to investigate allegations that Russia interfered in the 2016 election on behalf of Donald Trump.
Two Top Trump Advisers Met Russian Ambassador in December 2016
Meanwhile, the White House said Thursday there was another meeting of Donald Trump's transition team and the Russian ambassador ahead of January's inauguration. At the December meeting at Trump Tower in New York were Trump's son-in-law and senior adviser, Jared Kushner, and former National Security Adviser Michael Flynn, who resigned last month following revelations he spoke by phone with the ambassador and discussed U.S. sanctions against Moscow. We'll have more on the widening scandal and allegations that Russia interfered in November's election after headlines.
Sen. Rand Paul Searches Unsuccessfully for Obamacare Replacement Bill
On Capitol Hill, Republican Senator Rand Paul is blasting his party's leadership for failing to make public a draft document of the Republican plan to replace the Affordable Care Act. Sen. Paul brought a portable copy machine with him Thursday as he unsuccessfully searched the offices of the House of Representatives for a draft of the bill. At one point, Capitol Police barred Sen. Paul from entering a room where the document was rumored to be. Sen. Paul told reporters, "We're here asking for a written copy of this because this should be an open and transparent process."
Top U.N. Climate Official Denied Meeting with U.S. Secretary of State
In climate news, the top U.N. official tasked with tackling global warming says she was denied a visit with U.S. Secretary of State and former ExxonMobil CEO Rex Tillerson. Patricia Espinosa, head of the UN Framework Convention on Climate Change, is touring the U.S. and said Thursday her requests for a meeting with Tillerson went unanswered.
NYT: White House Split over Trump Pledge to Cancel Paris Climate Deal
Meanwhile, the New York Times reported the White House is sharply divided over President Trump's campaign pledge to "cancel" the 2015 Paris climate accord. The Times cited unnamed officials who said Trump's chief strategist Stephen Bannon is pushing the U.S. to withdraw from the agreement entirely, while Trump's daughter Ivanka and Secretary of State Rex Tillerson are said to be calling for the U.S. to remain a signatory to the pact.
Former Texas Gov. Rick Perry Sworn In as Secretary of Energy
In Washington, Rick Perry was sworn in as Secretary of Energy, following a Senate confirmation vote earlier on Thursday. Ten Democrats and Maine Independent Angus King joined 51 Republicans in confirming the former Texas Republican governor. In 2011, Perry famously attempted to propose abolishing the Energy Department—but then couldn't even remember the name of the agency. Perry previously mocked climate scientists and has called global warming a hoax, but walked back those comments during confirmation hearings, saying "some" climate change is "caused by man-made activity."
Perry has deep ties to the fossil fuel industry, including serving on the corporate boards of both Energy Transfer Partners and Sunoco Logistics, two companies behind the Dakota Access pipeline.
Retired Neurosurgeon Dr. Ben Carson Sworn in as HUD Secretary
Meanwhile, Dr. Ben Carson was sworn in Thursday as secretary of housing and urban development. Senate confirmation of the retired neurosurgeon and former Republican presidential candidate came on a vote of 58-41 earlier in the day. Dr. Carson has never been elected to any office and has no experience heading a government bureaucracy.
Indianapolis Star: VP Mike Pence Used Private Email Account as Governor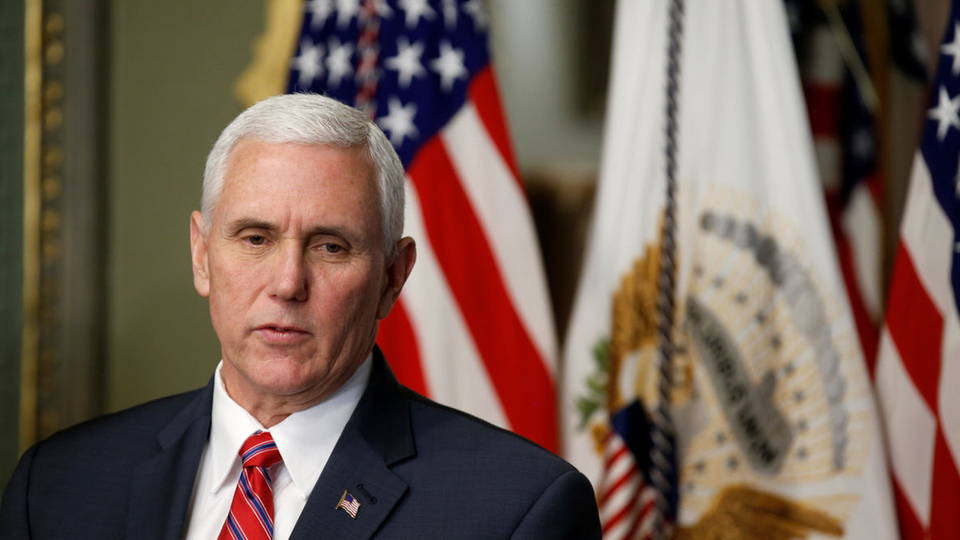 The Indianapolis Star reports Vice President Mike Pence routinely conducted state business over a private email account while serving as governor of Indiana––and hackers broke into his emails. Pence used his AOL account to communicate with senior advisers on sensitive matters and homeland security issues. The move closely mirrored former Secretary of State Hillary Clinton's use of a private email server to conduct official business––a practice sharply criticized by Pence and other Republicans. This is then-Governor Mike Pence speaking on CBS's "Face the Nation" last October.
Gov. Mike Pence: "Literally Hillary Clinton had classified information on a private server that she said she didn't have, that she emailed classified information that she said she didn't do. All of these things misrepresented mishandling classified information. And then to conclude that she was simply extremely careless and there would be no recommend [sic] charges, that to me is the kind of double standard that the American people are weary of."
The Indianapolis Star reports Mike Pence's account was broken into by hackers who emailed Pence's contacts asking for money. In a statement, Vice President Pence's office said Thursday that Pence was making his emails public and had not violated Indiana's Access to Public Records Act.
President Trump Tours Aircraft Carrier, Vowing Huge Military Increase
President Donald Trump: "Our military requires sustained stable funding to meet the growing needs placed in our defense. Right now our aging frontline strike and strike fighters, a whole aircraft, many many aircraft, are often more likely to be down for maintenance than they are to be up in the sky. Our Navy is now the smallest it has been since, believe it or not, World War I. Don't worry. It will soon be the largest it's been."
On Monday, Trump proposed increasing the military budget to just over $600 billion—a nearly 10 percent increase—while deeply slashing the budgets of other agencies including the EPA and the State Department.
Yemen: U.S. Warplanes and Drones in 20 Airstrikes
In Yemen, U.S. warplanes and drones bombed targets across three provinces overnight, in what the Pentagon said were 20 airstrikes targeting al Qaeda in the Arabian Peninsula. They were the first direct U.S. attacks on Yemen since a botched raid in January left 25 civilians and one U.S. Navy SEAL dead. The strikes came after the White House said it may give wide latitude to the secretary of defense and top generals to carry out attacks without presidential approval.
Syria: Pro-Government Forces Recapture Palmyra
Egypt: Former Dictator Hosni Mubarak Acquitted of Murdering Protesters
In Egypt, a court has acquitted former dictator Hosni Mubarak on charges of murder, over his crackdown in 2011 that killed hundreds of people opposed to his 30-year rule. The ruling clears the way from Mubarak's release from detention. Amnesty International says Mubarak's treatment contrasts sharply with that of hundreds of journalists and human rights activists, who face mass arbitrary arrests, unfair trials and torture over their political dissent.
Honduras: Protests Mark One Year Anniversary of Berta Cáceres Killing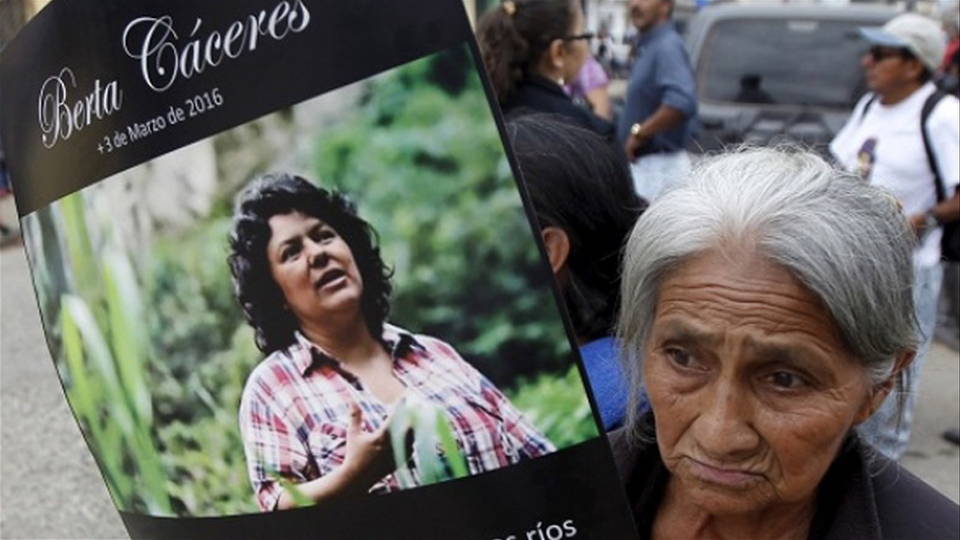 In Honduras, hundreds of protesters rallied outside the Honduran Supreme Court building Thursday to demand justice for Berta Cáceres, the famed environmental activist and feminist leader who was assassinated in her home one year ago. Eight men have been arrested as suspects in Berta's killing—including one active army major and two retired military members. Two of these suspects reportedly received military training in the United States. This is Berta Cáceres's daughter Bertita Isabel Zúñiga Cáceres.
Bertita Isabel Zúñiga Cáceres: "We are here to denounce the lack of justice. The authorities want us to feel that the case has been resolved. On the contrary, we are saying that the process is full of irregularities. It won't imprison nor guarantee the sentencing of those people who have been arrested."
At Thursday's demonstration in Tegucigalpa, police in riot gear fired tear gas at protesters who responded by hurling rocks. Protesters were demanding an end to impunity for the killers of more than 150 land rights activists in the Aguan Valley since 2009. We'll have more on the assassination of Berta Cáceres after headlines.
Rochester, New York: Vandals Desecrate Jewish Cemetery
In Rochester, New York, vandals toppled more than a dozen headstones at a Jewish cemetery Thursday, defacing some of the grave markers. Gov. Andrew Cuomo ordered police to investigate the vandalism as a possible hate crime. It was at least the third desecration of a Jewish cemetery in the U.S. over the past two weeks.
Survivor of Priest Sexual Abuse Quits Vatican Commission
At the Vatican, a prominent member of a commission advising Pope Francis on how to end clerical sexual abuse stepped down this week to protest what she described as inaction by the church. Marie Collins, an Irish survivor of childhood sexual assault by a priest, said Wednesday she could no longer work with the commission because Vatican officials refused to implement basic protections for children and vulnerable adults. Collins's resignation came as the Archdiocese of New York petitioned a court for permission to mortgage $100 million worth of church property in Manhattan in order to fund compensation for victims of sexual abuse by priests.
Leaked DHS Memo Shows Most Foreign-Born Terrorists Radicalized in U.S.
MSNBC has obtained a leaked intelligence document from the Department of Homeland Security that undercuts President Trump's rationale for a ban on refugees and travelers from some majority-Muslim nations. The Rachel Maddow Show reports the leaked document makes the case that most foreign-born, U.S.-based violent extremists are only radicalized after living in the U.S. for a number of years, and are unlikely to pose a threat upon arrival.
ICE Releases Asylum Seeker in Texas to Seek Medical Treatment
In an update to a story we reported on Thursday: ICE has released a 26-year-old Salvadoran asylum seeker who was removed from a Texas hospital in handcuffs and taken back to a private jail after she had been diagnosed with a brain tumor. On Thursday, Sara Beltran Hernandez was granted a 15-thousand-dollar bond, and her family raised the total sum to secure her freedom. Beltran issued a statement thanking supporters who made calls for her release, saying "I can now get the medical care I need and be reunited with my family."
Undocumented Woman in Texas Charged after Seeking Protection from Abuser
Mississippi: Undocumented DREAMer to be Deported without Hearing
Arkansas Bill Would Ban Howard Zinn Writings from Schools
And a bill before the Arkansas state legislature would prohibit publicly funded schools from teaching the works of late legendary historian Howard Zinn. In 1980, Howard Zinn published his classic book, "A People's History of the United States," which would go on to sell more than a million copies. The Arkansas bill is not the first attempt to censor Howard Zinn's works. Indiana's governor attempted a similar measure in 2010, and in 2011, Arizona lawmakers removed "A People's History" from schools in Tucson as part of the ban on Mexican American Studies.
---
Courtesy of Democracy Now (www.democracynow.org).  The original content is licensed under a Creative Commons Attribution-Noncommercial-No Derivative Works 3.0 United States License.