Michael Flynn Seeks Immunity in Exchange for Russia Testimony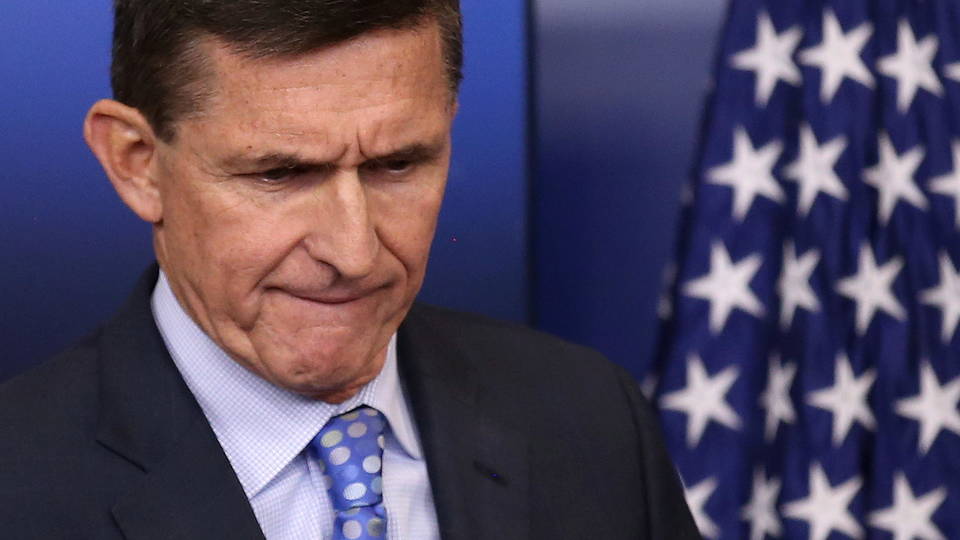 Michael Flynn: "Five people around her have had—have been given immunity, to include her former chief of staff. When you are given immunity, that means that you've probably committed a crime."
Senate Committee Opens Hearings on Russian Election Meddling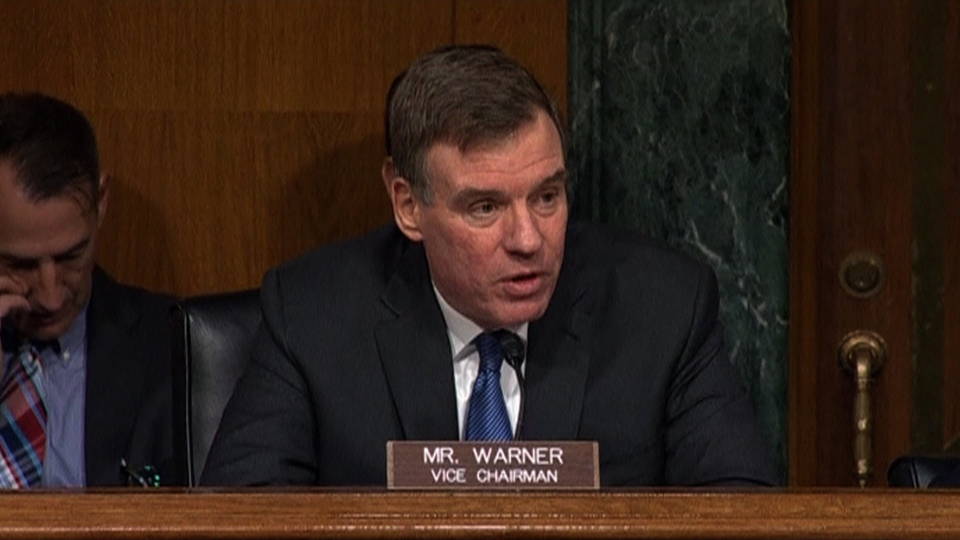 News of Flynn's bid for immunity came as the Senate Intelligence Committee opened hearings Thursday on Russia's role in the 2016 election and its alleged ties to the Trump campaign. This is Virginia Democrat Mark Warner, vice chair of the committee.
Sen. Mark Warner: "In addition to what we already know, any full accounting must also find out what, if any, contacts, communications or connections occurred between Russia and those associated with the campaigns themselves. I will not prejudge the outcome of our investigation. We are seeking to determine if there is an actual fire, but there is clearly a lot of smoke."
Thursday's hearing focused less on the Trump campaign's alleged dealings with Russia and more on how Russia used what one lawmaker described as "propaganda on steroids" to influence the election and to undermine the U.S. media.
NYT: White House Secretly Fed Rep. Nunes Surveillance Reports
Meanwhile, The New York Times reported Thursday two White House officials met secretly with Republican House Intelligence Committee Chair Devin Nunes last week on the White House grounds to show him secret U.S. intelligence reports. Nunes said the documents indicated Trump or his associates might have been "incidentally" swept up in surveillance carried out by American spy agencies as they conducted foreign surveillance. On the day after the secret meeting, Nunes, who served on Trump's transition team, held a press conference and then traveled back to the White House to supposedly brief the president about the documents the president's own staff had given him. On Thursday, the ranking Democrat on the House Intelligence Committee, California's Adam Schiff, responded to the revelations about the documents shown to Nunes.
Rep. Adam Schiff: "It raises a profound question: why they were not directly provided to the White House by the national security staff, and instead were provided through a circuitous route involving the chairman. If that was designed to hide the origin of the materials, that raises profound questions about just what the White House is doing."
Nunes is facing increasing calls to recuse himself from the House Intelligence probe. We'll have more on the investigation into alleged ties between Trump officials and Russia after headlines.
Secretary of State Tillerson Praises Turkey Amid Erdogan Power Grab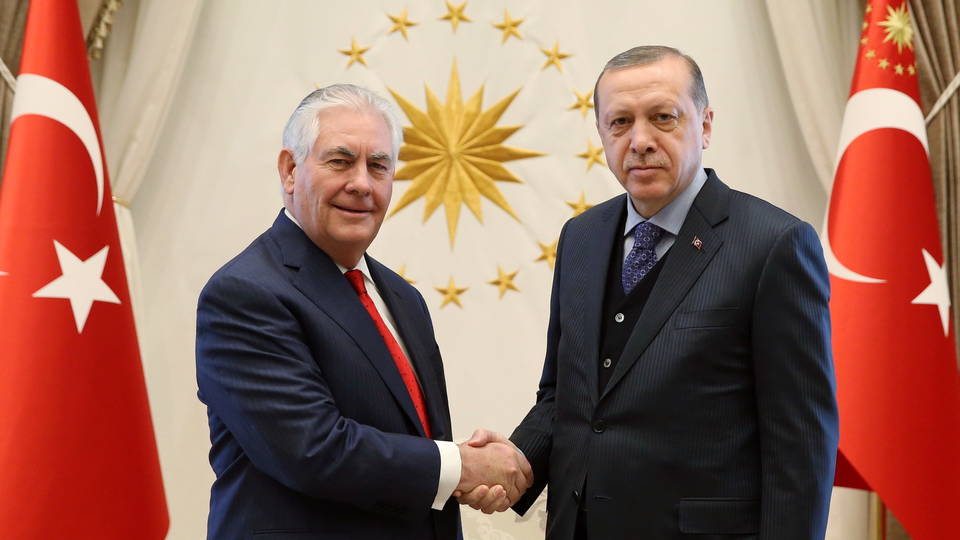 Secretary of State Rex Tillerson: "In the United States, the people of Turkey have a trusted ally and a partner who is committed to its safety and security and advancing economic opportunity. We look forward to approaching these challenges together, and the Trump administration will continue to build ties with this long-standing ally and our friend."
Tillerson's praise for Turkey comes as the nation is set to hold a referendum on a constitutional overhaul that would give sweeping powers to President Erdogan and extend his presidency to 2029. The measure would enable the president to issue decrees, declare emergency rule, appoint ministers and top state officials, and dissolve parliament.
LGBTQ Groups Blast NC Governor over "Repeal" of Bathroom Bill
In North Carolina, Republican lawmakers moved rapidly Thursday to repeal HB 2, the so-called "bathroom bill," replacing it with a measure that LGBTQ groups blasted as wholly inadequate. Under House Bill 142, transgender people will be able to use the bathroom matching their gender identity. But the law prohibits municipal governments from enacting anti-discrimination ordinances through 2020, and denies employment and housing protections to the LGBTQ community. Democratic Governor Roy Cooper quickly signed the legislation Thursday, calling it an imperfect deal.
Gov. Roy Cooper: "In a perfect world, with a good General Assembly, we would have repealed House Bill 2 fully today and added full statewide protections for LGBTNorth Carolinians. Unfortunately, our super-majority Republican Legislature will not pass these protections."
In a statement, Mara Keisling of the National Center for Transgender Equality said, "The story of HB 2 and its disastrous consequences started with former Gov. McCrory, but the way it continues is on Gov. Cooper's shoulders. Unfortunately, his decision to sign HB 142 today was a turn in the wrong direction." The governor's signature came on Thursday's deadline, set by the NCAA, for the repeal of HB 2. The collegiate sports association said its governing board was reviewing the new law and would soon decide whether to extend a boycott of tournaments worth billions of dollars to North Carolina's economy.
Trump to Issue Executive Orders on Trade Ahead of Visit by Chinese Leader
Trump Warns Right-Wing Republicans Over Healthcare Opposition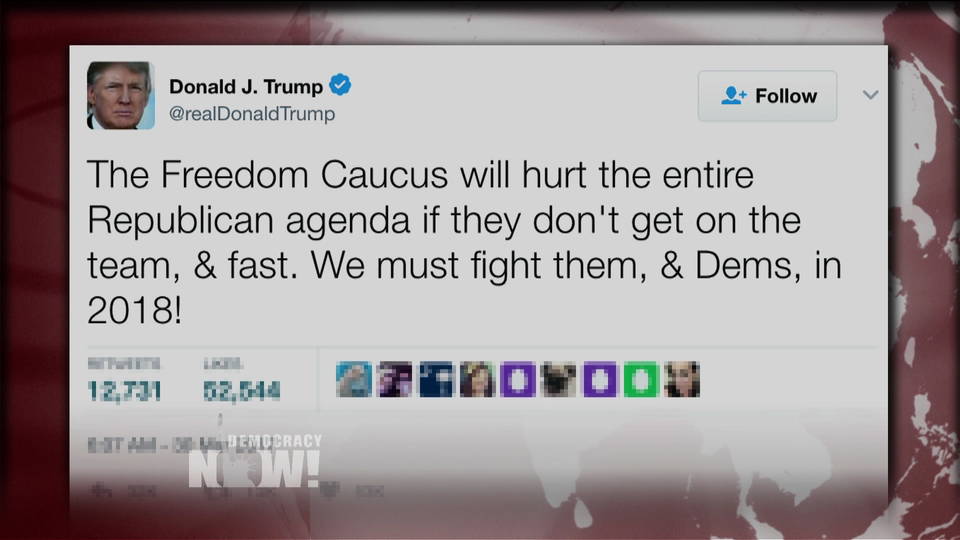 President Donald Trump lashed out Thursday at right-wing Republicans who voted against his healthcare legislation, saying he was prepared to support primary challengers to House Freedom Caucus members in next year's midterm elections. In a tweet, Trump wrote, "The Freedom Caucus will hurt the entire Republican agenda if they don't get on the team, & fast. We must fight them, & Dems, in 2018!" On Capitol Hill, House Speaker Paul Ryan said he was sympathetic to Trump's view.
Speaker Paul Ryan: "Look, I understand the president's frustration. I share frustration. About 90 percent of our conference is for this bill to repeal and replace Obamacare. And about 10 percent are not. And that's not enough to pass a bill. We're close."
Members of the Freedom Caucus shot back at Trump, accusing him of siding with the D.C. establishment and failing on a campaign pledge to "drain the swamp" in Washington.
Senate Votes to End Federal Funds to Clinics That Offer Abortions
On Capitol Hill, Vice President Mike Pence cast a tie-breaking Senate vote Thursday on a bill that will allow states to cut off federal funding to women's health clinics that provide abortions. All but two Republicans—Susan Collins of Maine and Lisa Murkowski of Alaska—voted in favor of the measure, but few Republicans joined Senate debate Thursday. This is Democratic Senator Patty Murray of Washington.
Sen. Patty Murray: "The deafening silence from the group of almost entirely male Republican senators who are voting today to make it harder for women to get the healthcare they need—not one spoke today to justify this vote. Where are those Republican senators, Mr. President? Why did they feel so entitled not just to interfere with women's healthcare decisions, but to do so without explaining themselves?"
Iowa House Advances a Bill Outlawing Abortions After 20 Weeks
In Iowa, Republican state lawmakers have advanced a bill that would ban all abortions after 20 weeks of pregnancy. During a House committee debate Wednesday, Republican Shannon Lundgren answered "yes" when asked if the legislation would require a woman to carry a dead fetus to term if she miscarries after 20 weeks. Iowa's House Republican caucus later said Lundgren "misspoke" and that the bill allows for an abortion under such circumstances.
Arkansas Law Adds New Obstacles to Abortion Access
Pakistan: Blast at Shia Mosque Kills 22, Injures Scores
In Pakistan, a blast tore through through a Shia mosque today in a remote part of the country's northwest near the Afghanistan border. The attack killed at least 22 people and left 60 others wounded. There was no immediate claim of responsibility, though past attacks by Sunni extremists have targeted Shia worshipers in the region.
Venezuelan High Court Seizes Legislative Power from Congress
Venezuela's Supreme Court says it will take legislative power away from Congress, ruling late Wednesday that opposition lawmakers are in contempt of court for swearing in three lawmakers banned over charges of voter fraud. The ruling consolidated President Nicolas Maduro's grip on power and drew outrage from opposition lawmakers. In Caracas, the president of the National Assembly, Julio Borges, tore up a copy of the Supreme Court's order, calling it "trash."
Julio Borges: "It is a coup in every possible way. It is a dictatorship, and the entire world needs to help Venezuela right now sound the alarm in every democratic nation of the world."
Opposition parties are planning mass street demonstrations across Venezuela this weekend to protest the court's ruling. The head of the Organization of American States called the ruling a "self-inflicted coup." The ruling comes as Venezuela grapples with high inflation and a deep recession, which has led to shortages of food, medicine and other necessary goods.
South Korea: Ousted President Park Geun-hye Arrested, Jailed
In South Korea, ousted President Park Geun-hye was arrested Friday and jailed while she awaits trial on charges of bribery, extortion and abuse of power. Park was removed from office earlier this month after an impeachment fight that spawned massive protests across South Korea.
Hate Crimes Charges Filed Against Two in Assault on Arab American
In Washington, D.C., police have charged two members of an anti-Arab extremist group with hate crimes, after they were captured on video brutally beating a Palestinian-American school teacher. The assault occurred last Sunday outside a conference center where the American Israel Public Affairs Committee—or AIPAC—was holding its annual meeting. In the video, members of the JDL—the Jewish Defense League—are seen waving yellow flags as they surround 55-year-old Kamal Nayfeh, before kicking and punching him and beating him with a flagpole. The assault left Nayfeh hospitalized with a badly bloodied eye. The Southern Poverty Law Center says the JDL has a history of bombings and was classified in 2000 as a "right-wing terrorist group" by the FBI.
Palestinians Mark "Land Day" as Israel Plans New West Bank Settlement
And in the Israeli-occupied West Bank, Palestinians throwing rocks clashed with Israeli soldiers Thursday, who responded with volleys of tear gas and rubber-coated bullets. The protests came on "Land Day," marking the anniversary of the 1976 killing of six Palestinians protesting the Israeli confiscation of Arab land. This is Palestinian activist Abdullah Abu Rahmeh.
Abdullah Abu Rahmeh: "Land Day should be like this—resistance against the settlers, resistance against occupation. They tried to arrest two protesters, but we were able to release them. Land Day is a day that defends the land. It is about planting, and it is also about resistance."
The protests came as Israel's Security Cabinet voted late Thursday to approve construction of Israel's first new settlement in the occupied West Bank in over two decades.
---
Courtesy of Democracy Now (www.democracynow.org).  The original content is licensed under a Creative Commons Attribution-Noncommercial-No Derivative Works 3.0 United States License.