People Worldwide Pour into Streets for People's Climate March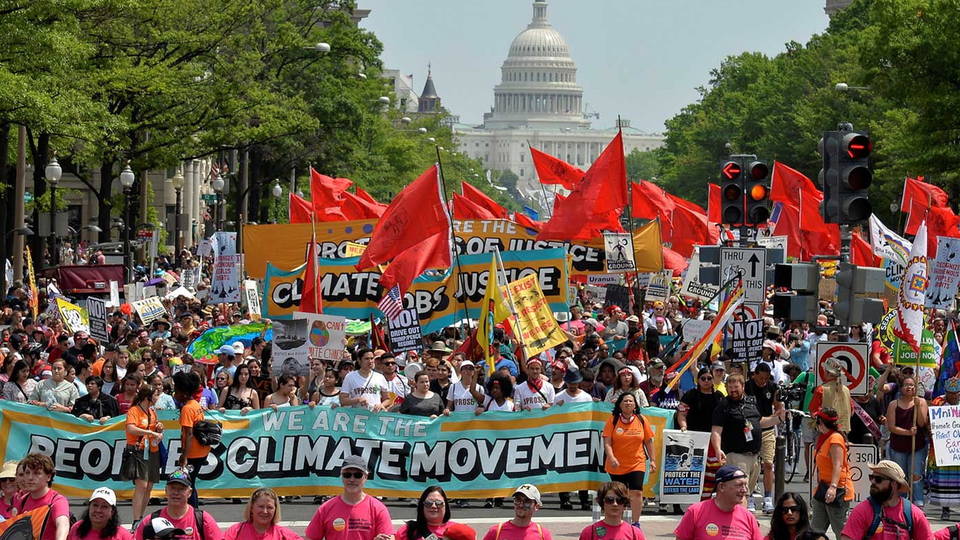 The protesters decried President Trump's steps to roll back environmental regulations, appoint climate change deniers as the heads of government agencies, and defund and erase climate change programs and research, including the administration's move Friday to scrub climate science pages from the EPA's website.
Sister marches were held in hundreds of U.S. cities, from New York City, Boston, Chicago, Los Angeles, Miami and Denver, to Dutch Harbor, Alaska. Demonstrations were also held worldwide, including in Japan, Uganda, Kenya, Zambia, Germany, Greece, Brazil, Mexico and Costa Rica. We'll spend the rest of the hour bringing you highlights from Democracy Now!'s live, 5-hour broadcast at the People's Climate March in Washington, D.C.
13 Killed in Tornadoes and Flooding in South and Midwest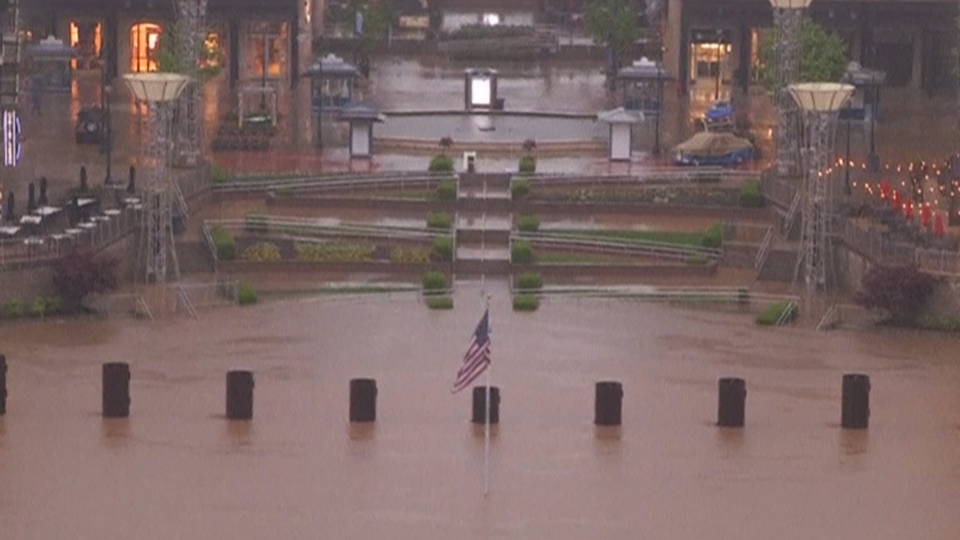 Meanwhile, on Saturday, extreme, climate-fueled storms, tornadoes and floods swept across the United States, killing at least 13 people. Tornadoes flattened homes, uprooted trees and flipped trucks in Texas and in neighboring states. Historic flooding swept away cars, closed interstates and inundated homes across Missouri, where the governor declared a state of emergency.
Eric Greitens: "It's important for everyone to recognize, again, that some of the flooding we're seeing in parts of Missouri has surpassed historic levels. There are certain places that have seen water levels several feet higher than any time in Missouri's recorded history."
Heat waves also continue in South Asia, where temperatures in parts of India and Pakistan are soaring above 100 degrees Fahrenheit. In India, heat waves killed 4,620 people over the last four years.
At Rally in Pennsylvania, Trump Attacks Immigrants and News Media
President Trump held a rally in Harrisburg, Pennsylvania, on Saturday night, during which he attacked immigrants, promised to build a wall on the border with Mexico and lambasted the news media. Trump held the rally instead of going to White House Correspondents' Dinner in Washington, D.C.
President Donald Trump: "As you may know, there's another big gathering taking place tonight in Washington, D.C. Did you hear about it? A large group of Hollywood actors and Washington media are consoling each other in a hotel ballroom in our nation's capital right now. They are gathered together for the White House Correspondents' Dinner without the president."
Trump is the first president to skip the White House Correspondents' Dinner since 1981, when President Ronald Reagan didn't attend because he was recovering from an assassination attempt. On Sunday, the day after the dinner, Chief of Staff Reince Priebus said the White House has looked into changing U.S. libel laws, which would make it easier for the government to sue media organizations over their reporting.
Trump Vows to Be Champion of Gun Owners at National Rifle Association
Trump's rally Saturday came after he addressed the National Rifle Association convention Friday, vowing to be a "champion" of gun owners. During Trump's speech, Connecticut Democratic Senator Chris Murphy launched a tweet storm decrying gun violence. He posted the names, ages and faces of 11 people who were shot to death, including 6-year-old Ana Márquez-Greene, 17-year-old Jordan Davis, 6-year-old Benjamin Wheeler and 24-year-old Alison Parker.
$1 Trillion Spending Bill Won't Fund Border Wall or Cut Funds to Sanctuary Cities
On Capitol Hill, lawmakers have reached a deal on a $1 trillion spending bill that will keep the government funded through September. The bill does not include a number of Trump's key promises. For example, it does not include any cuts to sanctuary cities or Planned Parenthood and includes a smaller cut to the Environmental Protection Agency than promised. The bill also does not include any money to go to Trump's proposed expanded border wall, while it actually increases funding for the National Institutes of Health. It also includes nearly $300 million in funding for Puerto Rico's Medicaid program.
Trump Falsely Claims GOP Healthcare Bill to Protect People with Pre-Existing Conditions
Meanwhile, in more news from Capitol Hill, Republicans continue to wrangle over the terms of a new healthcare bill to repeal and replace the Affordable Care Act. On Sunday, President Trump claimed the Republican plan would guarantee coverage for people with pre-existing conditions. In fact, just one day earlier, Republican lawmakers struck a deal that would not protect people with pre-existing conditions, instead allowing insurers to charge them significantly higher premiums.
Pope Francis: U.S.-North Korea War Would "Destroy a Good Part of Humanity"
Tensions continue to rise between North Korea and the United States, as the U.S. aircraft carrier the Carl Vinson arrived in waters off the Korean Peninsula and began military training drills with the South Korean Navy. The North Korean military has threatened to sink the U.S. armada. Tensions have also been rising between the U.S. and South Korea, after Trump claimed South Korea would be forced to pay for the $1 billion THAAD missile defense system the U.S. recently began installing. On Sunday, National Security Adviser H.R. McMaster assured South Korea that the U.S. would pay for the missile system, despite Trump's claims last week. Meanwhile, Pope Francis has called for diplomacy to de-escalate tensions in the Korean Peninsula, warning a war between U.S. and North Korea could "destroy a good part of humanity."
Pope Francis: "I always appeal for a solution through diplomatic means, because the future of humanity today. A widened war would destroy—I don't say half of humanity, but a good part of humanity, and of culture, of everything. It would be terrible. I believe today humanity is not capable of bearing it."
Pope Francis Defends Use of "Concentration Camps" to Refer to Europe's Refugee Centers
Meanwhile, Pope Francis is defending his use of the term "concentration camps" to describe some refugee centers in Europe, where thousands of people seeking asylum in Europe are imprisoned behind barbed wire. Pope Francis first made the comments a week ago and then defended his use of the term on Saturday.
Pope Francis: "It was not a lapsus linguae, a slip of the tongue. There are concentration camps. Sorry, I meant refugee camps, which are real concentration camps. There are some maybe in Italy, others somewhere else, in Germany not for sure. You think of people who are locked in a camp and cannot go out. Think of what happened in northern Europe when they wanted to cross the sea to go to England. They are locked inside."
Pentagon: U.S. Launched 80 Drone Strikes in March & April in Yemen
In Yemen, a suspected U.S. drone strike killed five people on Sunday. The Trump administration has escalated the U.S. drone war in Yemen, launching at least 80 airstrikes over the last two months, according to the Pentagon.
Pentagon Names 3 U.S. Soldiers Killed in Iraq & Afghanistan
The Pentagon says 25-year-old U.S. soldier Weston Lee died in an explosion outside Mosul, Iraq, on Saturday—marking the third death of a U.S. soldier in the last week. On Friday, the Pentagon released the names of two Army Rangers killed in Afghanistan on Wednesday: 22-year-old Joshua Rodgers and 23-year-old Cameron Thomas. This comes as 300 U.S. marines have been deployed to Afghanistan's Helmand province, marking the first redeployment of U.S. troops to the area since 2014. The White House is considering sending an additional 5,000 U.S. soldiers to Afghanistan.
Trump Invites Philippines' Duterte to Visit White House, Despite Human Rights Concerns
The White House is defending President Trump's decision to invite Philippines President Rodrigo Duterte to visit the White House, despite criticism from human rights groups over Duterte's so-called war on drugs, during which thousands of people have been extrajudicially killed by police and vigilantes. Others have been held and tortured in a recently revealed secret jail in Manila, where prisoners say police have demanded bribes in exchange for their freedom. Human Rights Watch slammed Trump's invitation, saying, "By effectively endorsing Duterte's murderous 'war on drugs,' Trump has made himself morally complicit in future killings."
Brazil Launches First General Strike in 2 Decades to Protest Austerity
In Brazil, tens of millions of people participated in the first general strike in more than two decades on Friday, shutting down public transportation, schools systems and airports in major cities to protest Brazilian President Michel Temer's austerity measures. Temer, who rose to power after the ouster of democratically elected leftist President Dilma Rousseff, currently has a popularity rating of only 4 percent.
Turkey Fires 4,000 Public Workers and Blocks Access to Wikipedia
The Turkish government has fired another 4,000 public workers, shut down 45 civil society organizations and health clinics, and blocked access to Wikipedia across the country Saturday, in the latest escalation of the government's crackdown. A total of 140,000 public and private workers have now been fired since last summer's failed military coup.
Russia: 120 Protesters Arrested in Nationwide Anti-Government Demonstrations
In Russia, at least 120 demonstrators were arrested in St. Petersburg Saturday during a nationwide day of protest against Russian President Vladimir Putin. At least 30 cities participated in the day of protest, during which thousands of people lined up to formally present letters of dissent at government offices.
NSA Says It's Curbing Controversial Mass Surveillance Program
Back in the United States, the National Security Agency says it is curtailing one of its controversial mass surveillance programs, known as the "upstream" program. On Friday, the NSA admitted that an internal review found the program violated rules set by a secret surveillance court. Under the program, the NSA collected en masse Americans' communications with people abroad if their conversations simply mentioned keywords designated by the agency. On Friday, NSA whistleblower Edward Snowden said, "The truth changed everything."
Sebastian Gorka Ousted from White House Amid Reports About Links to Nazi-Allied Group
Donald Trump's counterterrorism adviser, Sebastian Gorka, is reportedly being ousted from the White House, amid reports about his links to a Hungarian far-right, Nazi-allied group. The Jewish newspaper The Forward has also reported Gorka supported an anti-Semitic and racist paramilitary militia in Hungary while he served as a Hungarian politician.
White House Considers Milwaukee Sheriff David Clarke for Top DHS Post
The White House is reportedly considering tapping Milwaukee County Sheriff David Clarke for a top job at the Department of Homeland Security. Politico reports Clarke could be appointed assistant secretary at the DHS Office of Partnership and Engagement. This comes as one of Clarke's jails is currently under investigation, after news surfaced that prisoner Terrill Thomas died of extreme dehydration after guards cut off the water in his solitary confinement cell for seven days. Thomas, who suffered from bipolar disorder, is one of four people who died at the Milwaukee County Jail in only six months in 2016.
Arkansas: Judge Orders Autopsy for Executed Prisoner Kenneth Williams
A state judge in Arkansas has ordered an autopsy for Kenneth Williams, the death row prisoner who was executed Thursday, amid reports he suffered an unconstitutionally painful death. Witnesses say during the execution Williams was "convulsing, lurching [and] jerking with sound." Kenneth was the last of four prisoners killed by the state of Arkansas over an 11-day period in April. They were racing to meet a deadline before the state's drug of the sedative midazolam expired at the end of April.
Workers March & Strike Worldwide on May Day
And today is May 1, known as May Day, or International Workers' Day. Around the world, protests have already begun, with workers pouring into the streets today in Taiwan, Bangladesh, Indonesia, Greece, Iraq, Pakistan, Russia, the Philippines, Turkey and beyond. In the United States, May Day protests are planned in hundreds of cities. They'll be led by immigrant workers, thousands of whom are expected to go on strike today to demand better working conditions and an end to President Trump's crackdown against immigration and immigrant communities.
---