Millions Take to the Street Worldwide for International Workers' Day
Around the world, millions of workers took to the streets Monday for May Day, also known as International Workers' Day. May Day protests were held worldwide, including in France, Kenya, Indonesia, South Korea, Russia and in Turkey, where more than 70 people were arrested in Istanbul. In California, tens of thousands of people marched in the Bay Area, as immigrant workers refused to go to work and students walked out of class.
Milwaukee: 30,000+ March on May Day to Demand Firing of Sheriff Clarke
Texas: 2 Dozen Arrested in May Day Sit-in at Gov.'s Office to Protest SB 4
Julie Ann Nitsch: "I'm a fifth generation Texan, and my family has served this country for a very long time. We didn't serve and we didn't come to this country to flee persecution so that we could live in a country where people are stopped, detained and abused because of the color of their skin. SB 4 is disgusting. It's racist. All law enforcement officers are against it. The only reason why these politicians are pushing it is so that they can get money from a fringe and racist constituency. And they have to be stopped."
In many cities and rural areas, some immigrants launched a one-day work strike, including in Homestead, Florida, where farm workers refused to work and instead marched to City Hall. Monday's immigrant-led protests came as newly released data from the Immigrations and Customs Enforcement Agency, known as ICE, shows nearly half of the 675 immigrants arrested in ICE raids in February had either low-level driving convictions or no criminal record at all.
Portland, Oregon: 25 Arrested in May Day Clashes
Puerto Rico: Thousands Block Traffic and March Against Austerity on May Day
Pedro J. Irene Maymí: "We are repudiating the measures taken by the government of Puerto Rico and the federal fiscal control board against the workers and those measures they hope to take against workers and the rest of the country."
We'll have more voices from the May Day protests in the streets of New York City after headlines.
HRW: Syrian Gov't Used Nerve Agents in 4 Attacks Since December
Afghanistan: Record Number of Civilians Died & Displaced in 2016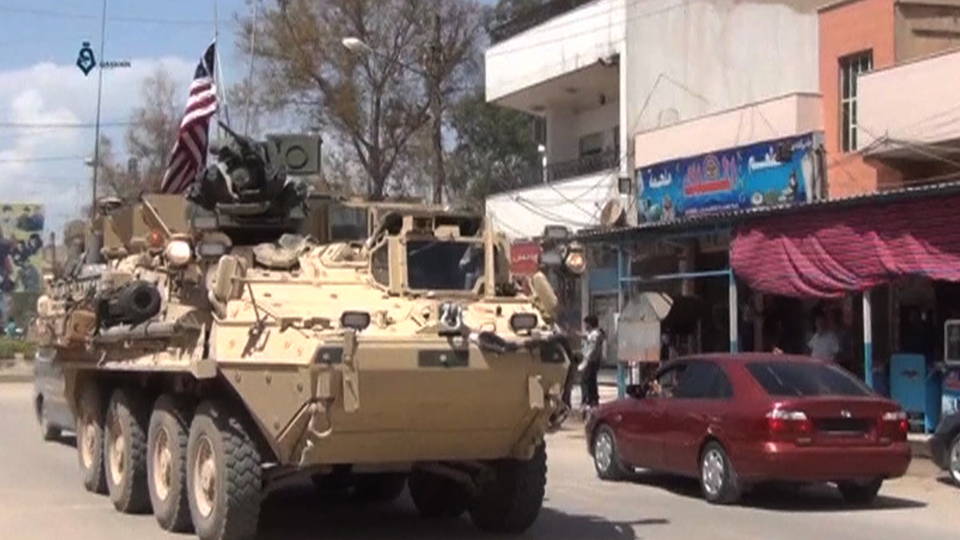 Amid Rising Tensions, Trump Says He'd Meet with North Korea's Kim Jong-un
White House Pushing for Vote on GOP Healthcare Bill, Despite Confusion over Details
President Trump: "Why was There the Civil War?"
President Donald Trump: "I mean, had Andrew Jackson been a little bit later, you wouldn't have had the Civil War. He was—he was a very tough person, but he had a big heart. And he was—he was really angry that he saw what was happening with regard to the Civil War. He said, 'There's no reason for this.' People don't realize, you know, the Civil War—"
Salena Zito: "Yeah, was—"
President Donald Trump: "You think about it, why? People don't ask that question. But why was there the Civil War? Why could—why could that one not have been worked out?"
The Civil War was fought over the expansion of slavery in the United States. President Jackson was a slaveholder. Princeton University history professor Julian Zelizer said Trump's comments were the "height of inaccurate historical revisionism." Trump later doubled down on his statements, tweeting on Monday night, "President Andrew Jackson, who died 16 years before the Civil War started, saw it coming and was angry. Would never have let it happen!"
Fox Ousts Co-President Bill Shine Amid Sexual Harassment Fallout
Texas: Judge Rules Harris County Bail System is Unconstitutional
Milwaukee: Jury Recommends Charges for Jailers Who Denied Terrill Thomas Water
Minneapolis: Man Sentenced to 15 Years in Prison for Shooting BLM Protesters in 2015
Texas: Police Shot and Killed 15-Year-Old Black Teen Jordan Edwards
#J20 Inauguration Day Protesters Facing Up to 75 Years in Prison
---
Courtesy of Democracy Now (www.democracynow.org).  The original content is licensed under a Creative Commons Attribution-Noncommercial-No Derivative Works 3.0 United States License.