Courtesy of Democracy Now 
Trump Visiting Israel as More Palestinians Prisoners Join Hunger Strike
Trump's visit comes after widespread protests broke out Friday across the Israeli-occupied West Bank, after a Jewish settler killed a young Palestinian Thursday. More than 100 protesters were injured as Israeli security forces shot live bullets and tear gas at the thousands of demonstrators. The protests were also in support of the ongoing hunger strikes by Palestinians in Israeli jails. This morning, as Trump arrived in Israel, 200 more prisoners reportedly joined the strike.
Trump Visits Saudi Arabia and Signs $110B Arms Deals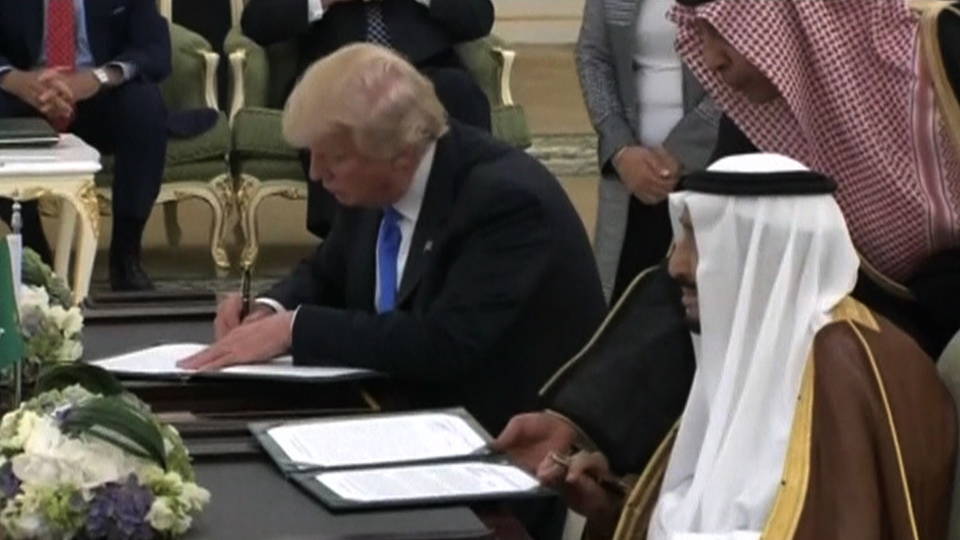 The deal comes as the Pentagon continues to support a Saudi-led bombing campaign in Yemen, where years of fighting have decimated the country's health, water, sewage and sanitation systems, contributing to a cholera outbreak that has killed at least 300 people and that is threatening to spiral out of control. Over 10,000 people have died since the Saudi bombing campaign began in 2015. On Saturday, thousands of Yemenis rallied in Sana'a to protest the U.S. arms deal with Saudi Arabia and Trump's visit there. This is Yemeni journalist Nasser Al-Rabeey.
Nasser Al-Rabeey: "We are here today to say no for terrorism, no for American terrorism. And we are here to say to Trump: 'You kill Yemenis with Saudi hands. You support Qaeda/ISIS by supporting the Saudi Wahhabi regime.'"A legal expert says the U.S. arms deal with Saudi Arabia may be illegal under U.S. law because of the Saudi bombing campaign's killing of civilians. As Trump celebrated the $110 billion arms deal, the Saudis pledged a series of investments in U.S. companies, including a $20 billion investment in the private equity firm Blackstone Group and a $100 million donation—made along with the United Arab Emirates—to a World Bank fund for women that was proposed by President Trump's daughter and White House adviser, Ivanka Trump. We'll have more on Trump's visit to Saudi Arabia after headlines with Medea Benjamin.
Trump Called Comey "Real Nut Job" & Said His Firing Reduced "Pressure" over Russia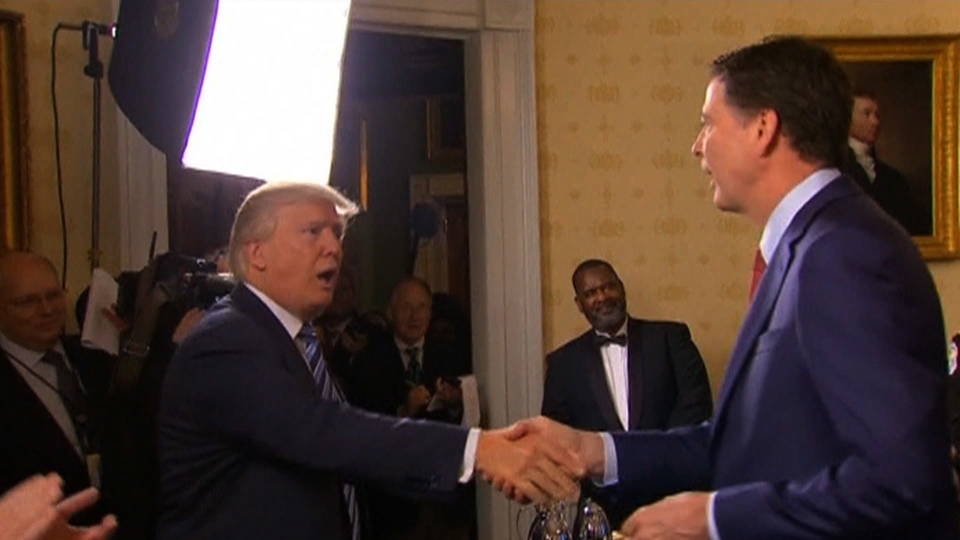 Comey is slated to testify to the Senate Intelligence Committee after Memorial Day weekend, which coincides with Trump's return from his foreign trip to Saudi Arabia, Israel and the Vatican.
Trump had said he'd name a new FBI director before departing this past Friday, but the appointment has been delayed, in part because possible candidates keep withdrawing their names from consideration. Among those who have withdrawn their names are former FBI official Richard McFeely, South Carolina Congressmember Trey Gowdy and former Assistant Attorney General Alice Fisher. Democrats are objecting to the possible appointment of former Democratic Senator Joe Lieberman as FBI director. Lieberman currently works for a law firm that had frequently represented Donald Trump.
Meanwhile, The Washington Post is reporting that a current White House official is under investigation for possibly colluding with Russian officials to allegedly hack the 2016 election. The White House official has not been named. A number of former Trump campaign officials, including former National Security Adviser Michael Flynn and Trump campaign chair Paul Manafort, are also under investigation.
Students March Out of VP Mike Pence's Notre Dame Commencement Speech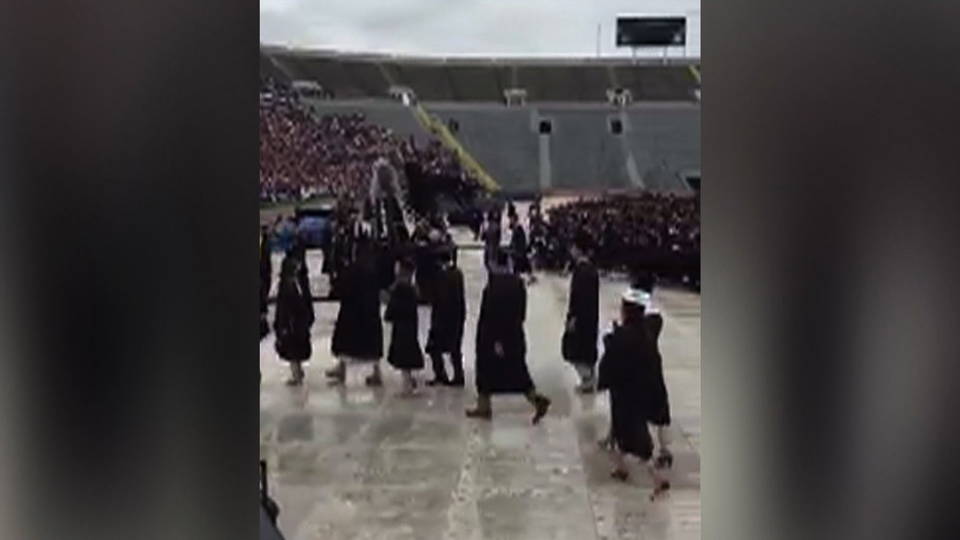 Students: "Notre Dame, our mother / tender, strong and true / proudly in the heavens / gleams the gold and blue."
Among the students' issues was discrimination against Muslims. Vice President Pence was also the former governor and congressmember from Indiana.
Iraq: 50 People Killed in Suicide Bomb Attacks; Thousands Flee Mosul
Syrian Gov't Retakes Full Control of Homs, Once the "Capital of the Revolution"
Iran: President Hassan Rouhani Re-elected in Landslide Election
NYT: Chinese Gov't Jailed or Killed Up to 20 CIA Sources Since 2010
North Korea Launches Medium-Range Ballistic Missile Test
Brazil: Temer Faces Calls to Resign over Accusations of Accepting Millions in Bribes
Rui Falcão "All over the country, people are taking to the streets today in defense of direct elections now. Temer's government has ended. He doesn't have the moral and political legitimacy to end the country's crisis. There are 14 million unemployed people already."
U.N.: South Sudanese Pro-Gov't Forces Killed 114 Civilians in Yei in Six Months
Billy Bush: 2005 Access Hollywood Tape Brought His Daughter to Tears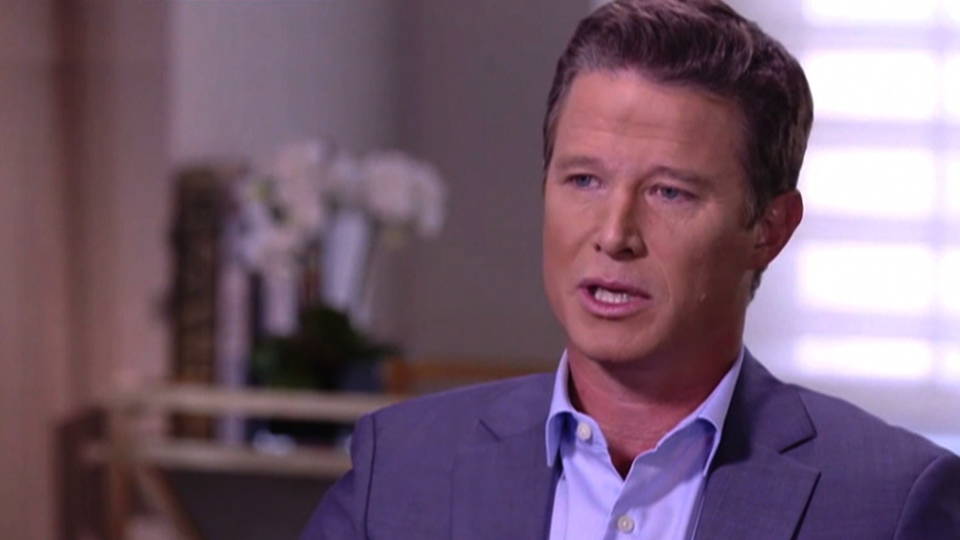 Donald Trump: "I've got to use some Tic Tacs just in case I start kissing her. You know, I'm automatically attracted to beautiful—I just start kissing them. It's like a magnet. I just kiss. I don't even wait. And when you're a star, they let you do it. You can do anything."
Billy Bush: "Whatever you want."
Donald Trump: "Grab 'em by the pussy. You can do anything."
NBC fired Billy Bush after the tape resurfaced during the 2016 presidential campaign. In his first comments on the tape since its release, Bush told "Good Morning America" the tape brought his 16-year-old daughter to tears.
Billy Bush: "It was a powerful moment. My now-16-year-old daughter called me, and she was in tears. And she was really upset. And I said, 'Mary, it's—it's going to be OK. You know, don't worry.' And she said, 'No. Why were you laughing at the things that he was saying on that bus? Why were you playing along with it, Dad? It wasn't funny.' And I said, 'Mary, I am sorry. And there is no good answer for that.'"
WA State: Officials Probe Possible Leak at Hanford Nuclear Site
Maryland: FBI Probing Murder of African-American Student as Hate Crime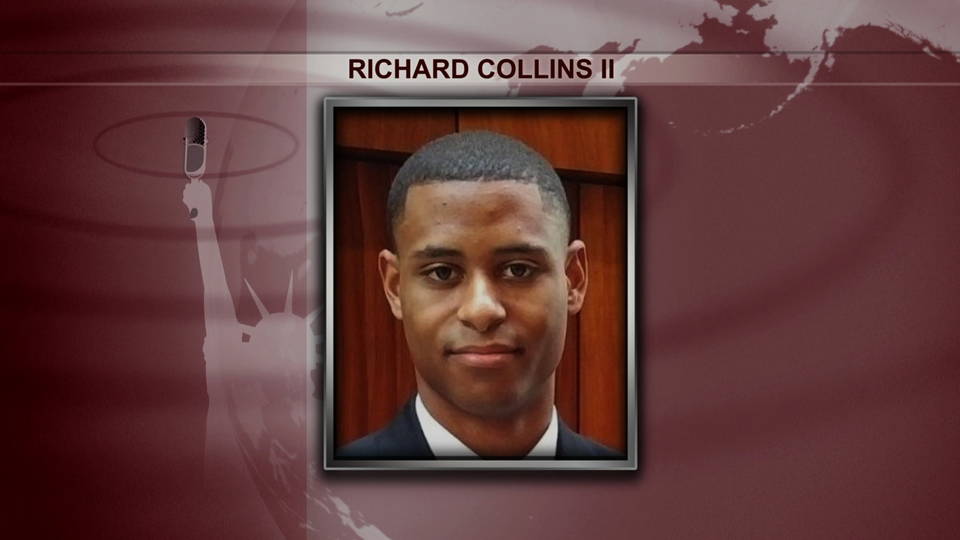 Ohio: No Indictment for White Officer Who Killed 13-Year-Old African-American Boy
New Orleans Removes Confederate Statue of General Robert Lee
---
The original content is licensed under a Creative Commons Attribution-Noncommercial-No Derivative Works 3.0 United States License.