House GOP Health Bill Could Put Coverage Out of Reach of Millions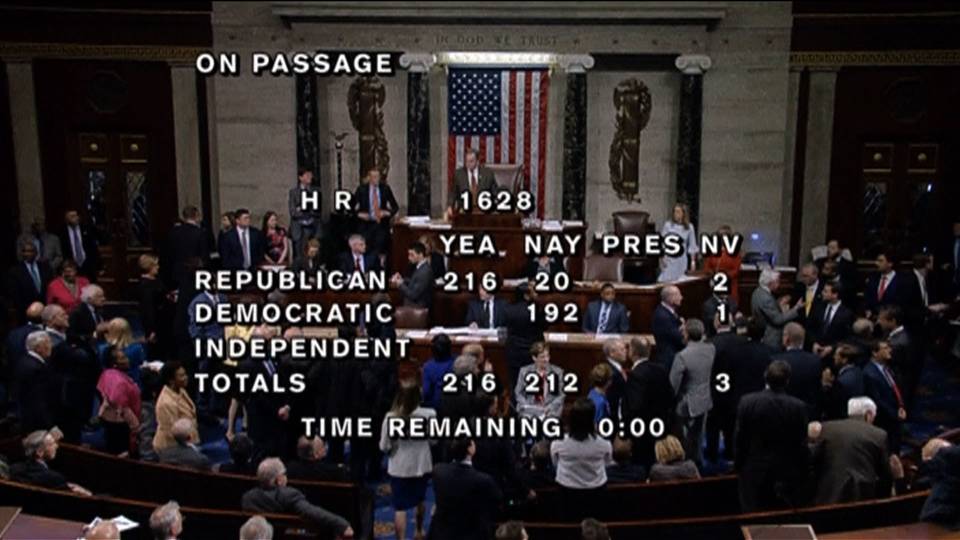 Speaker Paul Ryan: "A lot of us have been waiting seven years to cast this vote. Many of us are here because we pledged to cast this very vote."
President Trump celebrated passage of the bill in a Rose Garden ceremony with Republican congressmembers, saying the legislation would lower healthcare premiums. But a Center for American Progress analysis found that surcharges on premiums for patients with pre-existing conditions could rise by over $140,000 for some cancer patients, while some women could see a 450 percent rise in the cost of insuring a pregnancy. The legislation would also block Medicaid reimbursements to Planned Parenthood for one year unless the women's health group agrees to stop offering abortions.
Opponents of Republican Healthcare Bill Vow to "Vote Them Out"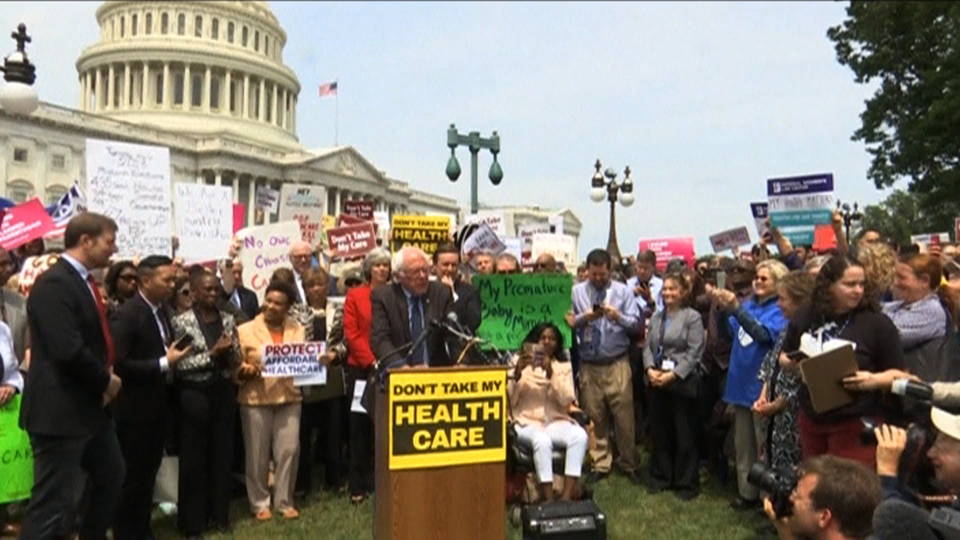 Sen. Bernie Sanders: "President Trump, you do not stand with the working class of this country when you throw 24 million people off of health insurance, when you raise premiums for older workers, when you defund Planned Parenthood and when you cut Medicaid by $800 billion. And then, on top of all of that, you give $300 billion in tax breaks to the top 2 percent. That is not standing with the working class of this country. That is going to war against the working class of this country."
The healthcare bill faces a steep climb in the Senate, where Republicans control just 52 out of 100 seats. We'll have more on the House healthcare bill after headlines.
Banging Pots and Pans, Protesters Target Trump's Return to New York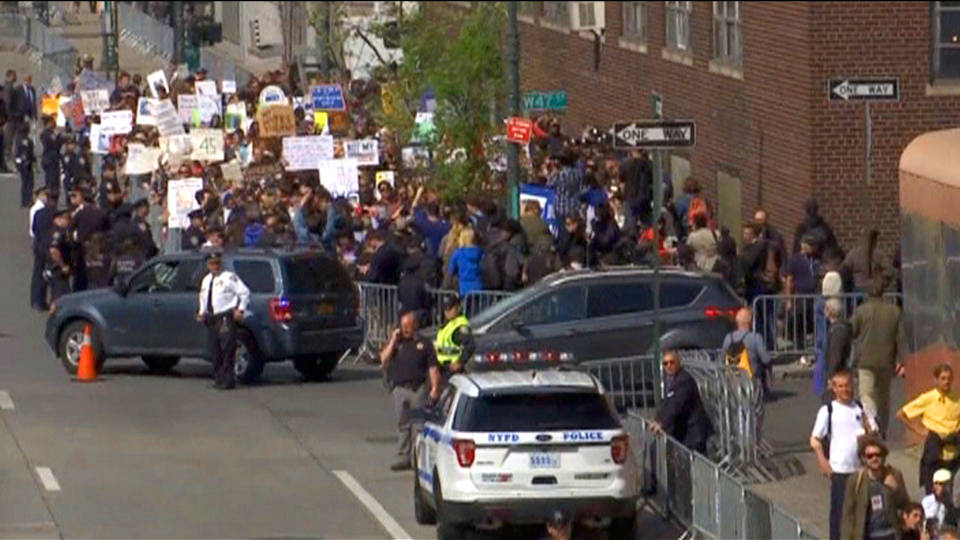 Jennifer Epps-Addison: "This is the most hateful president our country has ever seen. His work is targeting immigrants and young people and poor people and the elderly. And we're here to build a country that really stands for every single person who lives within its borders. So we're here to say we resist this regime, we resist the politics of hate, and, instead, we're here to build a country that's based upon opportunity and freedom and equity for everyone."
President Trump Praises Australia's Universal Healthcare System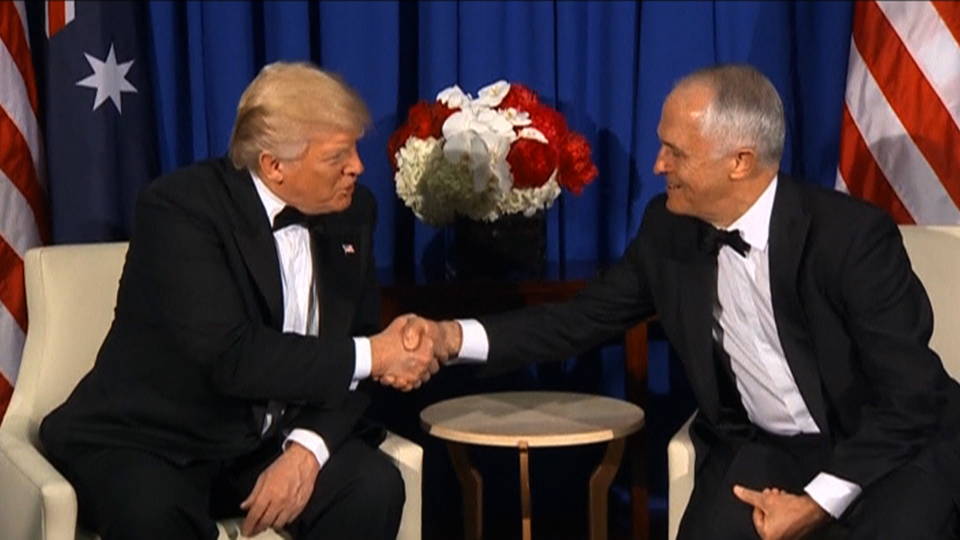 President Donald Trump: "We have a failing healthcare—I shouldn't say this to our great gentleman and my friend from Australia, because you have better healthcare than we do."
Australia has "universal healthcare," with a government-run healthcare system known as Medicare, which is funded in part by a tax on wealthy Australians.
Executive Order Seeks to Expand Political Role for Religious Leaders
President Trump Thursday signed an executive order relaxing rules on tax-exempt religious groups that could expand the role of churches and religious leaders in U.S. politics. In a statement, American Civil Liberties Union Director Anthony Romero promised a lawsuit, saying, "The actions taken today are a broadside to our country's long-standing commitment to the separation of church and state. ... It's clear that the Trump administration and Congressional leadership are using religion as a wedge to further divide the country and permit discrimination."
Federal Judge Orders Georgia to Extend Voter Registration
In Georgia, a federal judge has ordered elections officials to reopen early voter registration ahead of a June 20 special election for the state's 6th Congressional District. The election pits Democrat Jon Ossoff against Republican Karen Handel in a race that's surprisingly close for a conservative district—and which could be a bellwether for the 2018 midterm elections. Georgia shut down voter registration on March 20, but with Thursday's order, residents will have until May 21 to register.
New Georgia Law Allows Concealed-Carry Weapons on College Campuses
Meanwhile, Georgia's Republican Governor Nathan Deal on Thursday signed a bill allowing students and others to carry concealed weapons on college campuses. The law was strongly opposed by police chiefs and university presidents, who will now be required to implement the law before it goes into effect on July 1.
French Presidential Vote Pits Banker Against Far-Right Candidate
In France, voters head to the polls Sunday in a presidential election that pits former investment banker Emmanuel Macron against far-right politician Marine Le Pen. Macron on Thursday won the support of former U.S. President Barack Obama, who urged French voters to reject the politics of fear. Le Pen, who has campaigned on an openly xenophobic and racist platform, faced protests Thursday as she visited a trucking company in Brittany. Protesters shouted, "Out you fascists!" and threw eggs at her, hitting her once in the head. Meanwhile, activists with Greenpeace unfurled a giant banner on the Eiffel Tower in Paris Friday emblazoned with France's national motto, "Liberté, égalité, fraternité," and the hashtag #RESIST, calling on voters to reject Le Pen and her party. We'll have more on the French elections after headlines.
Committee to Protect Journalists: Mexican Government Failing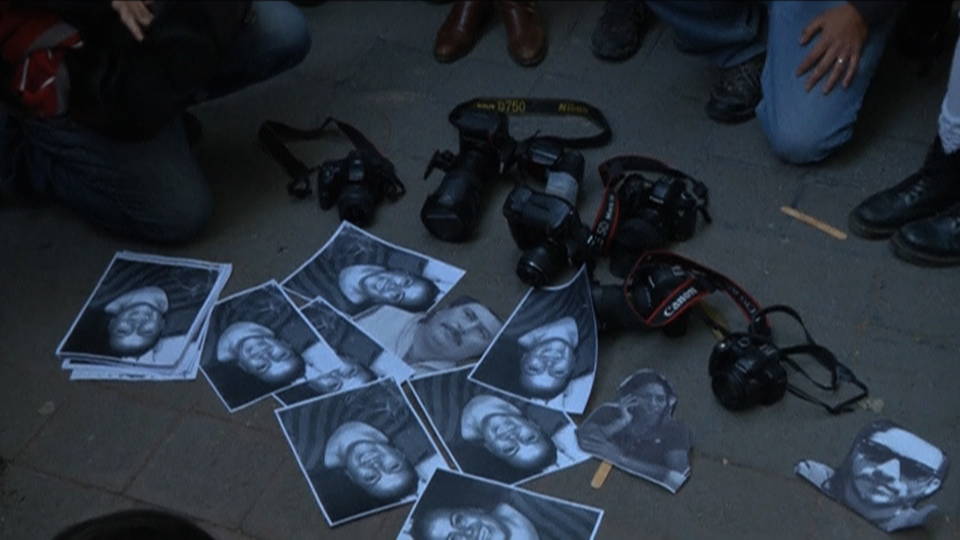 Carlos Lauría: "The reality is that violence against journalists is a problem that goes beyond journalism. It's affecting fundamental human rights of all Mexicans, including journalists and reporters. It's inhibiting the possibility that Mexicans openly debate the problems that afflict society. And indirectly, it is also affecting the stability of the country's democracy."
More than 100 journalists have been murdered in Mexico since 2000, and last March was the worst month on record, with at least seven journalists shot across Mexico.
Argentina: Court Orders Shorter Sentences for Human Rights Abusers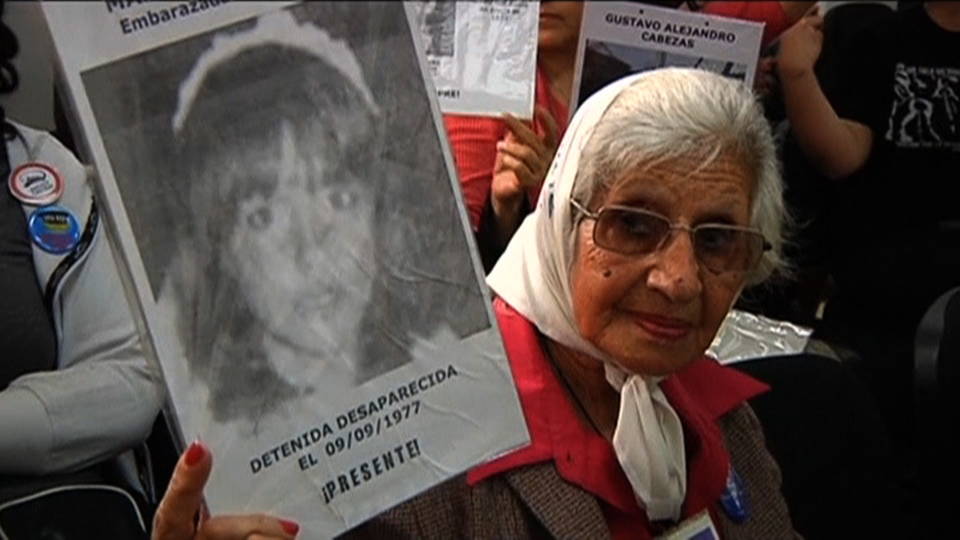 In Argentina, human rights groups are condemning a Supreme Court ruling that could bring an early release to hundreds of people convicted for human rights abuses during the U.S.-backed dirty wars of the 1970s and '80s. This is Estela de Carlotto, president of the association of Grandmothers of the Plaza de Mayo.
Estela de Carlotto: "For the people, the clear message is: This does not affect those of us who have already been affected for 40 years; it affects the children of the people, the grandchildren and great-grandchildren of the people. What is not judged and condemned will be repeated. And those who disagree that history will be repeated will face what our children suffered: the 30,000 disappeared."
An estimated 30,000 activists were tortured and "disappeared" in the late 1970s and early 1980s by Argentina's right-wing dictatorship.
Flint Homeowners Face Foreclosure over Unpaid Bills for Poison Water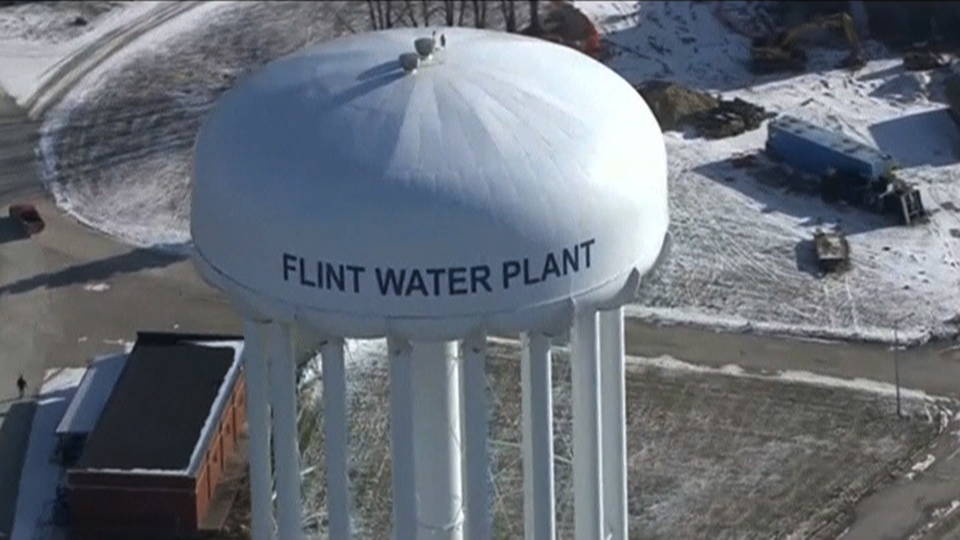 Chicago Nursing Home Workers Win Labor Contract, Averting Strike
Yale Graduate Student Hunger Strike Seeks Union Contract
---
Courtesy of Democracy Now (www.democracynow.org).  The original content is licensed under a Creative Commons Attribution-Noncommercial-No Derivative Works 3.0 United States License.