"Not My President": Tens of Thousands Nationwide Protest Trump's Election
Tens of thousands of people took to the streets across the United States Wednesday to protest the election of Donald Trump, who surged to victory over Hillary Clinton in Tuesday's presidential election. In California, at least 13 people were arrested as hundreds blocked traffic on both the 101 and the 110 freeways. Thousands more gathered at Los Angeles City Hall, where some burned a giant effigy of Donald Trump. In nearby Santa Ana, California, police fired rubber bullets and pepper spray at hundreds of protesters after the crowds took over major intersections. In Oakland, police also deployed tear gas and flashbang grenades against crowds of thousands of protesters, who blocked traffic with their bodies and by lighting fires and burning Trump piñatas. In Seattle, thousands took to the streets for a protest called by Socialist Seattle City Councilwoman Kshama Sawant, while in Chicago thousands rallied outside Trump Tower, where at least five people were arrested. Protests were also held in Portland, Oregon; Miami, Florida; New Orleans, Louisiana; Richmond, Virginia; Pittsburgh, Pennsylvania; Austin, Texas; and outside the White House in Washington, D.C. In the Northeast, at least 4,000 people descended on the Boston Commons, more than 1,000 people rallied outside Philadelphia's City Hall, and as many as 10,000 people surged through New York City's streets and surrounded the barricaded-off Trump Tower, where Donald Trump lives. The crowd shouted "Not my president," while workers in uniform cheered on the marchers. At least 65 people were arrested. This is one of the protesters in New York City.
Natasha Elena: "I think it speaks to the disenfranchisement of the people that someone like him could be seen as offering anything to the masses. I mean, I think Hillary is no savior either. I think she has an imperialist track record. I think she's a very dangerous candidate. But I think Donald Trump's ability to mobilize perhaps latent racist thoughts is incredibly terrifying, and it's urgent to be out here today."
Crowds also gathered for anti-Trump protests in Britain and the Philippines.
Students Stage Anti-Trump Walkouts from Coast to Coast
Students across the country also staged walkouts Wednesday to protest Donald Trump's election. In California, thousands of students poured out of high schools across the Bay Area. Hundreds of high school and college students also walked out of classes in Seattle; Phoenix; New York City; Portland, Oregon; Boulder, Colorado; Pittsburgh, Pennsylvania; and on the campuses of the University of Connecticut and the University of Texas.
Clinton Concedes to Trump: "This is Painful & Will Be for a Long Time"
The protests come as Donald Trump heads to the White House today to meet with President Obama in the Oval Office. On Wednesday morning, Democratic presidential candidate Hillary Clinton gave a concession speech in the New Yorker Hotel's Grand Ballroom in New York City, during which she called her defeat painful, but urged a peaceful transition of power. Clinton is leading the popular vote by hundreds of thousands of ballots, but she lost the electoral college.
Hillary Clinton: "I know how disappointed you feel, because I feel it, too. And so do tens of millions of Americans who invested their hopes and dreams in this effort. This is painful, and it will be for a long time. But I want you to remember this: Our campaign was never about one person or even one election. Donald Trump is going to be our president. We owe him an open mind and the chance to lead. Our constitutional democracy enshrines the peaceful transfer of power."
Exit Polls: Majority of White Female Voters Supported Donald Trump
Analyses of exit polls from Tuesday's presidential election show voters nationwide were dramatically split by race. People of color voted overwhelmingly for Hillary Clinton, including 88 percent of all African-American voters. Fifty-eight percent of all white voters, in contrast, voted for Donald Trump. Support for Trump was more pronounced among white male voters, 63 percent of whom supported him. But white female voters also supported Donald Trump over Hillary Clinton by a 10-point margin, with 53 percent supporting Trump and only 43 percent supporting Hillary Clinton. This is Kenyan-American activist and writer Agunda Okeyo, speaking during a demonstration Wednesday outside the Trump International Hotel in New York City.
Agunda Okeyo: "I want to say something specific to my white women allies. Fifty-three percent of the people who voted for Donald Trump were white women. How did that happen? How did that happen? We need to come together as a multiracial group of people who recognize that white supremacy is the greatest disease in this country. All right?"
Exit polls show voters were also divided by age, with the majority of all voters age 18 to 44 voting for Hillary Clinton, and the majority of voters 45 and older voting for Donald Trump.
Trump Cabinet Shortlist: Christie, Giuliani, Sessions & Gingrich
As Donald Trump heads to the White House, Trump's aides say he's also beginning to assemble his Cabinet. New Jersey Governor Chris Christie is the head of Trump's transition team. The New York Times is reporting that likely Cabinet members include former New York Mayor Rudolph Giuliani, Alabama Senator Jeff Sessions, former House Speaker Newt Gingrich and businessman Steven Mnuchin, who formerly worked for Goldman Sachs. Trump's aides say he's also preparing to nominate a Supreme Court justice.
Private Prison Companies' & Military Contractors' Stocks Surge After Trump Wins
In financial news, global markets have rebounded after plummeting upon the news of Trump's victory. Stocks of some companies surged, including the largest private prison contractor, Corrections Corporation of America—which recently changed its name to CoreCivic—and is up 43 percent since Trump's victory. GEO Group, another private prison contractor, is up 21 percent. The Intercept reports stocks also surged for many military contractors, including Raytheon, General Dynamics, Lockheed Martin and Boeing.
New Hampshire Senate Race: Maggie Hassan Beats Kelly Ayotte
In more results from Tuesday's election, Democrat Maggie Hassan has beat out Republican Kelly Ayotte in the New Hampshire Senate race, one of the tightest and most closely watched races this year. The race cost $120 million, a staggering amount for the tiny state of New Hampshire. With Hassan's victory, Democrats now have 48 senators to the Republicans' 51. Louisiana's Senate race has not yet been decided.
Maine Votes for Ranked-Choice Voting, Opening Door for More 3rd-Party Candidates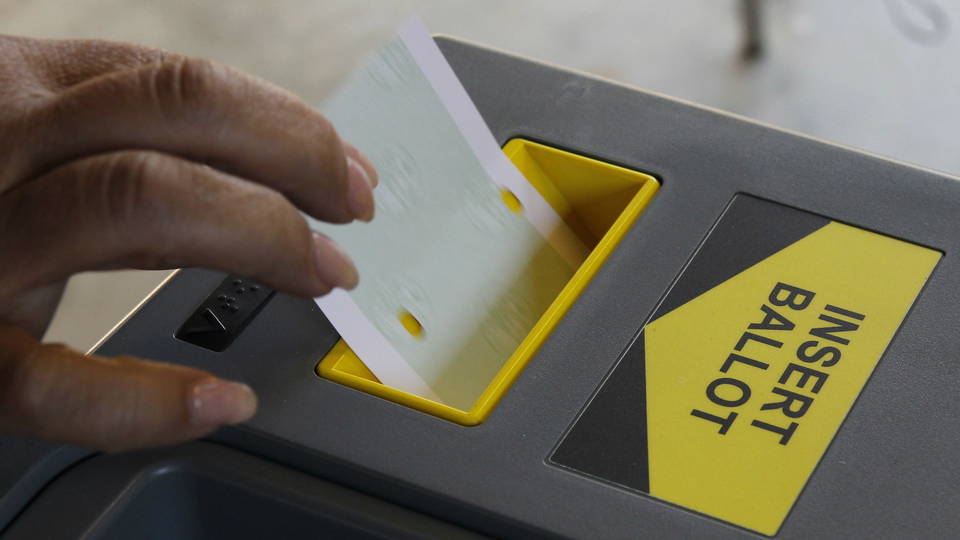 Meanwhile, in Maine, voters approved a ballot measure that will transform the way voting occurs in the state and will open the door for more third-party candidates. The measure approves ranked-choice voting, which means people can vote for their choice of candidates in order. If their first-choice candidate does not win, their vote automatically defaults to their second-choice candidate, and so on. Maine becomes the first state in the nation to approve this style of voting, which will be used for both state and federal elections.
Report: U.S.-Led Airstrikes Kill 20 Civilians North of Raqqa
The Syrian Observatory for Human Rights is reporting a U.S.-led airstrike about 25 miles north of Raqqa has killed at least 20 civilians and injured at least 32 more civilians. This comes as U.S. Central Command says 119 civilians have been killed since 2014 in U.S. airstrikes in Iraq and Syria.
Amnesty Calls on Iraqi Gov't to Probe Torture of Civilians by U.S.-Backed Forces
In more news from Iraq, Amnesty International is calling on the Iraqi government to investigate the execution and torture of civilians by the U.S.-backed Iraqi government forces near Mosul. This comes after an Amnesty investigation found evidence the Iraqi government forces had killed at least six villagers near Mosul "execution style." Amnesty has also accused militia members of engaging in torture: tying suspected civilians to cars and driving them through villages, beating people's faces with cables and holding them in inside poultry cages in public.
U.N. Launches Probe of U.S. Airstrike in Afghanistan That Killed 30
In Afghanistan, the United Nations has launched an investigation into a series of U.S. airstrikes that killed more than 30 civilians near the city of Kunduz one week ago. The U.N. Assistance Mission in Afghanistan says the majority of the victims were women and children.
Expert: Army Corps Assessment of Dakota Access Pipeline was "Seriously Deficient"
And in North Dakota, a pipeline safety expert hired by the Standing Rock Sioux Tribe has concluded the U.S. Army Corps of Engineers' environmental assessment of the $3.8 billion Dakota Access pipeline was "seriously deficient" and had underestimated the possibility of a pipeline spill into the Missouri River. Specialist Richard Kuprewicz concluded the pipeline should be rerouted away from an area that is prone to landslides. President Obama has indicated the U.S. Army Corps of Engineers is considering a plan to reroute the pipeline, and the U.S. Army Corps continues to withhold a permit necessary for the company to drill underneath the Missouri. But Energy Transfer Partners, the company behind the Dakota Access pipeline, says it's currently mobilizing equipment to drill beneath Lake Oahe on the Missouri River, even though the U.S. Army Corps of Engineers has not yet granted the permit required to do so.
---
Courtesy of Democracy Now (www.democracynow.org).  The original content is licensed under a Creative Commons Attribution-Noncommercial-No Derivative Works 3.0 United States License.