In Major Offensive, Syrian Gov't Seize Control of Northeast Aleppo
Cuba in 9 Days of Mourning Following Fidel Castro's Death
Maydelis Savon: "Before anything else, I am a revolutionary. I am compelled to be here because I am part of the people. Also, Fidel Castro fought so that all Cubans can have the same rights."
Bolivia has declared a week of mourning for Castro, whose revolution inspired revolutionary efforts across Latin America and the globe and led Castro to become one of the archenemies of the United States. On Monday, President-elect Donald Trump threatened to undo President Obama's re-establishment of formal diplomatic relations with Cuba and reimpose the crushing economic sanctions against Cuba. Trump tweeted, "If Cuba is unwilling to make a better deal for the Cuban people, the Cuban/American people and the U.S. as a whole, I will terminate deal."
Trump Picks Anti-Obamacare, Anti-Abortion Rep. Tom Price to Be Health Secretary
Donald Trump has picked Georgia Congressmember Tom Price to be secretary of health and human services. Price is the chair of the House Budget Committee, a member of the Tea Party Caucus and one of the leading opponents of President Obama's Affordable Care Act. Price supports privatizing Medicare. He opposes abortion and has voted to cut all federal funding for Planned Parenthood. He's also an opponent of marriage equality, with a track record of voting against measures to prohibit discrimination based on sexual orientation.
White Supremacist Richard Spencer to Speak at Texas A&M University
Texas A&M University is under fire for allowing white nationalist Richard Spencer to speak at an upcoming campus event despite major opposition on campus to his vocal white supremacist views. Spencer was recently the lead speaker at a white supremacist gathering in Washington, D.C., where he recited Nazi propaganda in original German and spoke openly about white power. Multiple people performed the Nazi salute after his speech and chanted "Heil the people! Heil victory!" Spencer has said he and Donald Trump have a "psychic connection." He's one of the leaders of the so-called alt-right movement, which embraces white supremacy and espouses racist, xenophobic, homophobic and sexist views. On Monday, the Associated Press issued new guidelines for using the term "alt-right," writing, "Avoid using the term generically and without definition, however, because it is not well known and the term may exist primarily as a public-relations device to make its supporters' actual beliefs less clear and more acceptable to a broader audience."
Colombia: Plane Crash Kills 76, Including Journalists & Soccer Players
Tens of Thousands #Fightfor15 on National Day of Disruption
Tens of thousands of fast-food workers, home care and childcare workers in 340 cities are slated to protest today for a National Day of Disruption. The protest marks the fourth anniversary of the movement to raise wages known as the #FightFor15. In Chicago, hundreds of janitors, baggage handlers, cabin cleaners and wheelchair attendants at O'Hare Airport are slated to strike to demand a raise to $15 an hour. Hundreds of Uber drivers in cities across the country are also slated to join the protest. This is Michael Vazquez, a wheelchair attendant at New York City's LaGuardia Airport.
Michael Vazquez: "$10.10 an hour is just not a livable living wage, especially if you have a family. After 40 hours a week, you barely make over $1,000, and you really can't live in this city with that type of wage, honestly. So we're here just trying to make a better living for everybody. You know, I'm here on my day off. You know, I'm not just doing this for me. It's not just about me; it's about all of us. So, as you can see, as you can hear behind me, we're all here fighting, we're all here sticking together, and we're not going to give up."
This comes as German airliner Lufthansa has canceled 1,700 flights for today and Wednesday amid an ongoing pilots' strike, which has seen a series of walkouts and strikes since last Wednesday.
National Lawyers Guild Sues Morton County Sheriff, Police for Excessive Force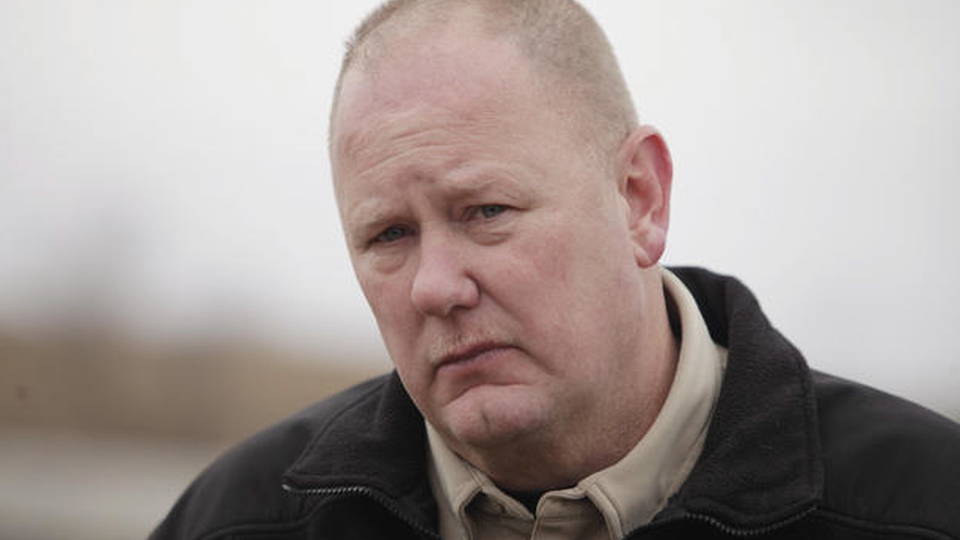 In North Dakota, a group of lawyers from the National Lawyers Guild has filed a class action lawsuit against Morton County Sheriff Kyle Kirchmeier, Morton County and other law enforcement agencies, arguing they are using excessive force against Native American water protectors fighting the $3.8 billion Dakota Access pipeline. In recent weeks, police have attacked the protectors with rubber bullets, bean bag rounds, water cannons in subfreezing temperatures, sound cannons, explosive tear gas grenades and concussion grenades, injuring hundreds of people. One water protector, Sophia Wilansky, was critically injured during one police attack, after her father says a police concussion grenade exploded and nearly blew her arm off. Click here to see our full interview with Sophia's father, Wayne Wilansky.
2,000 Vets to Head to Standing Rock as North Dakota Cuts Off Emergency Services to Camps
Canada: First Nations Fight Trans Mountain Pipeline Expansion
Meanwhile, opposition is also growing across Canada to Kinder Morgan's proposed $5 billion Trans Mountain pipeline expansion, which would carry oil from the Alberta tar sands region to ports in Vancouver. This is Rueben George of the Tsleil-Waututh First Nation.
Rueben George: "This has been consistently voted the last 20 years as the most livable place in the world, and it's because of places like this. It's because of the mountains. It's because of the waters. It's because people get something when they come to the water. They get something when they're up in the mountains. And I know they will want to protect it, too, because it doesn't service Canadians. It doesn't service jobs, or it doesn't help our economy. It's to service a greedy 1 percent. And our plan, of what we do, using our own resources, is for everybody."
South Korea's President Offers to Resign Amid Corruption Scandal
South Korean President Park Geun-hye has offered to resign amid an ongoing corruption scandal. Earlier this month, as many as 1 million people took to the streets of Seoul to demand her resignation over claims she helped a close friend embezzle up to $70 million. She said she'd let the National Assembly decide if and when she should leave office.
India: Thousands Protest Prime Minister's Monetary Devaluation
In India, thousands of people protested Monday against Indian Prime Minister Narendra Modi's recent decision to pull 500- and 1,000-rupee notes out of circulation overnight, causing havoc for hundreds of millions of people whose savings are entirely in cash. The move affected more 80 percent of the country's money supply and led to massive lines at ATMs and widespread economic hardship. This is Arun Gupta, leader of a regional party.
Arun Gupta: "We have blocked the rail tracks here and burned an effigy of Narendra Modi in protest against his move to withdraw 1,000- and 500-rupee bills which has caused great inconvenience to the poor, including farmers, and those who have weddings lined up. If they don't roll back their decision, then we will continue our agitation.
Attack at Ohio State U. Leaves 11 Injured Before Attacker Shot Dead
Jimmy Carter Calls on Obama to Recognize Palestine Before Leaving Office
---
Courtesy of Democracy Now (www.democracynow.org).  The original content is licensed under a Creative Commons Attribution-Noncommercial-No Derivative Works 3.0 United States License.