Haiti: Hurricane Death Toll Tops 1,000 as Cholera Spreads
In Haiti, the death toll from Hurricane Matthew has topped 1,000 as the country battles a growing cholera epidemic and authorities dig mass graves for those killed by the Category 4 storm. U.N. officials said nearly 1 million people are in urgent need of humanitarian assistance, with up to 80 percent of Haiti's food crops destroyed in some areas. Aid agencies say at least 60,000 people are staying in temporary shelters. Survivors reported drinking well water contaminated by dead livestock. At least 13 people have died of cholera, after floodwaters mixed with sewage. Haiti's ambassador to the U.S., Paul Altidor, said there are fears of a growing epidemic.
Paul Altidor: "Cholera was an issue that Haiti was dealing with, has been dealing with in the past few years. So, in light of what just took place over the past few days, yes, cholera and other health issues may be on the rise."
Sunday's planned presidential election has been postponed indefinitely in the wake of Hurricane Matthew.
U.S.: Hurricane Death Toll at 17 Amid Severe Flooding
In the U.S., the death toll from Hurricane Matthew has reached 17, after the storm lashed the Atlantic Coast from Florida to Virginia. At least eight people died in North Carolina, where heavy rains caused record-breaking flooding. Parts of Georgia saw record storm surge as high as 12.5 feet. Florida Governor Rick Scott said his state was spared a direct hit, but said the storm caused an "unbelievable" amount of beach erosion.
Donald Trump Boasts of Sexual Assault in 2005 Video
In news from the campaign trail, a defiant Donald Trump squared off against Hillary Clinton in a bitter presidential debate on Sunday, capping an extraordinary weekend that saw top Republicans call on Trump to end his presidential run following the release of a videotape showing Trump boasting about sexually assaulting women. The three-minute video, recorded by NBC's "Access Hollywood" in 2005, was released Friday by The Washington Post. It opens with audio of Trump and TV host Billy Bush speaking on a bus as Trump prepares to meet Arianne Zucker, star of the soap opera "Days of Our Lives." A warning to our audience: This video contains vulgar, disturbing language.
Donald Trump: "I've got to use some Tic Tacs just in case I start kissing her. You know, I'm automatically attracted to beautiful—I just start kissing them. It's like a magnet. Just kiss. I don't even wait. And when you're a star, they let you do it. You can do anything."
Billy Bush: "Whatever you want."
Donald Trump: "Grab 'em by the pussy. You can do anything."
Clinton, Trump Square Off in Caustic Presidential Debate
The release of the video dominated campaign coverage throughout the weekend and set the tone for Sunday night's debate in St. Louis, where Trump was confronted by co-moderator Anderson Cooper of CNN.
Anderson Cooper: "You called what you said 'locker room banter.' You described kissing women without consent, grabbing their genitals. That is sexual assault. You bragged that you have sexually assaulted women. Do you understand that?"
Donald Trump: "No, I didn't say that at all. I don't think you understood what was said. This was locker room talk. I'm not proud of it. I apologize to my family. I apologize to the American people. Certainly I'm not proud of it. But this is locker room talk."
Trump's campaign brought three women to the debate who have accused Bill Clinton of sexual crimes, including Juanita Broaddrick, who alleges she was raped by Bill Clinton nearly 40 years ago and that Hillary Clinton worked to cover it up. Clinton did not directly address those charges. She said the video released Friday showed the real Donald Trump.
Hillary Clinton: "What we all saw and heard on Friday was Donald talking about women, what he thinks about women, what he does to women. And he has said that the video doesn't represent who he is. But I think it's clear to anyone who heard it that it represents exactly who he is."
Meanwhile, Donald Trump confronted Hillary Clinton over tens of thousands of emails deleted from private email servers she maintained during her time as secretary of state. Trump said Clinton would "be in jail" if he wins the presidency.
Donald Trump: "If I win, I am going to instruct my attorney general to get a special prosecutor to look into your situation, because there has never been so many lies, so much deception. There has never been anything like it. And we're going to have a special prosecutor."
During the 90-minute debate, Clinton and Trump fielded questions about the Affordable Care Act, potential Supreme Court nominees, Islamophobia and Trump's call to ban all Muslims from entering the country, income taxes, Syria's civil war, and energy policies. Global warming was mentioned only once, in passing, by Hillary Clinton. There was no discussion of police killings of people of color or the Black Lives Matter movement. Third-party candidates, including Libertarian Gary Johnson and the Green Party's Jill Stein, were excluded from the debate stage under stringent rules set by the Commission on Presidential Debates, which is controlled by the Democratic and Republican parties. But after headlines, Democracy Now! will be expanding the debate: We'll pause the tape after questions answered by Donald Trump and Hillary Clinton to get response from Green Party presidential nominee Jill Stein.
Top Republicans Call on Trump to Step Down as Republican Nominee
The debate came as a growing number of Republican officials called on Trump to step down as their party's nominee following Friday's release of the video showing Trump boasting of sexual assault. Fifteen Republican senators, including former GOP presidential nominee John McCain, are now openly opposing Trump's candidacy. The highest-ranking Republican woman in Congress condemned Trump's comments. Congressmember Cathy McMorris Rodgers of Washington state said, "It is never appropriate to condone unwanted sexual advances or violence against women. Mr. Trump must realize that it has no place in public or private conversations." Donald Trump has rejected calls to step down. In the wake of the tape's release, there's a renewed focus on other reports of Trump's mistreatment of women. New York Times columnist Nicholas Kristof published a piece Friday titled "Donald Trump, Groper in Chief." It details the claims of Jill Harth, a Florida business associate of Trump who sued him for sexual harassment after he groped her at a business dinner and later attempted to sexually assault her in the empty bedroom of his daughter Ivanka. Harth described the incident to The Guardian.
Jill Harth: "He pulled me aside in the children's room and made another sexually aggressive advance on me, where he tried to make his move. He pushed me up against the wall and had his hands all over me and tried to get up my dress again. And I had to physically say, 'What are you doing? Stop it.' It was a shocking thing to have him do this, because he knew I was with George, he knew that they were in the next room. And how could he be doing this when I'm there for business?"
NBC Suspends Billy Bush from "Today" Show over Trump Tape
Meanwhile, NBC News has suspended Billy Bush from the "Today" show over his comments in the 2005 Donald Trump video. Bush is heard cheering on Donald Trump's descriptions of groping and sexually assaulting women, and objectifying Arianne Zucker, saying, "Sheesh, your girl's hot as [expletive]" and "Yes! The Donald has scored! Whoa, my man!" Billy Bush is the cousin of former Florida Governor Jeb Bush and President George W. Bush.
WikiLeaks Reveals Parts of Hillary Clinton's Speeches to Wall Street
In other campaign news, WikiLeaks has released excerpts of Hillary Clinton's paid remarks to Wall Street firms, showing the Democratic presidential nominee's closed-door remarks were starkly at odds with many of her public positions. The speeches became a major flashpoint in the Democratic primaries after Clinton's opponent, Sen. Bernie Sanders, challenged Clinton to reveal transcripts of her speeches, for which she was paid more than $22 million. The excerpts came in hacked emails of campaign chair John Podesta. In one speech to a housing trade group in 2013, Clinton spoke of "unsavory" political maneuvering and needing "both a public and a private position" when crafting laws. In an exchange with Goldman Sachs CEO Lloyd Blankfein in 2013, Clinton complained about ethics rules requiring politicians to sell off certain assets when taking office. In other speeches, Clinton largely absolved Wall Street firms for the crash of 2008 and said financial reform "really has to come from the industry itself."
Clinton Campaign Accuses Russia of "Weaponizing" WikiLeaks
The WikiLeaks revelations came just hours after the Clinton campaign accused Russia of siding with Donald Trump in the presidential race. A campaign spokesperson blamed Russian hackers for stealing Clinton campaign emails, and said the Kremlin had "weaponized" WikiLeaks to meddle in the U.S. election.
Yemen: U.S.-Backed Saudi Coalition Bombing Kills 140, Wounds Hundreds
In Yemen, hospitals struggled to care for the wounded after a U.S.-backed Saudi coalition bombed a funeral hall in the capital Sana'a, killing at least 140 mourners and wounding more than 500 others. Survivors spoke of back-to-back bombings during a funeral service for the father of an official with the rebel Houthi government, which controls Sana'a.
Salim Saleh Rowaishan: "There were over 800 people in the hall, including the elderly and children. Suddenly we heard the sound of airplanes, and then the bombing took place. The first bomb ripped through the ceiling and exploded, with the basement destroyed, as well. I was injured and was at a loss. The heat made me feel I was burning. I got up and ran toward the door, where people came in to rescue us. Just then, the second bomb came and hit those people coming to rescue us."
Thousands of Yemenis gathered at the United Nations' building in Sana'a on Sunday calling for an international investigation into the assault. This is protester Aamer Hussein Al-Salimi.
Aamer Hussein Al-Salimi: "We came out to the United Nations today to call for our human rights and to denounce this unprecedented massacre that took place yesterday at the mourning hall. Where are the human rights? Where is the U.N.? Where is the world?"
The Obama administration on Saturday condemned the airstrikes, saying in a statement, "U.S. security cooperation with Saudi Arabia is not a blank check."
The attack was carried out with warplanes and munitions sold to the Saudi-led coalition by the United States. The U.S. Air Force continues to provide midair refueling to Saudi warplanes. The latest attack came as the U.N. warned the civil war is leading to famine in Yemen, where some 1.5 million children are currently malnourished and 28 million people are short of food.
Russia Vetoes Security Council Resolution on Syria Ceasefire
In Syria, a militia loyal to President Bashar al-Assad advanced on eastern Aleppo, where more than a quarter-million people have been living under siege and daily bombardment. Members of the Quds Brigade said they had taken control of a crossroads northeast of the city. The fighting came as Russia on Saturday vetoed a resolution at the U.N. Security Council calling for a ceasefire and demanding the grounding of Syrian and Russian warplanes over Aleppo. A Russian counter-resolution that allowed for continued bombing was rejected on a 9-4 vote.
Federal Court Rules Against Standing Rock Tribe in Dakota Access Pipeline Suit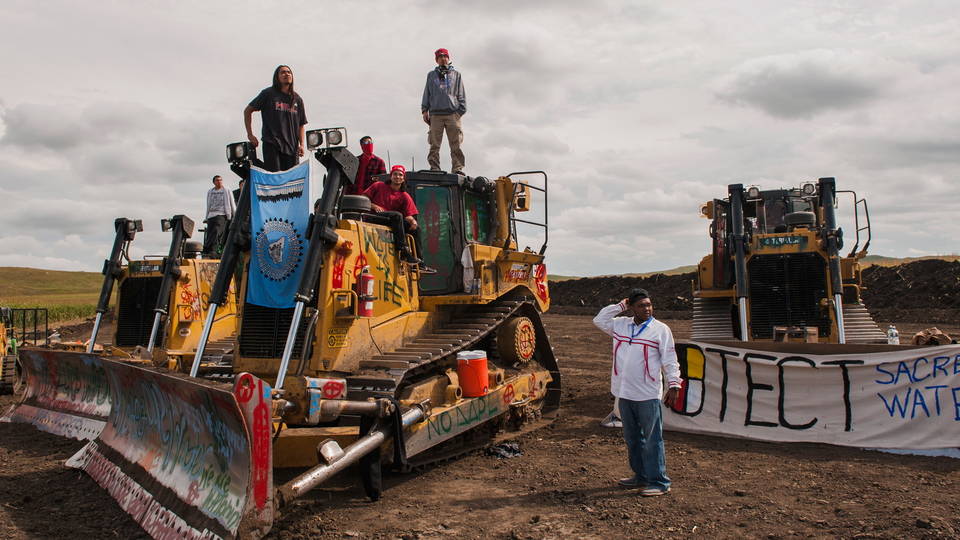 A federal appeals court on Sunday rejected a bid by the Standing Rock Sioux Tribe to permanently halt construction on part of the Dakota Access pipeline. The ruling by the D.C. Circuit Court of Appeals paves the way for the Dakota Access company to resume construction on private lands adjacent to Lake Oahe on the Missouri River. A decision on whether the pipeline can proceed under the river rests with the Army Corps of Engineers. The Standing Rock Tribe argued unsuccessfully that construction of the $3.8 billion pipeline is destroying cultural artifacts and sacred sites. Members of hundreds of indigenous nations who've gathered at the Standing Rock reservation say they'll continue to fight the Dakota Access pipeline.
Iowa: Unicorn Riot Journalist Arrested Covering #NoDAPL Protests
Meanwhile, activists in southeastern Iowa continued a campaign of civil disobedience aimed at stopping the Dakota Access pipeline company from boring under the Mississippi River. On Saturday, members of the Mississippi Stand encampment locked their arms together at the site and halted work for about an hour while police worked to separate them. Later on Saturday, an activist locked herself to the underside of a truck, delaying construction while crews dismantled the vehicle's axle. Among those arrested over the weekend was Lorenzo Serna, who was filming video for the online news site Unicorn Riot.
Phoenix, AZ and Vermont Observe Indigenous Peoples' Day
And Phoenix, Arizona, has become the largest U.S. city to replace Columbus Day with Indigenous Peoples' Day. Phoenix joins a growing list of cities including Denver, Seattle, Minneapolis and Albuquerque. In Vermont, Governor Peter Shumlin issued a statewide proclamation making the second Monday of October Indigenous Peoples' Day. Columbus Day has long evoked sadness and anger among Native Americans, who object to honoring a man who opened the door to European colonization, the exploitation of native peoples and the slave trade.
---
Courtesy of Democracy Now (www.democracynow.org).  The original content is licensed under a Creative Commons Attribution-Noncommercial-No Derivative Works 3.0 United States License.