North Dakota: Police Arrest Over 100 Water Protectors
In North Dakota, police arrested over 100 people this weekend who gathered for a peaceful march opposing construction of the $3.8 billion Dakota Access pipeline. The demonstrators, who call themselves protectors, not protesters, were arrested after they were confronted by police in riot gear carrying assault rifles. They say police pepper-sprayed them and then arrested them en masse. This is footage from the Sacred Stone Camp.
Police officer 1: "You're all under arrest! Back off!"
Police officer 2: "You're under arrest!"
Water protector: "Do not be afraid! Stand your prayer!"
Those arrested face charges including riot, reckless endangerment, criminal trespass, assaulting an officer and resisting arrest. Organizers also say officers fired rubber bullets at drones the water protectors were using to document police activity. We'll go to North Dakota after headlines to speak with Tara Houska of Honor the Earth and Sacheen Seitcham of the West Coast Women Warriors Media Cooperative. We'll also speak with actress Shailene Woodley, who was arrested during a protest against the pipeline on Indigenous Peoples' Day, and with Deia Schlosberg, a filmmaker who was charged with three felonies and is facing 45 years in jail for filming another pipeline protest in Walhalla, North Dakota.
Pennsylvania: 55,000 Gallons of Gasoline Spill in Susquehanna River
In Pennsylvania, some 55,000 gallons of gasoline spilled from a ruptured pipeline into the Susquehanna River on Friday, threatening the water supply of thousands of residents downstream. The Pennsylvania American Water utility on Sunday lifted a warning to residents to limit their water use, but said it would continue to monitor water quality.
Iraq: Turkey Fires on Mosul as Pentagon Chief Pledges Air Support
In Iraq, Turkish troops fired artillery on ISIS positions around Mosul, as Iraqi forces and Kurdish Peshmerga fighters advanced into the suburbs of the city. The presence of some 2,000 Turkish troops near Mosul has angered many Iraqis, as well as Iraq's military, which is denying Turkey's claims of participation. The fighting came as U.S. Defense Secretary Ash Carter traveled to Iraq, where he promised stepped-up air support for the fight. Meanwhile, the United Nations Children's Fund is warning that as many as 1.5 million people may be affected by the fight to recapture Mosul, half of them children. And humanitarian workers say some 200,000 people may need shelter during the offensive.
Federal Appeals Court Reinstates Torture Lawsuit Against CACI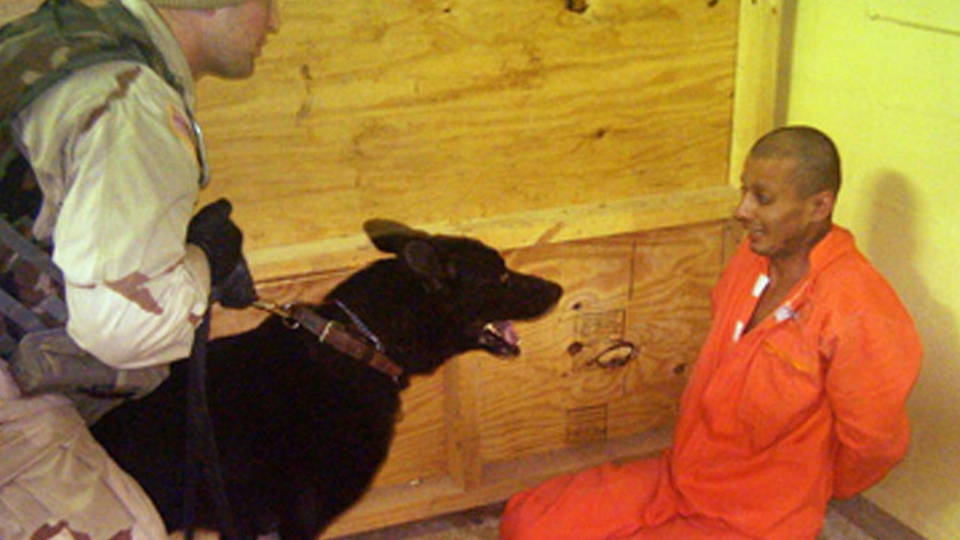 A U.S. federal court has ruled that no one––not even the president of the United States––has the power to declare torture legal. Friday's unanimous ruling by a panel of judges on the Fourth Circuit Court of Appeals reinstates a lawsuit against the military contractor CACI. The suit charges CACI directed and participated in torture at the Abu Ghraib prison in Iraq in 2004, where it was hired by the U.S. to provide interrogation services. Four Iraqi men say they were subjected to extreme temperatures, electric shocks, broken bones, death threats and sexual abuse.
California National Guard Orders Veterans to Return Bonuses
The California National Guard is attempting to claw back re-enlistment bonuses paid out to nearly 10,000 soldiers at the height of the Iraq and Afghanistan wars. The Los Angeles Times reports the bonuses were worth at least $15,000 per soldier––with many receiving thousands more in student loan repayments. The Pentagon says an audit showed the soldiers received the bonuses although they should have been deemed ineligible. Those refusing to repay the bonuses face interest charges, wage garnishments and tax liens. Many of the veterans affected suffered combat injuries.
Syria: Three-Day Ceasefire Ends with No Humanitarian Gains
In Syria, heavy fighting has resumed in Aleppo, after a three-day ceasefire ended with the United Nations saying it was unable to evacuate any of the besieged city's sick and wounded. Russia and Syria announced the "humanitarian" pause last week, but U.N. humanitarian affairs spokesperson Jens Laerke said aid workers were unable to reach those in need.
Jens Laerke: "Medical evacuations of sick and injured people could unfortunately not begin this morning in East Aleppo as planned, because the necessary conditions were not in place to ensure safe, secure and voluntary evacuation of sick and critically wounded people and their families."
Russian and Syrian officials said rebels prevented civilians from leaving Aleppo during the break in fighting, accusing them of taking human shields.
French Police Begin Evacuation of "The Jungle" Refugee Camp in Calais
In France, hundreds of police officers have begun clearing the refugee camp in Calais known as "The Jungle" ahead of its planned demolition. The first of nearly 7,000 camp residents boarded buses Monday morning, bound for refugee centers elsewhere in France. The camp has been home to refugees from Iraq, Afghanistan, Syria, Sudan, Somalia and other war-torn regions who are seeking to reach England by crossing through the Channel Tunnel. Overnight on Sunday, some residents and their supporters protested, setting fire to portable toilets. Police responded with volleys of tear gas canisters. Activist François Guennoc said many fear they'll be deported to another European country or sent home.
François Guennoc: "Maybe about half, maybe a bit less, will leave of their own accord. For the rest, they'll leave in the buses if they are compelled to. Over 2,000 people have left in the last few weeks, and this weekend there are lots of people leaving for Paris or elsewhere."
British authorities said they were working to resettle some of the camp's 1,300 unaccompanied children. But many advocates for the refugees fear minors are being swept up on buses and shipped elsewhere in France.
AT&T Agrees to Purchase Time Warner in $85 Billion Deal
In media news, AT&T has agreed to purchase Time Warner for $85 billion. If approved by federal antitrust regulators, the merger would give AT&T control over Warner Bros. film and television studios, along with CNN, TNT, HBO and many other brands. Critics warn of further limits to competition and higher prices for customers. The merger could also allow AT&T to give preferential treatment to streaming video from Time Warner's companies, which would violate the principles of net neutrality. On the campaign trail, a spokesperson for Hillary Clinton said the proposed merger raises "questions and concerns." Donald Trump's campaign took a harder line, saying in a statement, "Donald Trump will break up the new media conglomerate oligopolies that have gained enormous control over our information."
Trump Claims Female Support as 11th Woman Claims Sexual Assault
In election news, Donald Trump arrived in Florida on Sunday for a three-day trip. Trump likely needs to win Florida's 29 Electoral College votes in order to have any hope of winning the White House. At a rally in Naples, Trump blasted polls showing he's doing poorly among women voters.
Donald Trump: "I really think those polls are very inaccurate when it comes to women. I think we're doing better with women than with men, frankly. So we're setting records with men, but I want to set records with women, to me. And I hate to tell the men this, but if I could swap, I'd swap you out so fast."
Trump's comments came after another woman came forward Saturday accusing Trump of inappropriate sexual behavior. Adult film star Jessica Drake says Trump grabbed her in a hug and kissed her without permission, and later offered her $10,000 and use of his private jet if she would join Trump for dinner in his suite. Drake is the 11th woman to accuse Trump of unwanted sexual advances since an "Access Hollywood" tape surfaced showing Trump boasted of sexually assaulting women.
Poll: Half of Republicans Would Reject Hillary Clinton Election
Meanwhile, a new Reuters/Ipsos poll shows that half of Republican voters would reject the results of the presidential election if Hillary Clinton wins. The poll came after the final presidential debate, where Donald Trump refused to say if he will accept the election results.
WikiLeaks: Clinton Charity Took Millions from Moroccan King in Exchange for Appearance
WikiLeaks continues to release emails from the account of John Podesta, the chair of Hillary Clinton's presidential campaign. One set of emails revealed Hillary Clinton secured a $12 million donation to the Clinton Global Initiative in 2015 from the king of Morocco, on the condition that she speak at an event in Marrakesh. Bill and Chelsea Clinton ultimately spoke in Hillary Clinton's place. The donation came as Clinton prepared to announce her candidacy. On Sunday, Clinton was asked whether the donation amounted to a "pay-to-play" scheme.
Hillary Clinton: "I have nothing to say about WikiLeaks other than I think we should all be concerned about what the Russians are trying to do to our election and using WikiLeaks very blatantly to try to influence the outcome of the election."
Cyber-Attack Harnesses "Internet of Things" to Shut Down Websites
Major websites across the internet were unavailable to millions of users on Friday, as a massive cyber-attack shut down such popular destinations as PayPal, Netflix, Twitter, Reddit and Spotify. The attack employed thousands of web cameras, DVRs and other internet-enabled household devices, which were infected by malware. Internet security experts have long warned that devices on the so-called "Internet of Things" are poorly protected and pose a major security risk.
Venezuela: President Maduro's Opponents Push Ouster
In Venezuela, supporters of President Nicolás Maduro briefly stormed the National Assembly on Sunday, interrupting opposition lawmakers pushing for Maduro's removal from office. About 100 pro-government activists pushed their way past security guards and onto the floor, halting an emergency session of Parliament for about 45 minutes. Opponents of Maduro and his Socialist Party were left furious on Thursday when courts blocked a national referendum on removing Maduro. Lawmakers passed a largely symbolic resolution calling for the international community to help restore democracy "by any means necessary." Each side accused the other of fomenting a coup. This is Venezuelan ruling party deputy Héctor Rodríguez.
Héctor Rodríguez: "They have made us waste time today in a crude attempt to stage a coup, like in Brazil, like in Paraguay, like in Honduras. In Venezuela, we do not have the conditions for them to stage a coup."
This comes as Venezuela is undergoing a massive economic crisis, which had led to shortages of food, medicine and other necessary goods.
Washington State Police Shoot, Kill Pregnant Mother of Three
In Washington state, police shot and killed a pregnant mother of three inside her home on the Muckleshoot Indian Reservation Friday night. Twenty-three-year-old Renee Davis died after a pair of King County sheriff's deputies opened fire on her. In a statement, the Sheriff's Department said Davis was armed with a handgun. Davis's foster sister said police were conducting a "wellness check" after receiving a report that Davis was suicidal. A recent investigation by In These Times magazine found that Native Americans were more likely to be killed by police than any other group in the United States.
National Anthem Protests Continue to Target Racial Injustice
Protests against racial oppression and police brutality continued during the playing of the national anthem at sports events around the country over the weekend. San Francisco 49ers quarterback Colin Kaepernick appeared at a post-game press conference Sunday wearing a Black Panthers Party T-shirt, building on the movement he sparked. At an NBA preseason game in Miami on Friday, social worker Denasia Lawrence took a knee and unbuttoned her jacket to reveal a "Black Lives Matter" T-shirt as she performed the Star-Spangled Banner. In a statement on Facebook, Lawrence wrote, "Right now, we're seeing a war on Black & Brown bodies—we're being unjustly killed and overly criminalized."
Tom Hayden, Civil Rights and Antiwar Leader, Dies at 76
And Tom Hayden, who spent decades shaping movements against war and for social justice, has died at the age of 76. Hayden was the principal author of the Port Huron Statement, the founding document of Students for a Democratic Society, or SDS. The statement advocated for participatory democracy and helped launch the student movement of the 1960s. In 1968, Hayden became one of the so-called Chicago 8 and was convicted of crossing state lines to start a riot after he helped organize protests against the Vietnam War outside the Democratic National Convention. Speaking to Democracy Now! last year, Hayden described the extraordinary growth of the antiwar movement he helped lead during the 1960s.
Tom Hayden: "The first march in April 1965 was called by SDS, which was then a small campus network that had been based on civil rights and student power. And we were surprised that 25,000 people came. That was then the largest antiwar march in American history, according to historians. Within three or four years, you would have half a million marching on both coasts, so a million, not once, but several times a year. You would have a revolt in the armed forces by GIs who were throwing medals over the White House fence and who were in mutiny. You would have 4 million students caught up in protests shutting down whole campuses by the spring of 1970."
---
Courtesy of Democracy Now (www.democracynow.org).  The original content is licensed under a Creative Commons Attribution-Noncommercial-No Derivative Works 3.0 United States License.