New Threshold: 2015 Saw Average Carbon Dioxide Levels of 400 PPM
The planet has crossed a new threshold: The average carbon dioxide levels in the atmosphere throughout 2015 was 400 parts per million. This according to the World Meteorological Organization. Scientists have long warned carbon dioxide levels must remain below 400 parts per million—if not below 350 parts per million—to avoid catastrophic climate change. Scientists predict the carbon dioxide levels will not dip below 400 parts per million on average for decades to come, even if there are aggressive measures taken to cut global carbon emissions. 2016 is also slated to be the hottest year on record.
Canada: 99 Detained at Protest Demanding End to Tar Sands Pipelines
In Canada, 99 people were detained by police Monday at a demonstration on Parliament Hill in Ottawa, demanding Prime Minister Justin Trudeau reject the expansion of the Kinder Morgan Trans Mountain pipeline, as well as all new tar sands pipelines and infrastructure. Among those arrested was Clayton Thomas-Muller, a climate activist from the Cree Nation in northern Manitoba.
Clayton Thomas-Muller: "We know that they're just trying to test the waters for tar sands pipelines to get that controversial tar sands oil that's been killing Dené, Cree and Métis people in Northern Alberta with cancer, poisoning their food systems, poisoning their water systems, spreading climate chaos across the planet. Justin Trudeau is not the Disney prince that the media has been painting him out to be. He is in collusion with Big Oil. And we're here today to support these young people, these brave warriors, for the sacredness of Mother Earth, to let him know that he needs to reject the Kinder Morgan pipeline."
Iowa: Blockade Halted Dakota Access Drilling Under Mississippi River
Meanwhile, in Iowa, residents fighting the Dakota Access pipeline say at least one person has been arrested as a group blockaded a waste dump site being used by the Dakota Access pipeline company as it bores underneath the Mississippi River. The group Mississippi Stand says two residents locked themselves to a barrel to blockade the road leading to the dump site, halting drilling underneath the river for hours. This comes as court documents show Hollywood actress Shailene Woodley is slated to stand trial on January 25 on charges related to a protest on October 10, Indigenous Peoples' Day, against the Dakota Access pipeline in North Dakota. Click here to see our full interview with Shailene Woodley on Monday on her arrest.
Pakistan: 59+ Police Cadets Killed in Attack on Training College
In Pakistan, dozens of police cadets and guards have been killed, after three gunmen with firearms and explosives stormed a police training college outside the city of Quetta Monday. This is the provincial home minister.
Sarfraz Bugti: "Following orders of the chief minister, an emergency has been declared in all hospitals. The rescue operation is going on. Reinforcements are coming. Contingents of Frontier Corps and police are arriving. Our focus is entirely on the operation."
Pakistani security forces retook control of the police training college after four hours. Authorities say the gunmen belong to the militant group Lashkar-e-Jhangvi. Quetta has seen a handful of deadly attacks by militant groups in recent years, including an attack on a hospital in August, when a suicide bombing killed 70 people, mostly lawyers.
Elizabeth Warren: "Nasty Women" Have Had It with Donald Trump
With the U.S. election only two weeks away, both Donald Trump and Hillary Clinton are campaigning in Florida today. Recent polls predicting large turnouts of Latino and African-American voters suggest Clinton may carry Florida on November 8. Clinton campaigned alongside Massachusetts Senator Elizabeth Warren on Monday in New Hampshire, where Warren referenced Trump's comments calling Clinton a "nasty woman."
Sen. Elizabeth Warren: "Nasty women have really had it with guys like you. Yeah, get this, Donald. Nasty women are tough, nasty women are smart, and nasty women vote."
Trump, meanwhile, appeared on a New Hampshire radio program, where he lashed out at adult film star Jessica Drake, who on Saturday accused Trump of hugging and kissing her without her consent. She is the 11th woman to accuse Trump of sexual assault. This is Trump.
Donald Trump: "I mean, one said, 'He grabbed me on the arm.' And she's a porn star! Now, you know, this one who came out recently. 'He grabbed me, and he grabbed me on the arm.' Oh, I'm sure she's never been grabbed before."
Colombia: 279-Mile Peace Walk Arrives in Bogotá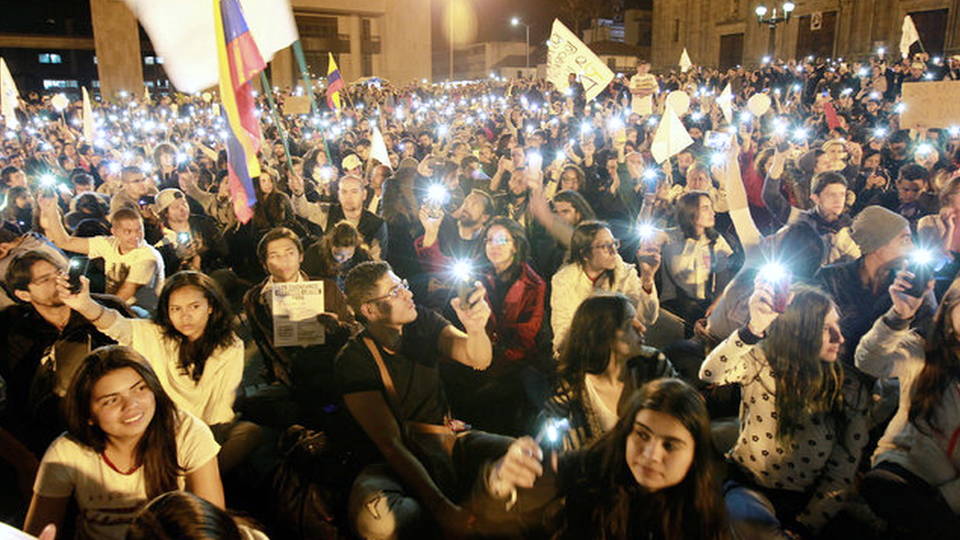 In Colombia, members of a peace walk have arrived in Bogotá after traveling nearly 300 miles to demand a peace deal between the Colombian government and FARC rebels. The march was led by the family members of 12 politicians kidnapped by FARC rebels in 2002 in Valle del Cauca. Eleven of the 12 politicians were ultimately killed, while one survived. This is Jhon Jairo Hoyos, whose father was one of the politicians kidnapped in 2002.
Jhon Jairo Hoyos: "We have walked 450 kilometers to say to Colombia, our nation, that peace is possible, that we can achieve it, that we have to unite and leave behind our divisions, and that we unite in one voice. No more victims. We want peace, and let's make this agreement now."
Caravan Against Repression in Mexico Arrives in New York City
In New York City, dozens of people protested outside the United Nations Saturday to demand the United States stop funding Mexican police and security forces, amid a series of cases of forced disappearances and the repression of social movements. The actions were organized by the Caravan Against Repression in Mexico, which included a teacher from Oaxaca, where police killed nine people at a teachers' protest in June; two mothers of the 43 missing students from the Ayotzinapa Rural Teachers' College; and Eduardo García Maganda, a student who survived the 2014 police attack on the Ayotzinapa students in Iguala.
Eduardo García Maganda: "We believe it's very significant to be here in New York, because the majority of the militarization projects, the transfer of funding and arms, come from the United States. It's pitiful that many North Americans, including Mexicans who are residents on this side of the border, don't know that their taxes are paying for a war in Mexico that has claimed more than 100,000 deaths and about 28,000 disappearances."
Harvard U. & Dining Hall Workers Reach Tentative Deal After 20-Day Strike
And in Boston, Massachusetts, Harvard University and dining hall workers say they've reached a tentative deal in ongoing contract negotiations, after hundreds of Harvard University students staged a sit-in Monday in the lobby where Harvard's negotiations with the cafeteria workers' union was taking place. The dining hall workers have been on strike for more than 20 days to demand affordable healthcare and an average salary of $35,000 a year. Harvard's endowment is over $35 billion.
---
Courtesy of Democracy Now (www.democracynow.org).  The original content is licensed under a Creative Commons Attribution-Noncommercial-No Derivative Works 3.0 United States License.