NY Attorney General Orders Trump Charity to Stop Fundraising
New York Attorney General Eric Schneiderman has ordered the Donald J. Trump Foundation to stop soliciting donations immediately in New York state, saying the foundation is not registered under state law. It's the latest blow to Trump's family foundation, which has been facing increasing scrutiny during the election. A series of Washington Post investigations have revealed the foundation has also broken U.S. laws by using hundreds of thousands of dollars from the foundation to pay off legal fees associated with Trump's for-profit businesses. These investigations have also shown Donald Trump has not personally donated to his foundation since 2008 and that he's also used foundation money to buy advertisements for his hotels and at least two expensive portraits—of himself.
NYT: Trump Organization Nearly Collapsed in 1980s
This comes as a New York Times investigation reveals the Trump Organization came incredibly close to collapse in the 1980s, leading Trump to amass $3.4 billion in debt by 1990. The following year, the Casino Control Commission determined "Mr. Trump cannot be considered financially stable," although the agency allowed Trump to continue operating his casinos. The Times investigation draws on newly revealed tax returns showing Trump claimed an income tax loss of nearly $917 million in 1995. Trump has refused to release his full tax returns. We'll have more on Donald Trump's financial record after headlines with Pulitzer Prize-winning journalists David Barstow and David Cay Johnston.
Vice-Presidential Nominees to Square Off Tonight in Debate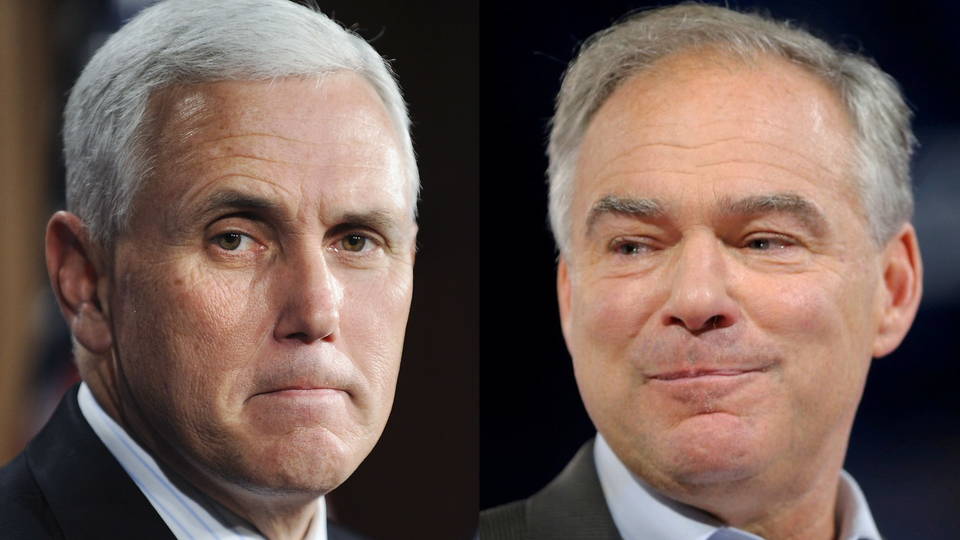 In more news from the campaign trail, vice-presidential candidates Virginia Senator Tim Kaine and Indiana Governor Mike Pence will square off tonight for the only vice-presidential debate. It will be held at Longwood University in Farmville, Virginia, and moderated by Elaine Quijano of CBS News. Democracy Now! will be broadcasting the debate live and expanding the debate. After every question answered by the major-party vice-presidential candidates Mike Pence and Tim Kaine, we will pause to get response from Green Party vice-presidential nominee Ajamu Baraka. We have also invited Libertarian nominee William Weld to join us. Tune in tonight from 8:00 to 11:30 at democracynow.org.
NH Sen. Kelly Ayotte "Misspoke" in Referring to Trump as Role Model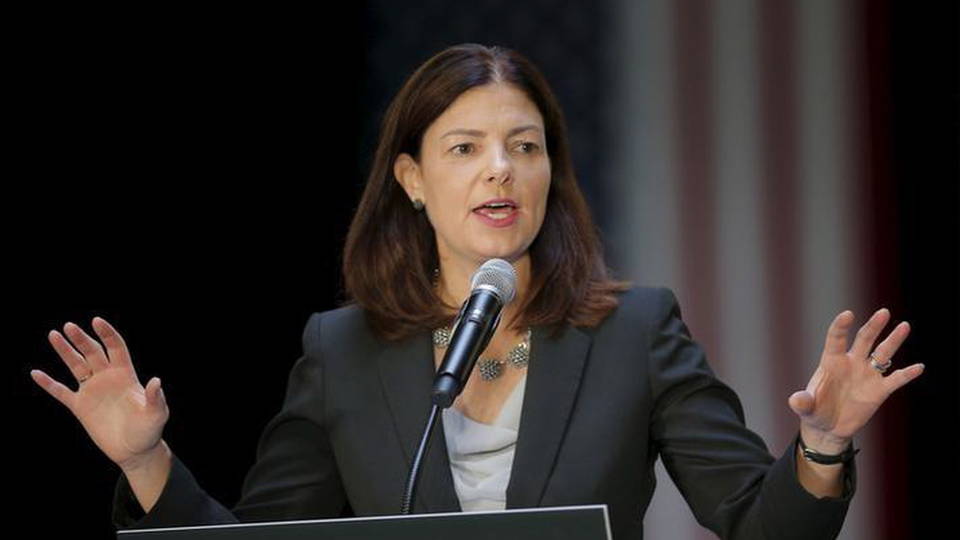 In New Hampshire, Republican Senator Kelly Ayotte, who is in a tight re-election race, is facing criticism over her support for Donald Trump, whom she called a "role model" on Monday, before quickly trying to walk back the comments. Ayotte referred to Trump as a role model during a debate with her rival, Governor Maggie Hassan. A few hours later, Ayotte issued a statement saying she "misspoke."
Hurricane Matthew Could Wreak "Catastrophic" Damage in Haiti
The massive Category 4 Hurricane Matthew is currently bearing down on Haiti, expected to make landfall today. Meteorologists are warning the impact could be catastrophic. The hurricane has already killed three people, including a Haitian fisherman. The storm packs 145-mile-an-hour winds. It's expected to hit Haiti, then Cuba, and then continue barreling toward the U.S. coast, where Florida Governor Rick Scott and North Carolina Governor Pat McCrory have already declared states of emergency in anticipation. In Cuba, the U.S. military says it's airlifting 700 employees, and some family pets, from the naval base at Guantánamo Bay, although there are still no plans to evacuate the 61 prisoners held there.
United States Cuts Off Syria Ceasefire Talks with Russia
The United States has cut off ceasefire negotiation talks with Russia aimed at decreasing the violence in Syria. The U.S. says it has suspended the negotiations over Russia's role in the ongoing bombing campaign in eastern Aleppo. In response, Russia pulled out of an arms control agreement that requires both the U.S. and Russia to dispose of plutonium, a nuclear weapons material. This is White House Press Secretary Josh Earnest.
Press Secretary Josh Earnest: "Well, I think what is clear is the Obama administration has concluded that Russia has no intention of living up to the commitments that they've made in the context of negotiations around a cessation of hostilities. And once you've reached that conclusion, I'm not really sure what else there is to talk about. And again, I'm not papering over the tragic consequences that this is going to have for Syria."
The United States' suspension of talks comes as the opposition Aleppo Media Center says eastern Aleppo's M10 hospital was hit by "bunker-buster" bombs Monday, killing seven and marking the third attack on this major hospital in less than a week.
Turkish President Erdogan Moves to Extend State of Emergency
In Turkey, President Recep Tayyip Erdogan has asked the Turkish Parliament to extend a state of emergency for another three months. Erdogan first declared the state of emergency in July, after a failed military coup. In September, Turkey dismissed or suspended nearly 40,000 teachers amid an ongoing crackdown, which has also seen more than 100 media outlets closed and at least 40,000 people arrested or detained.
WashPo Reporter Jason Rezaian Sues Iranian Gov't over Imprisonment
Washington Post reporter Jason Rezaian has sued the Iranian government over his arrest and imprisonment in Iran in 2014. Rezaian was arrested along with his wife, also a journalist, and held for over 500 days on espionage charges until being released in January. His lawsuit accuses Iran of hostage taking, terrorism, torture and of using his capture as leverage in the ongoing nuclear negotiations. Donald Trump has claimed the U.S. paid Iran $400 million in cash for the release of Rezaian and four other American prisoners, but in fact the money was owed to Iran since the 1970s, when the U.S. refused to give them weapons Iran had already paid for, following the Iranian revolution.
MSF Marks First Anniversary of Deadly Kunduz Hospital Bombing
Doctors Without Borders marked the first anniversary Monday of the U.S. military's bombing of its hospital in Kunduz, Afghanistan, on October 3, 2015. The attack killed 42 people, including patients and staff. Doctors Without Borders has described patients burning in their beds, medical staff who were decapitated and lost limbs, and staff members shot from the air while they fled the burning building. The Pentagon has called the attack a "mistake." Sixteen U.S. officers have received administrative discipline over the attack, but none have faced criminal charges. This is Doctors Without Borders Switzerland President Thomas Nierle.
Dr. Thomas Nierle: "Four out of five members of the Security Council, permanent members of the Security Council, are allied to forces who commit these crimes. And on the other hand, on the U.N. Security Council, there's—one resolution after the other is passed that healthcare structures should not be attacked, that they are protected, that it should be respected, but in the end, nothing changes."
The bombing of the hospital one year ago came after Taliban forces took control of the city of Kunduz. U.S.-backed Afghan forces later retook control of the city. But on Monday, the Taliban again launched an offensive in Kunduz. Fighting for control of the city continues today. The U.S. war in Afghanistan is the longest war in U.S. history.
EU Reaches Agreement with Afghan Gov't to Deport Afghan Refugees
This comes as the European Union has reached an agreement with the Afghan government that allows the EU to deport an unlimited number of Afghan refugees back to Afghanistan. A leaked memo shows the EU threatened to reduce humanitarian aid to Afghanistan if the Afghan government did not accept the deportations agreement.
California: Dash Cam Video Shows Cops Plotting to Run Over Man
In Sacramento, California, newly released police dash camera video shows two officers intentionally trying to run over 51-year-old African American Joseph Mann, before he was fatally shot by police 14 times, in July. In the video, one officer can be heard saying "F- this guy, I'm going to hit him," as the officer drives the police cruiser toward the man. Listen closely.
Police officer 1: "F*** this guy. I'm going to hit him."
Police officer 2: "OK. Go for it. Go for it. Watch it! Watch! Watch!"
Police officer 1: "We'll get him. We'll get him."
Mann died at the scene after being shot. The two officers, Randy Lozoya and John Tennis, have been placed on desk duty. Police say Joseph Mann was holding a knife in the middle of the street. His family says he was having a mental health emergency.
Los Angeles: Protests After Two Fatal Police Shootings
Meanwhile, protests are continuing in Los Angeles following two fatal police shootings over the weekend. On Saturday, police shot and killed 18-year-old Carnell Snell Jr., who police claim was holding a gun, although many dispute that claim. The identity of the second person killed by police, also on Saturday, has not been released. Police say he was shot after officers confused a replica of a gun for a real gun. Among those arrested at Monday's protests in Los Angeles was Black Lives Matter co-founder Patrisse Cullors and Black Lives Matter organizer Melina Abdullah. Both have been released.
Illinois Suspends $30 Billion in Investments with Wells Fargo
In financial news, the Illinois State Treasury has suspended investing with Wells Fargo amid a massive scandal at the major Wall Street bank involving thousands of employees who took private customer information to create 2 million fake accounts in order to meet sales targets. The decision affects $30 billion in investments. On Monday, Illinois State Treasurer Michael Frerichs called Wells Fargo "shameful." Senator Elizabeth Warren has called for Wells Fargo CEO John Stumpf to resign and to be criminally investigated.
#NoDAPL: Land Defenders Disrupt Gubernatorial Debate, Shut Down 5 Construction Sites
In North Dakota, land defenders disrupted the gubernatorial debate in Bismarck Monday night to demand an end to the construction of the $3.8 billion Dakota Access pipeline, which has faced massive resistance from North Dakota's Standing Rock Sioux Tribe, as well as members of hundreds of other tribes from across the U.S., Canada and Latin America.
Land Defender 1: "We will never allow this pipeline through. Not now and not ever. This is something that each one of you need to understand. This is 1851 treaty land. It is not legal. It is no different than if we say no to nukes and you guys broke that treaty."
Also on Monday, land defenders say they stopped work at as many as five separate Dakota Access construction sites across North Dakota.
Land defender 2: "We have a caravan of 100 vehicles strong. We have stooped construction today at the Dakota Access pipeline just with our presence of our warriors and land defenders and water protectors. We have stopped them from work today."
Meanwhile, in southeast Iowa, 30 people were arrested Saturday also blocking construction of the Dakota Access pipeline there. The pipeline's route runs from North Dakota's oil fields through South Dakota, Iowa and into Illinois. In Iowa, land defenders have now established a permanent protest encampment where the pipeline is slated to cross the Mississippi River.
Ireri Unzueta Carrasco Wins DACA Renewal, After DHS Denied Her over Activism
An undocumented migrant justice activist has won the right to remain in the U.S. after the Department of Homeland Security reversed its decision to punish her because of her activism. Ireri Unzueta Carrasco received DACA, Deferred Action for Childhood Arrivals, status in 2013, but had been denied a renewal of DACA earlier this year because of her participation in acts of civil disobedience aimed at pressuring the Obama administration to halt its record deportations. Unzueta Carrasco says she'll now focus on protecting other undocumented activists who have similarly been denied DACA after participating in protests.
Folk Singer and Radio Host Oscar Brand Dies at 96
And Oscar Brand, a folk singer whose New York City radio show spanned more than seven decades, has died at the age of 96. Oscar Brand first broadcast "Folksong Festival" onWNYC in December of 1945, and over the decades he interviewed music legends including Woody Guthrie, Judy Collins, Harry Belafonte, Joan Baez, Pete Seeger and Bob Dylan. Brand's show went on to win two Peabody Awards and is cited by the Guinness Book of World Records as the longest-running radio program by the same host. Brand's final broadcast of "Folksong Festival" was on September 24.
---
Courtesy of Democracy Now (www.democracynow.org).  The original content is licensed under a Creative Commons Attribution-Noncommercial-No Derivative Works 3.0 United States License.