Florida: 70,000 Lose Power as Hurricane Hermine Makes Landfall
Hurricane Hermine has made landfall in Florida, unleashing torrents of rain, storm surges and up to 80-mile-an-hour winds. As many as 23 million people may be affected by the storm, which is the first hurricane to reach make landfall in Florida in more than a decade. More than 70,000 people have lost electricity in Tallahassee. The storm is now headed toward Georgia, although forecasters say it has weakened into a tropical storm.
Member of Trump National Hispanic Advisory Council Resigns
In campaign news, Donald Trump has lost support from members of the Latino community following his hard-line speech in Phoenix on Wednesday in which he promised to deport 2 million people within his first hour in office. Houston attorney Jacob Monty has resigned from Trump's National Hispanic Advisory Council. Alfonso Aguilar, president of the Latino Partnership for Conservative Principles, has withdrawn his endorsement for Trump. Ramiro Pena, a pastor in Texas who is also on Trump's Hispanic Advisory Council, wrote in an email to Republican leaders that the council appears to be a "scam," and said, "I believe Mr. Trump lost the election tonight."
Trump Hires Head of Citizens United to Join Campaign Team
Meanwhile, Trump is again changing up his campaign team. He's now hired David Bossie, the president of Citizens United, to be his deputy campaign manager. Bossie is a longtime right-wing operative who has spent years investigating Hillary and Bill Clinton. The Washington Post is reporting part of Bossie's job will be to craft attack ads against Clinton.
Melania Trump Sues Daily Mail and Maryland Blog for Libel
Donald Trump's wife, Melania Trump, has sued the Daily Mail Online and a Maryland blog for libel, alleging the two sites falsely claimed she'd been involved with an escort agency. She's being represented by lawyer Charles Harder, who also represented Hulk Hogan in his lawsuit against Gawker, which forced Gawker Media to declare bankruptcy, sell itself to Univision for $135 million and shut down its flagship website.
Clinton Wins Endorsements of Two Retired Four-Star Generals
Hillary Clinton is winning the backing of more members of the military establishment. Retired four-star generals Bob Sennewald and David Maddox issued their first-ever public endorsements, both saying they support Hillary Clinton. Clinton has also embraced the endorsements of General John Allen, who led U.S. forces in Afghanistan, and John Negroponte, the former director of national intelligence and former U.S. ambassador to Honduras while it was the staging ground for the U.S.-backed Contras in Nicaragua.
Pakistan: 14 Killed in Two Suicide Bomb Attacks
In Pakistan, at least 13 people have been killed after a suicide bomb attack on a district court in the northwest city of Mardan. A separate suicide bomb attack also killed at least one person in a Christian neighborhood in the city of Peshawar. No one has claimed responsibility for either attack.
Gabon: 1,000 Arrested in Protests After Contested Elections
In the small African nation of Gabon, more than 1,000 people have been arrested and several have been killed amid ongoing protests after Gabon's contested elections on Sunday. Incumbent President Ali Bongo has claimed victory, continuing his family's decades-long rule. Protesters have torched the Parliament building, while opposition candidate Jean Ping says his headquarters have been bombed. This is one of the protesters.
Protester: "We are tired of the Bongo family. We've had enough! Fifty years! Fifty years! Fifty years! We are tired. And this is why we're making demands."
India: More Than 100 Million Workers Strike Today
In India, more than 100 million workers have gone on strike today to protest what they are calling "anti-worker and anti-people" policies by Modi's government. Workers blocked railroad tracks and roads across India. Trade unions say as many as 180 million workers may participate in today's strike. This is Brinda Karat of the Communist Party of India.
Brinda Karat: "This strike is taking place when there is absolute false propaganda that 25 years of neoliberal policies have benefited India. It has accentuated inequality to the extent that today hundreds of the families which hold the most wealth in India have more wealth, have more assets, than around two-thirds of the rest of the population."
Colombia: Coca-Cola, Chiquita Accused of Financing Terrorism
In Colombia, Coca-Cola and more than 50 other companies have been accused of financing terrorism. Colombian courts accuse Coca-Cola of hiring assassins from the paramilitary group United Self-Defense Forces of Colombia to murder at least 10 labor leaders between 1990 and 2002. American fruit company Chiquita is also accused of financing the paramilitary organization. Families of the victims have also sued Chiquita in U.S. court. The latest case against Coca-Cola and the 50 other companies will be heard by a transitional justice tribunal. We'll have more on Colombia and the historic signing of a peace deal between the Colombian government and FARC rebels after headlines.
Japan: Veterans for Peace Join Protests Against U.S. Base on Okinawa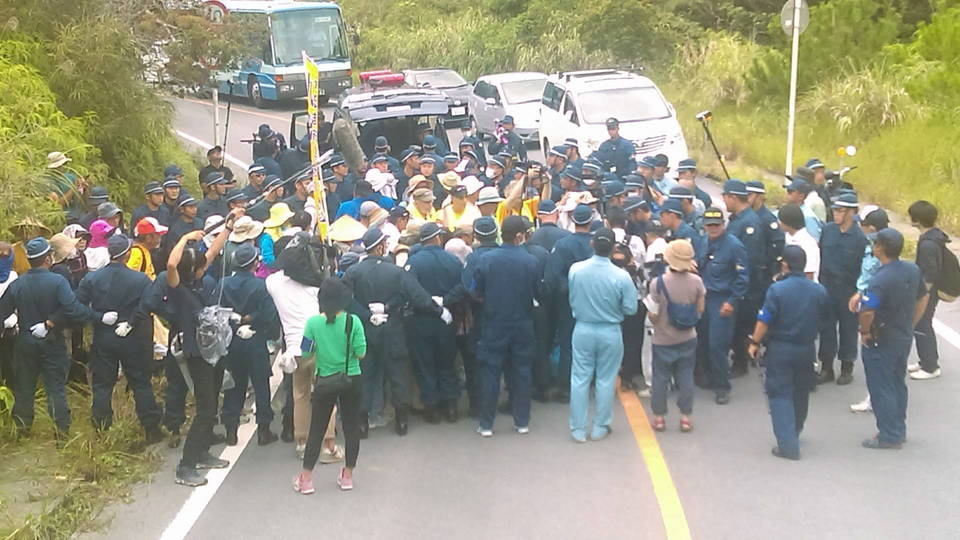 Delegations of Veterans for Peace activists have arrived in Okinawa, Japan, to join protests against the construction of U.S. Marine helipads in Takae, as well as the construction of a new U.S. military base in Henoko. Residents of Okinawa have staged massive protests against both the proposed base and the helipads. Okinawa already houses about 26,000 U.S. troops. The Veterans for Peace delegations arrived as a U.S. marine was arrested in Okinawa for allegedly trying to enter a woman's apartment. Earlier this summer, protests erupted on Okinawa after a former U.S. marine working as a civilian contractor at a U.S. base was accused of raping and murdering a 20-year-old woman. The victim's father has called for the removal of all U.S. bases on Okinawa.
2 Florida Hospitals Will Not Bill Pulse Nightclub Victims
Back in the United States, Florida Hospital and Orlando Regional Medical Center have announced they will not bill the victims of the June 12 Pulse nightclub massacre for their medical care. Forty-nine people died during the attack. Most of the victims were young Latino members of the LGBTQ community. This is one of the survivors, Rodney Sumter.
Rodney Sumter: "I was shot in the back, and I had like a hole the size of a baseball that had to be shrunken. And my right arm was reconstructed, and this one's the one that's bothering me the most. To hear that we don't even have to pay back the hospital bills, as well, you know, that's definitely a relief. I was in there for 16 days, so, you know, it's definitely a big thing for me. They never really told me the estimated amount that it would have been for my hospital bill. But without insurance, I think me being there for 16 days was, you know, pretty crazy."
Virginia: "Guccifer" Hacker Sentenced to 52 Months in Prison

In Virginia, the Romanian hacker named Marcel Laz?r Lehel, known as Guccifer, has been sentenced to 52 months in prison. Guccifer says he hacked Hillary Clinton's private server. He was extradited from Romania earlier this spring and has pleaded guilty to identity theft and unauthorized access of a protected computer.
Indiana: Purvi Patel Freed After Feticide Conviction Was Overturned
In Indiana, Purvi Patel, who was sentenced to 20 years in prison for what she says was a miscarriage, has been freed. In 2015, Patel was convicted of feticide, becoming the first person in U.S. history sentenced to prison for what the state said was an attempt to end her own pregnancy. Her conviction sparked widespread outrage. In July, her conviction was overturned. She walked free from an Indianapolis prison on Thursday.
Stanford Swimmer Brock Turner Released from Jail After Only 3 Months
Meanwhile, Stanford swimmer Brock Turner is slated to leave a Santa Clara jail today, after serving only three months of a six-month sentence for sexually assaulting an unconscious woman behind a dumpster. His short sentence has sparked massive outrage against the judge on the case, Aaron Persky. It's also inspired California lawmakers to pass a new law requiring prison time for those convicted of sexually assaulting an unconscious victim. In a widely read letter, Brock Turner's victim wrote: "You took away my worth, my privacy, my energy, my time, my intimacy, my confidence, my own voice, until today."
Georgetown to Give Admissions Benefit to Descendants of Enslaved
Georgetown University has announced it will afford preferential admissions treatment to the descendants of Africans enslaved and sold by the university itself. In 1838, Georgetown sold 272 enslaved Africans belonging to prominent Jesuit priests to help secure the future of the Catholic institution. On Thursday, Georgetown President John DeGioia said he'd issue a formal apology for the sale, as well as afford their descendants the same admissions treatment afforded to children of faculty and alumni. At the ceremony, however, the descendants of the enslaved challenged DeGioia, saying Georgetown had excluded them from the process. One of the descendants, Joe Stewart, said, "We are those faces and our attitude is: nothing about us without us. If reconciliation is gonna take place as it has to, it needs to start at home and you don't start reconciling by alienating."
2 NFL Players Join Colin Kaepernick in Refusing to Stand for Anthem
And more NFL players are joining 49ers quarterback Colin Kaepernick in refusing to stand for the national anthem. Kaepernick began the protest last week, saying, "I am not going to stand up to show pride in a flag for a country that oppresses Black people and people of color." On Thursday night, 49ers safety Eric Reid joined Kaepernick, who knelt during the anthem ahead of a preseason game against the San Diego Chargers. That same night, Seahawks cornerback Jeremy Lane also refused to stand during the anthem ahead of a preseason game against the Oakland Raiders. Reid and Lane are both African-American. Kaepernick is biracial: His biological father is black, and his mother is white. He was raised by two white adoptive parents. Last week, Kaepernick vowed to continue sitting until there's "significant change."
Colin Kaepernick: "I'll continue to sit. I'm going to continue to stand with the people that are being oppressed. To me, this is something that has to change, And when there's significant change and I feel like that flag represents what it's supposed to represent and this country is representing people the way that it's supposed to, I'll stand."
According to The Guardian, 723 people across the United States have been killed by police so far this year.
---
Courtesy of Democracy Now (www.democracynow.org).  The original content is licensed under a Creative Commons Attribution-Noncommercial-No Derivative Works 3.0 United States License.